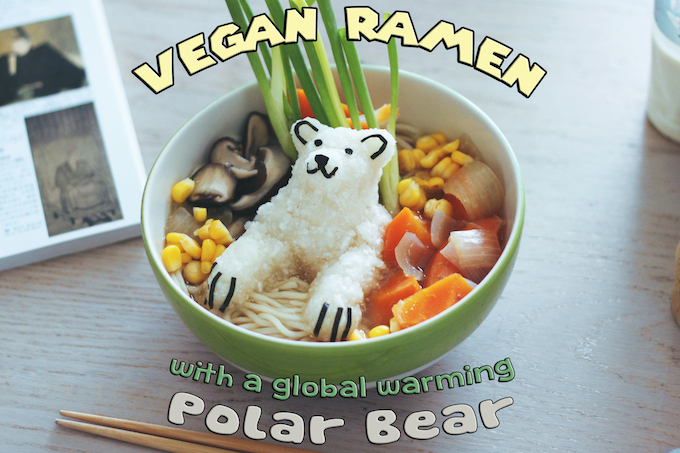 Whenever my friends are planning a trip to Japan, one thing they always ask me is "Where is the good ramen place??". Ramen is a Japanese noodle soup dish with Chinese style wheat noodle. I'd say it's one of the best Japanese food of all time. (To answer that question, it's "Ippudo". I loved the ramen from this place!)
Sadly, ramen broth is made of pork or fish. I cut ramen in my life long time ago because of that reason. But the truth is that I do miss it very much 🙁 I wondered if it's possible to make ramen without animal products. So, I googled.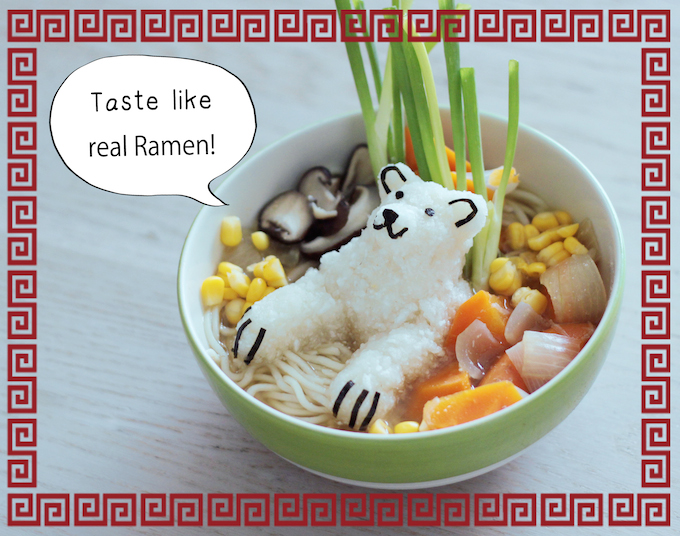 Surprisingly, there are many vegan ramen recipes online. So I tried a bunch from there but it was more like "vegan soup with some noodle", rather than just… ramen. I'm Japanese and I know how ramen tastes like, and I think I felt offended trying out their so-called "ramen" that tasted nothing like the ramen I know.
That's where I came in. I decided to go on a quest on making the perfect vegan ramen broth, and today I'm finally showing you my result! (And actually really healthy!)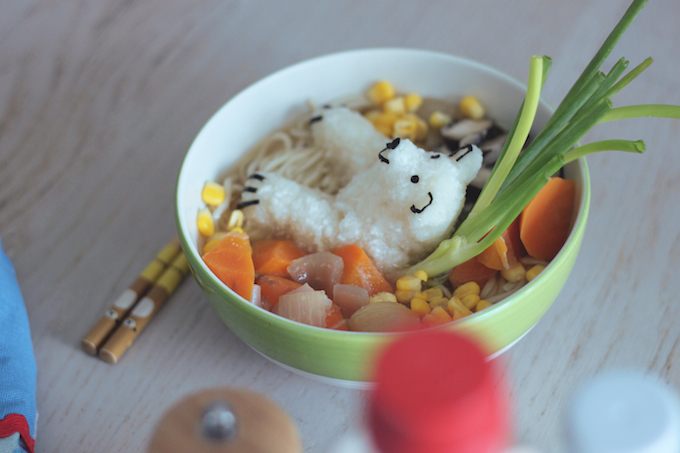 My Vegan Ramen 2 principals:
Vegan!  It's so healthy for you! 

No oil!

  

It's not greasy at all! 

   

  
And of course, This is Yukitchen. It's boring to just introduce how to make vegan ramen, so I added a polar bear. My model this time is "Shirokuma Kun" from Shirokuma Cafe. One of the most hilarious anime I've ever seen. (If you have time, you should watch it. It's awesome.)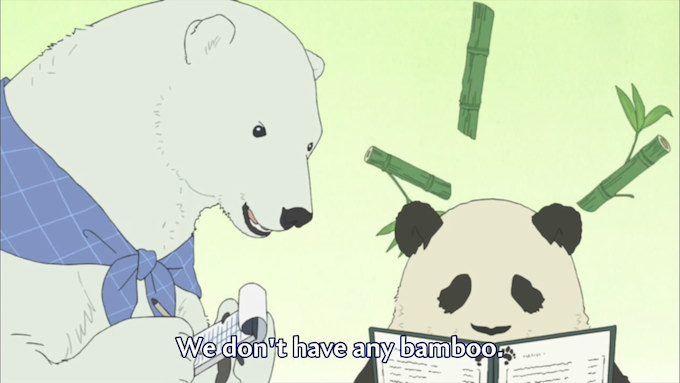 It's actually a trend right now in the food art industry to make something out of radish. I wanted to follow the trend today 🙂 I'll show you how in the below, so keep reading 😉

Vegan Ramen With Global Warming Polar Bear
Super tasty vegan ramen with a polar bear! It tastes just like the normal ramen and so delicious!!
Ingredients
For Ramen:
・2 servings (300~400g) Chinese noodle
・3~4 garlic cloves
・2 tsp salt
・1.5 tbsp black pepper
・2 tbsp soy source
・2 tbsp miso paste
・ ½ cup soy milk
・1 tbsp mirin
・1 tbsp honey (or maple syrup)
・1 carrot
・1 onion
・3~4 scallions
・3~4 mushrooms
・ ½ cup boiled corn
For the polar bear:
・1 whole radish (Japanese daikon)
・1 sheet dried seaweed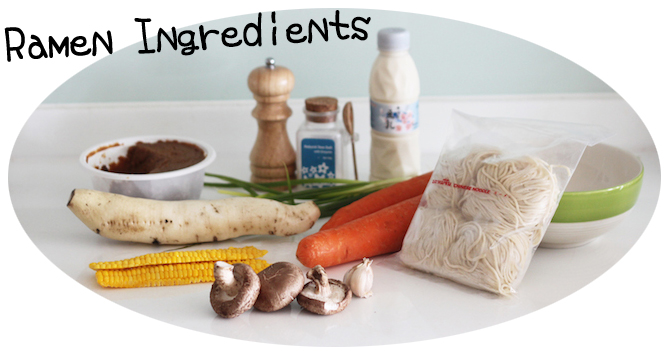 1: Grate a daikon radish for the polar bear.
This is going to be the body of your polar bear. I broke my blender so I couldn't use the power of the material civilization, but I recommend using it for the finer finish. After grating the whole daikon radish, wrap it and rest it in a fridge until later.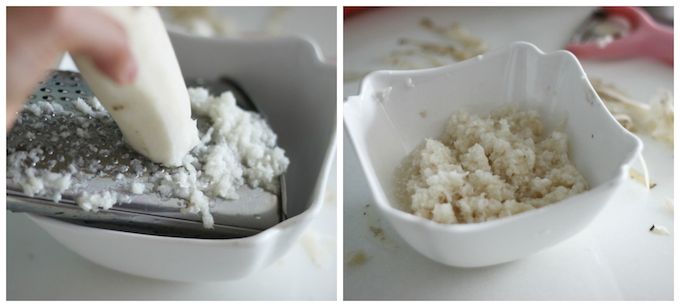 2: Chop the veggies.
Chop carrot, onion, mushrooms, and garlic cloves! Garlics are a must for ramen broth, so don't forget them 🙂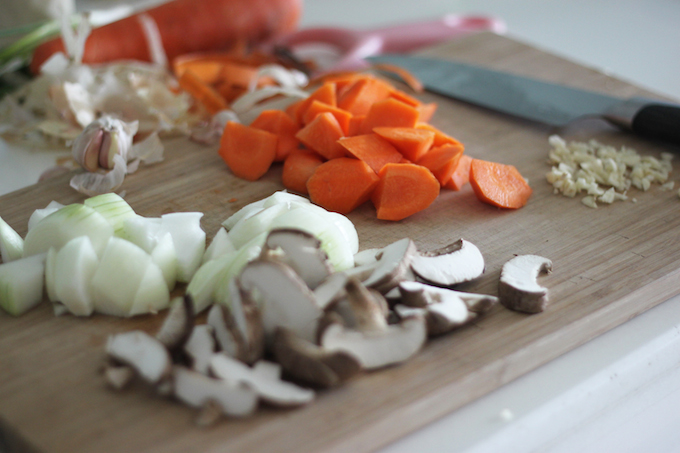 3: Put the veggies and water in a pod.
In a large pot, add 3.5 cups of water and all veggies except for mushrooms. Bring the mixture to a boil and reduce the heat medium-low.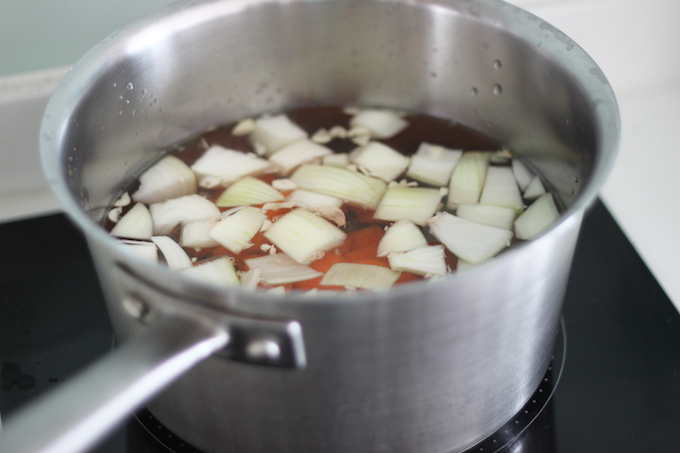 4: Seasoning time!
Get ready with your secret vegan ramen ingredients! Prepare all seasoning; honey, mirin, soy sauce, soy milk, salt, pepper, and miso! Once you add all the seasoning ingredients, simmer the broth for 10~15 minutes.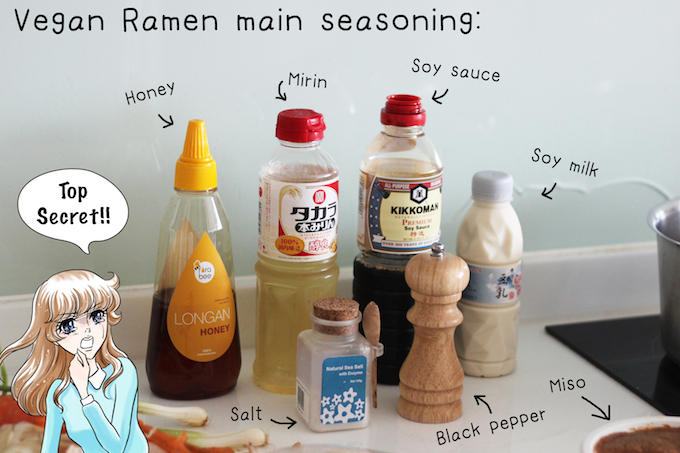 Mixing miso, honey, soy milk and pepper…?!
I cook a lot of crazy things, but this was the most mind-blowing idea I've come up with so far. I tried a bunch of different seasonings and this method actually mimics you to think you are eating the
Tonkotsu Ramen
. ↓
Tonkotsu (豚骨, "pork bone"; not to be confused with tonkatsu) ramen usually has a cloudy white colored broth. It is similar to the Chinese baitang (白湯) and has a thick broth made from boiling pork bones, fat, and collagen over high heat for many hours, which suffuses the broth with a hearty pork flavor and a creamy consistency that rivals milk, melted butter or gravy.
Tonkotsu Ramen used to be my favorite ramen! I was super thrilled to discover the vegan version of it 😀 (There are many kinds of ramen in Japan. Read the Wikipedia to learn more!)
Oh btw, make sure to use A LOT of pepper. Don't be too shy. You might think 1.5 tbsp of black pepper is too much, but it's essential to use this much to create the Tonkotsu Ramen flavor. Trust me!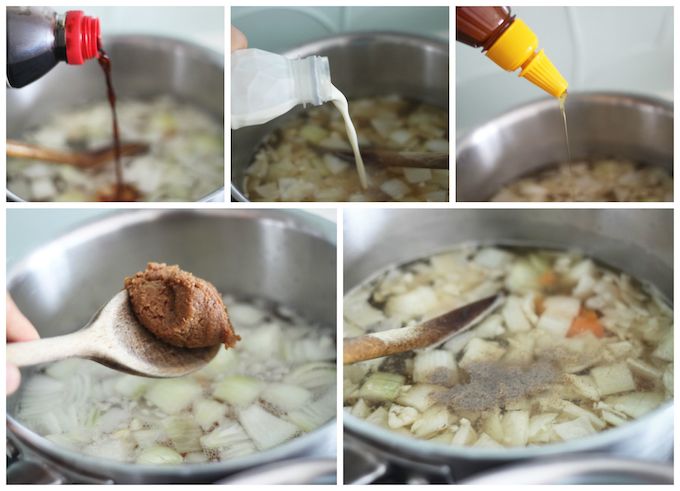 6: Start boiling the noodle.
While the broth is simmering, start boiling water in a large pan for the noodle. After bringing it to boil, add the noodle and cook 4 to 5 minutes, or until the noodle color turns golden browned.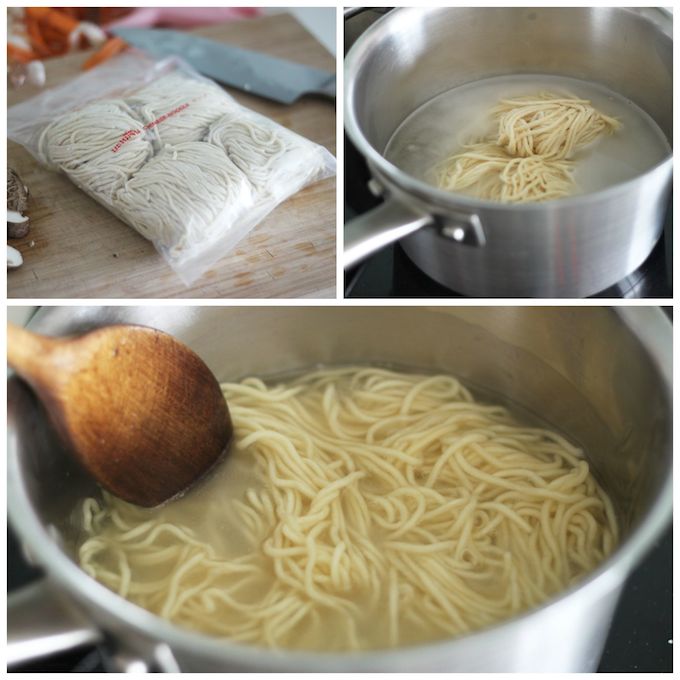 7: Keep the cooked noodle in cool fresh water.
After boiling the noodle, strain all the hot water and keep the noodle in cold water. This would help prevent the noodles from sticking together.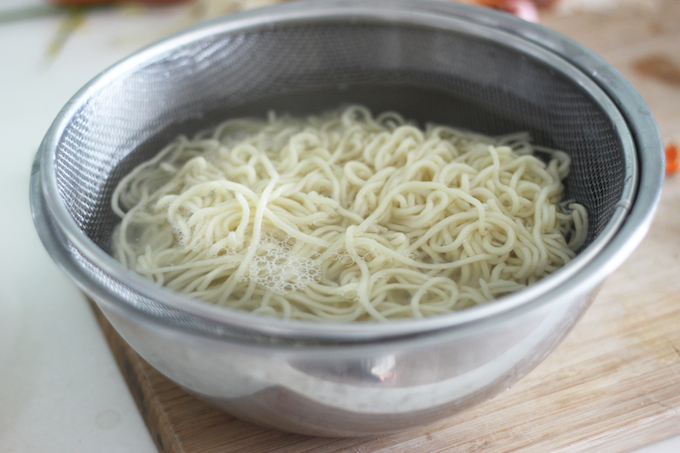 8: Add the mushrooms.
Add the mushroom and you're all done for the making ramen broth! Cover the pot with a lid and cook for another 5 minutes or so.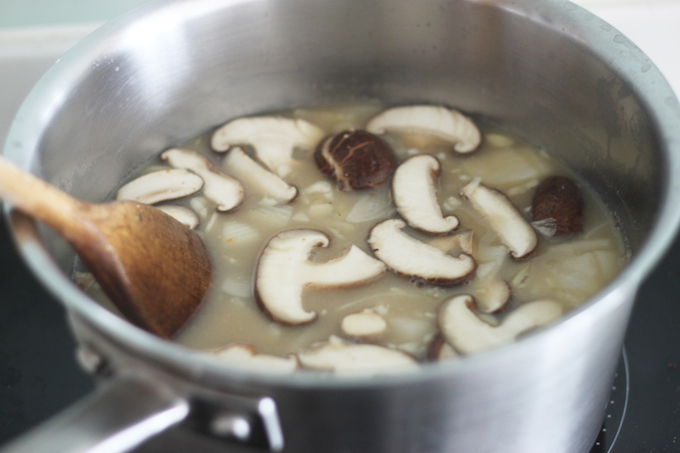 9: Polar bear making time!!
It's time to get your creative side on! Cut the baking paper into a little square and start building the bear. You could actually do it on an actual ramen bowl, but  I wanted to make sure that I was perfectly in control of creating a piece of art.  For the facial part, cut the dried seaweed into thin strings and stick on the face!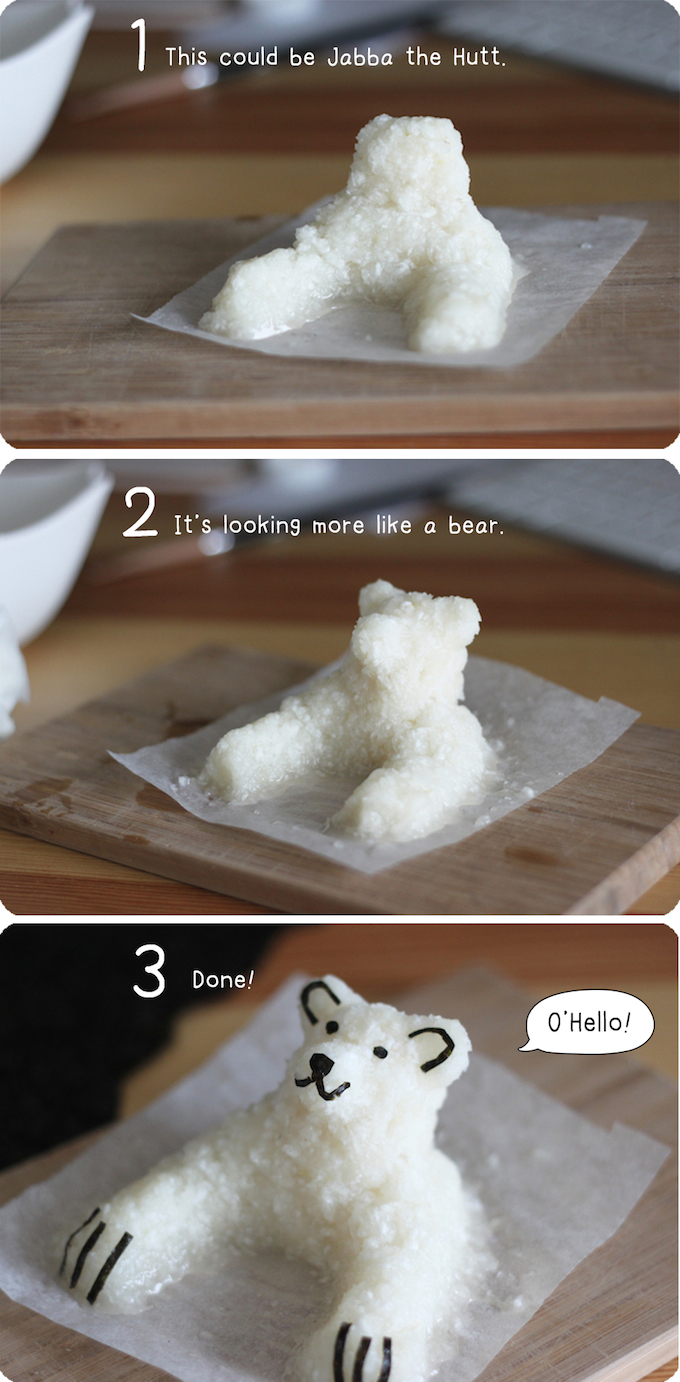 10: Make a Polar Bear's chair (so he can sit still). 
Pick up a chunk of carrot from the broth pod and place it in the middle like this. Then wrap around the noodles.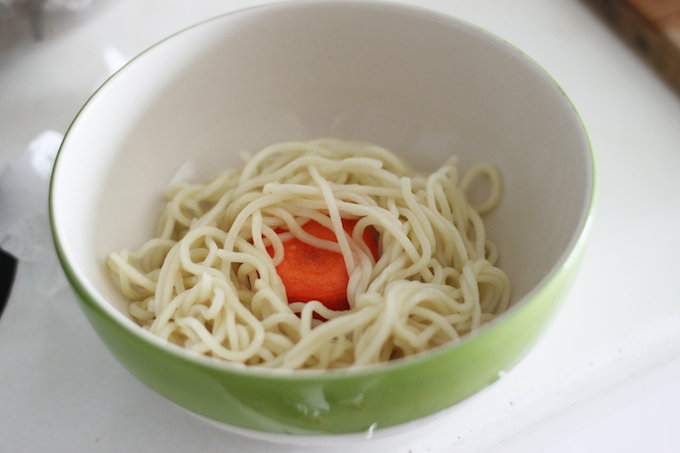 11: Start decorating the ramen bowl, without his arms. 
When you grab a bear, it's extremely hard to pick up his entire body from the sheet. But don't worry, his body is made of radish! That means you can totally separate the arms from the body and stick them together easily after you place the body on a carrot chair.
You can decorate the veggies from the broth, wherever you like. I liked adding the scallions behind Mr. Polar Bear, so he can lean on them 😉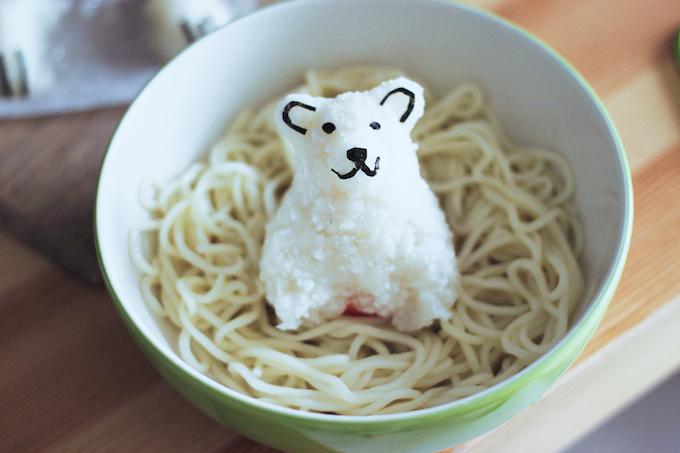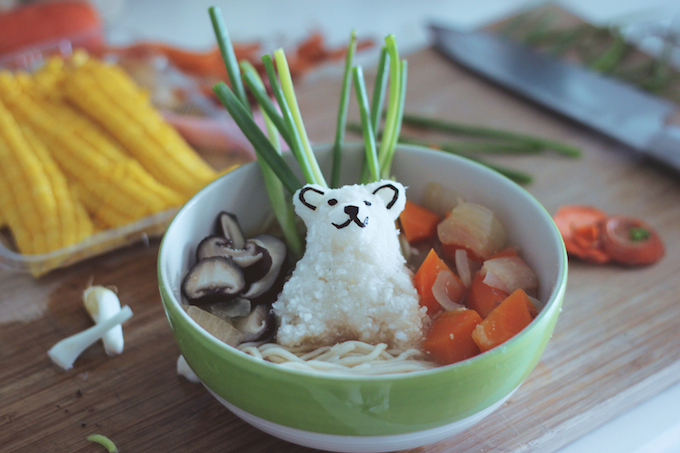 12: Attach the arms!!!
It's still cute without the arms, but it gets even cuter with the arms as if he was resting himself on the noodle! Oh I love this so much! It looks like he is talking a bath. A ramen bath 😀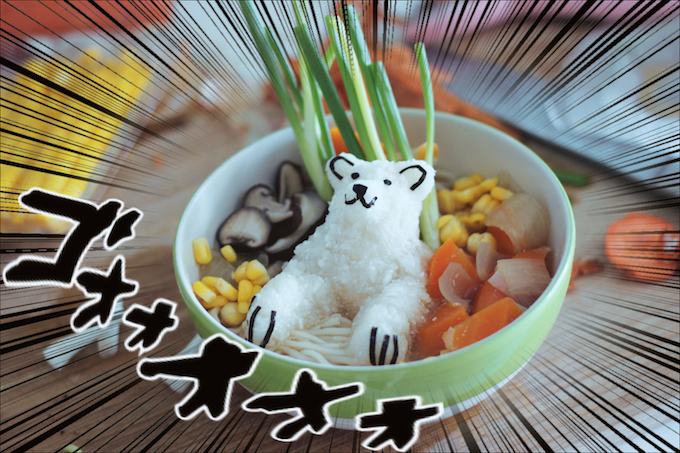 13: Pour some more broth and you're done!!
This is the cutest thing ever. You could add more broth than this if you want.  I was a bit afraid that my Polar Bear might start to melt so I didn't put too much.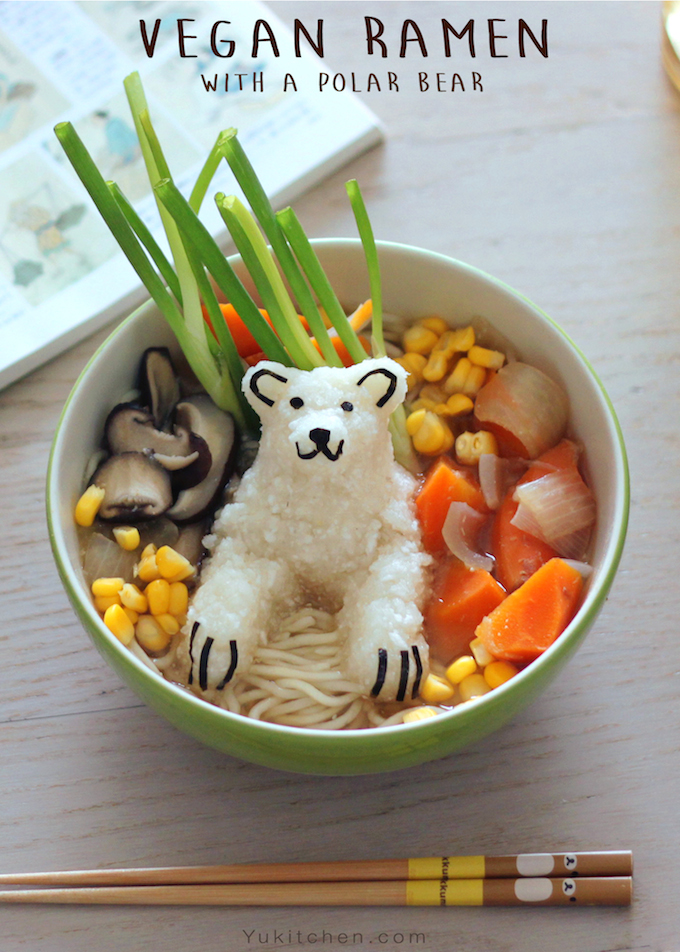 I'm pretty sure he's looking right at you….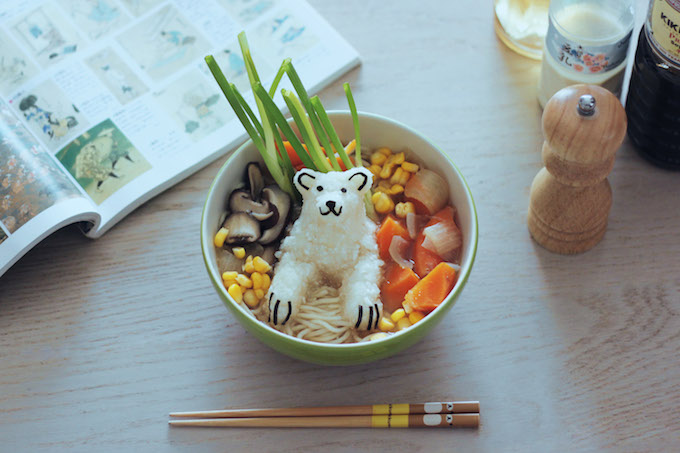 Should I name this food "Ramen Bath with a Polar Bear"? 😀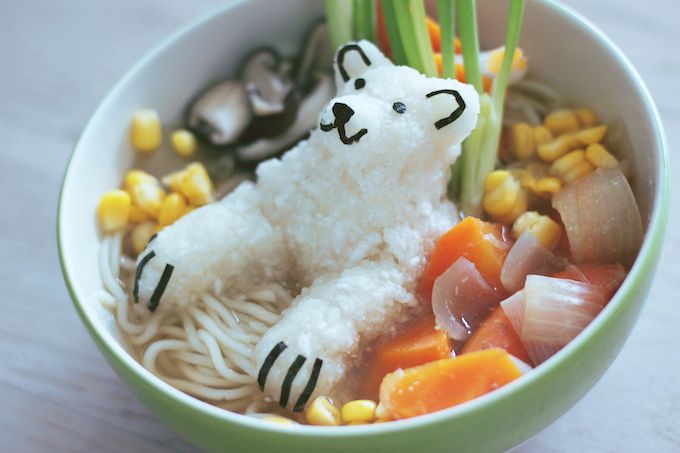 This broth is made of weird Asian ingredients, yet somehow tastes like Tonkotsu "pork". My effort of experiments finally turned the corner and I can't be happier! This dish has been my house's number 1 suggested food whenever I ask "What do you wanna eat tonight?" question 😉 Mission completed!!
When I was trying to eat this food today, something very strange happened…
When I run my chopsticks to my ramen,  Mr. Polar Bear was trying to stop me by grabbing my noodle like this: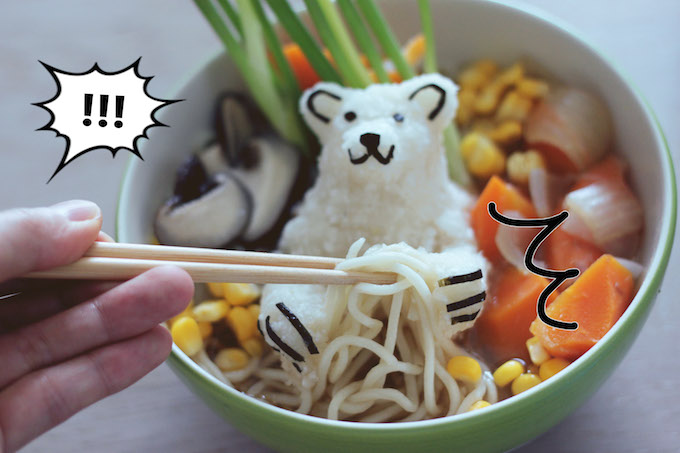 I know that it just looked like he was stopping me, but something soft inside me started to ache a bit…
But I wanted to try my food, so I pulled the noodle harder, fighting for this ultimate cuteness. Then……
I….. broke his arms……. I know that it had to happen, but it's always so sad. Sorry, Mr. Porlar Bear….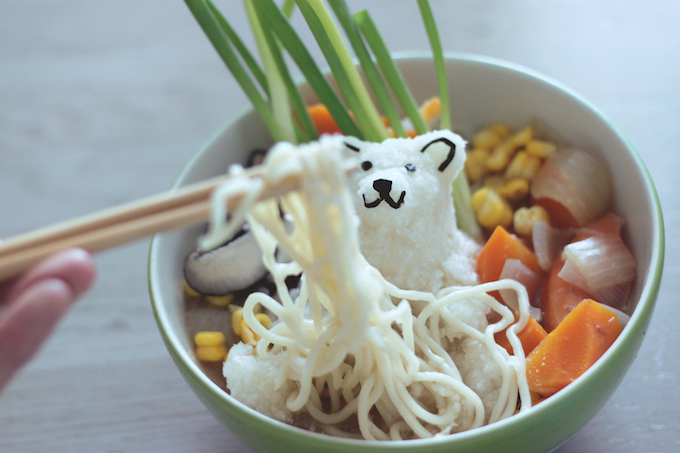 Then again, of course, this happened too. I completely knocked him down by eating more. Damn my appetite and this tasty vegan ramen!!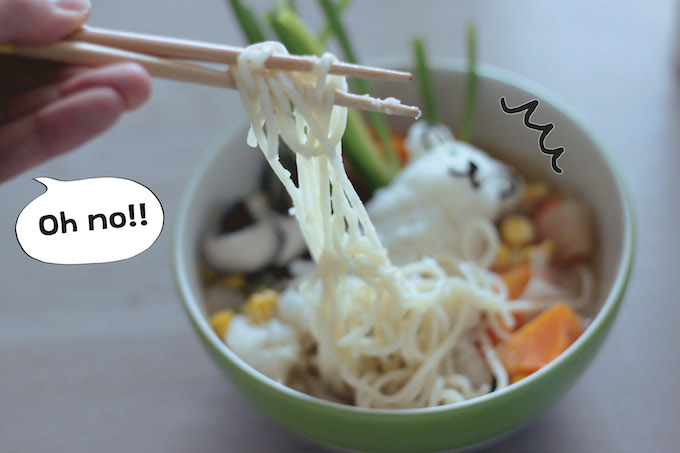 When I saw this view, this was the first thing I thought of Global Warming: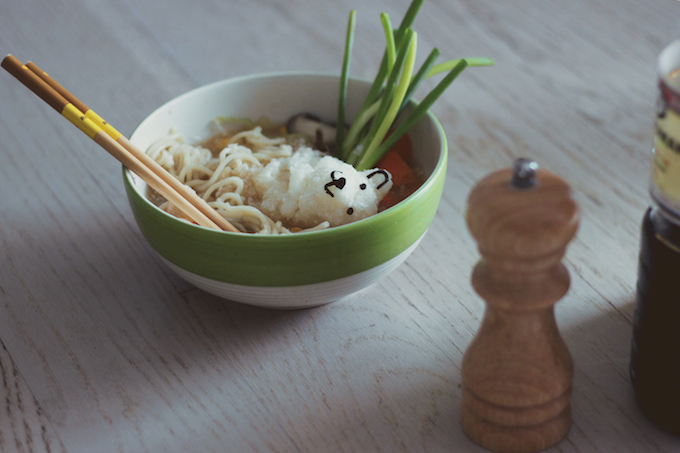 That is why I named this dish "Vegan Ramen with a global warming polar bear" if you are wondering why.
This vegan ramen is all organic, vegan and super healthy! You'll be surprised how much it tastes just like real ramen, and I can NOT wait for you to try it! Climate change has become a global problem and it might be a good reminder for you and your family, especially for kids! Being vegan can prevent global warming from happening, just an FYI!
Until then….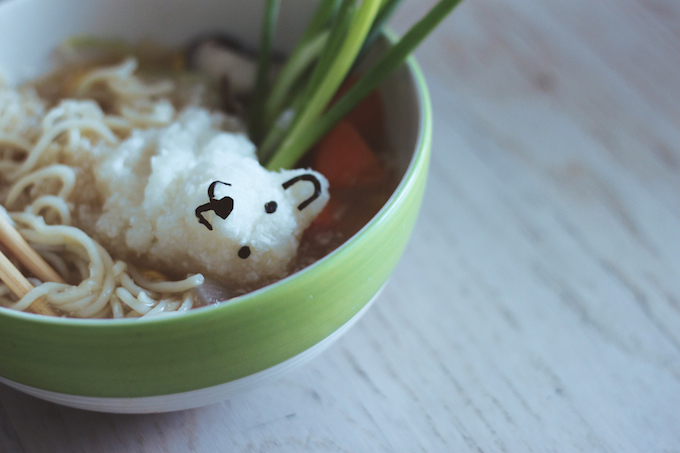 Reference: "Oryoritengoku"
xoxo
-Yuki 😉