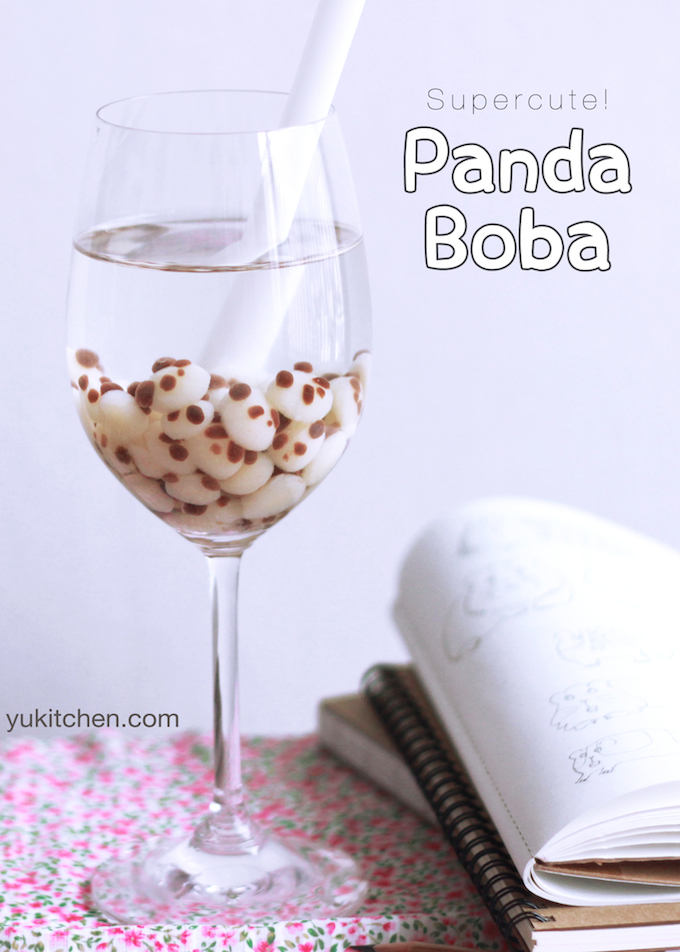 When I had my first tapioca milk tea, I was a student at UCSD. I was at a "Tapioca Express" AKA "Tapex" on Convoy Street after school, getting in a queue with a bunch of Asian Americans with my heavy backpack filled with textbooks. Asians in the states love Boba, and I became one of them ever since I had my fist Boba at Tapex on Convoy 🙂
Boba tea is called "Bubble tea" in Asia. When I lived in Singapore, I kind of humiliated myself when I tried to order a tea at a store using a common American phrase I was used to saying.
"Can I have a milk tea with boba?"
They looked confused so I figured they couldn't understand my English, so I just pointed out a picture of Boba on a menu and they eventually understood and gave me the tea I wanted. When I told this story to my Singaporean friend, he first thought I was kidding. Then I noticed that I was making him uncomfortable by talking about this very topic. His face started blushing, and that's when I realized I did something very wrong. He told me this:
"Boba" in Chinese is a slang term used for "big breast" or "big-breasted female". Only in the states do they use the word as the new meaning of tapioca ball, probably due to its spherical resemblance.
So… that's it. I was basically ordering a drink with big boobies. No wonder they looked confused! If you are an American and you want a boba tea, say "bubble tea". Or "tea with tapioca pearls". It's really not fun to embarrass the nice locals with your ignorance!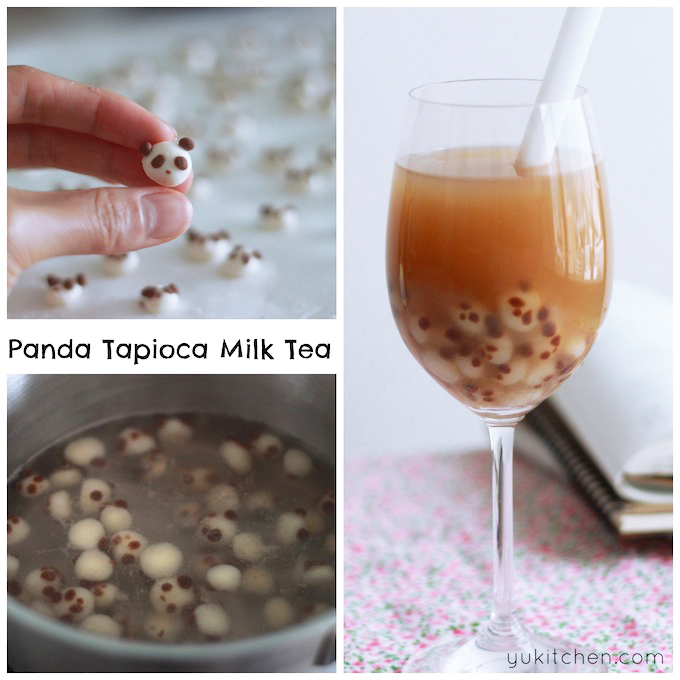 Since I had an unforgettable boba experience in Asia, I decided to make my own boba that is also unforgettable. Boba we know is a black tapioca ball. But what if I can make it look like a certain shape? What would I do if I were to own a boba shop or something…?
I thought about it for a second, and came up with this idea: "I would want my boba to look like a panda".
And that's how this recipe today was created 😉
Just think about this and see which one you like to say at the boba shop:
1)  Can I have a milk tea with boba?
2)  Can I have a milk tea with Panda boba?

Panda Tapioca Milk Tea With Panda Boba
Tapioca milk Tea has never looked this cute! This panda boba is super chewy and delicious! Using only natural ingredients.
Ingredients
For Boba (Tapioca pearls)
・50g Tapioca flour
・50g Silken Tofu
・2 tbsp Cocoa powder
For milk tea
・Your favorite black tea
・Milk (I used my Almond Milk" ) to taste
#2 definitely makes my day just by saying it. I don't know why we get so attached to the idea of pandas, but I'm crazy about them. If you are like me who loves anything that has panda face on it, why don't you try this recipe with me this week? It looks complicated but it's not so hard to make.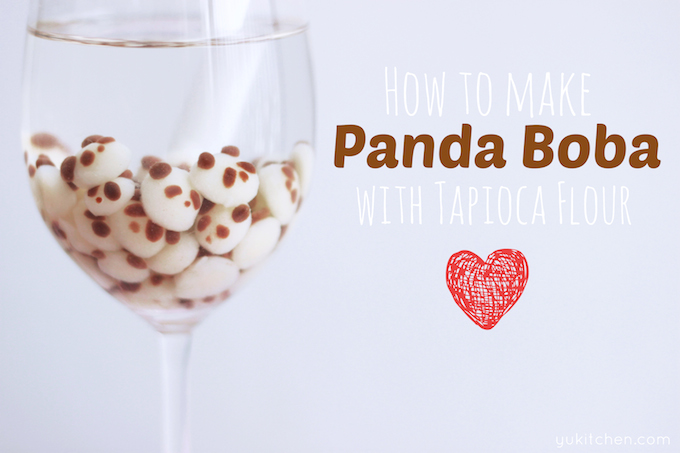 1: Mix the boba ingredients. Knead with your hand until the dough becomes smooth. If the mixture is too dry, add a little tofu till the dough is just right. (When it's too dry, it's difficult to stick ears to the panda face, and we don't want that!)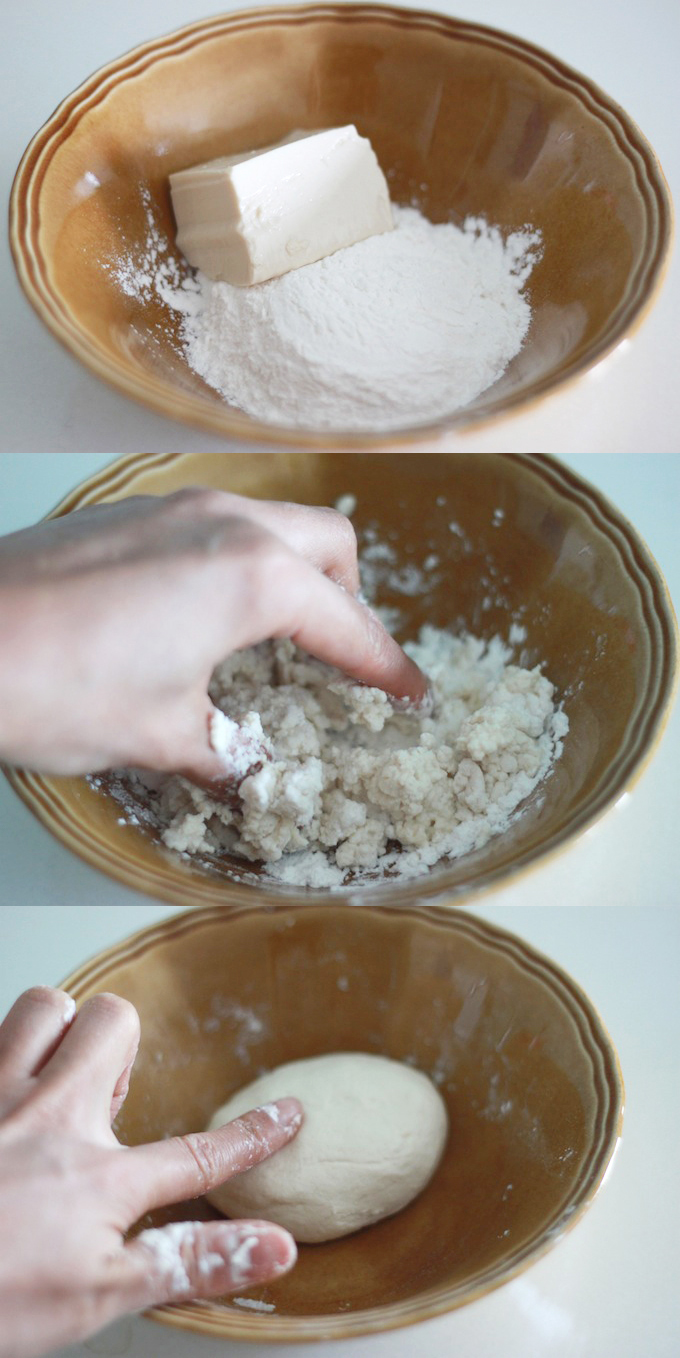 2: Separate the dough into 2 colors. Take 1/4 of the dough and knead again with cocoa powder. The color of brown turns darker after boiling, so no need to put too much cocoa powder this time.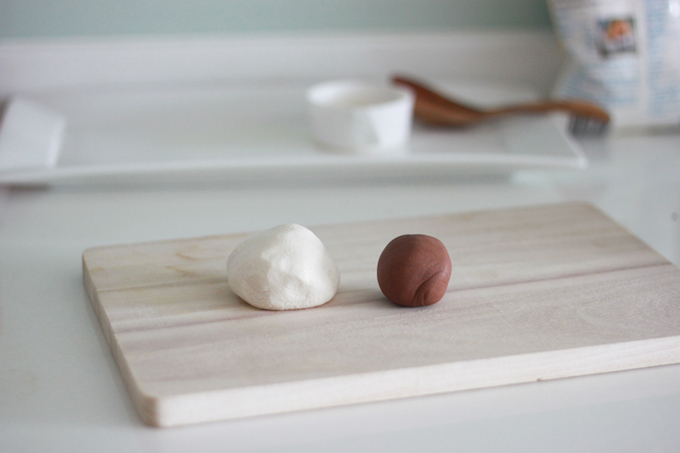 3: Make panda shapes! Make sure your pandas are as small as tapioca pearls so you can still suck it from a boba straw. When attaching ears to the face, make sure the dough is sticky enough to stick together, otherwise, they might fall apart when boiling. No one likes earless pandas!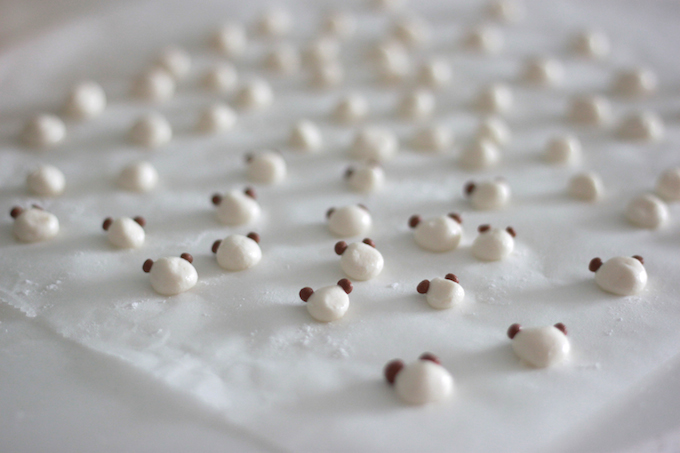 4: Finish the panda facial parts. This is my panda boba looks like. Each panda looks slightly different than others, and that is the wonderful thing about homemade cooking! This is the most fun part of making your own panda boba 😀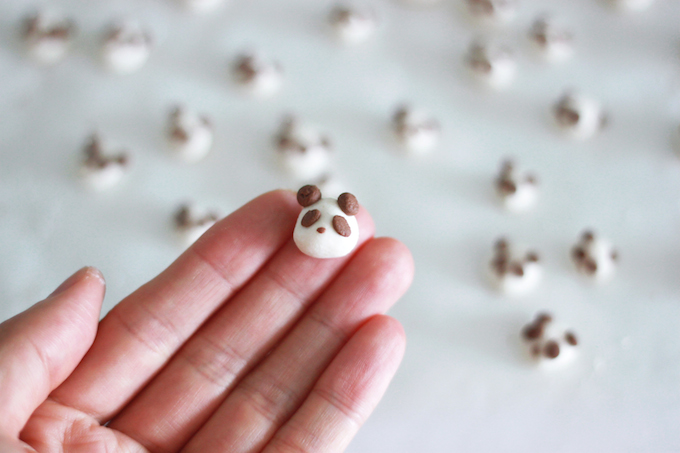 Panda madness!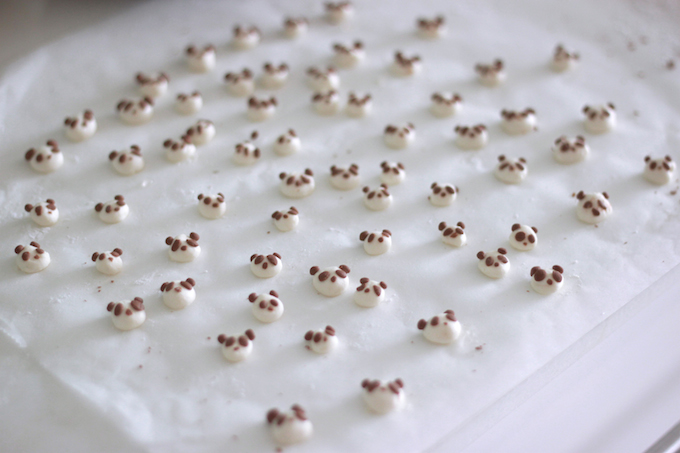 5: Boil the pandas! Toss the pandas gently in a boiling water with a low heat, and cook them till they float. It should take around 5 minutes.When pandas start to float, that means they are ready to be picked up!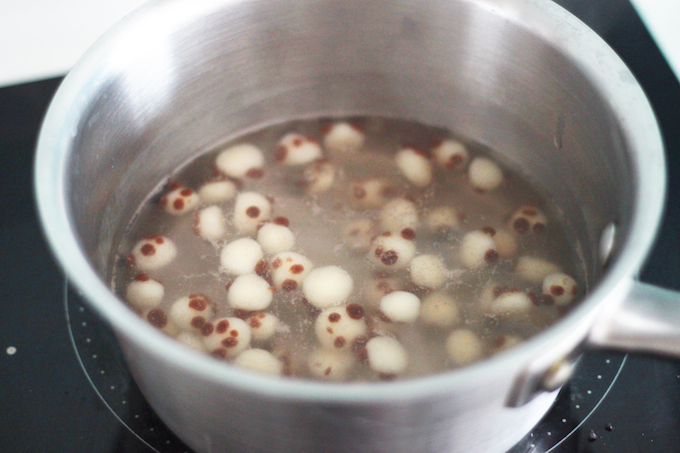 6: Drain the pandas and almost done! Chewy delicious panda is finally looking like boba!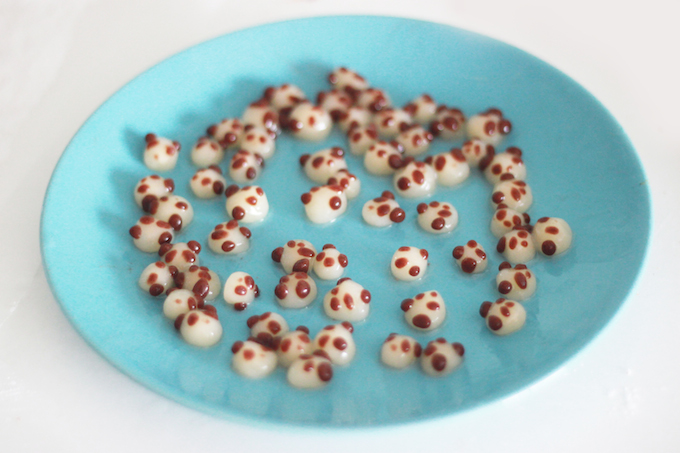 7: Serve it with your favorite tea. Your special Tapioca Milk tea with Panda boba is now ready to be served!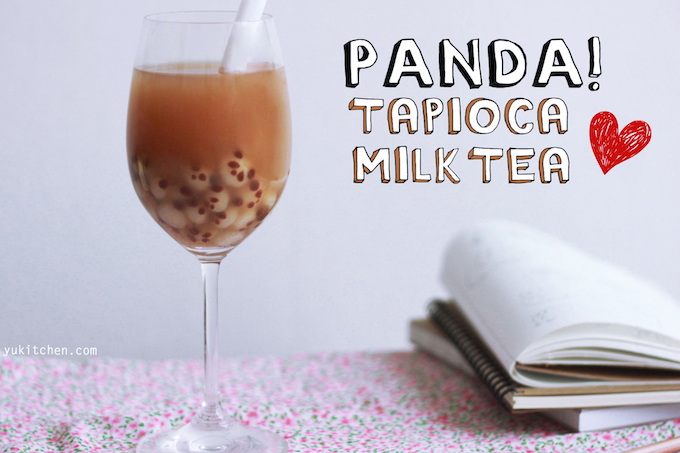 They look so cute, but this picture reminded me of Japanese trains in Tokyo during their epic rush-hour time. Too many pandas!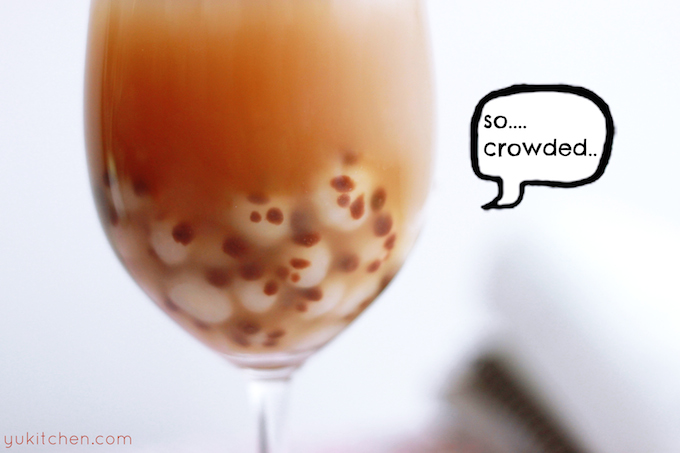 Sucking the pandas from a boba straw might have made me a little bit moody… It's always sad to see my food art leaving me in my tummy… I wonder if this is something all food artists have to deal with?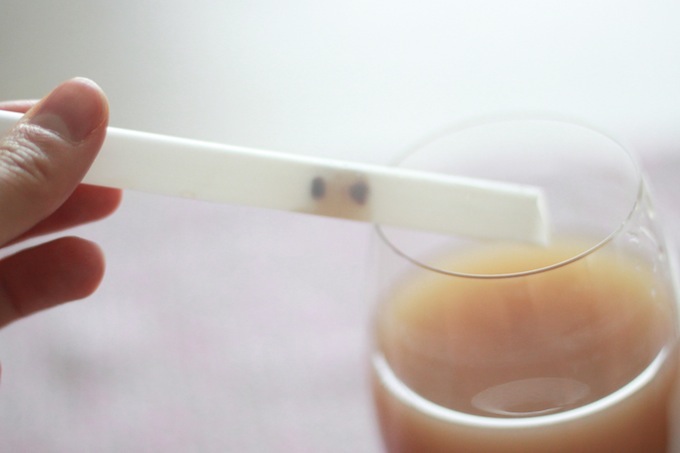 I recommend eating the panda boba on the same day you cooked, but it can be stored in the fridge for 2~3 days. Put the boba in a container with a little bit of water, and it should be fine.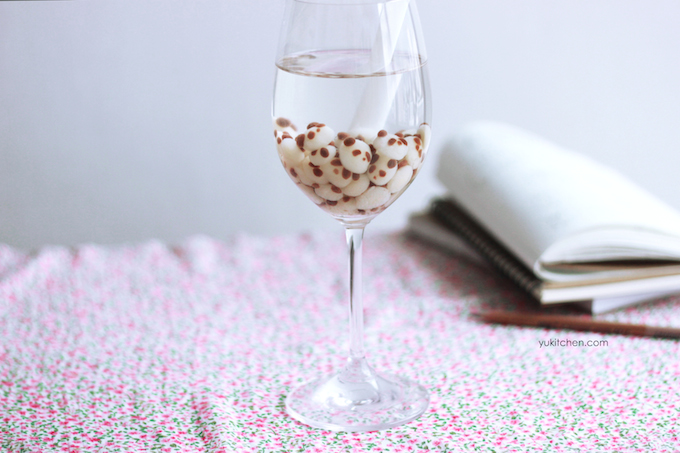 Boba brings me back to the memories of UCSD days… I loved the time I spent there and I really miss saying this common phrase I used to say all the time with my friends: "Do you wanna go get boba?" 😀
Now that I'm in Asia, I never use the word "boba" anymore. I can't wait to go back to the states and maybe Tapex want to collaborate with me or something 😉 (That would be so awesome!)
Happy cooking, everyone!
xx
-Yuki