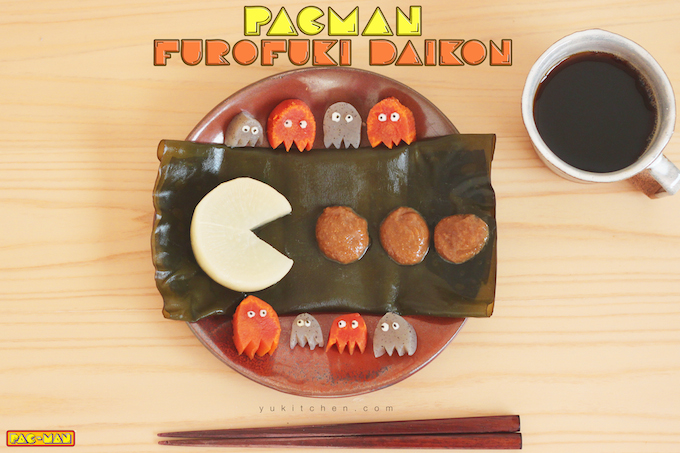 It's always awkward when you hit rock bottom and you have to act like it's not a big deal at all. But it happened and I'd like to be honest about things around me, especially on the internet where people tend to fake themselves. Well, here is the thing: I went back to Japan, AKA food heaven, and I gained whopping 7 pounds.
"So?" is basically the worst response you can tell to a girl who happens to be a model and a creator of Yukitchen. I really wanted to make new recipes but every time I looked at my own model website, my self-esteem just dropped like a stone, and it kind of stopped me from cooking. It was pretty depressing because cooking is supposed to be my passion!
But don't despair. I had someone who rescued me from the depth of my minor emergency: -my mother.
The other day, when we went to visit my grandpa, who owns a big farm in Tokyo, and he gave us his glorious daikon radish. I love getting his vegetables. Not only it's organic, but also it's made by my grandpa. I mean, who doesn't want to eat food from your family farm? 😉 That night I stayed with my mum and because she knew about my "emergency". That night she decided to cook low-calorie food and made this amazing thing called "Furofuki Daikon".


I've been away from my own country for so long and I did not know what "Furofuki Daikon" was. But it's was so delicious. I can't believe I've been a Japanese person and without knowing about this wonderful dish. What a discovery!
So while I was wolfing it down like a wild child, I asked her for a recipe. She looked at me like I had 12 noses and replied, "It's just daikon and kombu (seaweed)… What, you really didn't know?"
That's when I knew this was the recipe I want to make for my next Yukitchen project. It just has to be! So easy, so delicious, and so healthy. I felt like I saw the light pierced my darkest piggy moment. Thank you, mum for always being such a great source of inspiration!
So what is "Furofuki"?
Furofuki is written 風呂吹き in Japanese, and its direct translation would be "Bath blowing". That sounds really sexual, which got my attention and I decided to ask the wisest man I know: The internet.
"Bath Blowing", or "Furofuki" comes from a way of cooling down your food while eating.  Long ago when steam baths were used in Japan, it was believed that blowing will scrape off the dirt on their skin easier. They called this action "Furofuki (bath blowing)". The appearance of blowing on hot daikon looked similar to the act of "furofuki", and it is being considered to be one the reasons why this dish is called "Furofuki Daikon"
….Interesting! So it's got nothing to do with actual "blowing". Instead, you can think of cute Japanese people in retro bath blowing on their skin to remove dirt. I guess they were right about one thing here, guys: Japanese are so weird.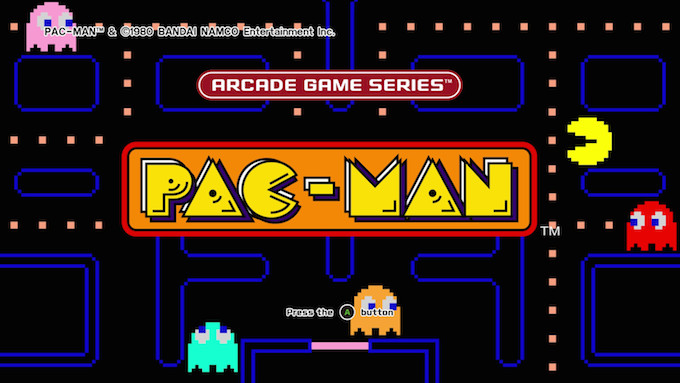 I decided to do Pacman this time. I didn't want to do all the usual cute bears or kitties because those are all I see on Instagram lately, so I wanted to do new things and also represent my Japanese heritage. Pacman seemed like a pretty good idea.
The creating process actually took more time that I had first thought. I knew I wanted Pacman, but I didn't want to pour the miso paste *on* him because it wouldn't look like Pacman, and it wouldn't even look appetizing.
After much brainstorming, I ended up putting the 3 giant dots of paste next to him, which actually made Pacman look like….. Pacman! I know it looks like it was really easy to come up with, but trust me, I really twisted my brain around this!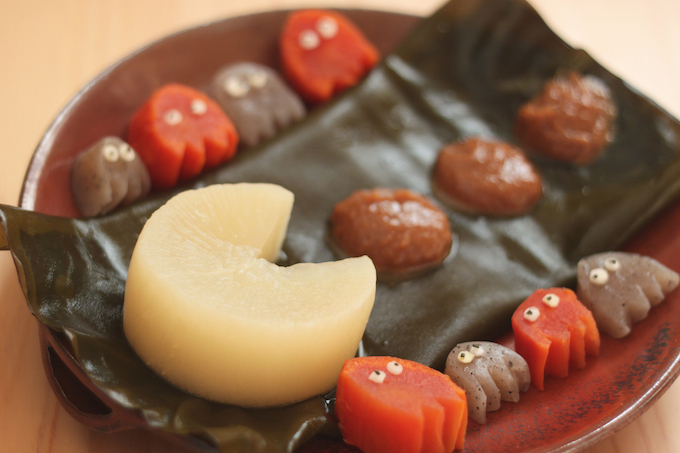 Furofuki Daikon should actually be Daikon and miso paste, but I was so touched by my mum's creation, in which she added konjac and carrot, so I included them in my recipe as well. I shaped them into the Pacman Monsters, which I thought was so brilliant that I almost called the Nobel Prize Committee in Stockholm to suggest myself as next years winner. Make sure you check to see if I won or not later, ok?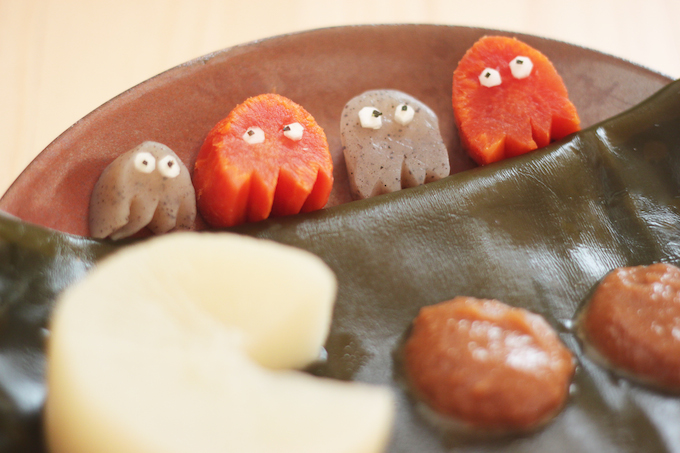 Pacman Furofuki Daikon
Japanese daikon radish classic recipe is now ready for some 80's awesomeness: Pacman. Enjoy this healthy vegan dish with your geeky expectations!
Ingredients
For the Packam Daikon part
• 1 hole daikon
• 10 cm whole kombu


For the Miso Paste
• 3 tbsp miso paste
• 3 tbsp brown sugar
• 2 tbsp cooking sake
• 1 tbsp mirin
• 2 tbsp vinegar (I like apple cider vinegar)
• 1 tbsp shred yuzu skin (or lemon)


For the Monsters
• 1 carrot
• 1 konjac chunk
• Some small pieces of daikon skin (for the eyes)
• Some small pieces of dried seaweed aka nori (for the eyeballs)

First, Making miso paste!
1: Here's what you need for Miso Paste!
Miso, sugar, vinegar, sake, mirin, and yuzu. If you don't have yuzu, you can substitute with lemon.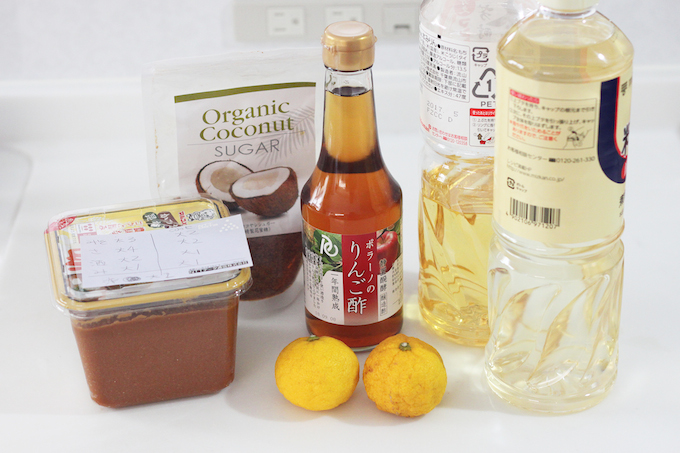 2: Make Yuzu shred.
Your kitchen will smell like heaven, just to warn you…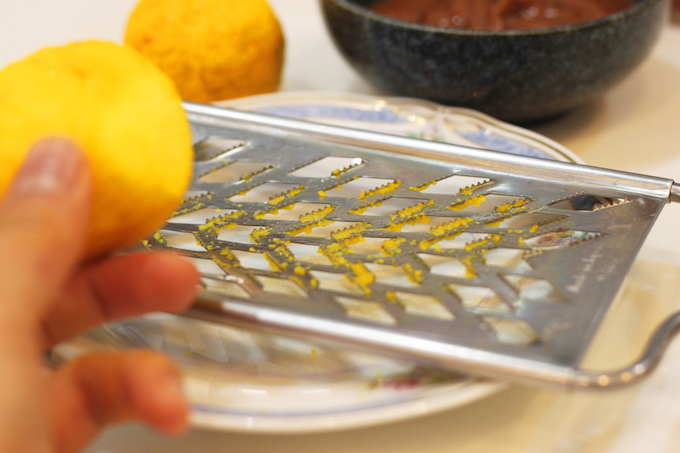 3: Mix all the ingredients except for Yuzu.
Heat the pot to medium before it starts to boil. Mix with a spatula for 4 to 5 minutes while it's hot, because it will stick to the bottom of the pod vert easily otherwise, and no one likes the sticky burnt miso paste.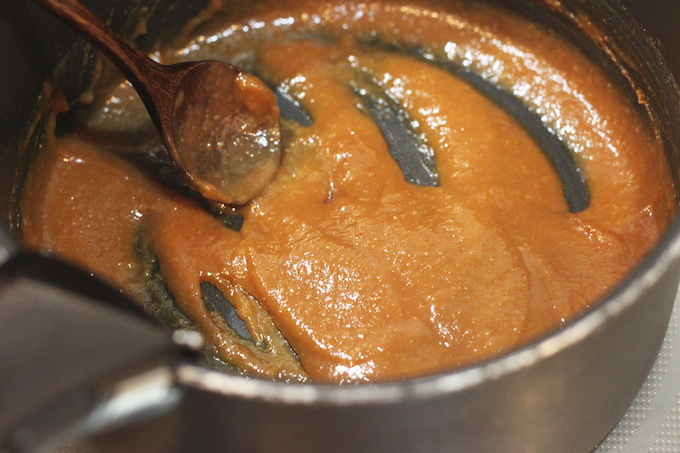 After heating it for 4 to 5 minutes, it will start to look thicken.Make a line on the bottom of the pot, and if it doesn' the line does not disappear, you are done!  Put the paste in a container and let it rest in the refrigerator for 30 minutes.
4: Add Yuzu.
After resting in the refrigerator for 30 min, it is time to add the yuzu shreds. Make sure you wait till the paste is properly chilled, otherwise you will lose the beautiful fragrance of yuzu!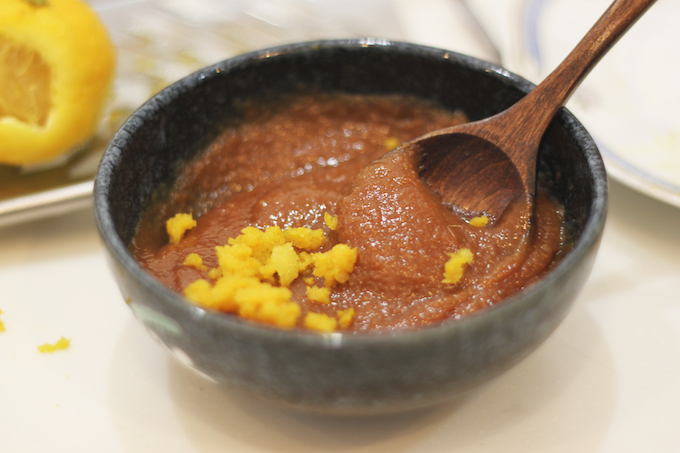 Look how beautiful! You can use this Miso Paste for many different varieties of Japanese cooking.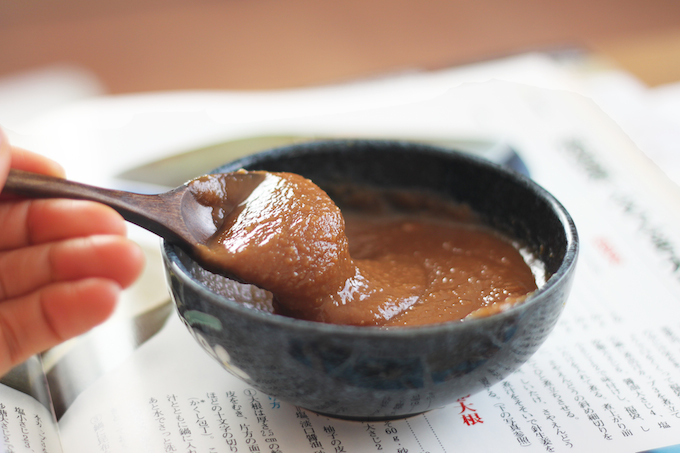 Next…. Furofuki Daikon!
5: Get your kombu ready.
Take your dried kombu out, and let it sit for 5 min in water.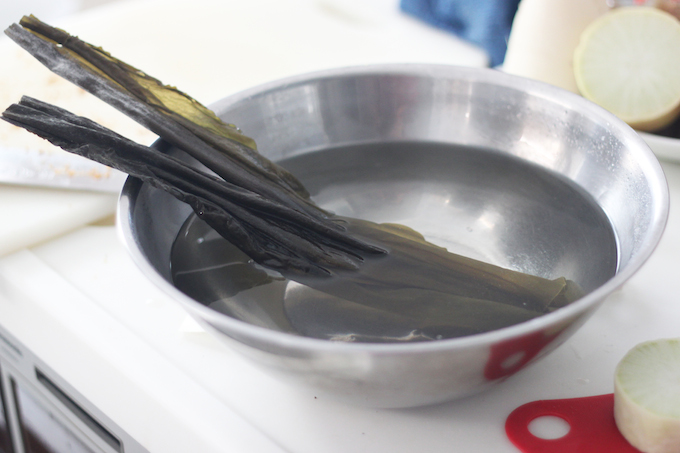 Then it will look like this.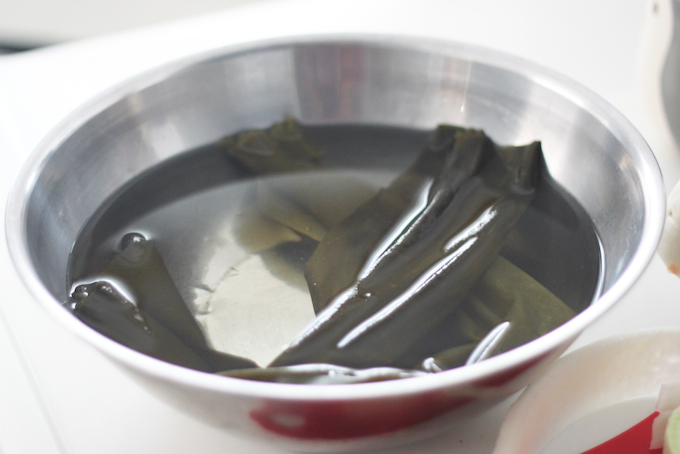 6: Cut the veggies!
Daikon: Peel off the skin and cut it into 2~3cm slices.
Carrot and Konjac: cut the carrot into 1 cm slices, and prepare the conjac chunk, and make the oval shape using a cookie cutter. I did not have a regular cutter so I actually used the back of a flower shaped cutter. It worked! But a bit painful on my paw…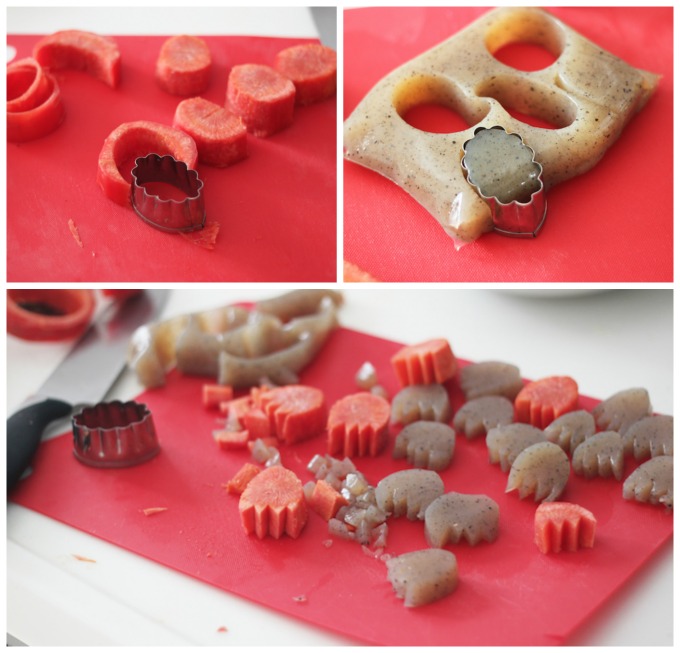 For making the "legs" part of the monsters, I just used a small knife to make zigzag shapes. It was fun.
7: Boil everything!
Usually, you don't add anything except for kombu. But some people might prefer boiling it with something else, so feel free to experiment on your own!
Put the kombu, daikon, carrot and conjac in a pot with water and put it on medium heat until it starts boiling. at which point you lower the heat. Close the lid and take about 30 to 40 minutes for more boiling, and let it cook until it gets tender. You can use a bamboo skewer to check if it's ready.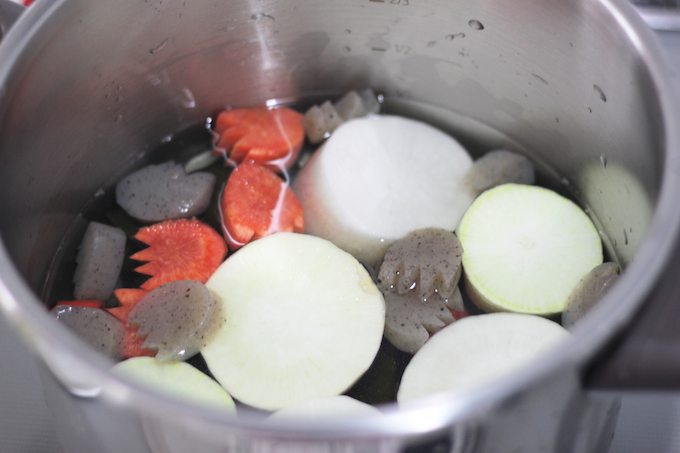 This is my super pot that I invested in. It's fantastic. Made my daikon so, so tender.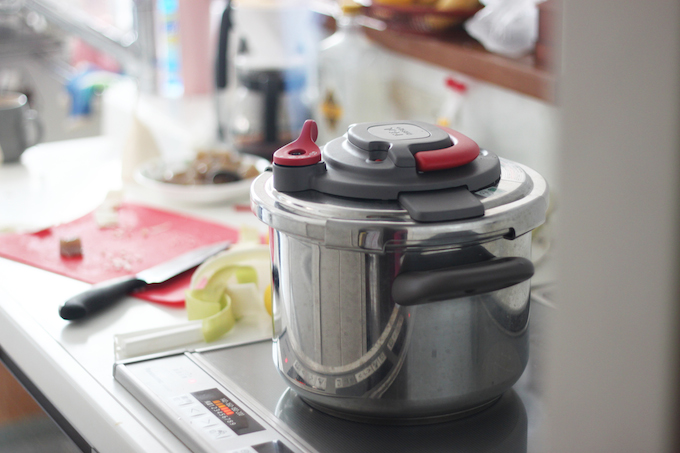 8: You boiled it!
And it will look something like this. Smells so amazing. So Japan. I love this smell in my kitchen.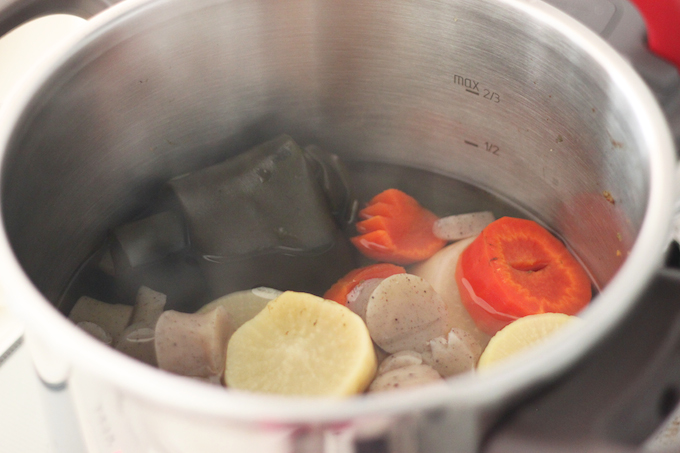 9: Start crafting.
Cut the Daikon into a Pacman shape, and then cut the daikon skin into super small shapes for the monsters' eyes. Lastly, cut the dried seaweed into tiny pieces and use them as their pupils. I used my chopsticks to stick the eyes on each veggie 🙂
Lastly, put the folded kombu sheet under Pacman and add the 3 Miso Paste dots next to Pacman.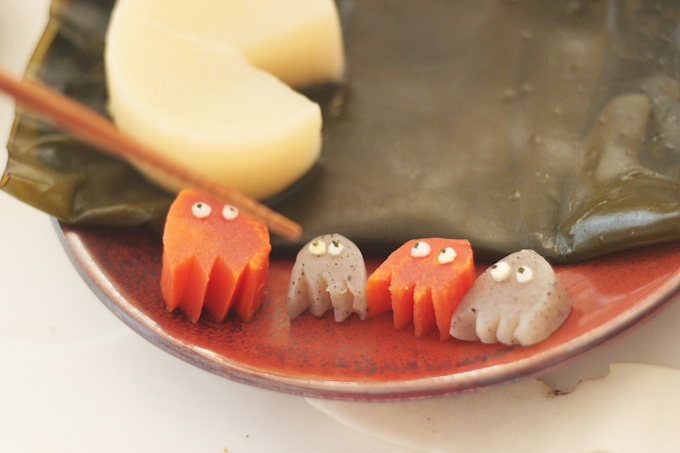 10: You are done.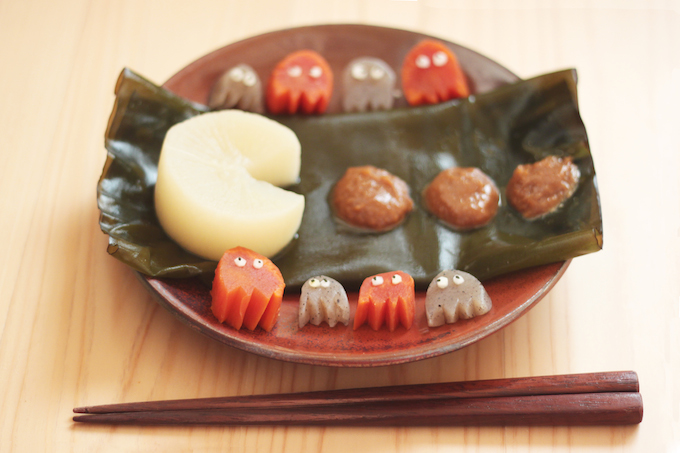 The Daikon Pacman. I wonder what Namco thinks about it…  After learning the creator of Pacman, Toru Iwatani, got the inspiration for Pacman when he was cutting a pizza, I originally thought of doing the Pacman recipe with a Pizza, but I think Mr. Iwatani will approve of the daikon version as well. Hey Iwatani san, If you are reading this, make sure you tell me what you think! 😉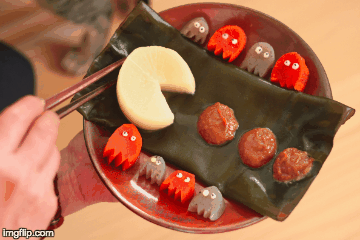 I had fun playing my own Pacman game and had to make gif for the first time! Isn't this so awesome, or what?!

This low-calorie super cute daikon dish is going to fill you up for sure, especially in this brisk winter season.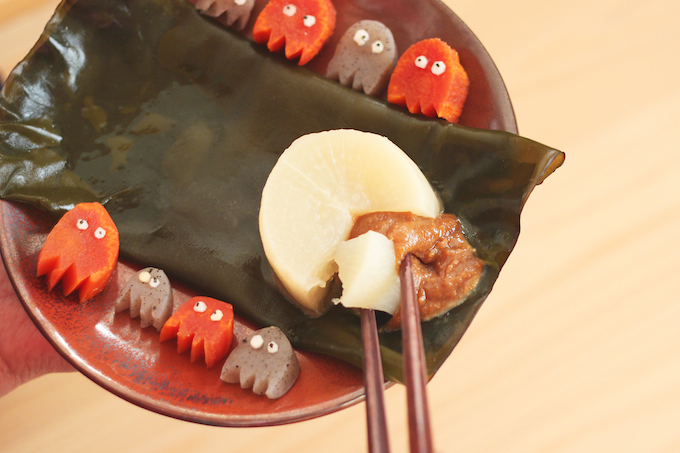 The monsters look extra cute with my own Miso Paste, Yuzu flavored!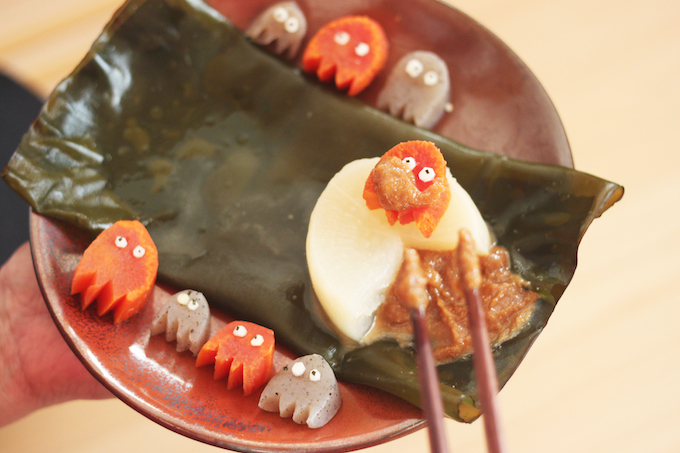 I personally LOVE the conjac. I think it tastes fantastic and went so well with Furofuki Daikon.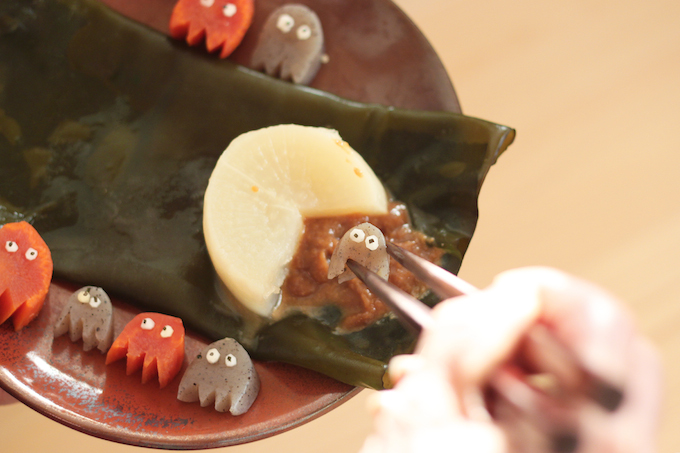 Thanks to my daikon munching days and a lot of jogging, I have gotten back to my normal weight! 😀 Very happy about this. That means I get to cook my heart out until the kitchen break, or something. I have so many inspirations during my hiatus, so this could be super interesting.
I hope you try this Furofuki Daikon recipe, and good luck in the kitchen!
xxx
-Yuki