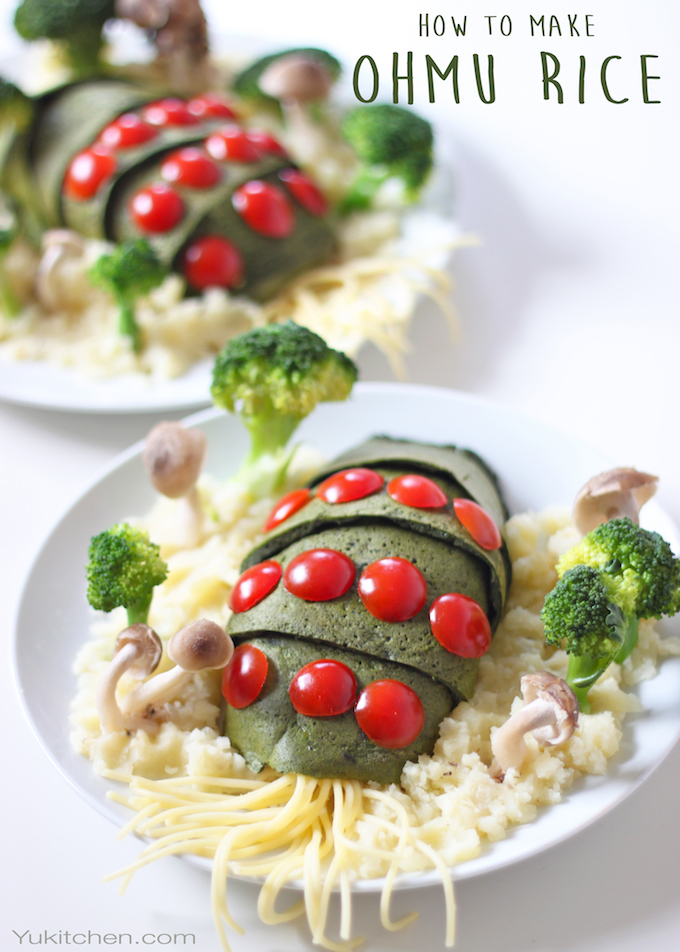 Like most fans would say, "Nausiccaa(風の谷のナウシカ)" is my favorite film from Studio Ghibli. I constantly find beautiful fan artworks on the internet under #studioghibliart hush-tags, and that inspired me. Then I wondered what it would be like to create food art out of Nausiccaa. Surprisingly, the first thought that came to my mind was the "Ohmu". The giant dark-green creature Ohmu. They look pretty scary in the film, but maybe I can manage it to make it edible…? Would it be a good idea or just disgusting..?
Well, I thought that was a great idea. And the rest is history.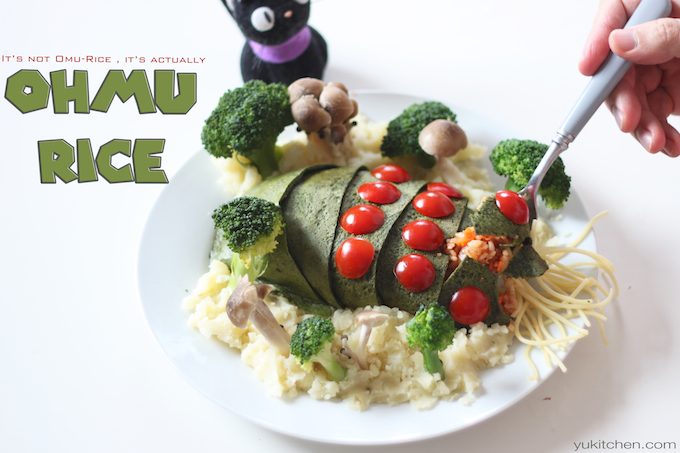 I decided to go on a quest to create the ultimate recipe, to complete this very mission: -making Ohmu.  It was challenging for me because Yukitchen can never use any artificial food additives, like food coloring.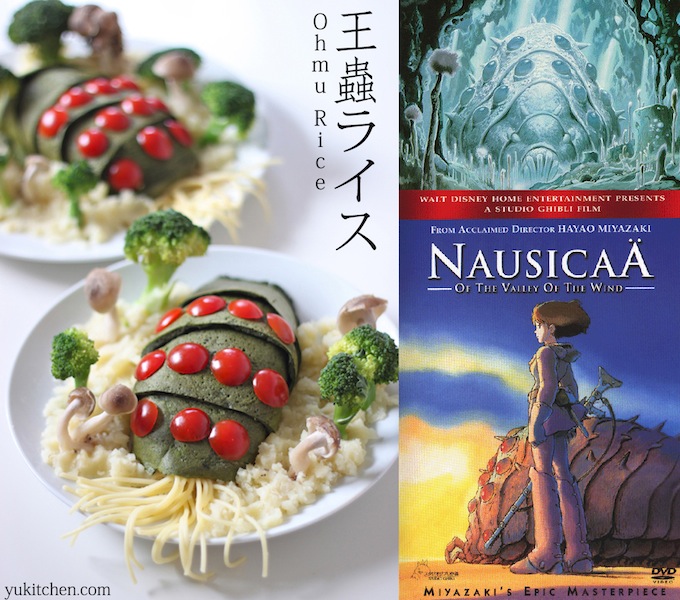 After some research and experiments, I've created a great organic recipe for Ohmu, and I'm -very- happy with how it tastes…! Now when I see Ohmu on TV, I just remember his beautiful flavor and texture of limes and olives all over in my month… I drool when I see him.  And you will too, once you make this food with me today!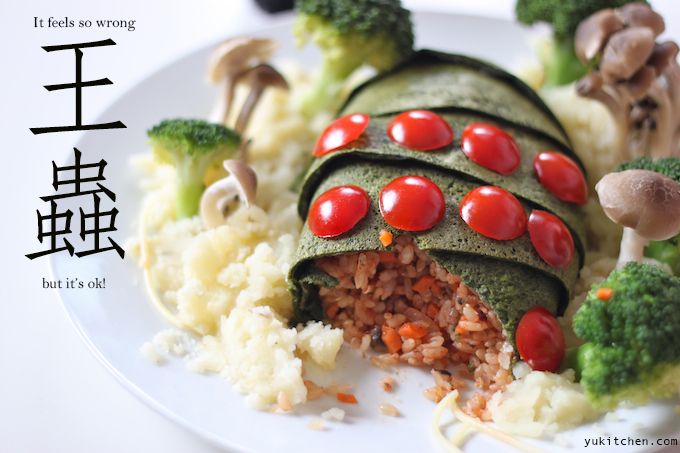 Are some of you still thinking we Japanese eat Sushi all the time? Well, it's probably time for you to reset your device and I'll help you flip your calendar to 2014. The truth is that we don't really eat sushi so much. I eat sushi in Japan only when I have foreign visitors, or at the funerals. (True story!)
Omu-rice is a contemporary Japanese food, blending Western omelet and Japanese fried rice. And we actually eat this quite often, unlike sushi. Omu-rice is a short way to call "Omelet Rice", and it looks like a regular omelet with fried rice inside. We usually flavor it with tomato ketchup 🙂
One day I was eating Omu-rice and a lightning struck onto my head.  I call this distinguish trait of mine "awakening".
I think if I can make the omurice green or something, it would look so cool. Then…. maybe put a bunch of decorations like, tomatos or something, so it would look something like…….. "gasp!!!* OHMU!!
And that's how it all started. This is how my mind went on that day. It all comes down to a simple math:

Ohmu lived in a place called "Sea of Decay(腐海)". It's a jungle of giant plants and fungi swarming with giant insects, which seem to come together only to wage war. I used mashed potatoes, broccolis, and Shimeji mushrooms to creates the lethally toxic forest, which by the way, are all organic.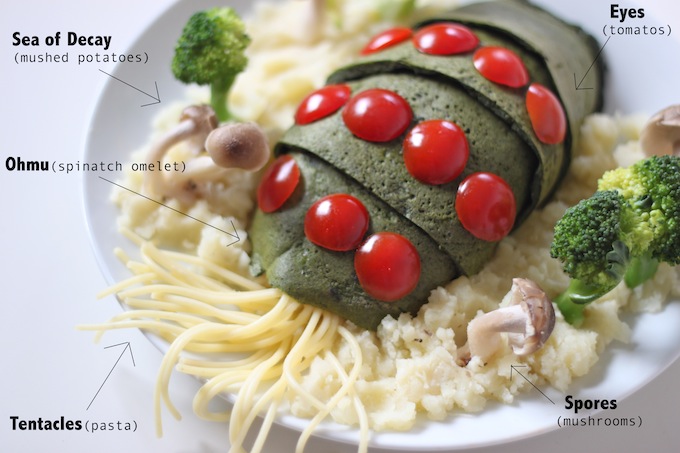 Ohmu-Rice
How to make Ohmu using only natural ingredients without meat. Your geeky gastronomical horizon will expand big time after trying this recipe!
Ingredients
For the Ohmu Shell
・3~4 eggs
・100g black olives
・1 bag (250g) spinach
・10 mini-tomatoes
・2 limes
For the Ohmu guts
・1.5 cups rice
・1 carrot
・1 cup shimeji Mushrooms
・3 tbsp tomato Puree
・1 garlic clove
・Salt and pepper, to taste
For Ohmu's tentacles
For the Sea of Decay
・2~3 potatoes
・1 cup broccoli
・Salt and pepper, to taste
For Spores
Phew… if you got scared by this recipe with the unfamiliar words like "tentacles","Sea of Decay" and "spores",  you need to watch the film again and truly understand the depth of "Nausiccaa". If you got excited by this recipe, on the other hand, welcome to the geekdom. You are ready.
Now let's get the party started!  


1: Cook rice and chop the veggies. Prepare rice in a steamer or pan with 3 cups of water. While rice is cooking, start cutting the garlic, carrots, onions, shimeji mushrooms as small as possible.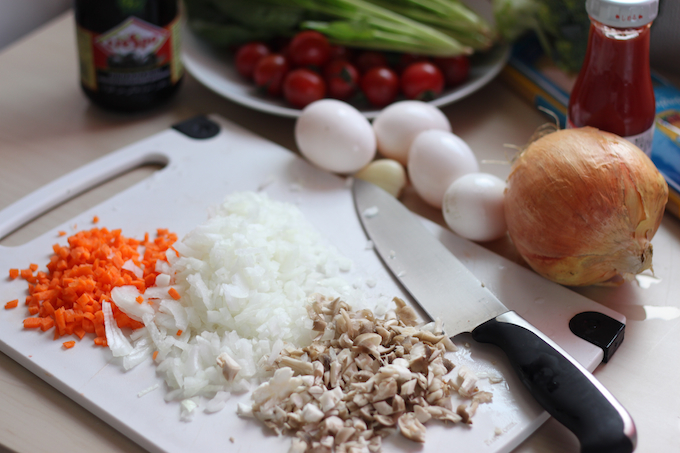 2: Make fried rice. It's going to be the inside of Ohmu. When the rice is cooked, start pre-heat a frying pan to medium, then put the cut veggies, salt, pepper, and tomato puree until the onion turns clear-colored. I say fry 3~5 min. Then add the steamed rice and mix them all together.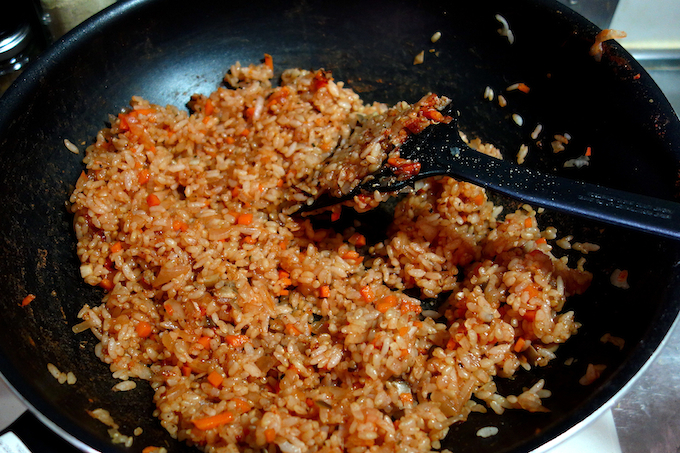 Now you've made delicious "Tomato fried rice"!
3: Make mashed potatoes. This is the "Sea of Decay" part!. Don't say eww and keep on mashing. Wash and peel the potatoes, then boil them for 15 min. Mash the potatoes with a bit of salt and pepper. Butter is a good addition, too.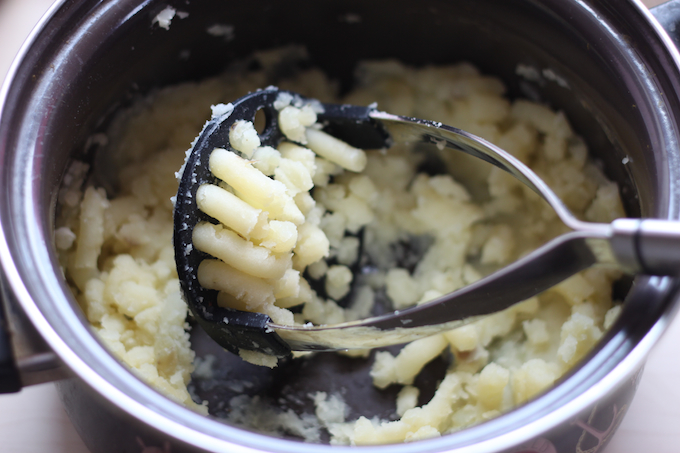 4: Start boiling broccoli, spinach, and pasta for later, while mashing the potatoes.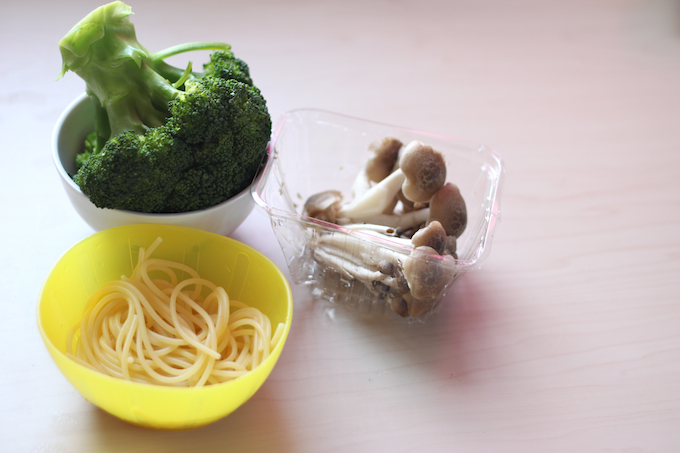 5: Cut tomatoes like Ohmu's eyes. His eyes turn blue when calm, red when mad. Today, we are making a red-hot-mad Ohmu. Your mini tomatoes are going to be just perfect for creating his wrath. Cut the tomatoes as flat as possible, so it'll be easier to place them on the Ohmu body.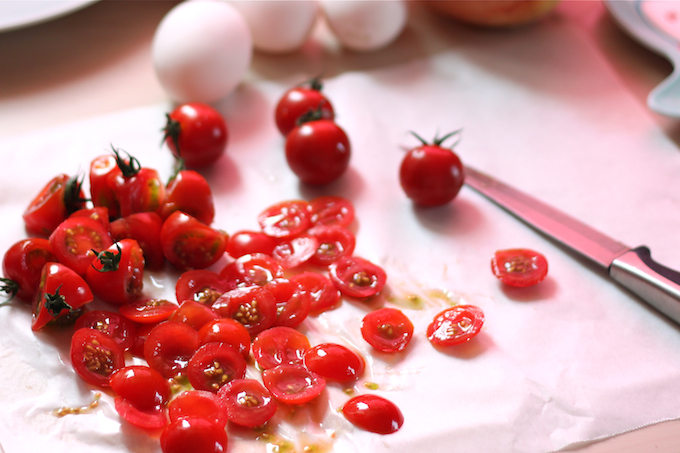 6: Use the blender for mixing green omelet ingredients. This is going to be the Ohmu-shell. To make Ohmu shell look so real, we are going to put olives, boiled spinach, eggs, and a pinch of lime all into the blender. Cooking with only natural ingredients is so much more appetizing!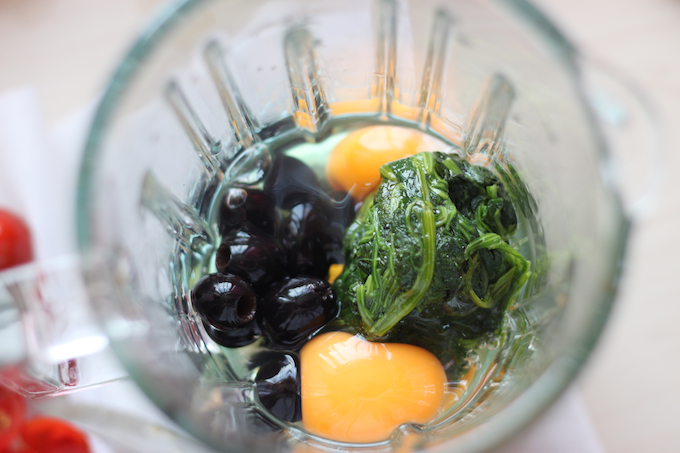 Ooooh. Look at this. The exact color of the Ohmu with the flavors of olives and limes…
7: Make the thin omelet. Pre-heat the non-sticky pan medium-low, fry it for 2~3 min both sides. (Some might find it difficult to make the omelet so thin like in this picture. Good luck!) Try making 3~4 thin omelets.
8: Place the fried rice on plates and shape it like Ohmu. Fat Ohmu, thin Ohmu, now is your time to decide what kind of Ohmu you want to create!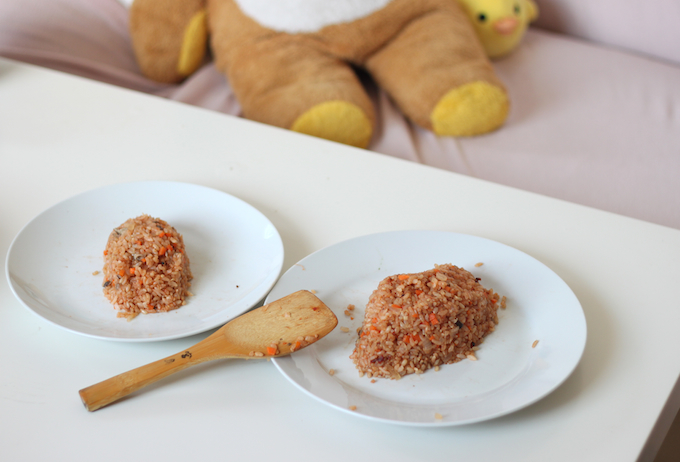 9: Cut the omelet into 3 pieces. These are going to be the layers of Ohmu shell. When you tuck the pieces into Ohmu's body(fried rice), make sure the round part of the omelet goes to the head of the body.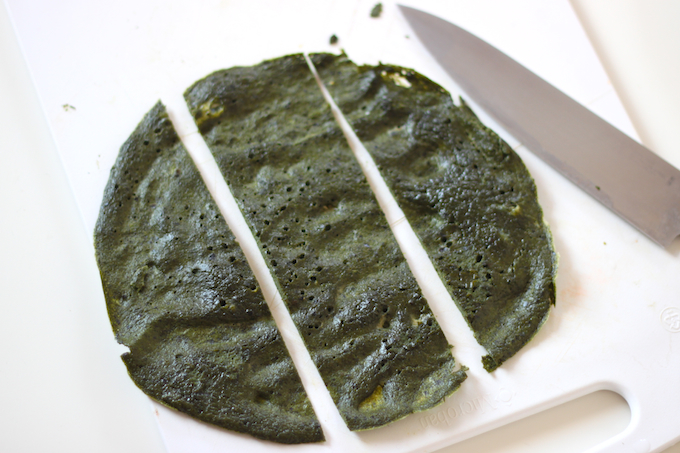 10: Decorate them. Place tomatoes on the face, then put the Sea of Decay (mashed potatoes) around the Ohmu, so he looks nice and toxic. Stick Rotten Tree (steamed broccoli) and Spores (shimeji mushrooms) in mashed potatoes. Lastly, place Tentacles (boiled pasta) into the Ohmu's month and you are done! During this process, you will also notice that you can no longer convince your people that you are not a geek. It's too late.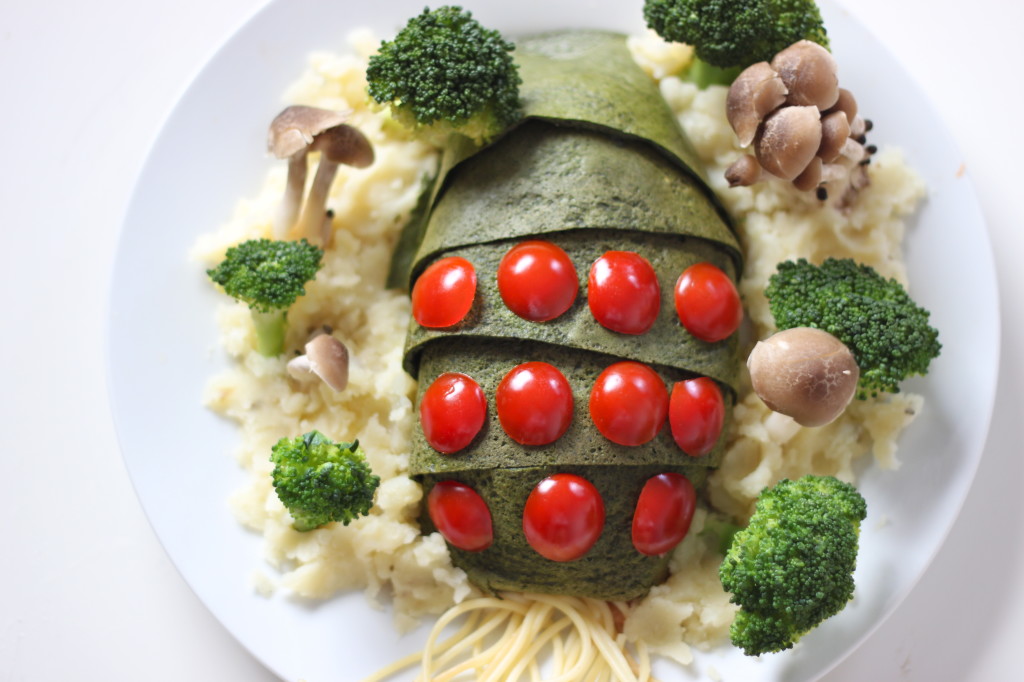 10: You did it! Just take a look at your baby Ohmus…. You should be proud of yourself!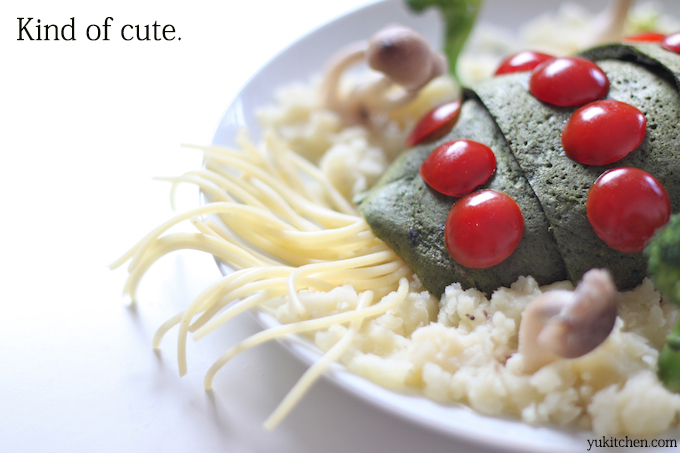 To celebrate this glory, I will show you how this thing works with these 3 steps: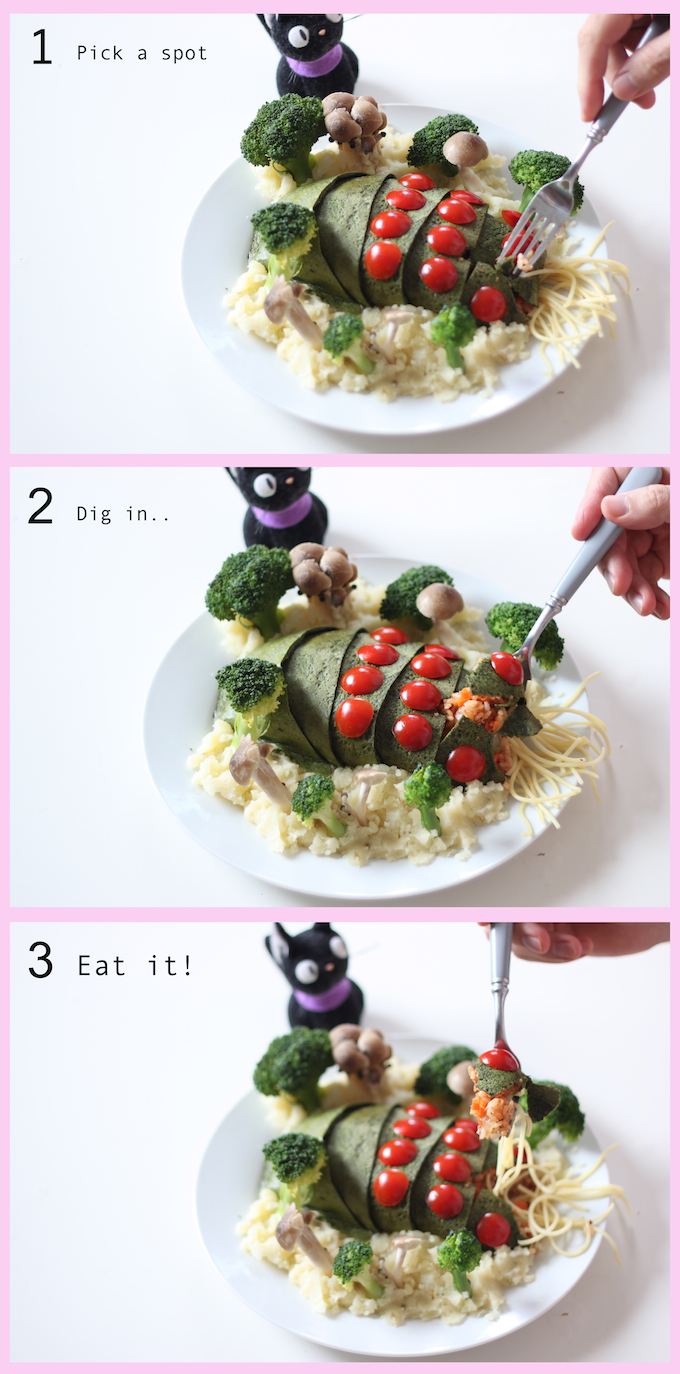 The guilt of eating a masterpiece of art. It haunts me every time I cook recently. But you really -must- taste this. The harmony of spinach-olive-omelet and tomato fried rice is simply beautiful. A lot of people just think my Ohmu-Rice is all about how it looks, but it's really not. This really is a delicious Japanese cuisine.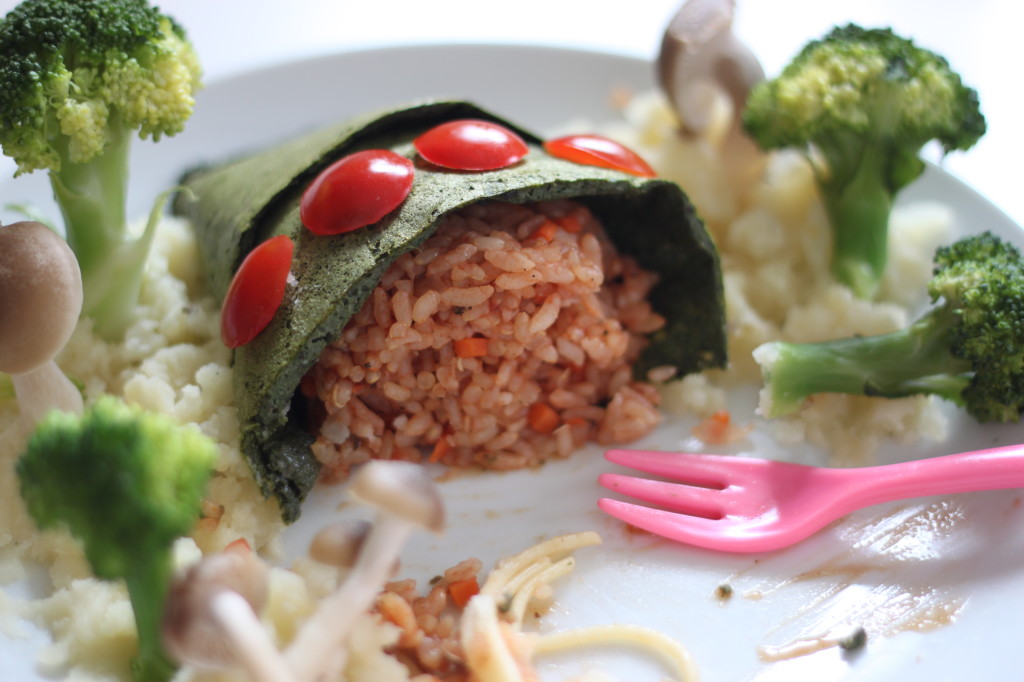 I hope you are not too grossed out by my geekiness. I'm planning to get a lot or crazy this year so please don't give up on me yet.
Eat this with the actual Nausiccaa film for a special night!
xxxx
-Yuki