Nikujaga: – the quintessential every-day dish that we Japanese grow up with during the course of our lives. It is virtually impossible not to go through a life without Nikujaga if you are living in Japan. In my personal opinion, Nikujaga is my home. A bite of it will easily take me back to the nostalgia to my old wooden house in West Tokyo, where my mother taught me how to cook.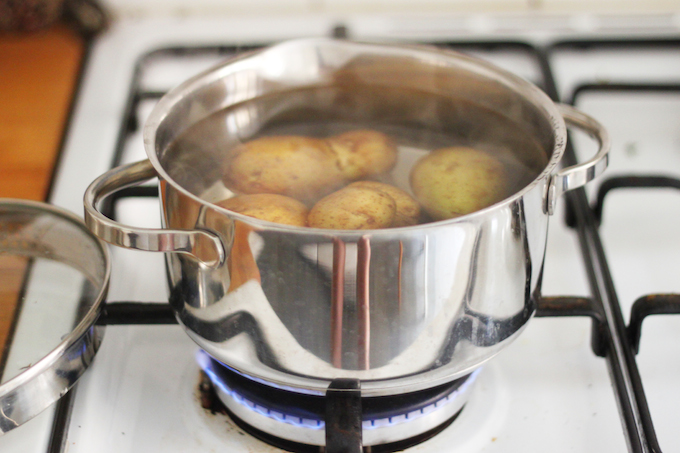 Are you assuming that Japanese think of sushi when we want to feel home? If so, it's a trap. You've locked yourself in a society cage called "Typical Gaijin" and whenever we detect people in the TG cage, we smile with a hint of guilt and change the subject as subtle as possible. This is how we scale your depth in the knowledge of our culture without hurting your feelings, and this also serves as a preemptive judgment for potential easy small-talks that are about to take place. So if you wish to have deep meaningful conversations with Japanese people, I suggest you not be in the "TG cage" too long.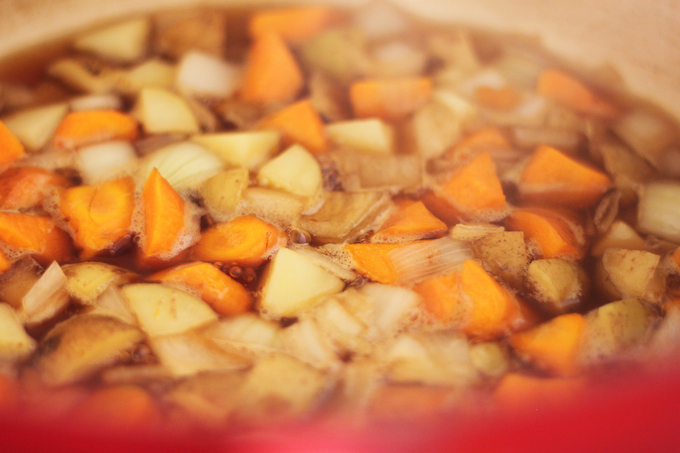 Nikujaga is also known as a preliminary evaluation. Typical Japanese men often look for women with big eyes, thin body, and cooking skills to make perfect Nikujaga for their desperately outdated Japanese muscularity.
So yeah, I remember not being able to make great Nikujaga felt like a threat when I was hitting the age of puberty. I wanted to wow my first boyfriend so much that I asked my mother for her amazing, earth-shattering, mouth-drooling Nikujaga recipe. I used to be so cute and misguided at the same time. But there were two life lessons I learned from this experience: – One, men are clueless. Two, a great Nikujaga recipe from my mother.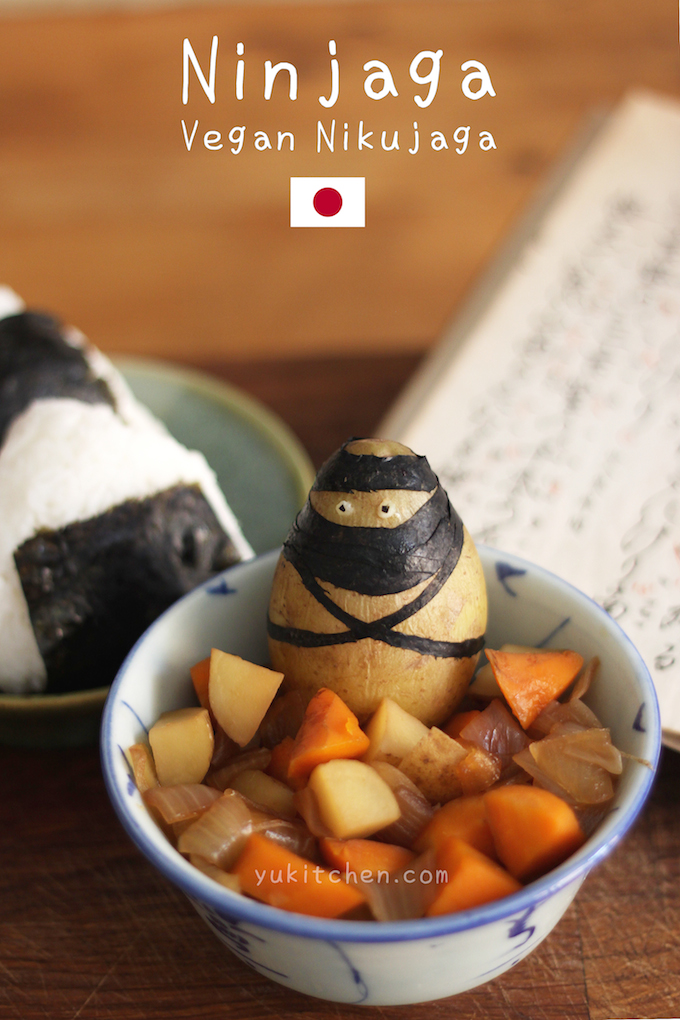 Nikujaga (肉じゃが) means "Meat (niku) and potatoes (jaga)". So I always felt like an oxymoron whenever I say "Tonight, I'm cooking Vegan Nikujaga!".
In case you are wondering, this is what regular Nikujaga looks like: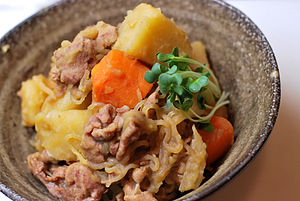 One winter day I was hanging out at my go-to spot, the National Library of Japan in Tokyo, and I found amazing information from a history book I was browning. It basically said this:
"Ninjas are vegetarians, because eating meat will cause BO, and that's a No-No when sneaking into the enemy's territory."
My eyes opened so wide that I could've sworn my contacts could easily fall out from my tiny Asian eyes. I was like a sparkling Tesla coil quietly radiating in the study room on the 3rd floor of the National Library of Japan. Finding any sort of connections between my ancestors and myself, incidentally, makes me extremely happy. Being vegan/vegetarians in Japan is painfully difficult, but I felt like I saw a little light from this history book, telling me that many Japanese used to follow the plant based diet back then.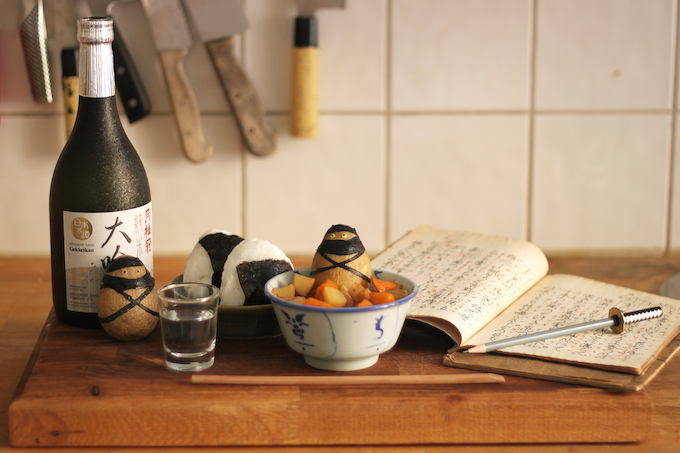 This ecstatic experience triggered me to make something Ninja related, and my mum's delicious Nikujaga crossed my mind. I felt like a literal prodigy when I came up a name "Ninjaga", instead of usual "Nikujaga". I think I even squeaked like a little girl in my room in West Tokyo, maniacally grabbed my iPhone and texted my friend this one line: "I think I might be a genius."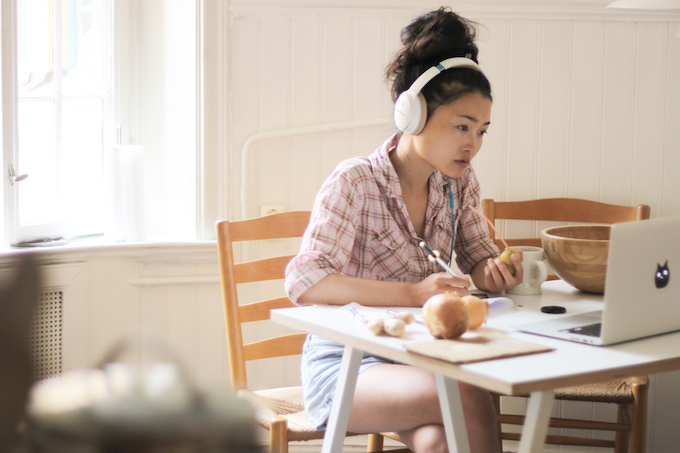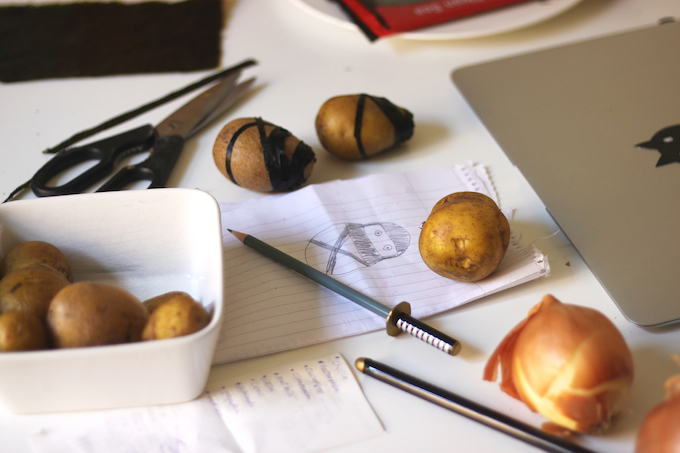 The next task for me was to design the Ninja.  Since "jaga" means potatoes and the recipe name is "Ninjaga", I had to make Ninjas out of potatoes. So I googled "How to make ninjas out of potatoes", and it was one of the most quizzical google searches I've ever done.
I also wanted my Ninjaga to look vintage, like it was from the 18th century, so I used some of my Edo samurai collections for this photoshoot. The notebooks are from a retro book store I found from a street of Nara City, and a pencil is from Odawara Castle. They are so cool. I love my samurai collections.

How to make Ninjaga (Vegan Nikujaga)
The quintessential every-day Japanese dish with potato ninjas.
Ingredients
3 potatoes
1 onion
½ carrot
1~2 dried seaweed paper


Seasonings:
4 tbsp mirin
3 tbsp soy sauce
3 tbsp sake
1 tsp salt
1 tbsp brown sugar
How to make Ninja Potatoes:
Boil the whole potatoes for 15 minutes until cooked.
Cut the seaweed into thin strings.
Wet the seaweed strings with water.
Wrap the strings around the boiled potatoes.
Poke two dents with chopsticks around the eye area.
Stuff the dents with cooked potatoes.
Cut the seaweed into two tiny dots.
Place the dot seaweed on the eyes.
DONE.


Making of Ninja potatoes while listening to my favorite Japanese history podcast. Multitasking is my forte.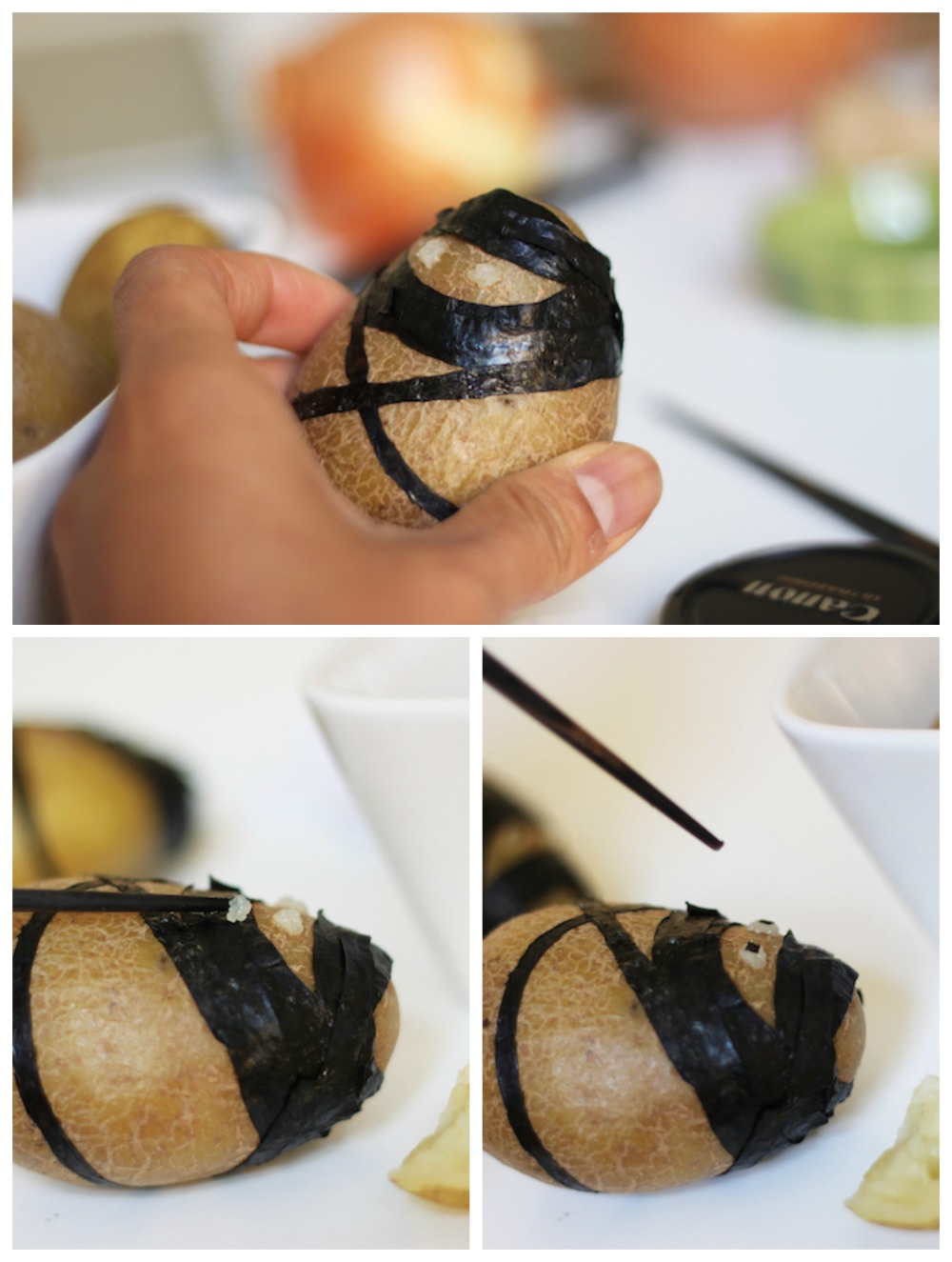 Making Vegan Nikujaga is super simple.
You just cut the veggies, put them in a pot with a bunch of seasonings and water, simmer 30 minutes, and done. Cooking is not complicated. It's the media that makes everything complicated so they can make money.
It's important so I'll say it again: Cooking is not complicated.
The most important thing is that -you- are the one who makes your own food. Not some restaurant. Not a frozen pasta or a bag of Lays from your local convenience store. The ingredients to happiness, I think, are the healthy homemade food and education. This Ninja Potato will take you to the next level of healthy eating today!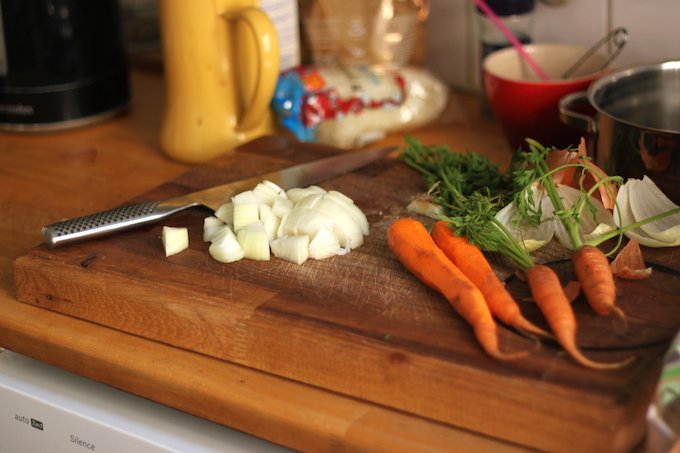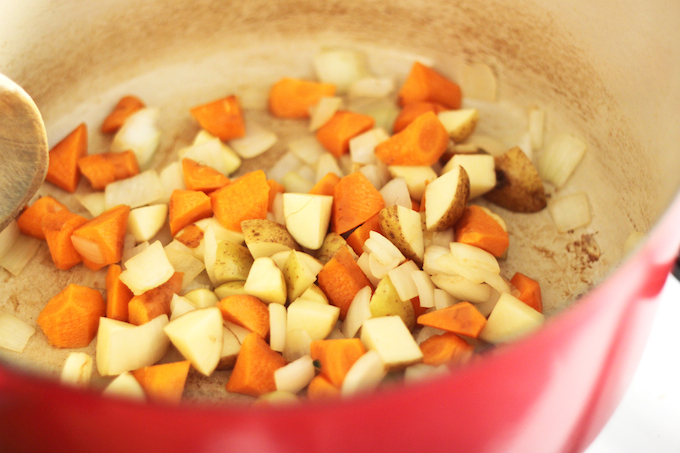 How to make Vegan Nikujaga:
Cut the veggies.
Cook onions till they turn transparent. (use half a cup water instead of oil.)
Add the rest of the veggies.
Add water till the veggies "look like they are having a bath". (That's from my mum. Meaning, the tip of the veggies should pop out from the water. Like, you know, a bath.)
Add the seasonings.
Put a lid and simmer for 20~30 min with mid-low heat.
Don't burn it. Mix it sometimes.
Done.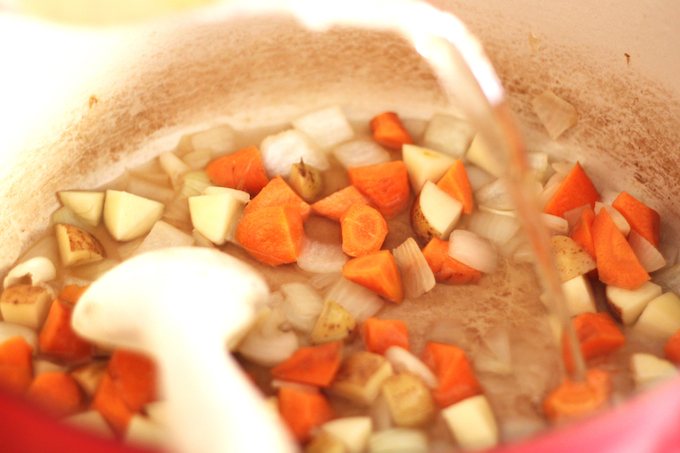 Then grab your Ninja Potato, put on top of Vegan Nikujaga, and go crazy with it.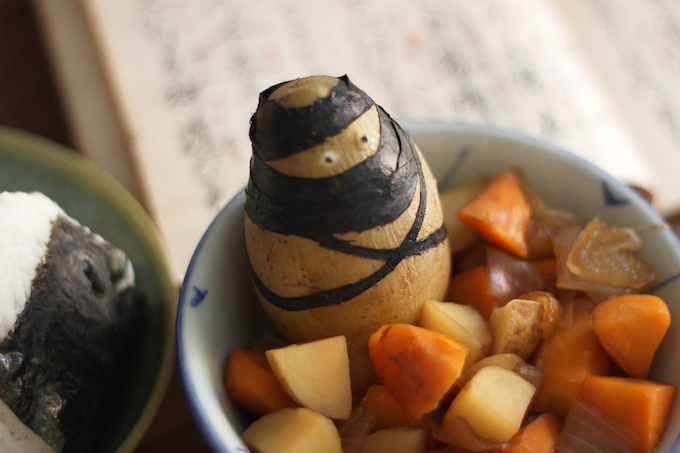 No meat. No dashi. No oil. No problem. Healthy ninja food, at your service.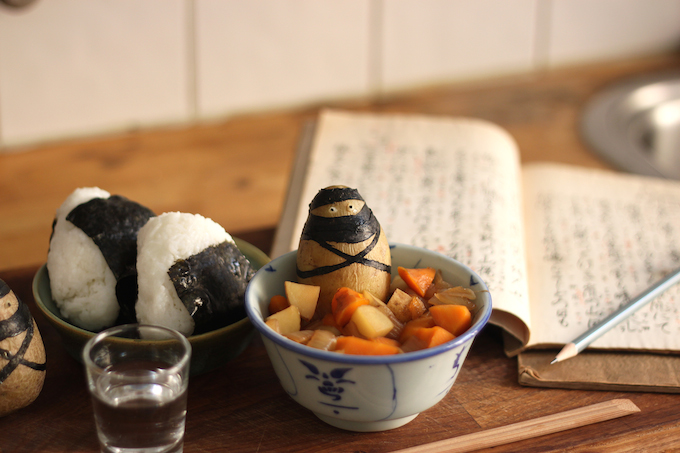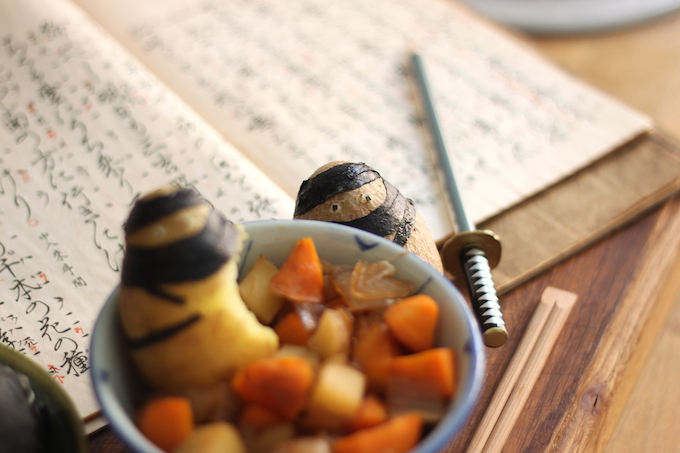 With half killed Potato Ninja and his colleague Ninja looking over him behind the bush… It's almost like one scene from Seven Samurai by Akira Kurosawa, where quiet Kyuzo fought alone to save the village and eventually get killed in rain. That film changed my life. And I hope my Ninjaga will do some positive effect on you, too, like Kurosawa did on me.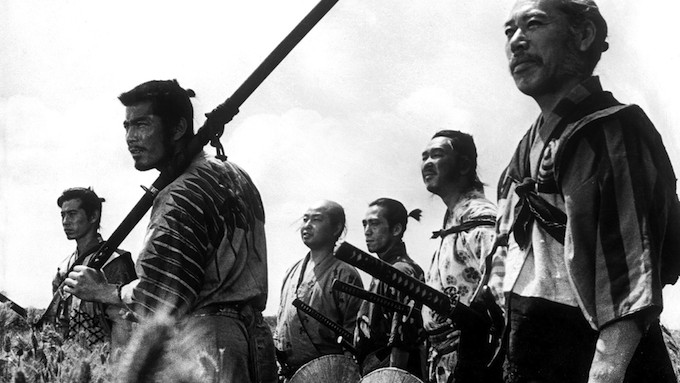 Good luck in the kitchen, guys!
xoxo
-Yuki