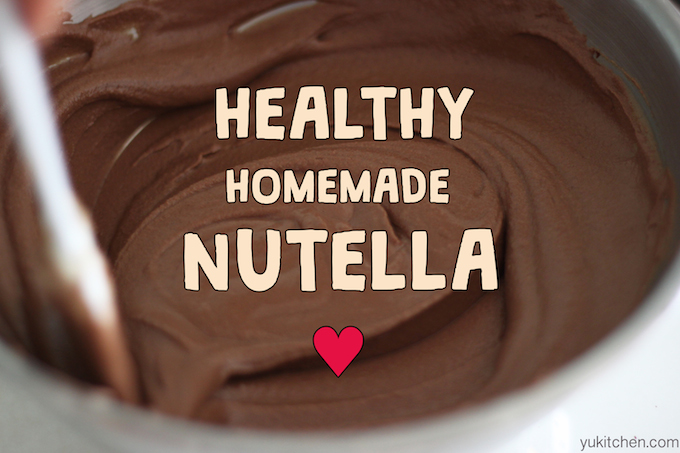 Believe it or not, I've never had Nutella in my life until recently. I was raised by traditional Japanese parents who's breakfast was never-changing "rice and miso soup" for all their lives. My family is old-fashioned, meaning we don't really touch foreign food. So when I had Nutella for the first time last year, it was a huge deal for me. I felt like I finally opened the pandora's box.
I remember I couldn't believe what I was eating. Nutella was SO GOOD. I couldn't stop dipping my fingers right in a jar and munch until I couldn't eat anymore. I became a Pooh bear.
Shortly after, I came to my senses and found out about what Nutella really is. Nutella, in a nutshell, is just a mixture of sugar, GMOs, and artificial flavors. (I wrote more about is here) I was so sad, disappointed and wished I should have never googled Nutella. I felt like I lost a friend.
And this is why I decided to make it myself to get my new best friend back in my life.  And this one is even better, tastier and healthier!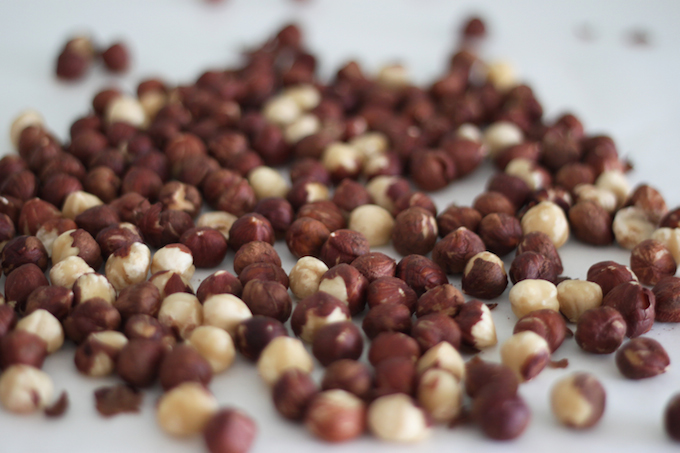 This homemade Nutella tastes SO MUCH BETTER than the store bought stuff. Here are the 2 big "no"s in my Nutella:
No oil, No artificial flavors. Just plain healthy! 
Homemade Nutella has a silky-smooth texture that makes it almost irresistible. In fact, it pretty much is irresistible in my home. I can't help but reach for a taste every time I open my fridge door.
So, consider this your warning. Make this creamy, chocolate-y, homemade hazelnut spread at your own risk!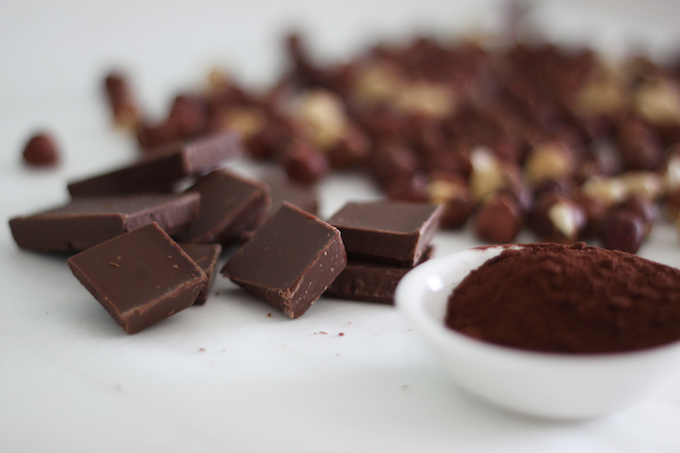 The big 3 main ingredients you will need:
Hazelnuts
Chocolate

Cocoa powder
And here's the gorgeous hazelnuts, soon to be roasted. I'm getting so excited!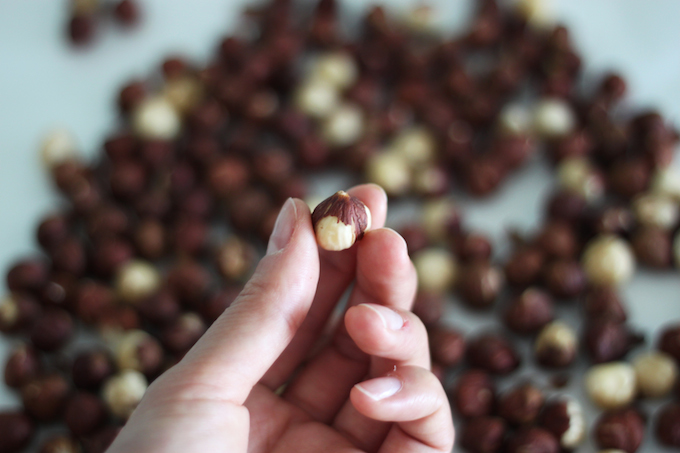 Healthy Homemade Nutella
This homemade Nutella has no oil and no artificial flavors. Just plain healthy and tasty!
Ingredients
• 1.5 cup Hazelnuts
• 1 cup Vegan chocolate (chopped)
• 3 tbsp Cocoa Powder
• 1~2 pinch Salt
• 2 cup Water
• 1 tbsp Vanilla extract (optional)

1: Roast Hazelnuts for 15 minutes.

Preheat your oven to 180C/350F and arrange the hazelnuts on a baking sheet. Toast the hazelnuts for 15 minutes, until their skins begin to crack. (This helps the skins slide off easier.)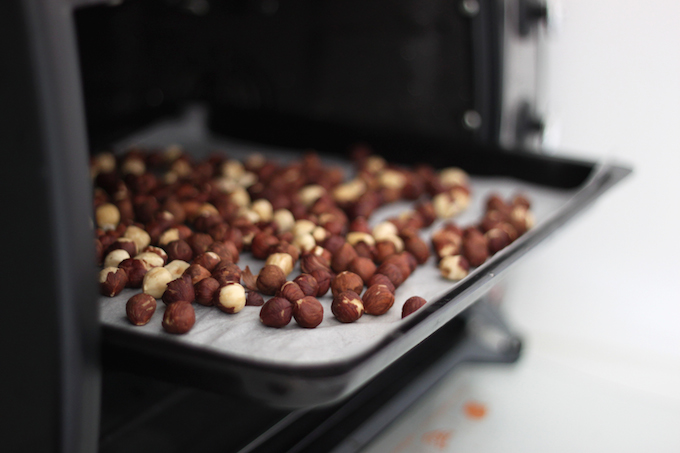 2: Chop the chocolate into pieces

While waiting for the nuts to be roasted, chop the chocolate into the piece. These are going to be mixed with the rest of the ingredients later.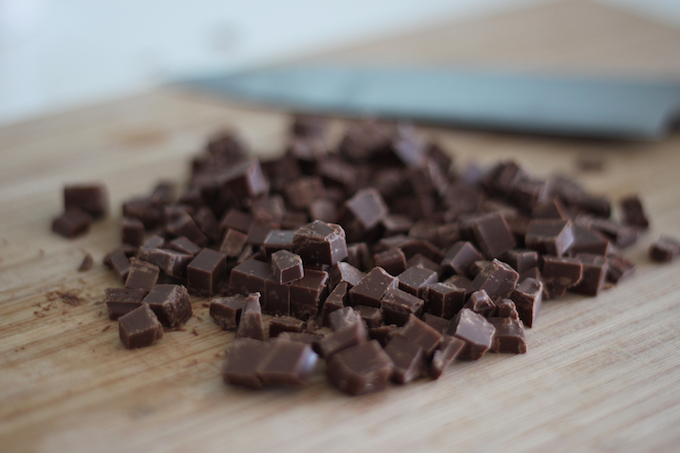 3: Remove the skin.
After roasting the hazelnuts, allow the nuts to cool. Then rub them in a dishtowel to help remove their skins. I used my oven mittens because the nuts were very hot! It doesn't matter if you get every last speck of skin off– you just want to remove as much as humanly possible.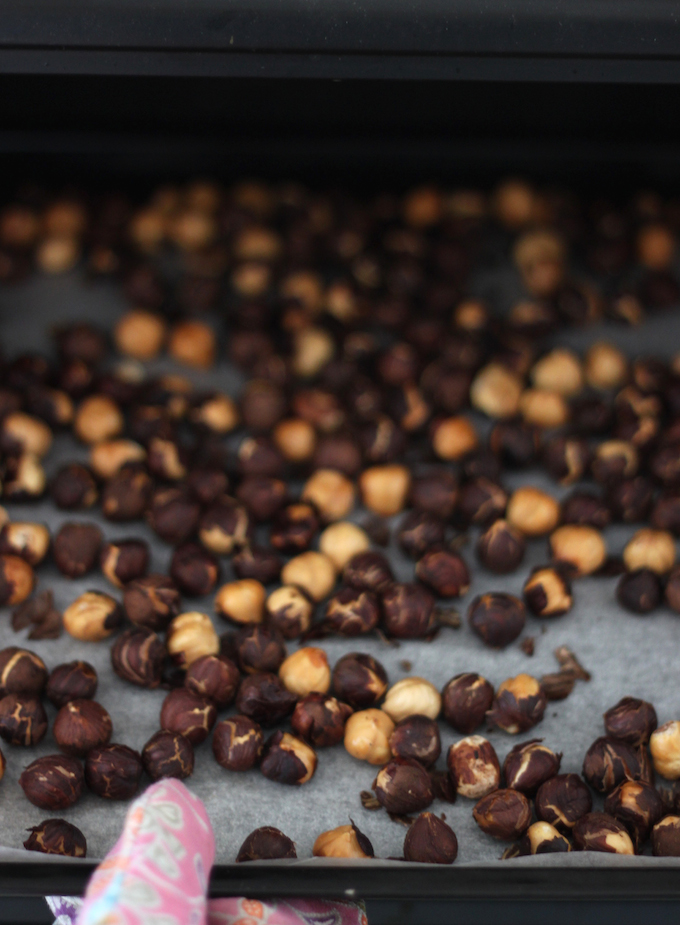 Using my oven mitten to remove the skins.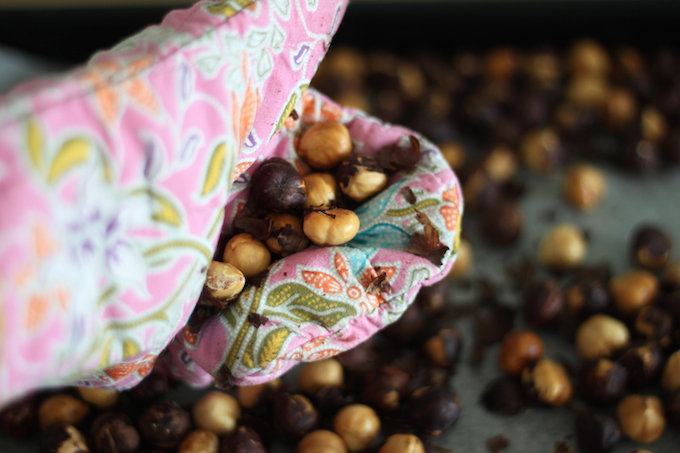 These are the hazelnuts skins I removed. Quite a lot, isn't it?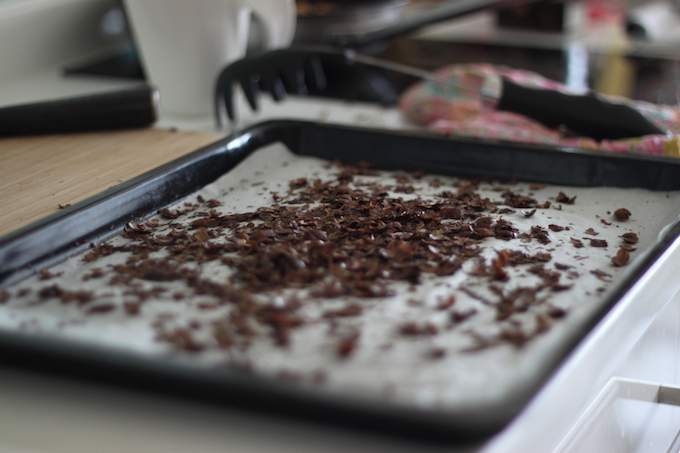 4: Put the nuts in a pan and toast for a bit. 
Put them all in a pan on medium to high heat for about 2~3 minute.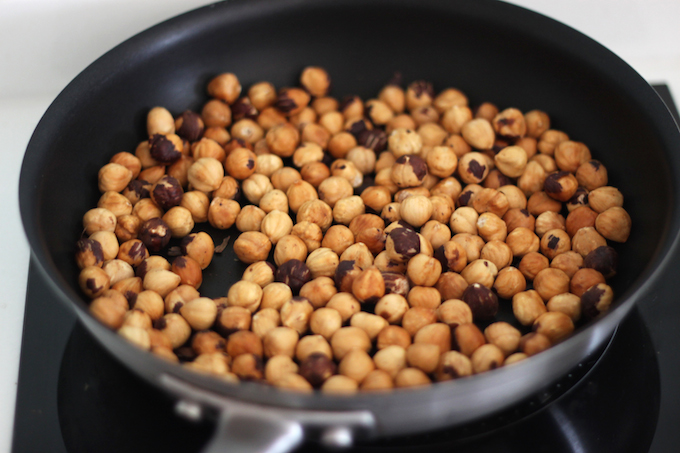 5: Add water and boil the nuts
Add 2 cups of water and cook for 10~15 minutes just till the nuts get soften. Then add a pinch of salt. You can also add a half cup brown sugar if you like, but I prefer no sugar.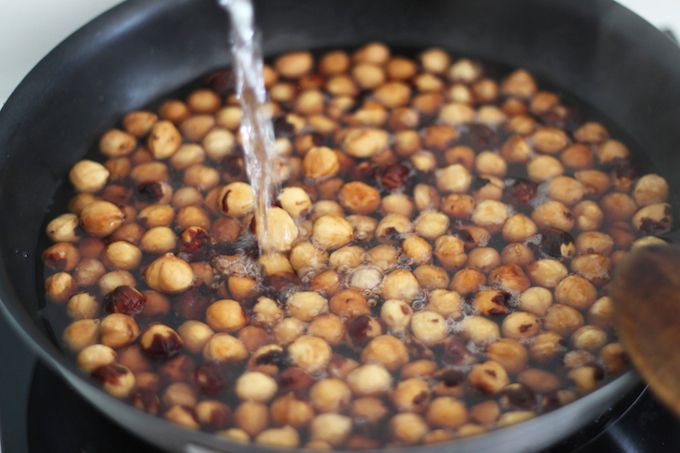 6: Blend the nuts!
Once the nut mixture is done, pour it into a blender or a food processor, essentially just to puree the mixture on the highest setting for about 5~7minutes.  Get it as smooth as you can!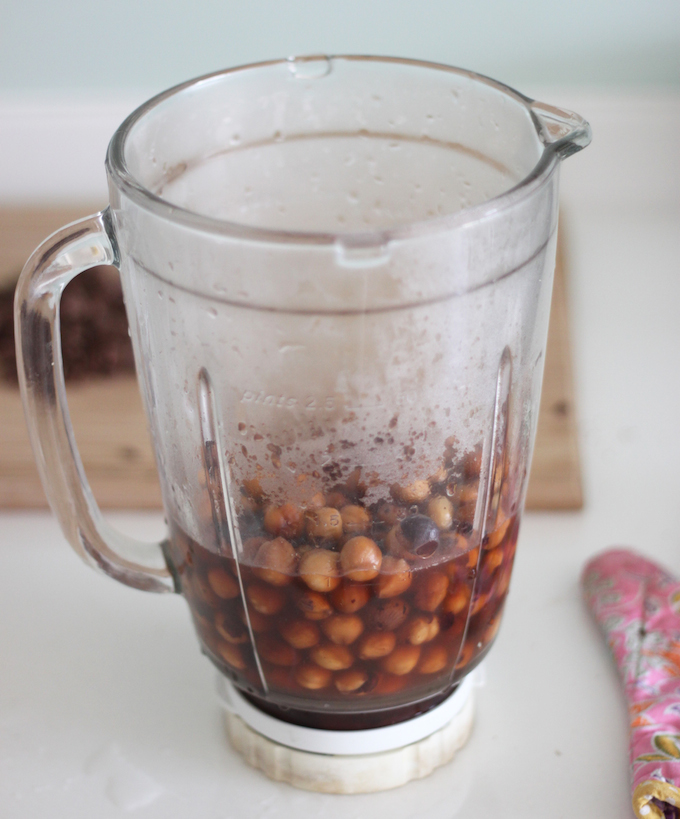 7: Put the puree into a large bowl.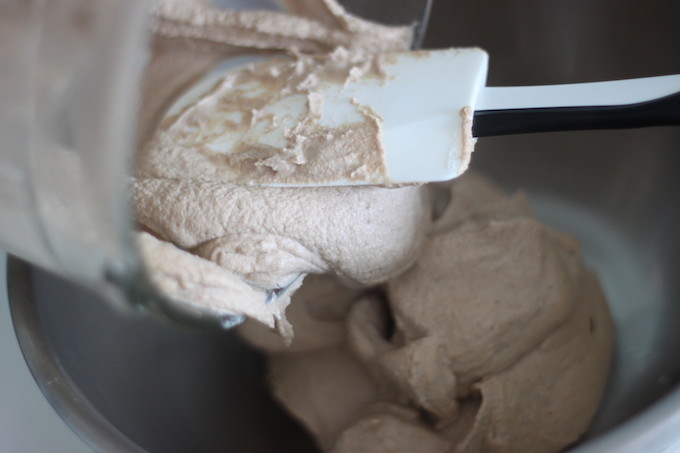 8: Mix all the ingredients!
Add cocoa powder, chopped chocolate, and vanilla extract in the puree mixture and mix well until everything is completely melted and thoroughly incorporated.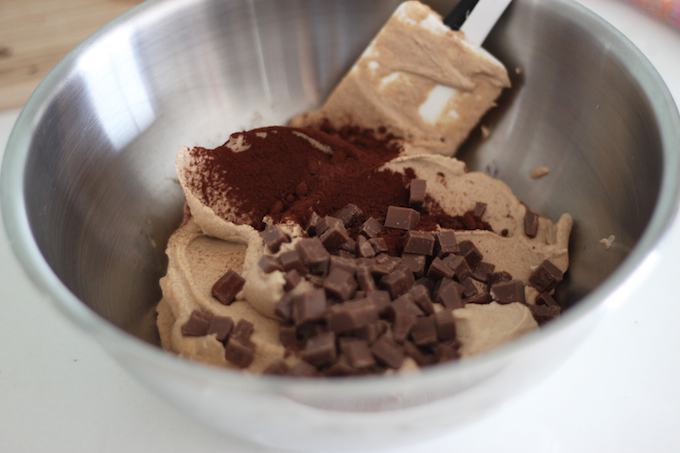 So smooth…..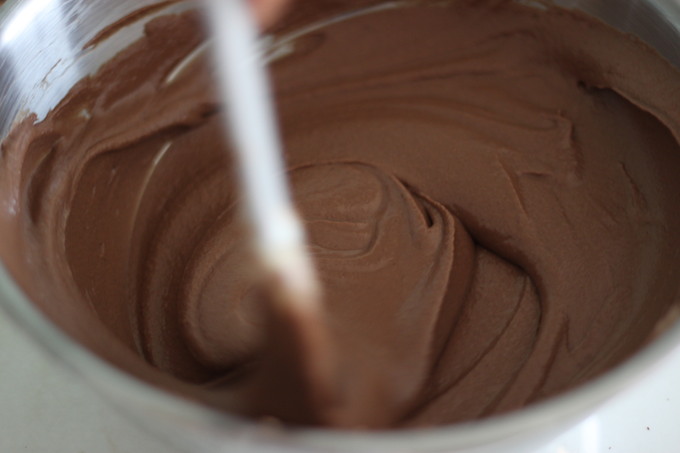 9: Let the mixture rest in a fridge
for a half an hour.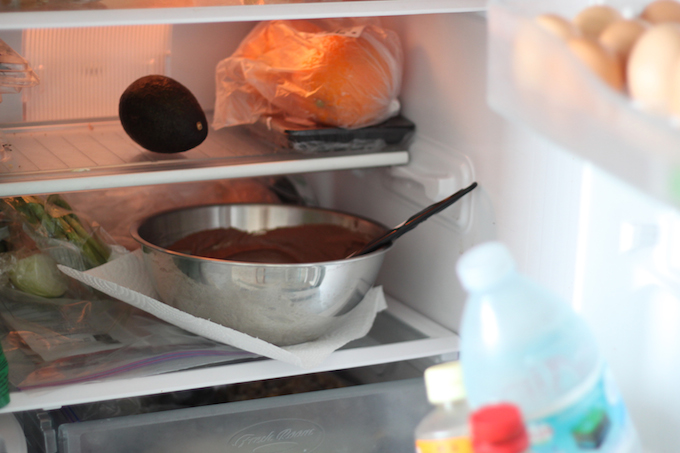 10: Store it in a sealed container
 and you are done!
Once the mixture is cooled down, give a finishing touch with a sprinkle amount of salt. It'll give a nice savory bite. I added some chopped hazelnuts on top for fun.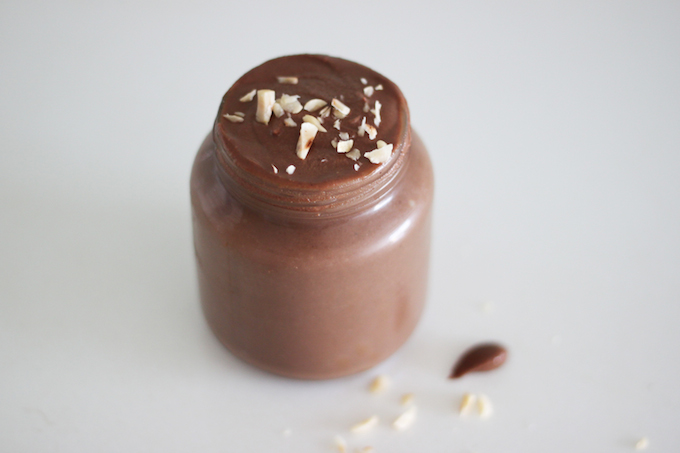 This will last in a fridge for about 3~4 weeks, but I bet no one needs that much time to finish this homemade Nutella. It's THAT good.
I've been "Winnie-the-pooh"-ing my Nutella Jar every time I open the fridge. I think I have to go to the gym a lot more this week because of that! 😉
xoxo
-Yuki