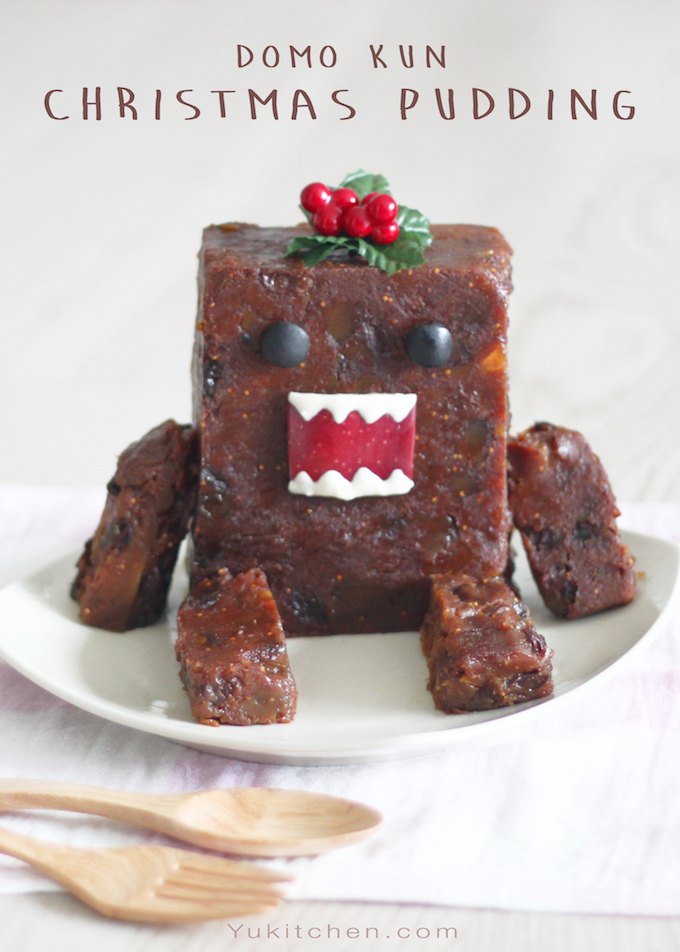 When a Japanese girl keeps making Christmas pudding every month, she eventually wonders if she could break the British tradition and make it more…. Japanimated. It was a fine morning in early April when I was making my 4th Christmas Pudding in Bangkok, an idea popped up in my mind.
"I think I could just ditch the pudding bowl and use a square container instead…  Then it will probably look something like….*gasp!* Domo kun!!"
While my pudding was marinating in the refrigerator, I ran to a baking store in Silom and found just a container to make my very first square pudding. Needless to say, I was -super- excited.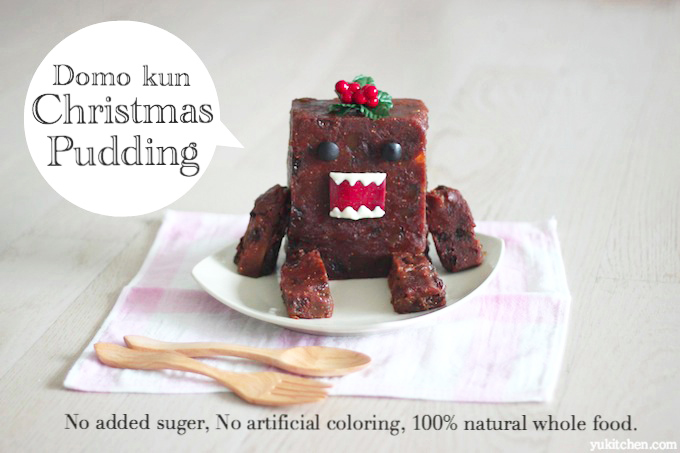 To me, this Domo kun Christmas Pudding is a monument of peace and amity between the United Kingdom and the Empire of Japan.
And of course, Domo kun is all made of natural food. (Duh?) Take a look at my original Christmas Pudding recipe I wrote before. It's basically the same. Just more cuteness into it this time.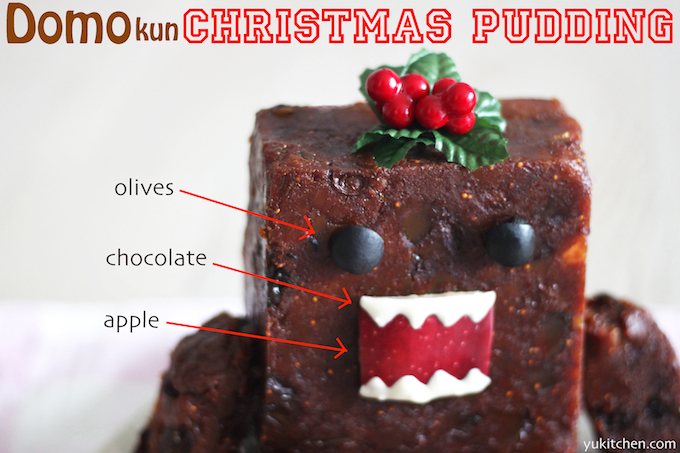 Domo kun Christmas Pudding
No sugar Christmas Pudding, Domo-kun version for your special holiday season!
Ingredients
For the pudding (Domo kun body)
・3~4 tbsp brandy and some extra for soaking at the end
・2~3 tbsp rum and some extra for soaking at the end
・½ large lemon freshly squeezed juice (or lime)
・½ large orange freshly squeezed juice
・2 tbsp lemon zest
・4 tbsp orange zest
・½ large apple to shred
・150g raisins
・150g sultanas
・100g Turkish figs
・25g chopped almonds
・1 tbsp ground cinnamon
・50g Yuki's gluten free flour or self-rising flour
・80g fresh bread crumbs "Panko"
・40g unsalted butter
・A pinch of salt
・1 egg
For the Domo kun's face
・A slice of apple
・30g white Chocolate
・1~2 olives
・1~2 pieces pasta
For the cream

1: Chop the dry fruits and soak them overnight
with 1/3 cup water, 3 tbsp brandy, 1 tbsp rum.

Next day…..
2: Work on the orange and lemon. Find a big enough bowl then make lemon and orange zest.  Then make freshly squeezed juices from the same orange and lemon into the bowl. Then chop the almonds into small pieces and mix them with the rest. 

3: Add apple, soaked dried fruits, and all the rest of ingredients except for the egg. Peel half an apple and shred it. Add it in a bowl with soaked dried fruits, flour, bread crumbs (panko), cinnamon, salt, and thinly cut butter, brandy, and rum. 

4: Mix well until all the ingredients are combined, then flat the mixture with the back of your spoon and wrap it.  (I put a lot of Brandy, so it smells heavenly around this process!)

5: Put the bowl in a refrigerator and leave it overnight to marinate.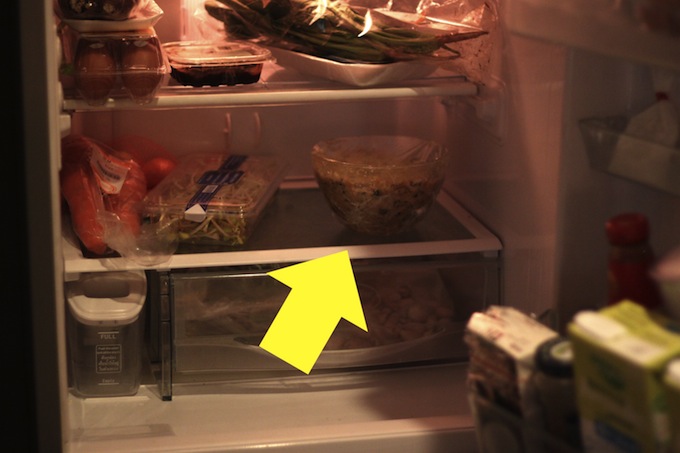 Next day (again)…..
6: Add an egg. After a long night, you wake up and the first thing you do is to beat an egg and put it in your Christmas Pudding bowl.  The mixture should have a fairly soft consistency.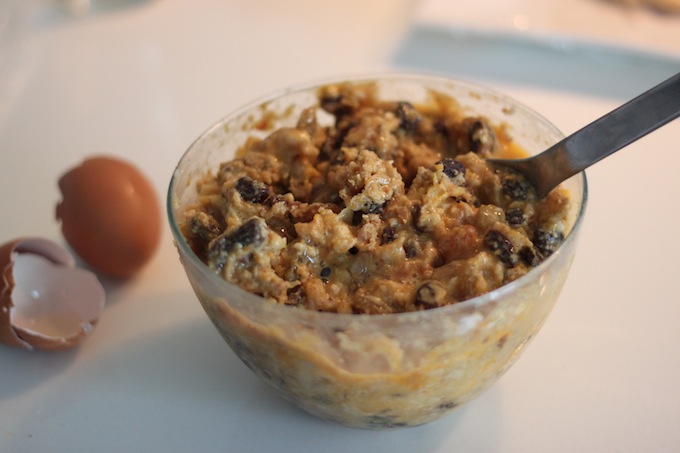 7: Change the container. It's time for the transformation! Make sure you flatten the mixture with a spoon or hitting the container itself to the ground. Then prepare a lightly buttered aluminum foil. Wrap it around the container with a string.


8: Wrap it again, this time with a cloth. then put it in a big pot half full of water. I did it this way because I simply did not have a steamer. This is a great way to make Christmas Pudding without one! Steam this way with the lowest heat for 8 hours. Enjoy your entire kitchen smell like a British Christmas all day long 😉 You might notice water might be running low at some point, then simply add it from time to time. Meaning, you need to give full attention to the kitchen all day today. Have fun!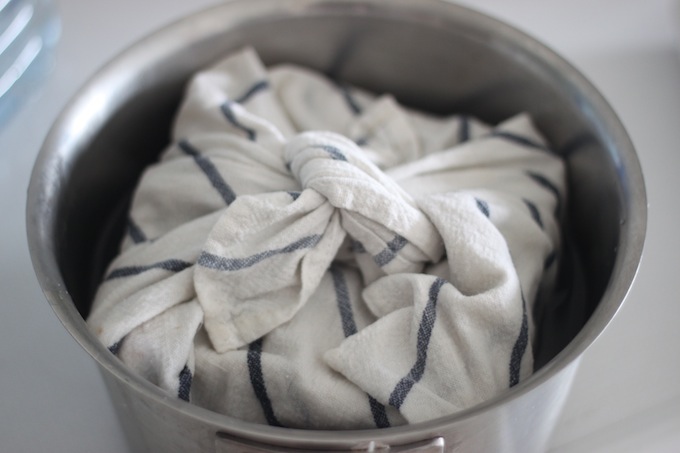 After 8 long hours…
9: Tada. Big perfect square pudding, at your service! If the pudding looks lighter than this, try steaming another 2~3 hour. You want your pudding perfectly brown.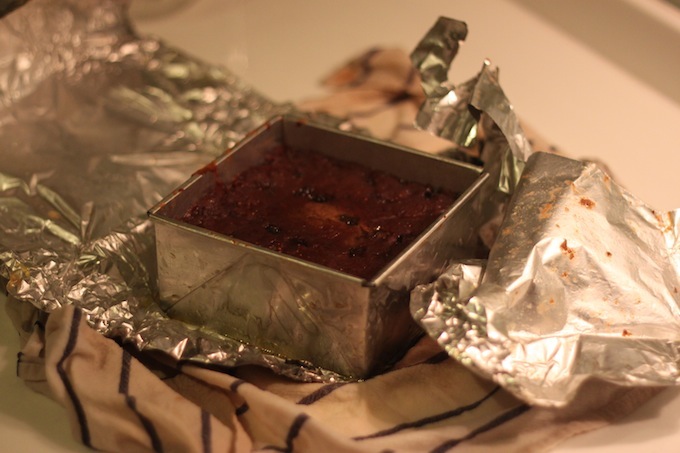 10: Wrap it with a fresh aluminum foil, then rest it in a refrigerator until Christmas. Pour a little extra Brandy. That way, it's easier for the pudding to absorb the liquid. Then wrap and let it rest until the Christmas day.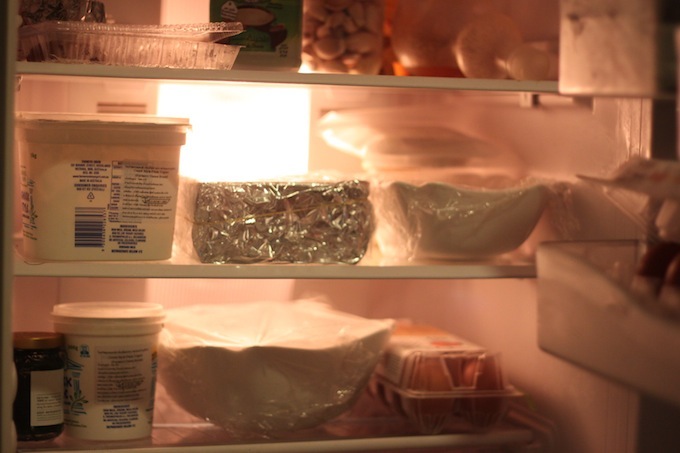 Note: The pudding cannot be eaten immediately, it really does need to be stored and rested then reheated on Christmas Day. Eating the pudding immediately after cooking will cause it to collapse and the flavors will not have had time to mature. Some Brits rest their Christmas Pudding for more than 6 months, and that wows me. Longest I waited so far was 3 weeks, and still tasted great.
On the Christmas Day…
11: Reheat the pudding. by steaming again with a pot of half-full water for about an hour. While steaming, start woking on making Domo's face!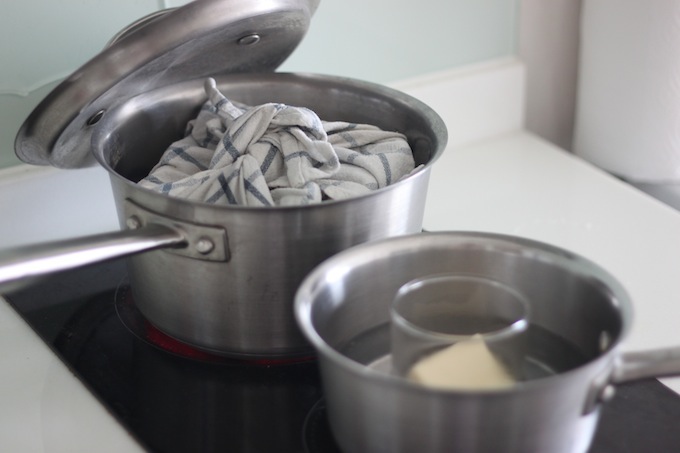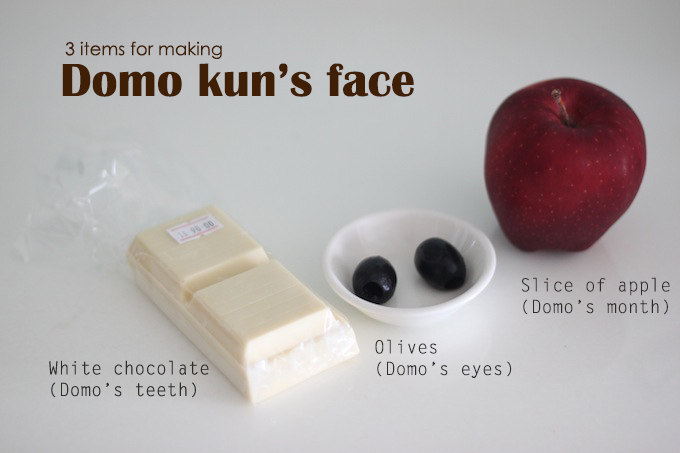 12: Melt white chocolate. Prepare white chocolate and a squeezer. Then set a half-fill saucepan with water and bring to a simmer. Place a cup on top, making sure it doesn't touch water (or it will overheat). Stir with a metal spoon until melted. Avoid wooden or plastic spoons – these retain moisture that makes chocolate seize (harden).

Even one stray drop of water can cause melting chocolate to ruin its texture and consistency. Seized chocolate won't melt smoothly, no matter how long you stir it. Domo kun wants his teeth nice and smooth.
13: Pour the chocolate in a squeezer. Cut a tip on a squeezer and make sure you cut it as tiny as possible. This is going to be so much easier to draw if you have a sharper tip. Be careful when you pour the chocolate in a squeezer, it's very hot! Try not to directly touch the hot part when you draw.

14: Make Domo's month. Cut an apple and shape it into a square size, just like Domo kun's. Draw Domo's teeth with freshly melting chocolate. Try not to draw so slow because melt chocolate will eventually harden itself. For the detailed part to make the teeth look more pointy, I used a sliced apple I cut from earlier, as a brush. It worked really well!

15: Remove the pudding from the container. After an hour of steaming, here is the beautiful square pudding! This is the moment of new history, a square Christmas Pudding!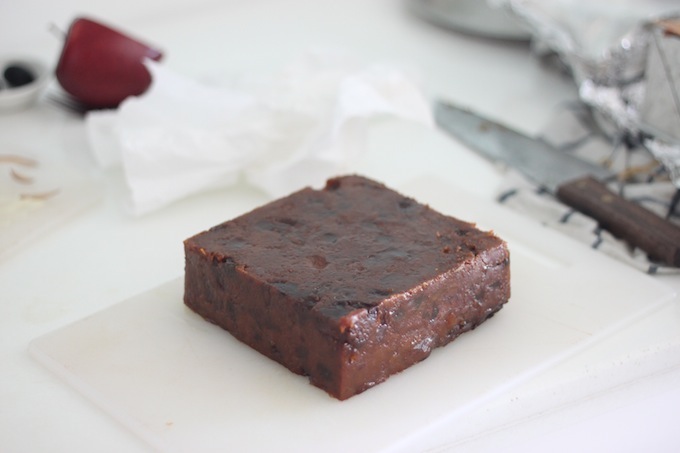 16: Cut the pudding into Domo's size. Then make the eyes. Using a dry sharp knife, cut the pudding to make it look rectangular. Just like Domo kun himself.  The rest of the pudding is cut into 4 pieces, and these are going to be his limbs.
Then cut the olives as round as possible. These are going to be his eyes. Make sure each eye are the right sizes. Too big or too small would make such a difference! When I stick the cut olives to the pudding, I used a piece of pasta.


17: Attach the month on the pudding with the same pasta trick.

18: Attach the limbs. For his legs. just simply put them on a plate towards to his body. For his arms, use the pasta pieces again to connect with the body. You might need several pieces to stable arms for this time.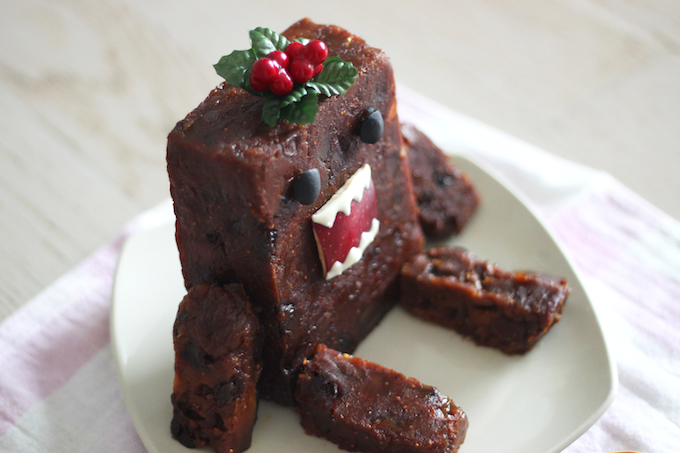 Here is the final formation of Domo kun Christmas Pudding. I randomly found a Christmas decoration in Bangkok, and my Domo kun looks quite nice with such a cute headpiece. I think he's ready for the holidays.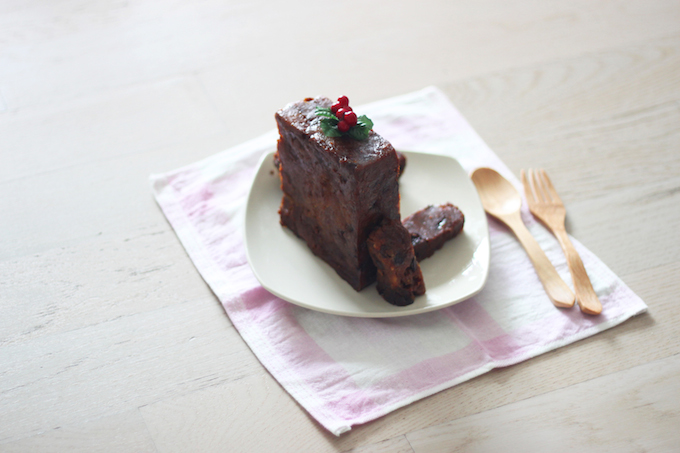 Personally, I really like this shot. Domo kun is bringing his sexy back.
19: Enjoy the dinner! For the Christmas night, remove his headpiece and follow these 3 steps: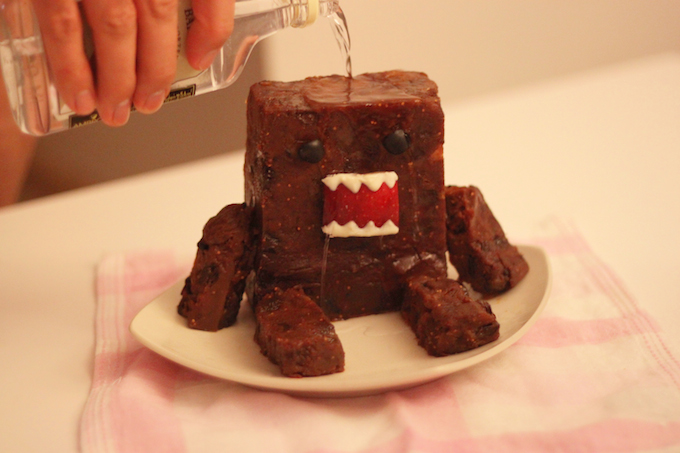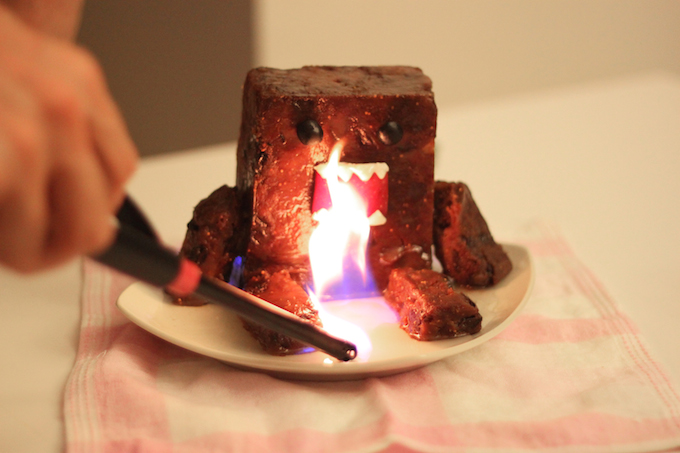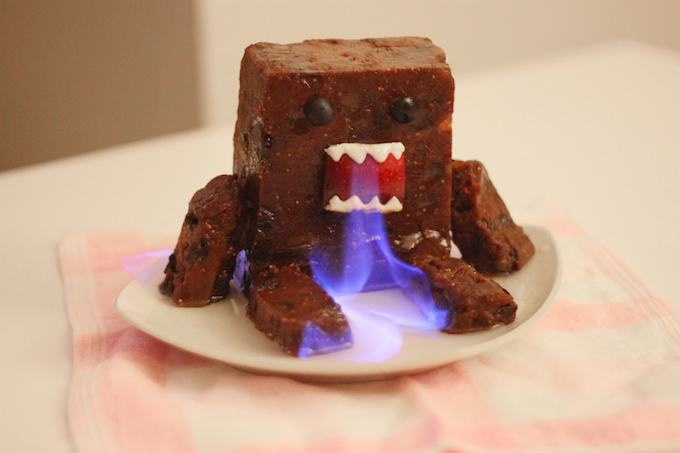 Merry Merry Christmas, Cute lovers!
xoxo
-Yuki