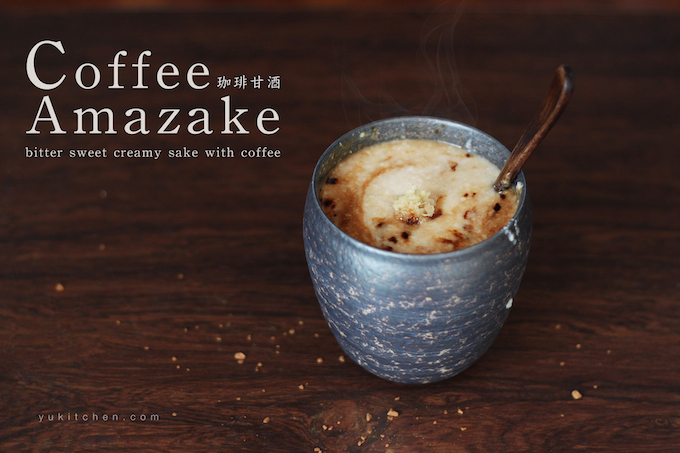 I love coffee. And I love sake. And I also love experiments. One day, I was making regular Amazake and this urge hit me like a lightning.
"I wonder what it would taste like if I put coffee in it…."
And this is one place where my creativity has no compromise when it comes to mixing things. I love mixing things. Have you seen my life lately? It looks like my breakfast; -sometimes miso soup and rice, sometimes bread, sometimes last night's leftover with lingonberry jam…  I mixed all my curiosities (cooking, photography, modeling, etc) into a lifetime but let me tell you this: it's been pretty fun!  Life is short, so why not make it interesting with a little bit of twist once in a while? And that twist, my friends, is mixing sake and coffee today.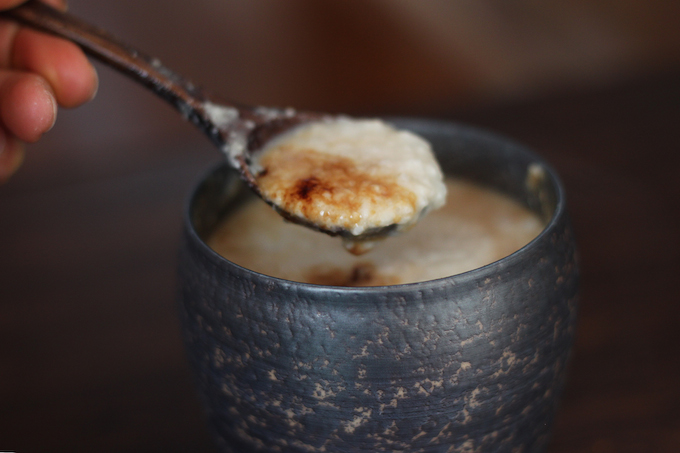 I can already feel the judgment in the air by the Japanese, whispering this is breaking their balls and the good-old Japanese tradition. All I can give them is my demure little shrug with my obligatory smile, hoping these two dimples can distract them from the whole point. *wink!*
So What is "Amazake"?
Amazake (甘酒) is a traditional sweet, low- or non-alcohol (depending on recipes) Japanese drink made from fermented rice. We've been drinking this thing for more than 2000 years to date.
We are making low alcohol version of Amazake today, and this "Sakekasu" is the key item.
What is "Sakekasu"?
Sakekasu (酒粕) are the lees left over from sake production. They can be used as a pickling agent, the main ingredient of amazake, a cooking paste to add flavor to food and as a marinade.
Left over lees might not sound appetizing, but let me tell you this – Sakekasu is the bomb; It is jam-packed with nutrients like protein, carbohydrates, fiber, vitamins, organic acids, and minerals. All of which have very worthwhile health benefits that help people suffering from ailments like Diabetes, high blood pressure — not to mention the fact that it makes your skin beautiful. This is one by-product of sake that shouldn't be taken lightly!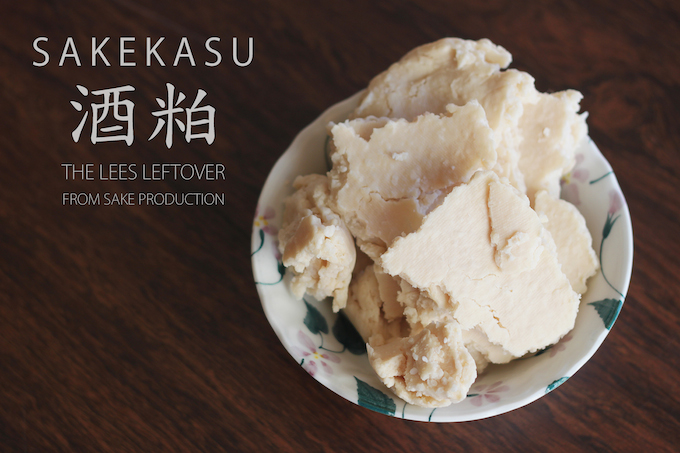 The benefit of Sakekasu:
Make strong bones
Prevention of virus infection
Lighten body fatigue / inflammation
Prevention of diabetes
Prevention of high blood pressure
Prevention of cerebral infarction
Decrease cholesterol level
Improvement of allergy symptom
Prevention of cancer
Prevention of osteoporosis
Prevention of obesity
Improvement of better skin
I've been using Sakekasu for my face for a week now and my skin feels like a baby's bum. I'm not exaggerating. I will make a post about this, also. Sakekasu is my must-have item now.

So in case you didn't get it, here is the summery:
Sakekasu is amazing for you.
Sakekasu is pretty easy and cheap to find in Sake stores in Japan. When I drive to the countryside of west Tokyo, where I'm from, I usually stop at Tsukui Kankou Center and do my shopping. I love this place. People are nice, flowers are blossoming, and they have good local organic food. In fact, I'm going there today. *Evil grin*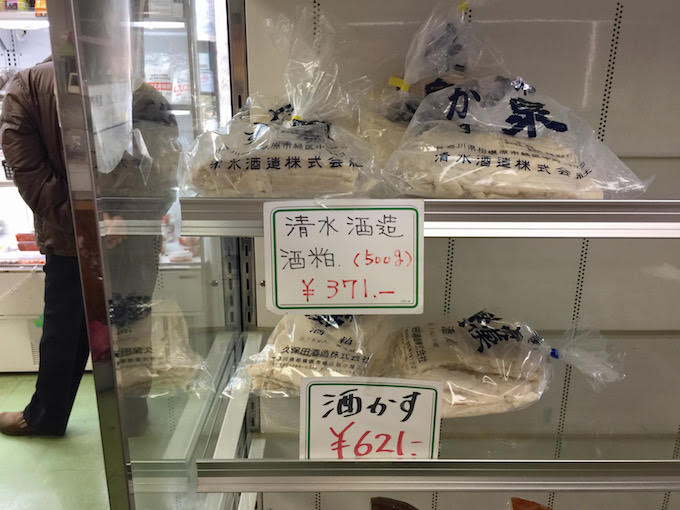 I usually buy Kubota San's Sake and Sakekasu. Here's what it looks like: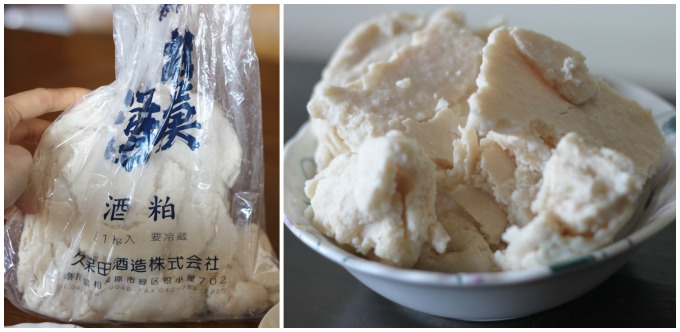 So I know a lot of my readers are from outside of Japan and I can already hear you exclaiming "How can I get that?!". I'd say try taking a peek at local Japanese stores. For my American readers, – when I lived in California, I saw that Mitsuwa Market had some Sakekasu.

Okay, let's get to the deets! These are the main ingredients and it's really simple. I used brown sugar this time, but I also often use maple syrup instead, and it's not too bad either. I experimented a bit and used banana instead of sugar, but I won't recommend it. It killed the beautiful fragrance of sake and tasted kind of like porridge. I like porridge, but not with my glorious sakekasu.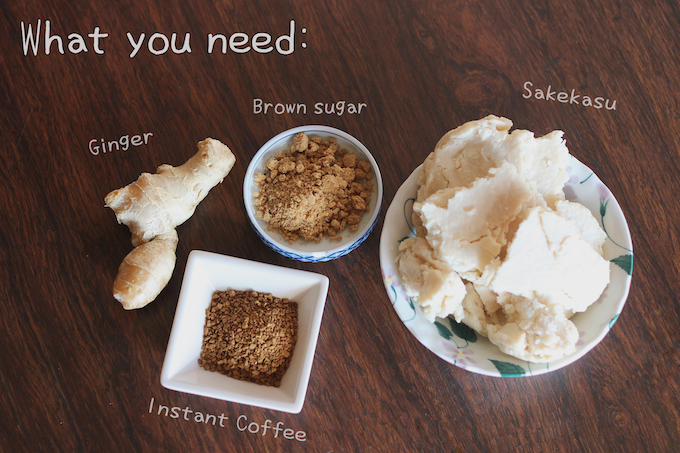 The instant coffee can melt very easily in the warm amazake and I think it tasted so amazing that I almost fainted. And I might even have squeaked a little bit, but don't tell my mother. She thinks I need to behave myself more because "I'm not a little girl anymore". I'm pretty sure I'll be squeaking when I'm 89, but I'll just keep giving her my brush-off "okay" until she waves a white flag.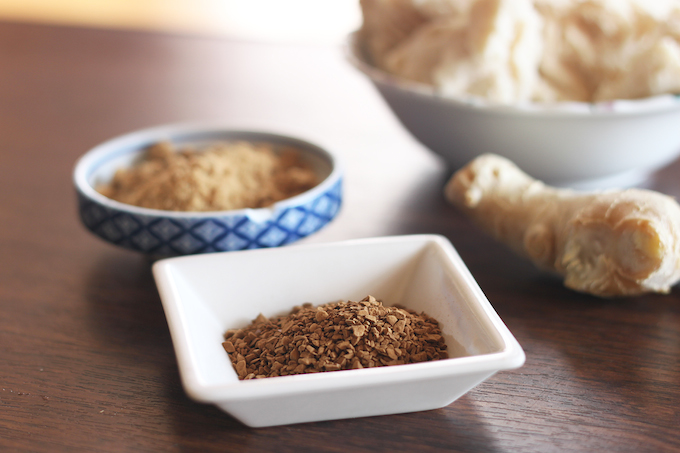 How to make Coffee Amazake
Bitter Sweet creamy sake with coffee! This healthy vegan Japanese drink is going to satisfy both of your obsession with sake and coffee.
Ingredients
• 300~400 grams Sakekasu
• 2~4 cup water (This is based on preference. I do 2 cups.)
• 2 tbsp brown sugar
• 1~2 tsp instant coffee
• A pinch of salt
• 1 tsp shredded ginger

1: Shred ginger.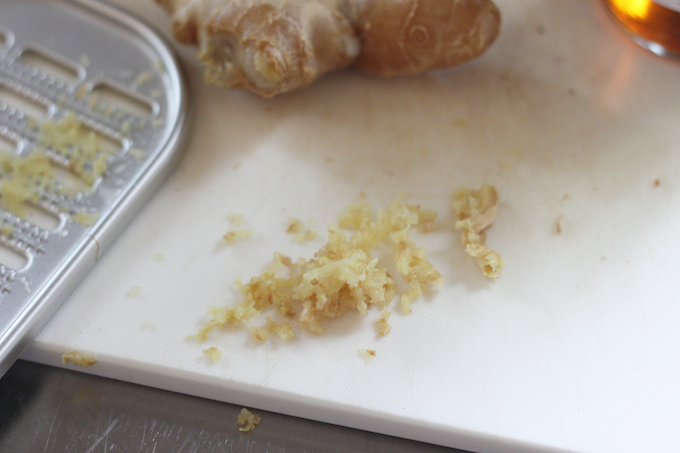 2:  Put the Sakekasu in hot water and wait till it melts.
Sakekasu is a great resource of the enzymes. But you have to be careful with the cooking temperature when you cook it. If you heat it with high heat, it will die. As the enzyme is made from protein, heating below
 60 degrees 
is ideal. So when you make Amazake, you have to be careful about the heating temperature!
So heat the pot with water to the lowest temperature, add Sakekasu, and leave it for 20~30 min. Make sure you sometimes come back to the kitchen and mix it with a spatula.

3: All combined.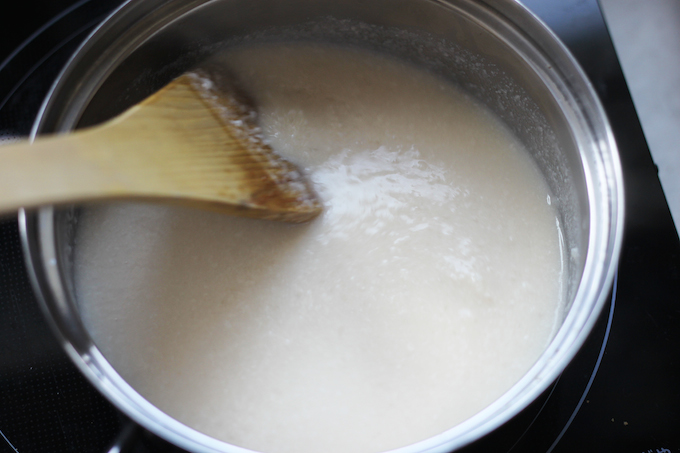 4: Add sugar and salt.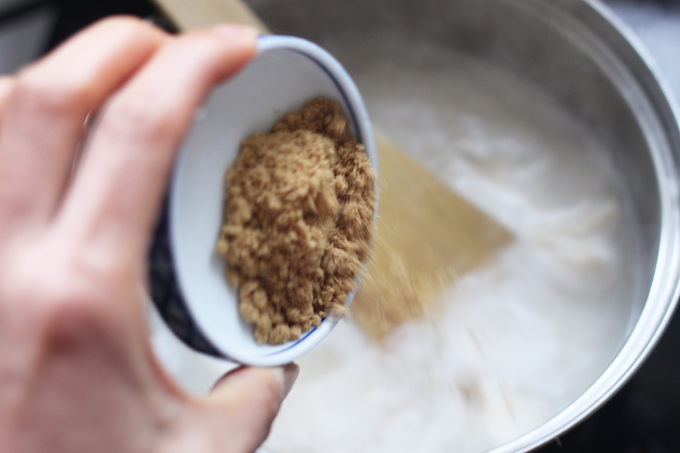 5: You just made regular Amazake!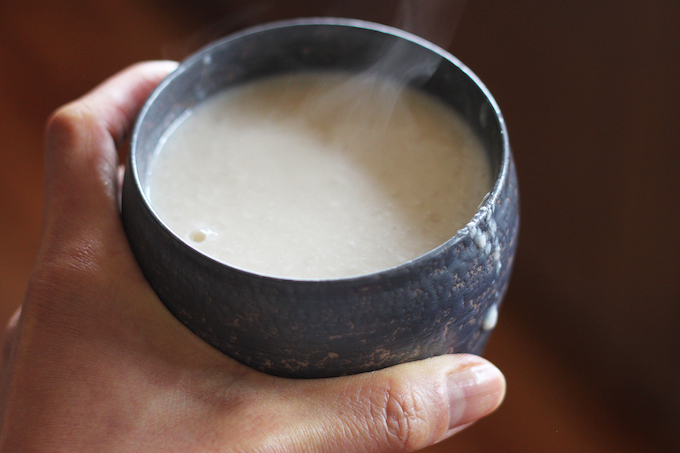 6: Put Instant coffee.
Sprinkle the instant coffee and slowly mix it with Amazake.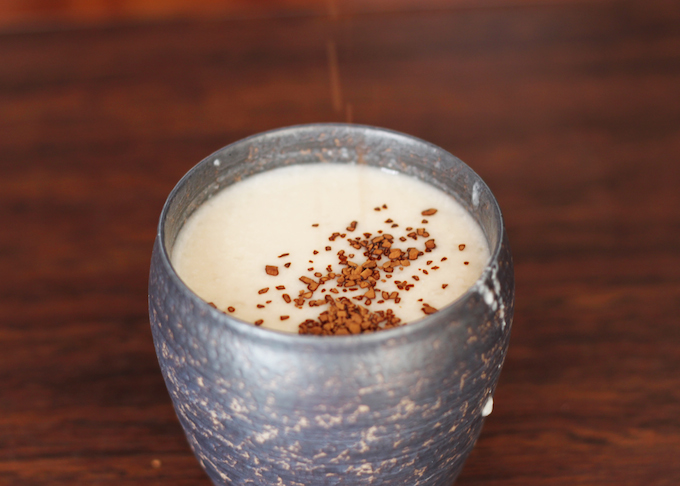 7: Put ginger on top, and you are done!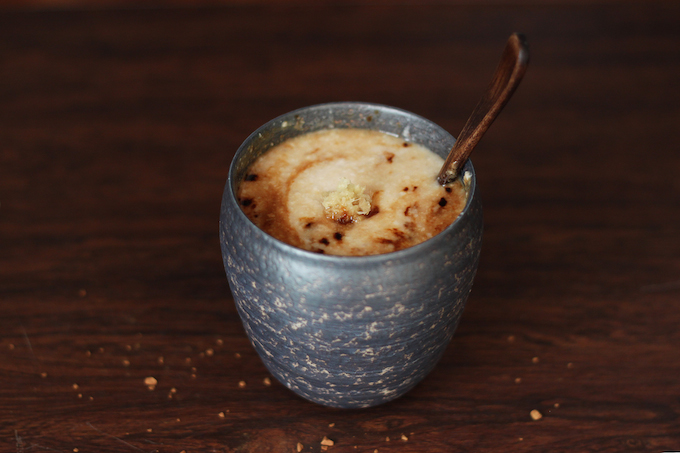 At first, I thought I was crazy mixing sake and coffee, just like everyone else did. Then I tasted it and I felt like I was next Einstein or something. It is SO GOOD.
The flavor of coffee goes perfectly with sake and I drink this every day since I invented this masterpiece. I know I'm not being too humble right now. I'm just really excited, and when I get excited, I lose myself and feel like I'm Wendy meeting Peter Pan for the first time.
So excuse me, guys. I have to go back to my Neverland with my delicious Coffee Amazake! 😉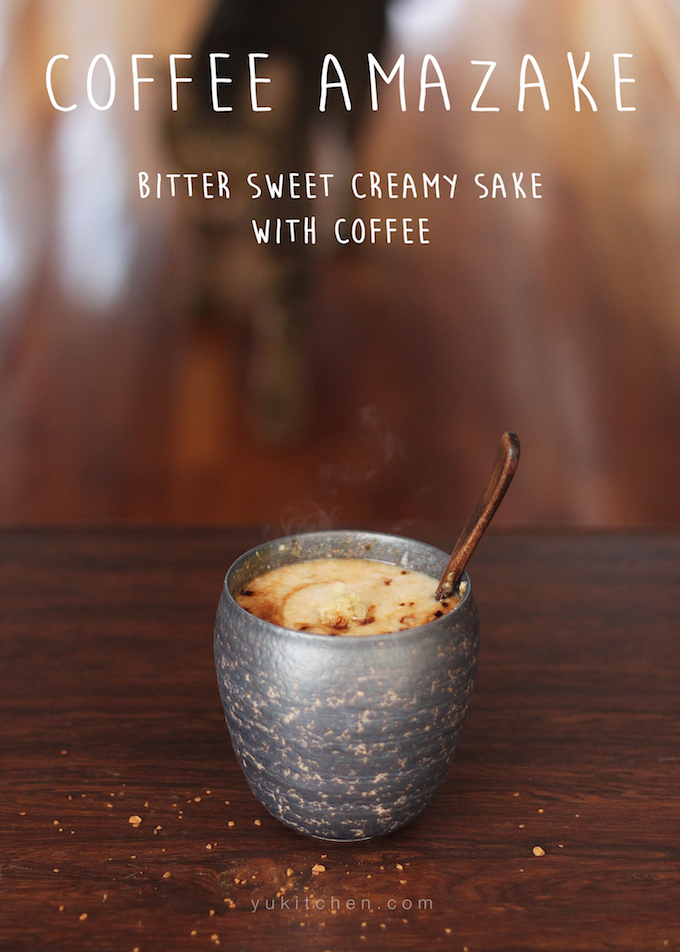 (I love this photo! Notice my cat Kabuki interfering my photoshoot, looking as bad-ass as ever.)
By the way:
I actually tried Matcha powder instead of coffee like this and it was also AMAZING. I prefer coffee one more, but this one also is the bomb!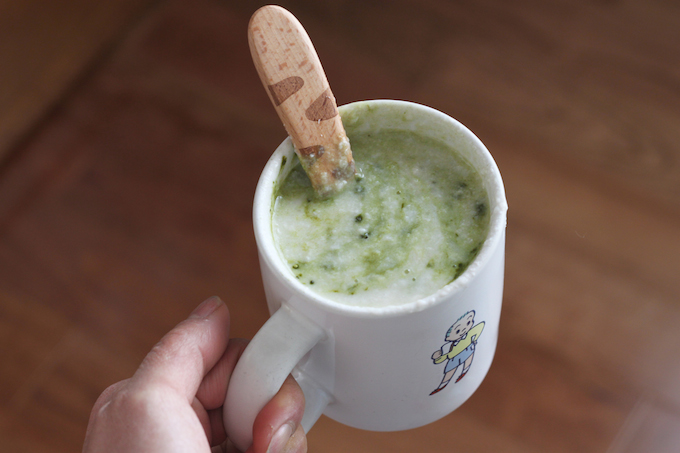 Good luck in the kitchen!
xx
-Yuki