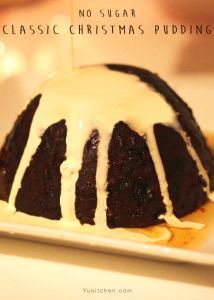 It was 3 weeks before Christmas last year in Bangkok, I was with a number of my British Friends and they told me about the wonder of Christmas Pudding. According to my Brits, there is no Christmas in the UK without a Christmas Pudding. I got all curious and googled bunch, and found many recipes online. My Mr. also asked his grandma to share her original recipe with me, and that also helped. The only problem I had with the original recipe was suet, the beef fat.  I don't eat meat, so instead of using 100g of suet, I substitute with unsalted butter for just 40g. Also, I used no sugar, at all. I changed a bit (a lot, maybe?) from the original recipe, but it still tasted -really- good 😉

Classic Christmas Pudding
Instead of suet, I'm using 40g butter. non-sugar vegetarian Christmas Pudding 🙂
Ingredients
For the pudding
・3~4 tbsp brandy and some extra for soaking at the end
・2~3 tbsp rum and some extra for soaking at the end
・½ large lemon freshly squeezed juice (or lime)
・½ large orange freshly squeezed juice
・2 tbsp lemon zest
・4 tbsp orange zest
・½ large apple to shred
・150g raisins
・150g sultanas
・100g Turkish figs
・25g chopped almonds
・1 tbsp ground cinnamon
・50g Yuki's gluten free flour or self-rising flour
・80g fresh bread crumbs "Panko"
・40g unsalted butter
・A pinch of salt
・1 egg
For the cream
It wowed me when I saw the list of things I need to get for Christmas Pudding..! I wrote it down on a piece of paper and I remember I needed to go to 3 different stores in Bangkok! 

1: Chop the dry fruits and soak them overnight with 1/3 cup water, 3 tbsp brandy, 1 tbsp rum.


Next day…..
2: Work on the orange and lemon. Find a big enough bowl then make a lemon and orange zest.  Then make freshly squeezed juices from the same orange and lemon into the bowl. Then chop the almonds into small pieces and mix them with the rest. 

3: Add apple, soaked dried fruits, and all the rest of ingredients except for the egg. Peel half an apple and shred it. Add it in a bowl with a soaked dried fruits, flour, bread crumbs(panko), cinnamon, salt, and thinly cut butter, brandy, and rum. 

4: Mix well until all the ingredients are combined, then flat the mixture with a back of the spoon and wrap it.  (I put a lot of Brandy, so it smells heavenly around this process!)

5: Put the bowl in a refrigerator and leave it over a night to marinate.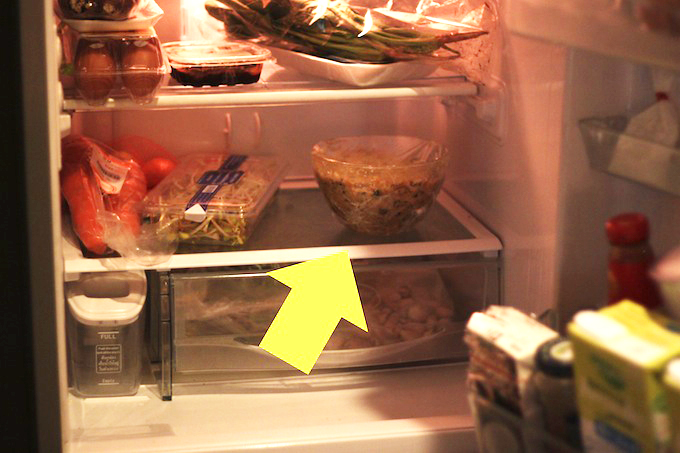 next day(again)…..
6: Add an egg. After a long night, you wake up and the first thing you do is to beat an egg and put it in your Christmas Pudding bowl.  The mixture should have a fairly soft consistency.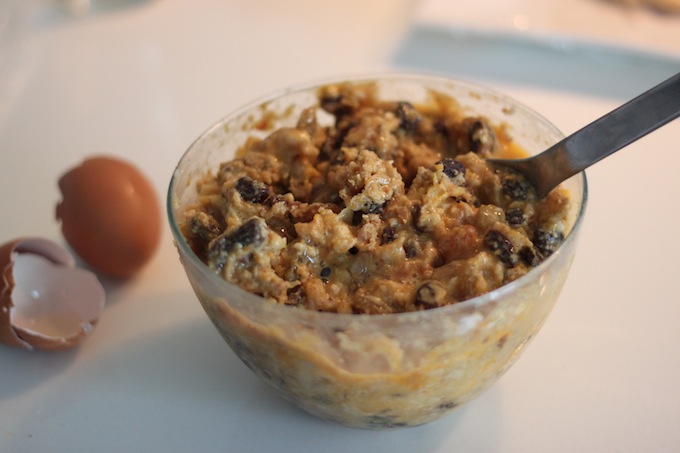 7: Put some coins in it. Here comes the British Tradition of taking turns in stirring, making a wish and adding a few coins. I added a Japanese 5 yen, Thai 2 baht, American quarter, and Hong Kong 2 dollar coins. 4 main currencies I use at the moment. I recommend washing coins with vinegar before the tradition!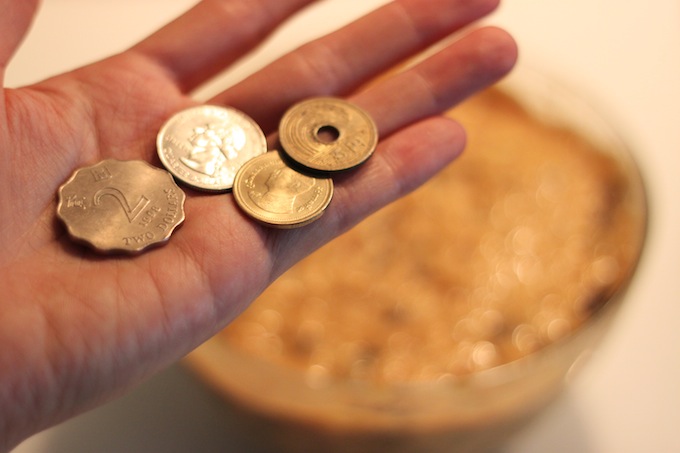 8: Flatten the mixture and wrap it. Use a back of a spoon, or hitting the container itself to the ground to flatten the mixture. Then prepare a lightly buttered aluminum foil. Wrap it around the container with a string.   

9: Wrap it again, this time with a cloth. then put it in a big pot with a half full of water. I did this way because I simply did not have a steamer. This is a great way to make Christmas Pudding without one! Steam this way with the lowest heat for 8 hours. Enjoy your entire kitchen smell like a British Christmas for all day 😉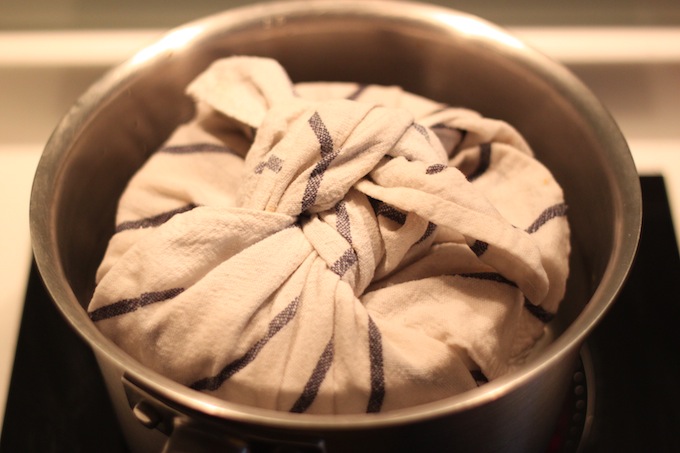 8 hours.
You might notice water might be running low at some point, then simply add it from time to time. Meaning, you need to take full attention to the kitchen all day today. Have fun!
10: Tada! After many hours of seaming, here comes the Christmas pudding! if the pudding looks light than this, try steaming 2~3 hours more. You want your pudding to be perfectly brown.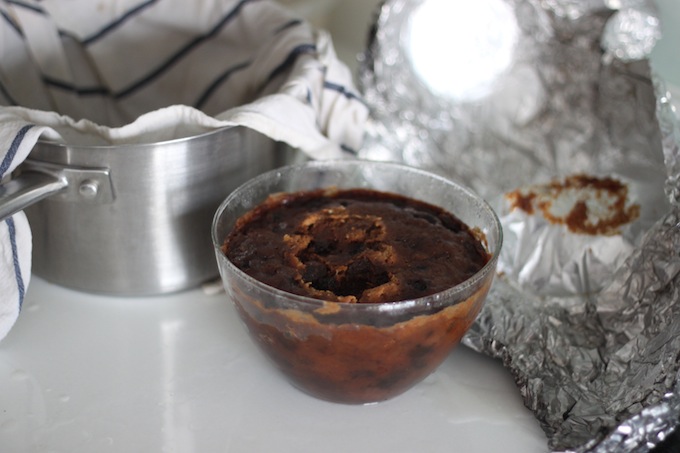 11: Stick holes using chopsticks.  Then pour a little extra Brandy. That way, it's easier for the pudding to absorb the liquid.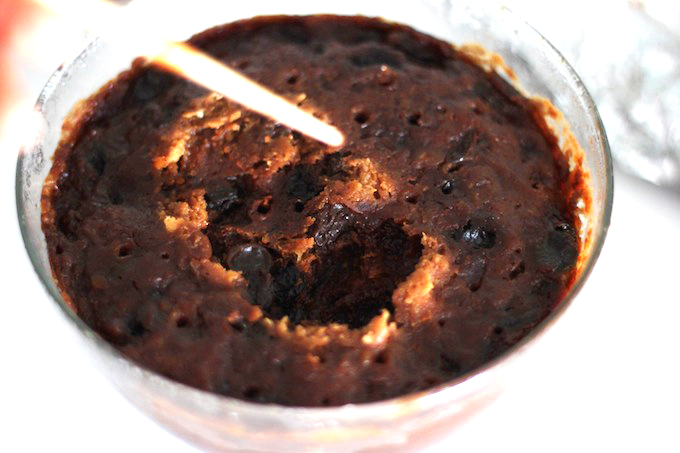 12: Wrap it with a fresh aluminum foil, then rest it in a refrigerator until Christmas.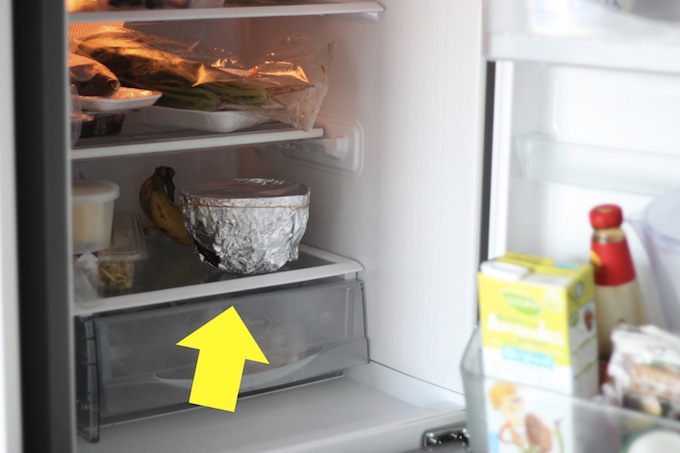 Note: The pudding cannot be eaten immediately, it really does need to be stored and rested then reheated on Christmas Day. Eating the pudding immediately after cooking will cause it to collapse and the flavors will not have had time to mature. Some Brits rest their Christmas Pudding for more than a half of a year, and that wows me. Longest I waited so far was 3 weeks, and still tasted great.
 

On the Christmas night……
13: Reheat the pudding by steaming again with a pot with half-fill water for about an hour.  Slice the edge with a table knife and place the pudding on a flat plate.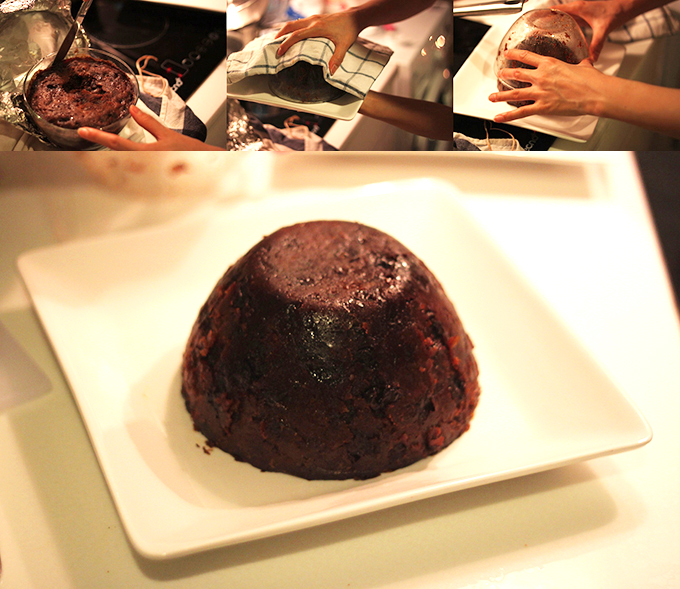 Looks good! Cool down the pudding for 20~30 minutes, because Christmas Pudding is tastier cold. At least for us.
14: Pour a lot of rum and ignite the fire! Turn off the lights in the room so it would look so cool.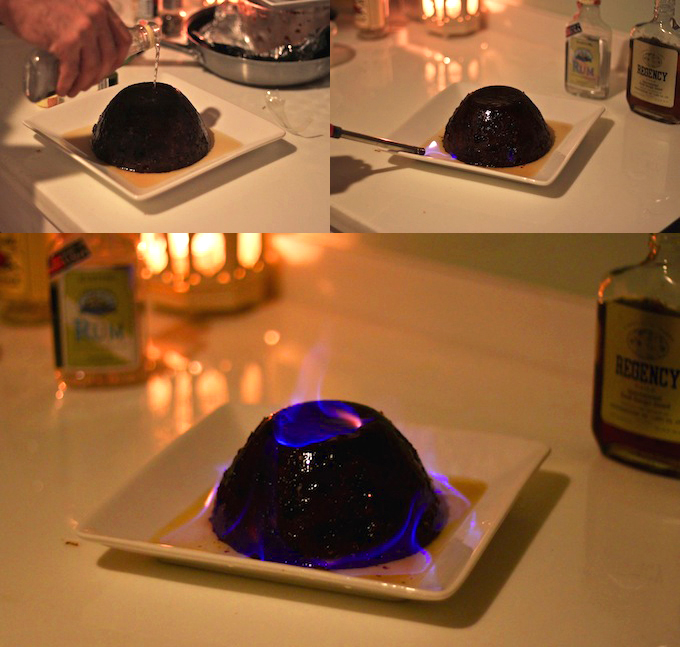 The classic British Christmas Pudding on fire! This is a fun performance I had no idea about. Thanks for all the help from my Mr. Without him, I would have been just eating it.
15: Pour single cream. Hmmmmm. This is kind of sexy.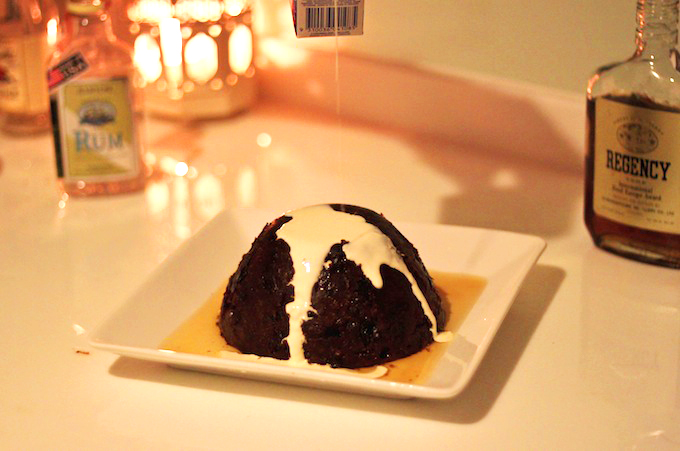 p.s. Don't forget that you put some wishing coins in your pudding! If you do find your coins in your piece, that means there is a good chance your wishes might come true! So… Happy hunting!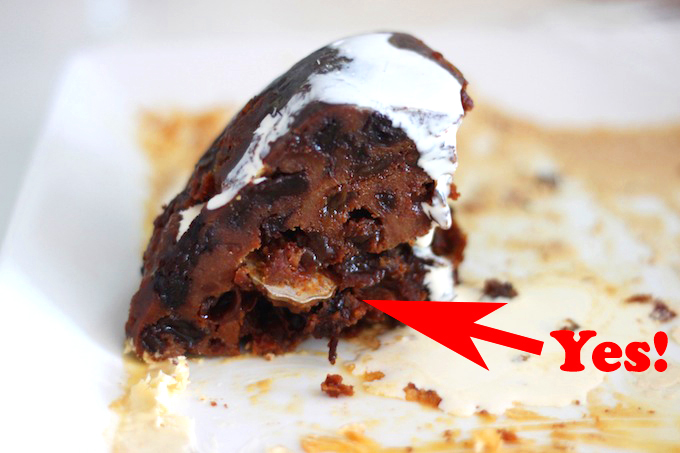 Ever since I made this last Christmas, it became my family's favorite food I cook. They gave me a strict request that I make Christmas Pudding once a month and I have been a personal Christmas Pudding maker to them… *giggles*
I don't understand British people putting 110 g of sugar in this pudding…?! I put none and it still is pretty sweet. So if you are a personal Christmas Pudding maker like I am, and you don't want your guy to get fat, use my recipe 😉
Merry Christmas, everyone!
xxxx
-Yuki