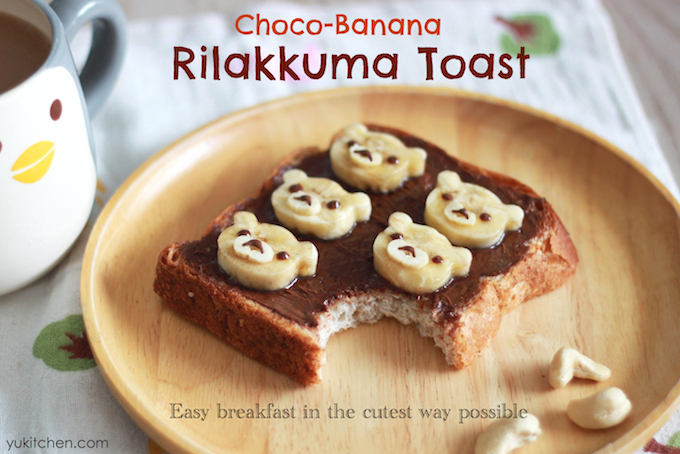 This week, I purchased a western food called "Nutella" for the first time in my life. I'm aware that Nutella is wildly common throughout the US and Europe, but not in Japan. I lived in the states for many years, yet I promised myself never to lose my Bushido and cooked Miso soup every day. I never even touched any American ingredients when I went shopping for food. I call that phase of my life "Sakoku".  And I'm kind of guessing that was why I remained thin while in the states. I think I even lost weight.
But now I'm a curious Winnie the Pooh with a Nutella jar on my right hand. When I see food that I've never tried, I talk to my Samurai inside and convince him that exceptions can be made sometimes. And my very first Nutella experience, needless to say, was spectacular.
Nutella is amazing. But I, unfortunately, googled it and read so much about my new favorite food. –Nutella contains GMOs and artificial flavors. I was so sad and disappointed to find out. But I knew that I needed to move on. So I wiped my tears and worked on my original homemade Nutella recipe.
When I'm in the kitchen, I'm often dipping my whole hand into my own Nutella jar exactly like Winnie the Pooh. (I need to stop this!) I haven't tried my Nutella on many things yet, but I love it on toast. And that's how I ended up creating today's recipe!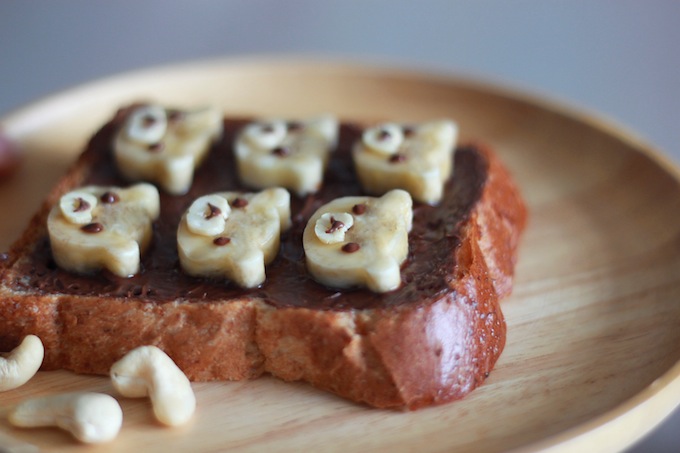 It's possibly the easiest recipe I've ever created. You only need 4 ingredients which; toast, Nutella, bananas and cashew nuts. It's a bit troublesome to make Rilakkuma's faces but that's  the only part that requires concentration. Easy breezy!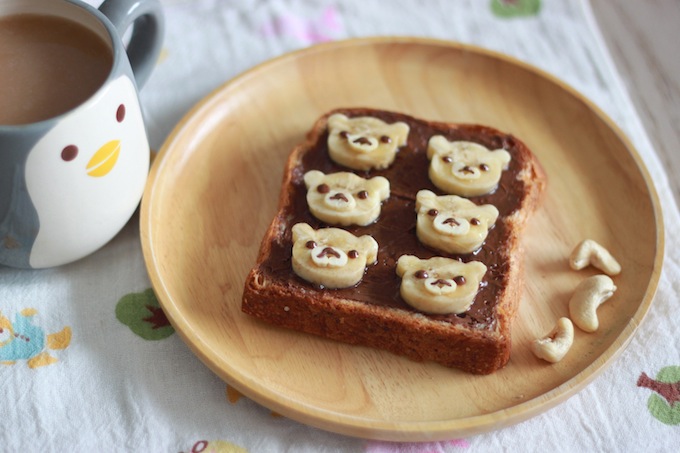 Choco-Banana Rilakkuma Toast
Supercute and super easy! This adorable toast is going to fill you up with the cuteness in your morning tummy 🙂
Serves:
1 Rillakuma toast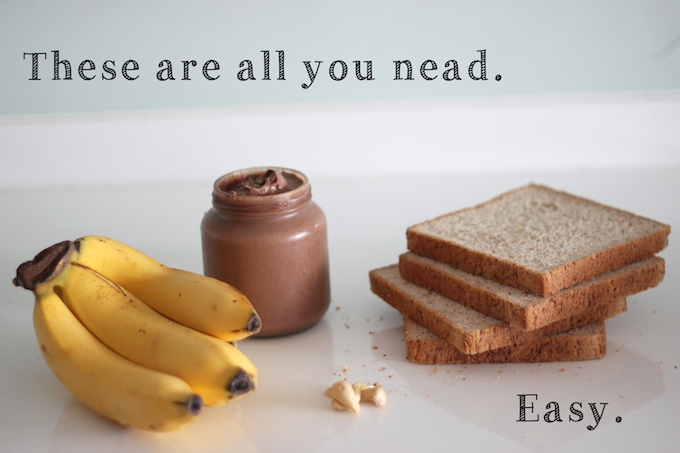 Enough said! 🙂

1: Cut the cashew nuts and a banana.
Thinly sliced cashew nuts are going to be Rilakkuma's mouth. Make sure you slice them perfectly round.

2: Make 6 bear-shaped banana slices.
I used a cookie cutter I purchased from a 100-yen store. Worked pretty well.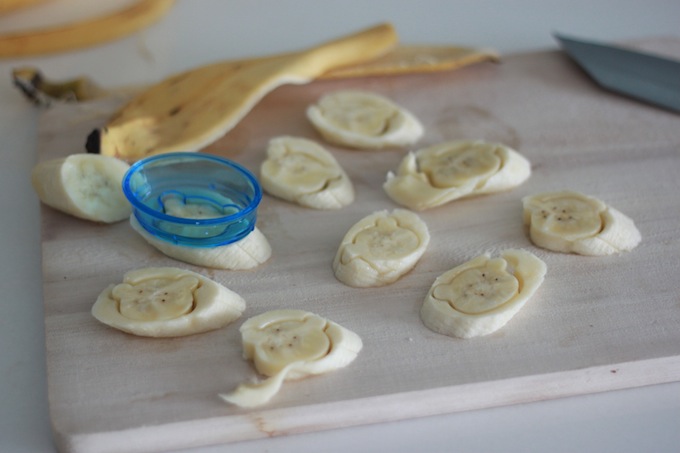 3: Get the Nutella ready.
Toast a piece of whole wheat bread and cover it with Nutella. Then poor some Nutella in a plastic squeezer for drawing Rilakkuma's face, for stage 6.

4: Gently place your 6 bears on toast.
It's getting kind of cute, isn't it?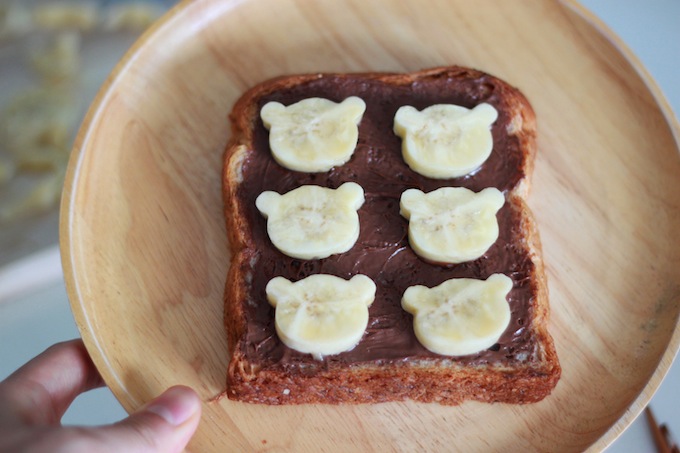 5: Time to get your artistic side on.
Place the thinly cut cashew nuts for Rilakkuma's mouth, then start drawing his nose and eyes using the squeezer you made earlier.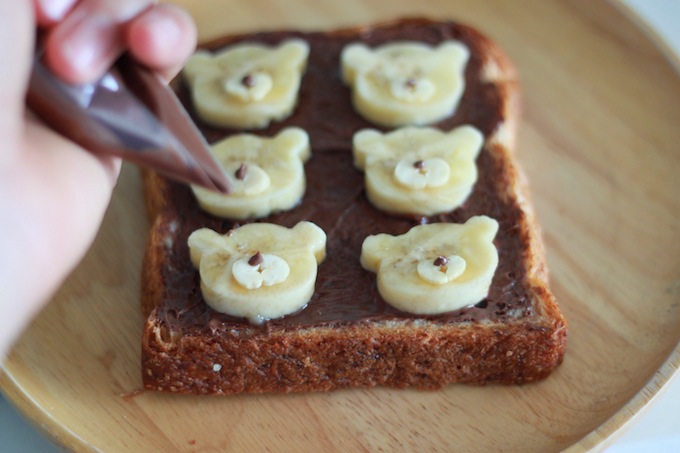 6: You are done!
Nice and easy Rilakkuma toast is now ready to be served!
It's always sad to see my food art being eaten, and this time was no exception. I felt like I could hear them screaming when I took a bite on the right corner of my toast.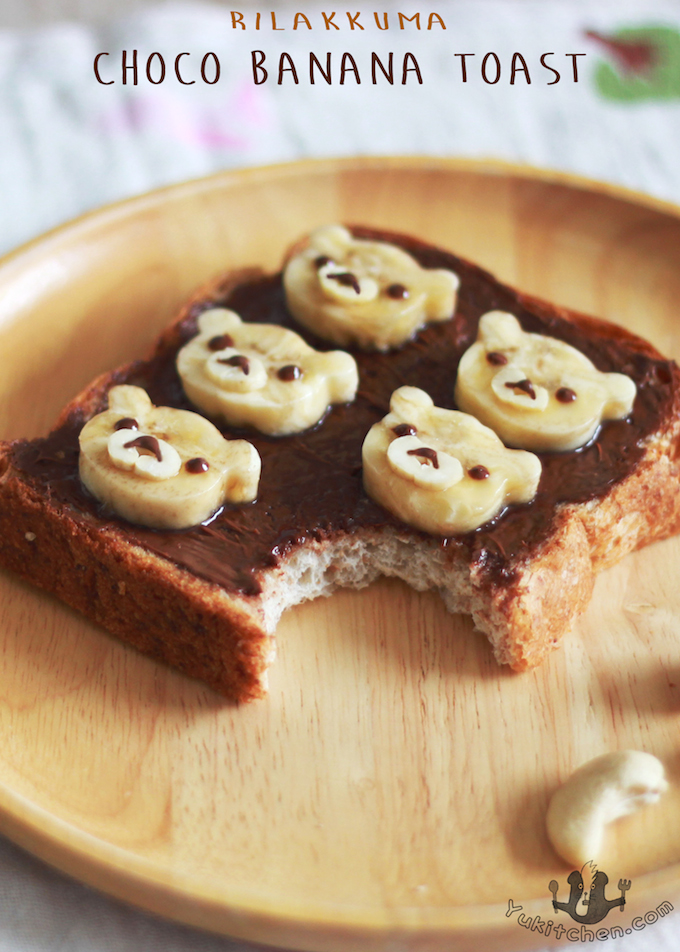 "How could you do this to one of our friends!?"
……While the 5 remaining bears were giving me the judgmental eyes, I decided to ignore and continue with "the massacre of the bears".
I took another bite and this is looking crueler than ever.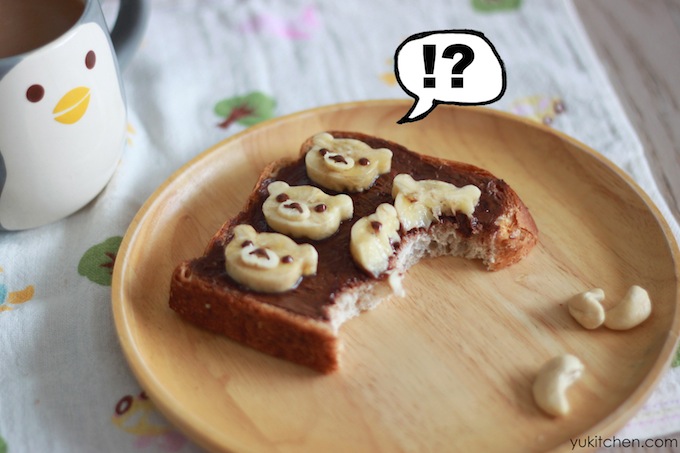 2 more left…. tasty, yet it feels so wrong.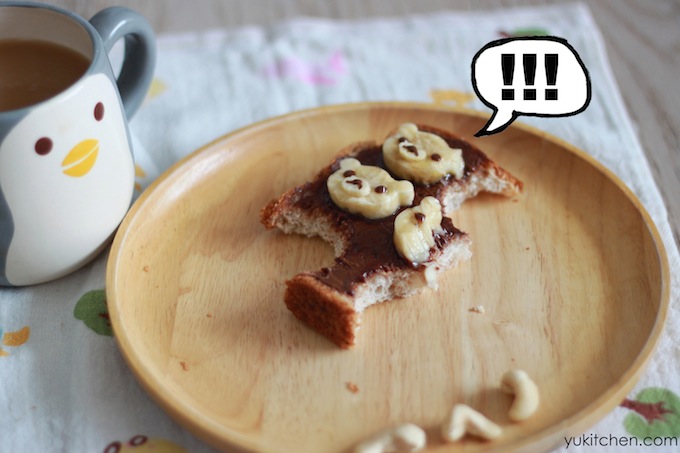 Here is what this final bear AKA "Last Samurai" looks like at the very end of your meal. His left ear being eaten, but still, manage to look supercute…. Rilakkma Toast, it was an honor to have eaten you!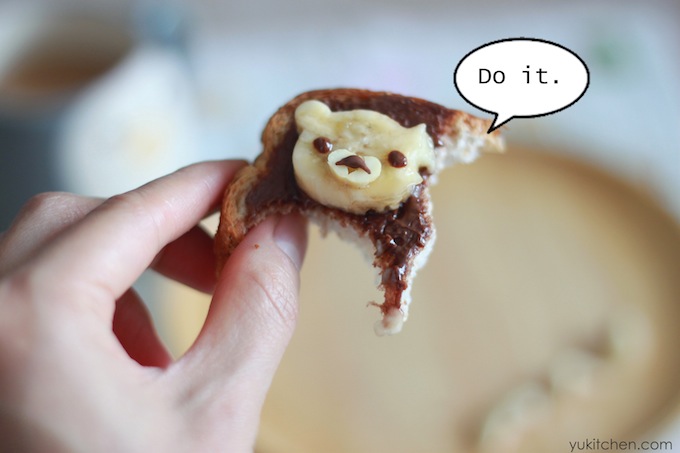 You might feel a bit guilty in the end, but I sure hope you'll enjoy it. I think I did.
xx
-Yuki