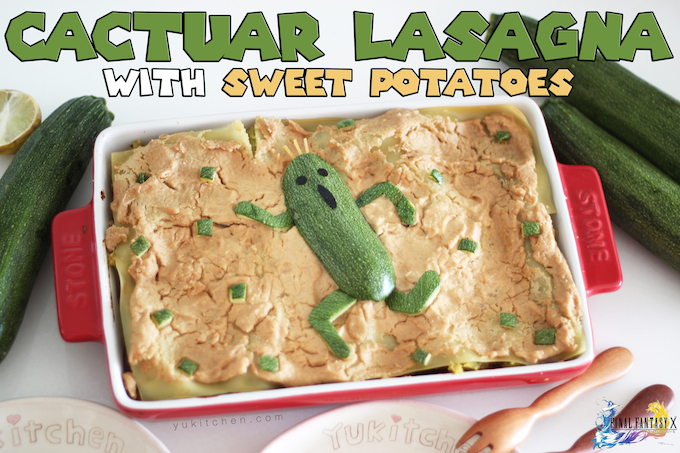 Final Fantasy and I go way back. Compared to other countries, girls in Japan don't really play Final Fantasy games. In fact, girls, in general, don't really play video games in Japan. I was always pretty girlie but was also curious about many things including those that boys were into. So I often imitated my brother, who incidentally has been the biggest inspiration of my life. And he loved playing Final Fantasy.
We used to play Final Fantasy 20 hours a day (!!) and that made our mother crazy. So we had to play late at night when our parents were asleep so they wouldn't bother us 😉 Memories of our midnight gaming sessions accompanied by Cloud and Tifa are still as clear as if it happened yesterday.
And yeah, that's how I discovered Final Fantasy. I love this game series so much, it often made me cry.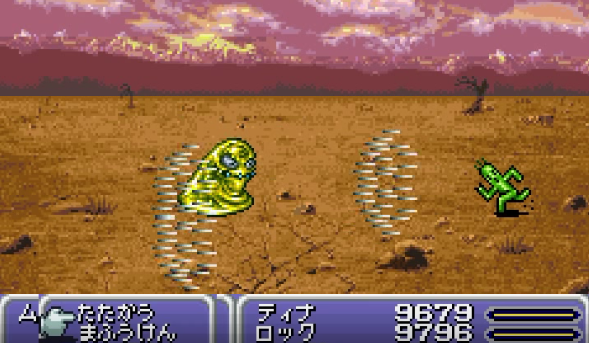 Cactuar (he is "Sabotenda" in Japanese.) is one of my favorite enemies from the Final Fantasy series, and he also appears as a summon. Cactuars are very fast and really tough to hit. They usually have low HP and high defenses and they often yield (good use of yield!) large amounts of money and EXP when defeated. In Final Fantasy 8, each Cactuar will give you 20 AP!! (Ability Points) which is awesome!!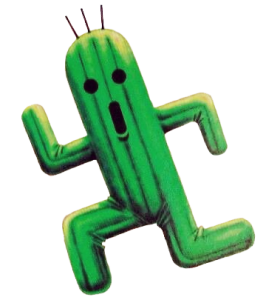 So basically, if you want your characters to get stronger quickly, you just have to kill lots of cactuars. I remember when I was in high school, I would stay home all weekend, spending my adolescence chasing after the cactuar instead of chasing after cute boys. All my friends were into boys around that time, but it didn't really interest me. Giving my beloved characters their ultimate weapons seemed a lot more exciting than chasing boys. (Wow, I sound depressing!)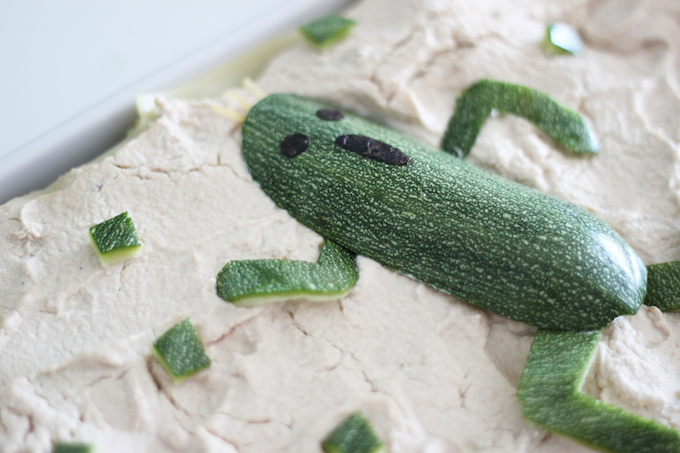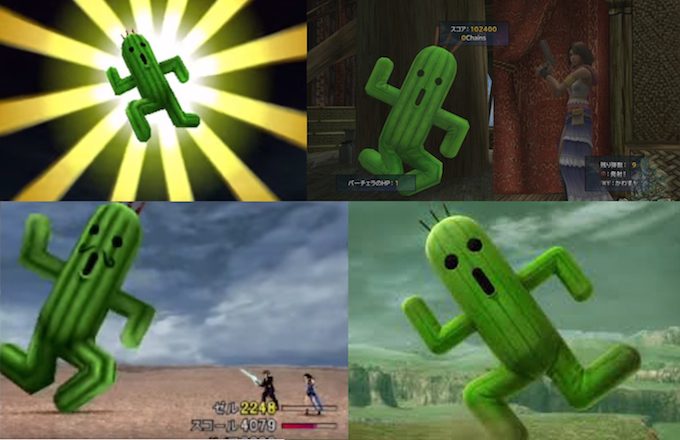 My Cactuar lasagna is all vegan. Instead of cheese, I'm using vegan cashew cheese, which is a hot topic on the internet right now. It was pretty interesting to make.
Cashew cheese contains a mixture of B vitamins, including B12, magnesium, calcium, vitamin C, vitamin E, copper, manganese, phosphorous, zinc, healthy cats, protein, and fiber. This recipe is not only vitamin and mineral rich compared to regular cheese but also much easier for many of us to digest. And tasty!
I was highly inspired by a documentary I watched a while back, called "Engine 2 Diet".  The idea of stuffing a lot of sweet potatoes came from this recipe in the documentary. It's so good!! I think sweet potatoes go perfectly with vegan lasagna 😉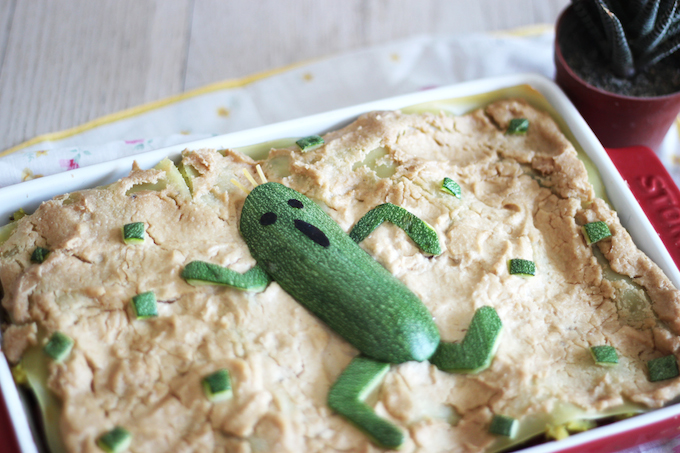 Cute and weird Cactor that will give you 20AP when you defeat him… You are going to have so much fun making this today!
Vegan Cactuar Lasagna with Sweet Potatoes
Our all time favorite guy "Cactuar" from Final Fantasy is now on Vegan Lasagna! Stuffed with a bunch of sweet potatoes to go with the cashew cheese 🙂 Yum.
Ingredients
For the Lasagna
・1 onion, chopped
・2 garlic cloves, chopped
・½ cup mushrooms, chopped
・1 carrot, chopped
・1 tsp thyme
・1 tsp basil
・1 box whole grain lasagna noodles
・2 sweet potatoes, cooked and mashed
For the Tomato sauce
・1 can of tomato puree
・1 garlic clove
・3 tbsp lemon juice
・Some basil leaves, and thyme
For the Cactor
・1 zucchini
・1 piece of spaghetti
・a bit of dried seaweed (nori)
For the Vegan Cheese
・1 cup raw cashews (soaked)
・¼ cup filtered water
・2 tbsp lemon juice
・2 garlic cloves
・sea salt and pepper to taste

 1: Let the cashew nuts soak for overnight. 
Time to make the Vegan Cheese! Let the nuts soak overnight and drain and rinse them next day. Then simply add all ingredients into your blender until it comes out thick and creamy. It will be the consistency of stirred cream cheese.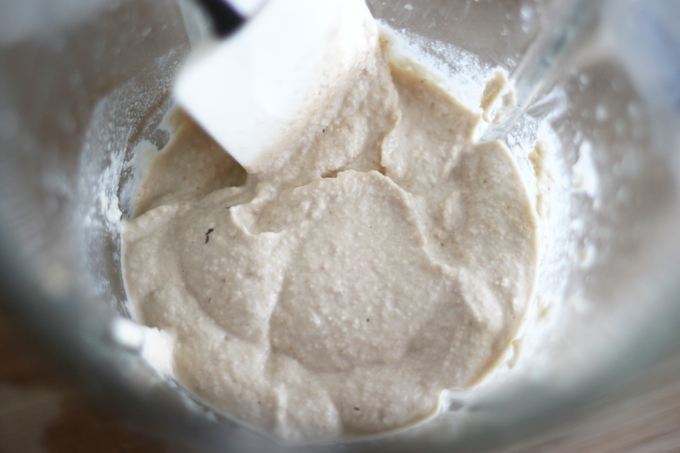 This will further harden after it's been chilled. Store in the refrigerator for up to 5-7 days.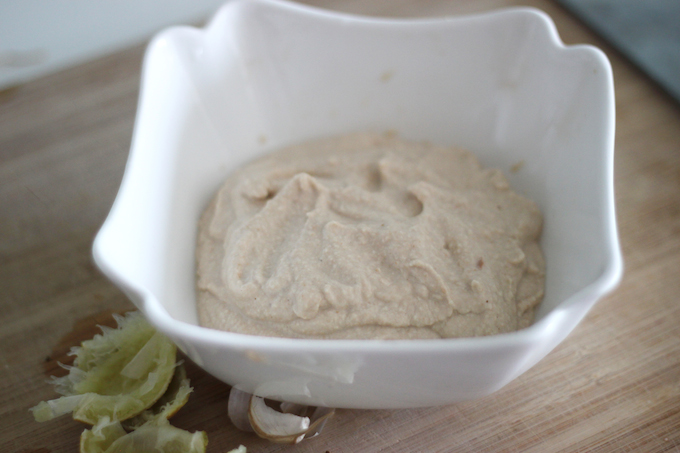 2: Chop the Veggies.
Time to start preparing the lasagna. Grab mushrooms, onions, carrot, and garlic and chop them into small pieces. Also, start pre-heating your oven to 400F/200C.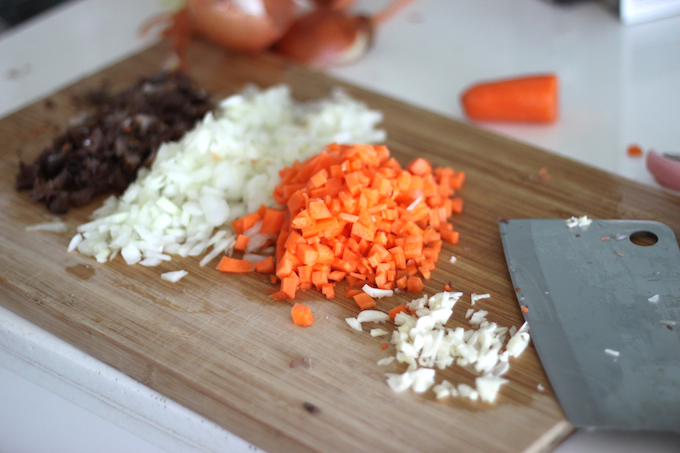 3: Sauté fry the veggies.
Put all the veggies you just shopped in a non-stick pan and sauté for 5 minutes until the veggies turn soft.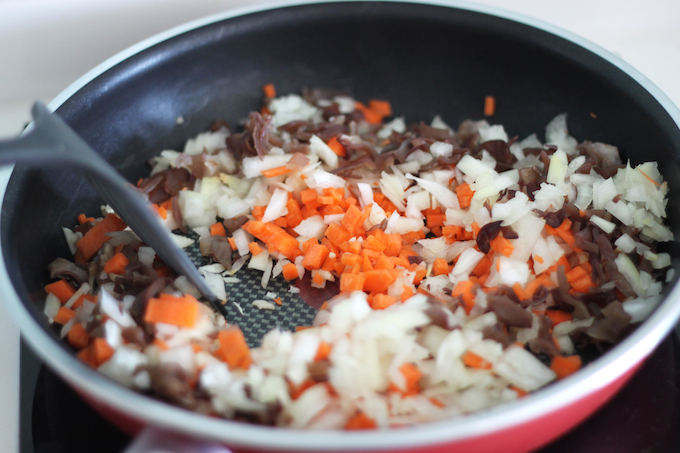 Sprinkle thyme and basil to give it flavor 🙂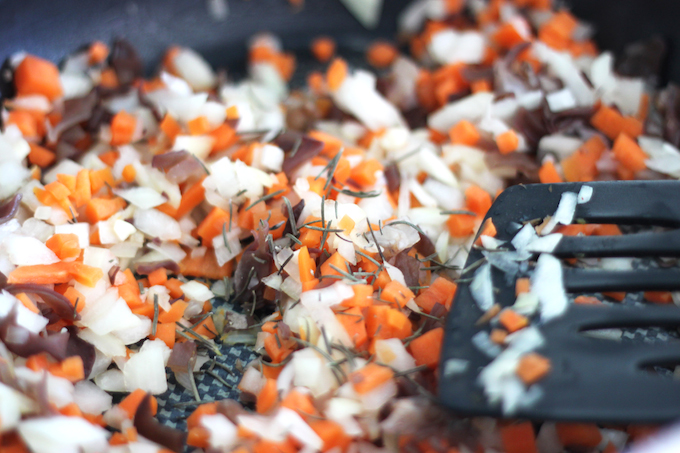 4: Boil the noodles!
This is probably not how you properly boil the lasagna noodles, but here you go. Boil them for 5~10 minutes and drain the water and then immediately rinse them with cold water.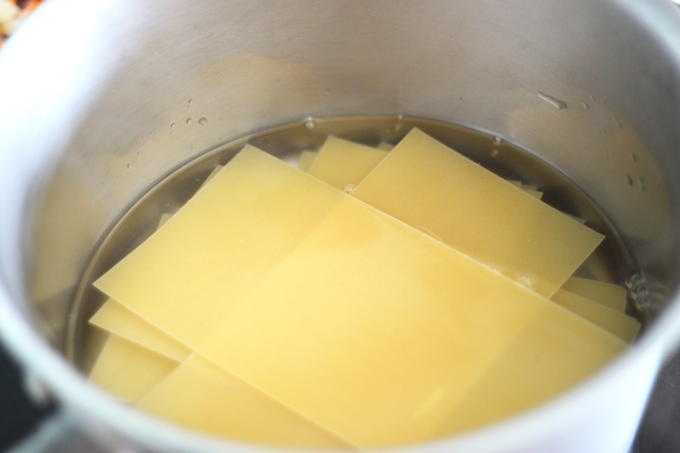 5: Boil the potatoes!
Cut the sweet potatoes into small pieces and boil until the potatoes turn soft and yellow. Usually it takes 10~15 minutes with mid to low heat.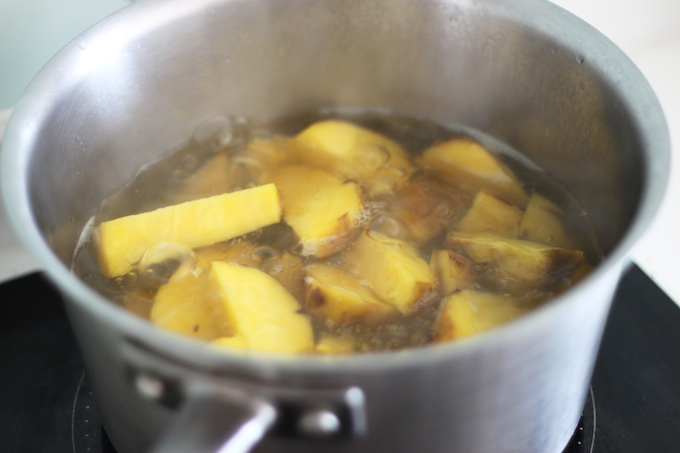 6: Mash it!
Add one or two pinches of salt and mash them until they are soft. I like it simple!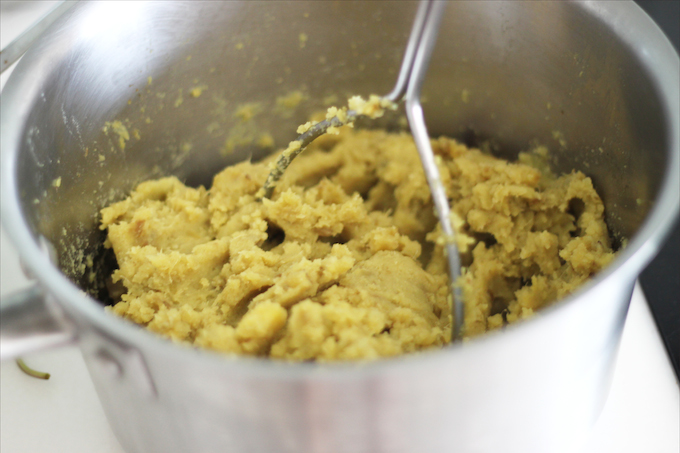 7: Make the tomato sauce!
Add all the ingredients: tomato puree, herbs, garlic, and lemon, and mix it well.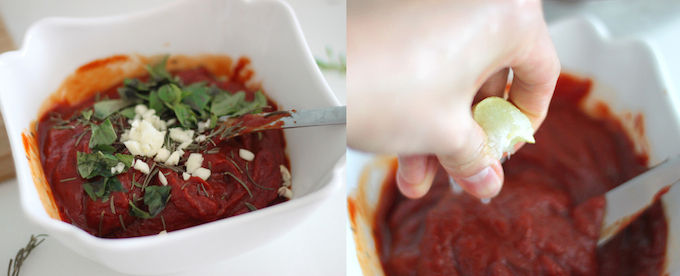 8: Prepare the pan:
Spread the tomato sauce so it covers the bottom of your lasagna pan. This will help to prevent the pasta from sticking.
9: Layer the goodness!
Time to start making the layers of your Vegan Lasagna. This is the most fun part! Enjoy!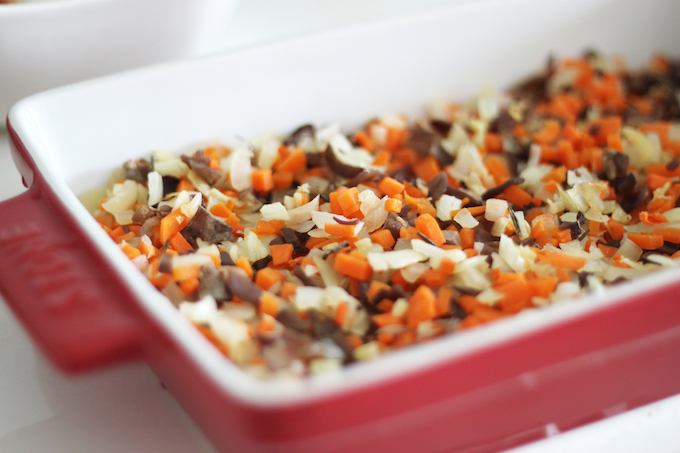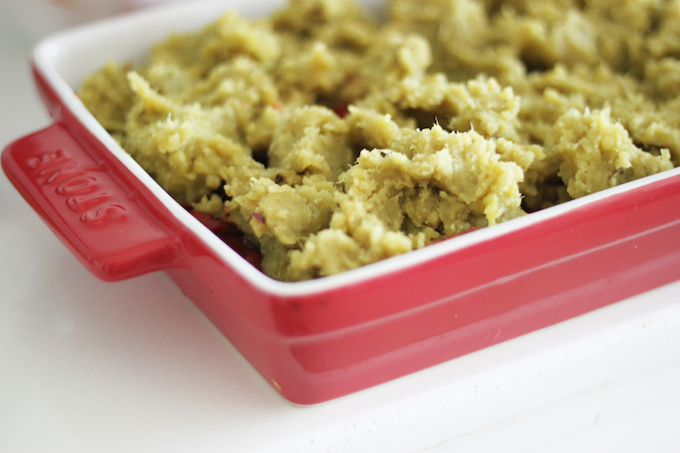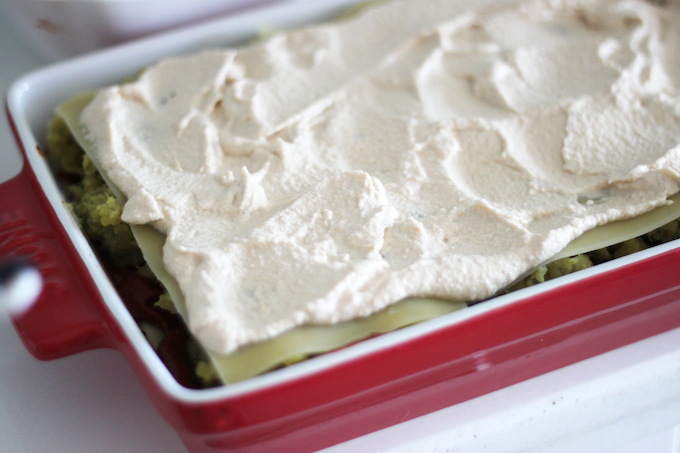 10: Make Cactor!

Time for crafting! First, cut the zucchini into a Cactuar-like shape and make sure you even out the corners to make them look nice and round. Then cut the little pieces for his limbs. I used a smaller knife to do this.Use a piece of spaghetti for his cute signature 3 horns. Cut out pieces of dried seaweed and use for his mouth and eyes.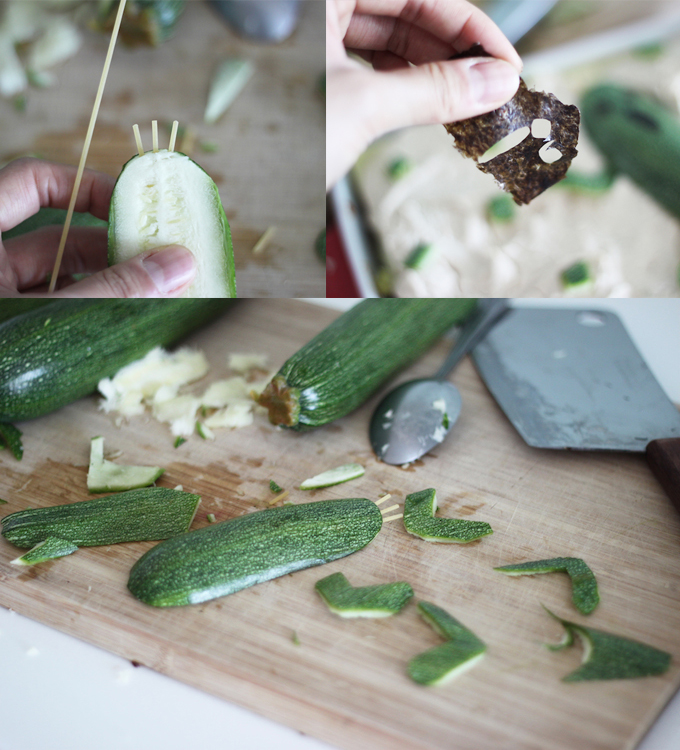 Done!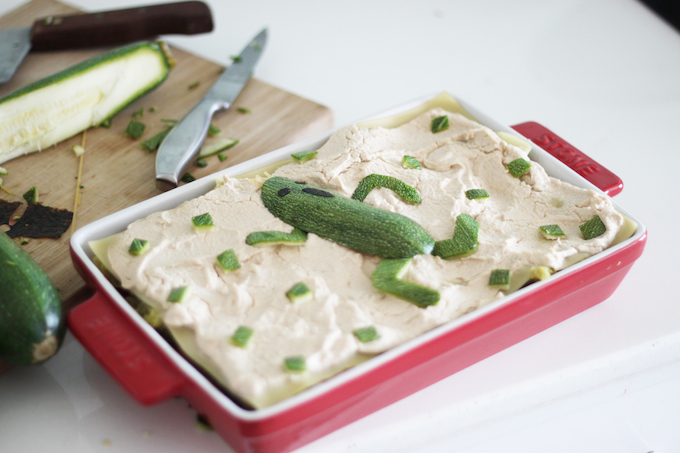 11: Start baking!
Your oven should be warm by now with 400F/200C. Cover the pan with foil and bake in the oven for 45 minutes. Also, make some holes on the foil so it can breath.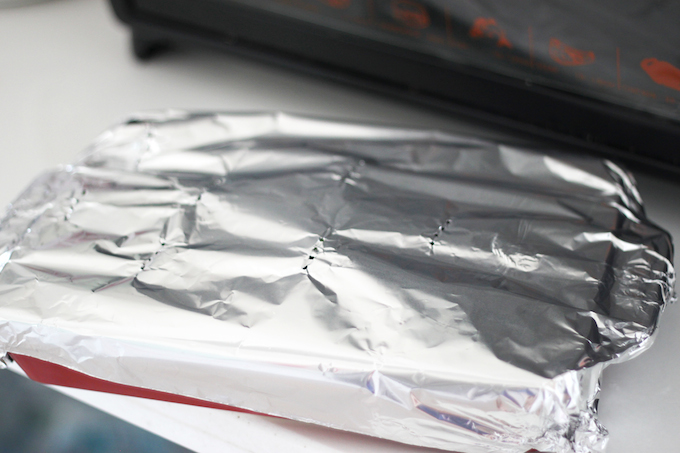 12: Remove the foil and bake again.
Remove the foil and bake it for another 5-8 minutes. Then take it out of the oven and let it sit for 15 minutes before serving.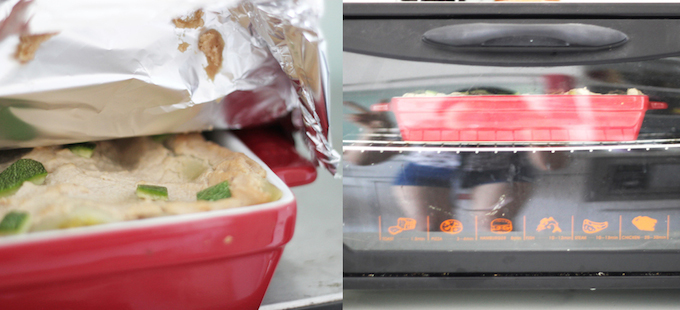 13: All done!
The super cute and toasty Cactuar Lasagna is now ready for your hungry tummy!
His little 3 horns made of spaghetti is the cutest thing ever! I think the small details complete the picture 😉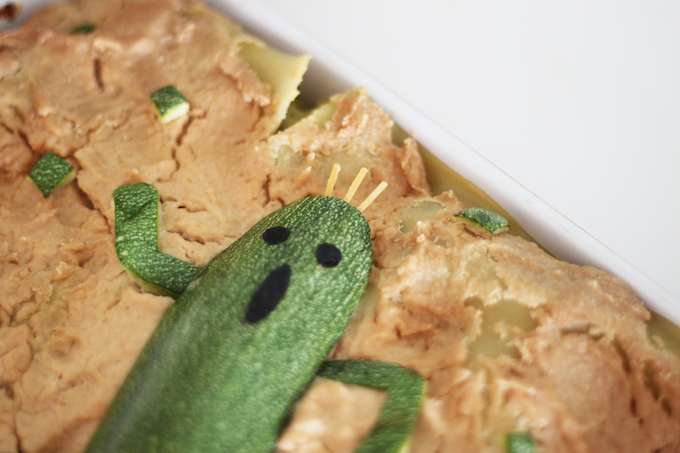 The vegan cheese slightly resembles a desert, which is perfect since that is where Cactuars come from.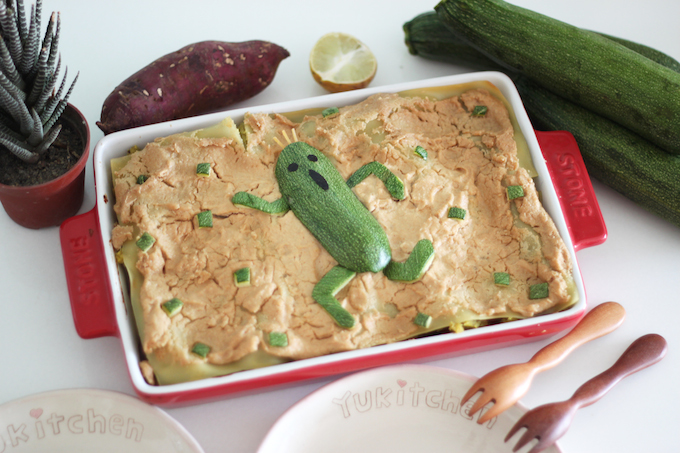 Once you cut into the lasagna you can see all the glorious veggies inside….:D The mashed sweet potatoes are my favorite! They are a perfect match for my homemade tomato sauce! Eating this makes me feel like I'm gaining lots of AP…(20AP, it is!) and makes me want to play Final Fantasy! But it's just me.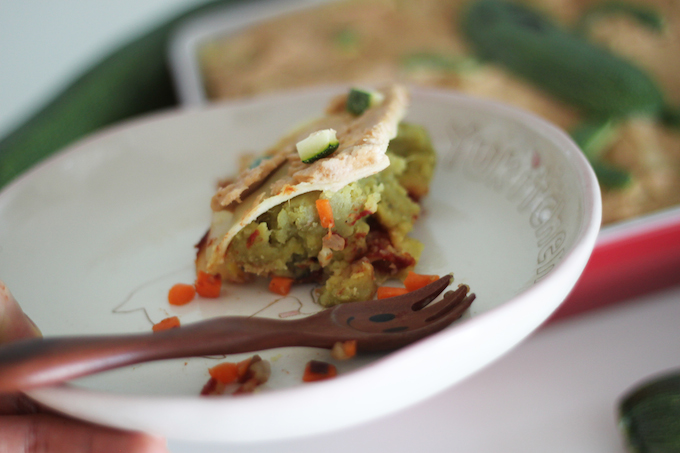 You can keep it in the fridge for at least 3-4 days. I ate it leaving it in the fridge for 3 days and it still tasted great.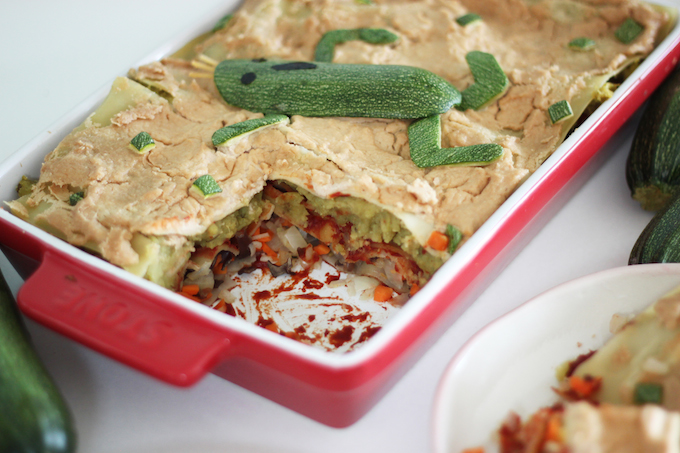 This recipe looks complex, but it really isn't!!I hope you try it with or without Cactuar! It's delicious.
Good luck in the kitchen!
xoxo
-Yuki