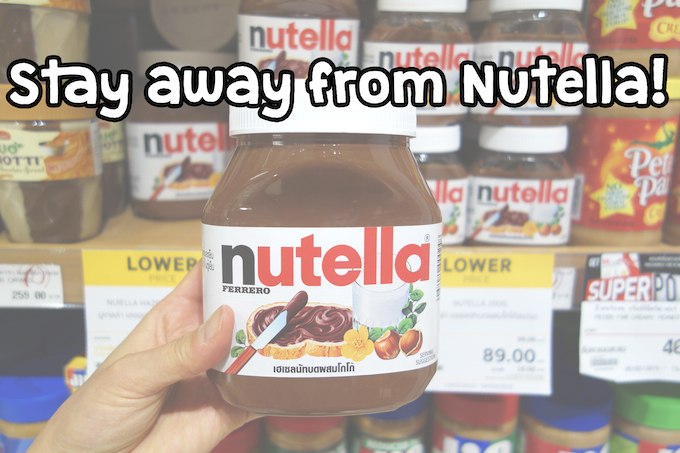 It was a love at first bite when I had Nutella for the first time in my life. So I almost hated myself when I unfortunately googled "Nutella" and discovered its harmful ingredients. The scariest thing that people don't know about Nutella is that it contains monosodium glutamate (MSG), also known as E621. It's cleverly hidden inside an artificial flavor called vanillin which is labeled on every Nutella jar. It also contains the toxic GMO emulsifier soy lecithin and palm oil whose extraction is ravaging forests and wildlife throughout the world.
In the United States, Ferrero, maker of Nutella, was sued in a class action lawsuit for false advertising that led some to believe that Nutella carries nutritional and health benefits, being touted as 'part of a nutritious breakfast'. They were sued for healthwashing! In April 2012, they paid $3 million to customers who were part of the claim. The settlement also required Ferrero to make changes to Nutella's labelling and marketing.

What exactly these changes were are unclear, as they are clearly still healthwashing the heck out of this product.
---
Nutella Ingredients: sugar, modified palm oil, hazelnuts, cocoa, skimmed milk powder, whey powder, lecithin, and vanillin.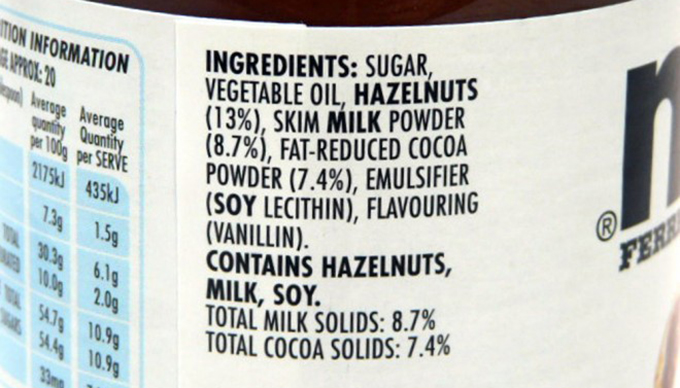 Nutritional Breakdown: Nutella contains 70% saturated fat and processed sugar by weight. A two-tablespoon (37 gram) serving of Nutella contains 200 calories, including 99 calories from 11 grams of fat (3.5g of which are saturated) and 80 calories from 21 grams of sugar. In addition, the spread contains 15mg of sodium and 2g of protein per serving.
Two tablespoons of Nutella contains 21 grams of sugar(!!).
There's no reason breakfast can't be both healthy and delicious, but serving up sugar, modified vegetable oils and processed chocolate in the morning just isn't the way to go. Seriously people, just make your own Nutella at home. It's super easy and delicious.
---
Five scary ingredients in Nutella 
1. Suger
Despite the lovely visual of hazelnuts tumbling across the screen in the television commercial, the first ingredient in Nutella is plain old, white, refined, most likely GMO sugar. Hazelnuts make their appearance after sugar and palm oil. If we were to name this spread appropriately, we might call it "sugar palm oil spread", but that doesn't have the right ring to it, doesn't it?  Simply put, Nutella is just a spreadable candy bar.
High sugar intake first thing in the morning will spike blood sugar levels, resulting in a plummet mid morning and contribute to poor concentration, hyper activity and aggression.

2. Modified vegetable oils.
You know how we feel about those, right? Vegetables don't make oil, which means these so-called "vegetable oils" need to go through a heck of a lot of processing in order to become Nutella. Not good. We love fat, but it needs to come from natural, unprocessed sources otherwise we are eating cancer-contributing refined oils that only serve to promote inflammation in the body and challenge our heart, liver, brain, endocrine and nervous systems to function efficiently. (I wrote more about vegetable oil here)
3. Vanillin: an artificial Flavor (MSG)
When most people see vanillin, they think…oh it has vanilla. However, this is likely one of the most harmful ingredients in Nutella. Scent and flavor of vanillin are nothing but chemicals. When we talk about actual real-life non-imitation vanilla flavor, what we're really talking about is a bunch of molecules that are extracted from a vanilla bean.
The grandest chemical of all of these is vanillin. Sure, vanilla has plenty of other odor molecules, but vanillin is about 95% of the scent. And, thanks to technology, you can make it cheaply from petroleum and in a lab. The largest vanillin manufacturers in the world are in China and more than 90% of food products manufactured contain vanillin from China including Nutella.
The worst part of vanillin is that it contains unlabeled MSG. It is not a nutrient, vitamin, or mineral and has no health benefits. The part of MSG that negatively affects the human body is the "glutamate", not the sodium. The breakdown of MSG typically consists of 78% glutamate, 12% sodium, and about 10% water. Any glutamate added to a processed food is not and can not be considered naturally occurring. Natural glutamate in plants and animals is known as L-glutamic acid.MSG Lurks As A Slow Poison In Common Food Items Without Your Knowledge and vanillin is one of them.
MSG has been proven to act as an excitotoxin which stimulates the reward system of the brain, so we think it tastes better (than it actually does) and consequently consume more.
There are a growing number of Clinicians and Scientists who are convinced that excitotoxins play a critical role in the development of several neurological disorders, including migraines, seizures, infections, abnormal neural development, certain endocrine disorders, specific types of obesity, and especially the neurodegenerative diseases; a group of diseases which includes: ALS, Parkinson's disease, Alzheimer's disease, Huntington's disease, and olivopontocerebellar degeneration.
4. Soy Lecithin
Soybean lecithin comes from sludge left after crude soy oil goes through a "degumming" process. It is a waste product containing solvents and pesticides and has a consistency ranging from a gummy fluid to a plastic solid. Before being bleached to a more appealing light yellow, the color of lecithin ranges from a dirty tan to reddish brown. The hexane extraction process commonly used in soybean oil manufacture today yields less lecithin than the older ethanol-benzol process, but produces a more marketable lecithin with better color, reduced odor and less bitter flavor.
Today soy lecithin is ubiquitous in the processed food supply. It is most commonly used as an emulsifier to keep water and fats from separating in foods such as margarine, peanut butter, chocolate candies, ice cream, coffee creamers and infant formulas. It also helps prevent product spoilage making it a preservative and extending shelf life in the marketplace.
The majority of soy sources in the world are now genetically modified(GM). Researchers have clearly identified GM foods as a threat to the environment, pollution of soils and a long-term threat to human health with links to of the world with unnatural genetic material that may have unknown long-term consequences with links to decreased fertility, immunological alterations in the gut and the exacerbation and creation of allergies.
Genetically engineered soy contains high concentrations of plant toxicants. The presence of high levels of toxicants in the GM soy
represent thousands of plant biochemicals many of which have been shown to have toxic effects.

5. Reduced Minerals whey 
Whey protein production starts with dairy cows and was actually considered a waste byproduct of cheese production. It was typically discarded.
Dairy companies now recognize the value of whey and have set up factories to concentrate and purify it from sources that are substandard from cows fed GMO foods, antibiotics and hormones to boost their production. Reduced-minerals ends up being a dark cream-colored product which companies acquire raw from the same handful of manufacturers.
Whey powder is an additive commonly used in spreads to prevent the coagulation of the product because it stabilizes the fat emulsions.
It is manufactured by drying whey that has been heat treated to remove a portion of the minerals. It is used as animal feed and also by the pharmaceutical industry.
Levels of demineralization of this type of whey can exceed 90% making this ingredient completely useless in terms of nutrition.
---
You can actually make your own Nutella at home and it's SO MUCH BETTER than actual Nutella!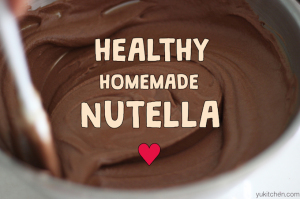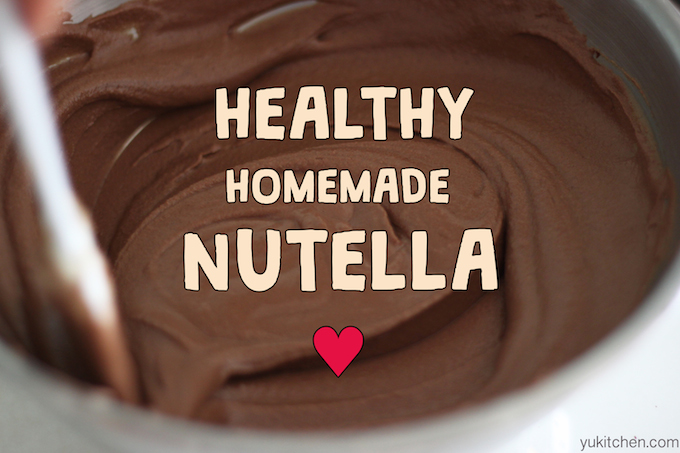 Here is the homemade Nutella recipe I made. It contains no oil, no GMO and no artificial flavors. If you are big fan of Nutella just like myself, you can just make your own Nutella instead of buying the unhealthy ones 😉 Also, don't forget to try this recipe, too!
Happy eating everyone!
x