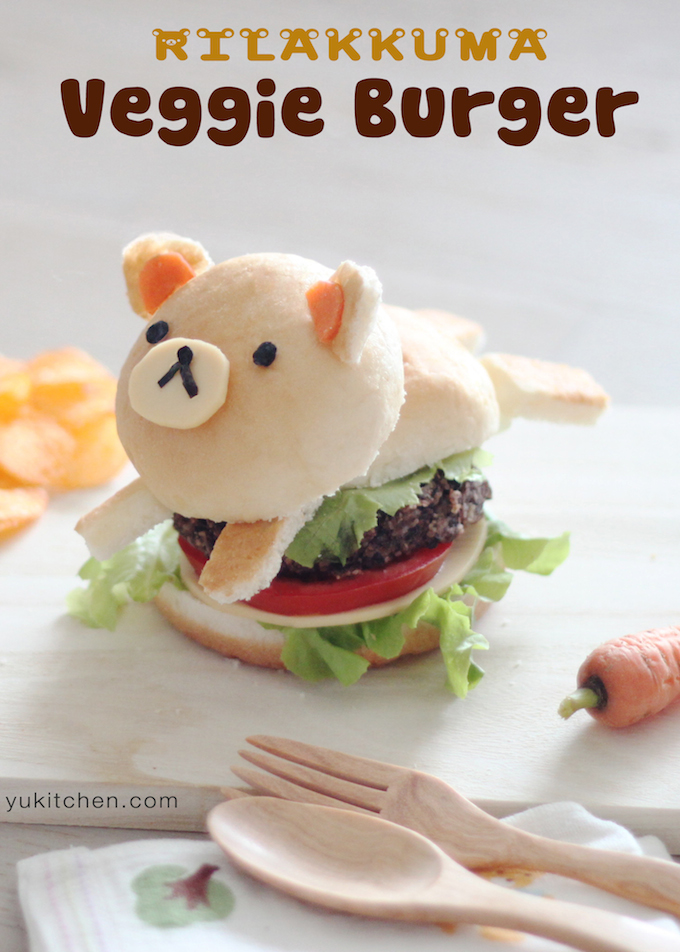 For the past couple years, I've been on a quest for making the perfect veggie burgers. It's been a quite mission to create the burgers that have everything that we need. But I think I'm finally comfortable enough to announce the world that I've reached my goal today. My veggie burgers have finally hit my high standard!
I'm going to show you how to make the perfect veggie burgers with a little bit of cuteness today.
The other day in Bangkok, I was on a grocery shopping with a shopping kart. When I was looking for some whole wheat bread at the bakery section,  I found these cute little mini buns. Such cute little mini buns… So cute…
So I thought about making cute little mini veggie burgers or something, then the "idea lighting" stuck on my head.
"If…. if I use the regular bun on the bottom and put the mini bun on top, that might look like a bear riding a burger….?!  Is it gonna work out? What's going to happen?? I want to try so bad!!"
I dashed to the cashier after tossing a couple of mini bun bags then grabbed a taxi with my heart still pounding. This very same day, I created this recipe. I have a feeling that my life is owned by my random "idea lightings".  They are very important source of my life, which help my ordinary life seem a bit more exciting than what it is 😉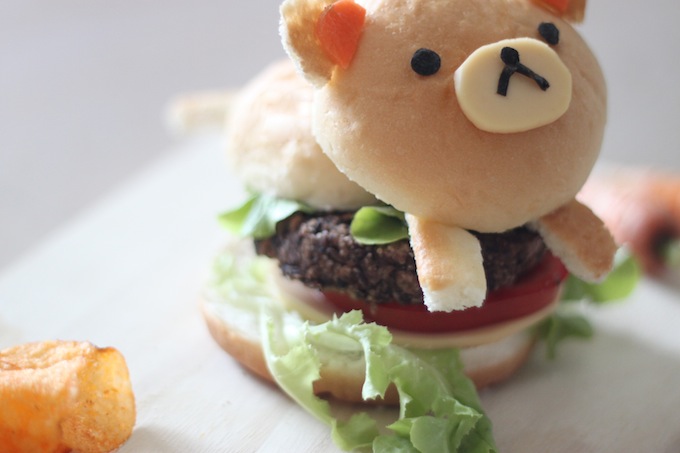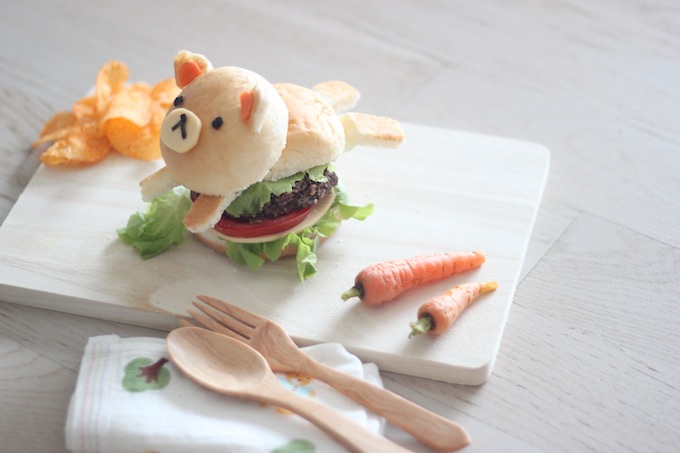 Rilakkuma Burger
It's not meat but tastes like it is! Enjoy the tastiest veggie burger with Rilakkuma on top!
Ingredients
For the veggie patties(6~8patties):
(Read How to make Yuki's veggie meat for more information!)
・1 cup black beans (Soak overnight, then boil for a couple hours next day)
・1/4 cup black rice
・1/3 cup brown rice
・1/3 cup quinoa
・1 cup water (for making rice)
・1/2 cup oats
・1 onion (chopped)
・1 cup mushrooms (chopped)
・3~4 garlic clove (chopped)
For flavoring:
・3 tbsp soy sauce
・a pinch of salt
・1 tbsp black pepper
・3 tbsp cumin powder
・1 tbsp coriander powder
・1 tbsp cayenne pepper
For the burgers:
・1/2 regular burger bun (per bear)
・1 mini buns (per bear)
・3~4 pieces lettuce
・1 tomato
・1~2 slice your favorite cheese (optional)
・1~2 pieces nori (dried seaweed)
・1~2 slice carrot (just a little bit)

1: Make the veggie meat. Check it out the tutorial here!


2: Learn the buns. Regular buns are for the top part of the burger. Mini buns are for the bottom. Learn that there are two types of buns!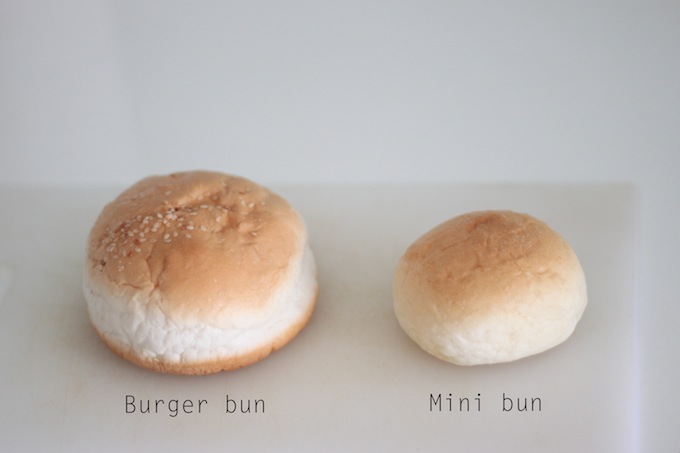 3: Make the body parts. Use the bread knife to cut the buns in half. Make the bear limbs with the extra buns. I used a table knife to cut off the small details 😉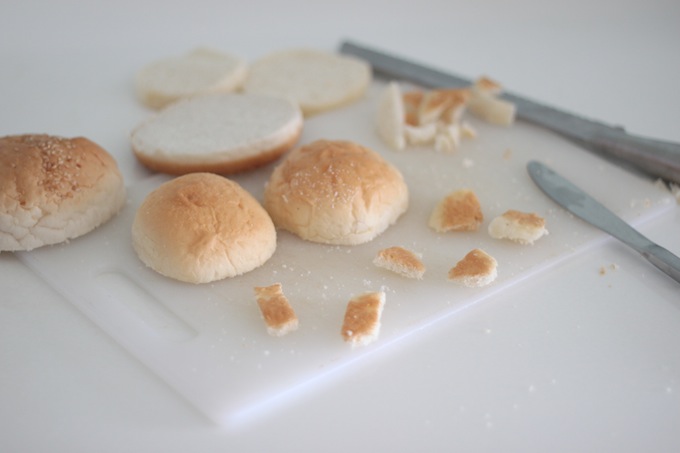 4: Use pasta to stick the limbs to the body. This is a good trick you should know to make food art!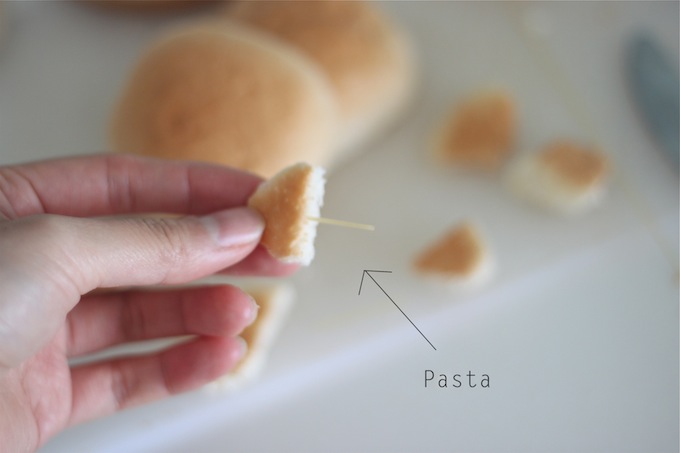 5: It looks something like this after sticking the little parts. There's no face yet but look, so cute already!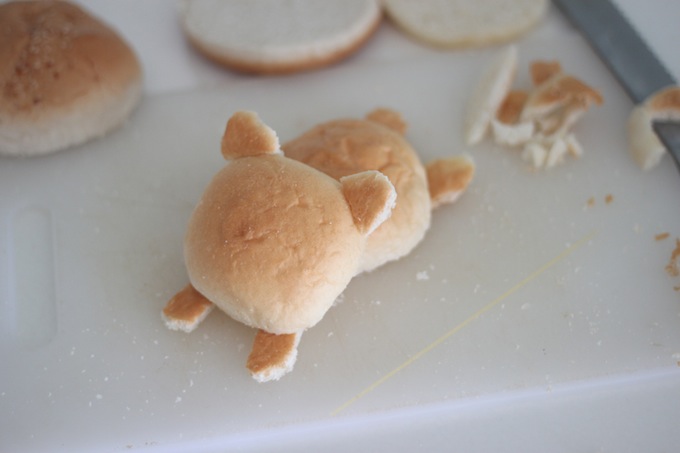 6: Make the facial parts. Cut a slice of cheese for Rilakkuma's month. I used a pair of cooking scissors but if you have a cookie cutter that shapes like his month, that would be perfect! For his eyes and nose, I used nori punchers to cut out the nori (seaweed). If you don't have the puncher, just use the scissors again. Should be fine!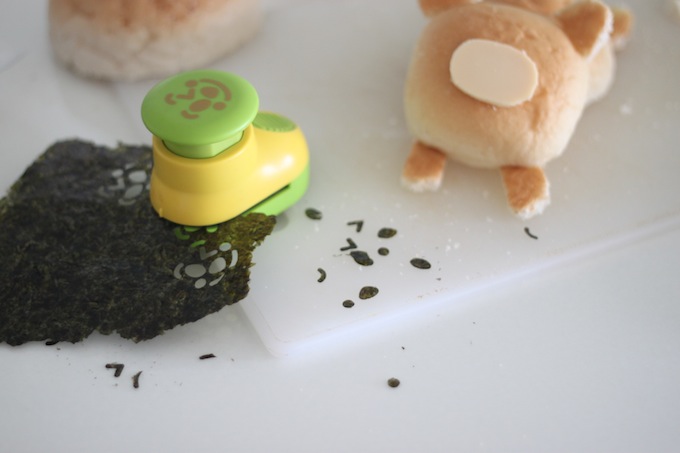 7: Use rice for a glue! My grandma's trick! Cooked rice can be a glue. pick up a piece of rice and smash it on top of each nori, and carefully place it on a burger bun to make Rilakkuma's face.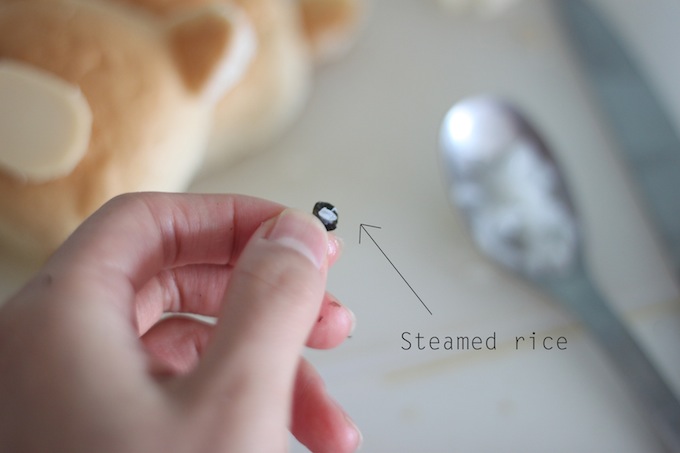 8: Cut carrot for his ears. Cut a slice of carrot as thin as possible and place them on each ear. And there you go, you now have a Rilakkuma Burger bun!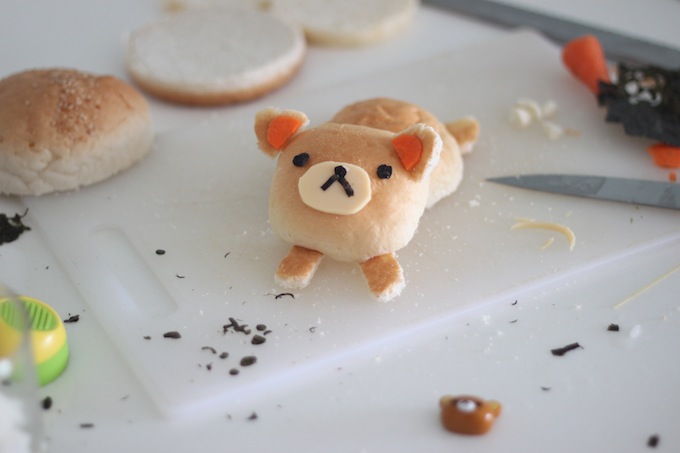 9: Stir-fry the Veggie Meat. Use a non-stick pan, stir-fry the Veggie Burger with medium-high heat and cook until the surface turns a little brown.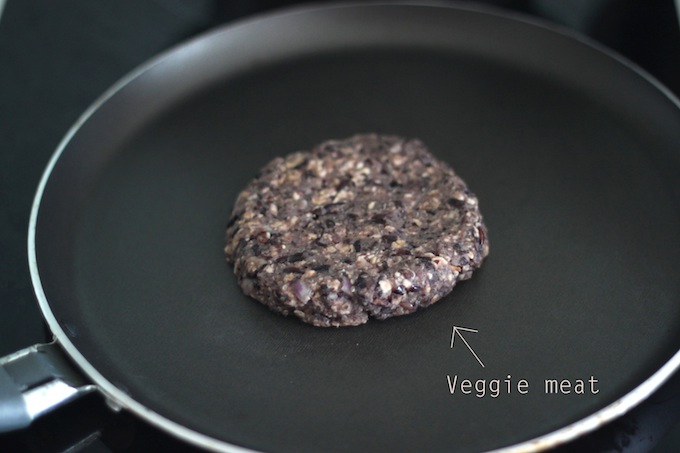 10: Cut the veggies. Cut tomatoes, lettuce, and cheese in the preferred size and start layering them on top on the bottom bun. I recommend flavoring it with some salt and peppers, or even your favorite BBQ sauce!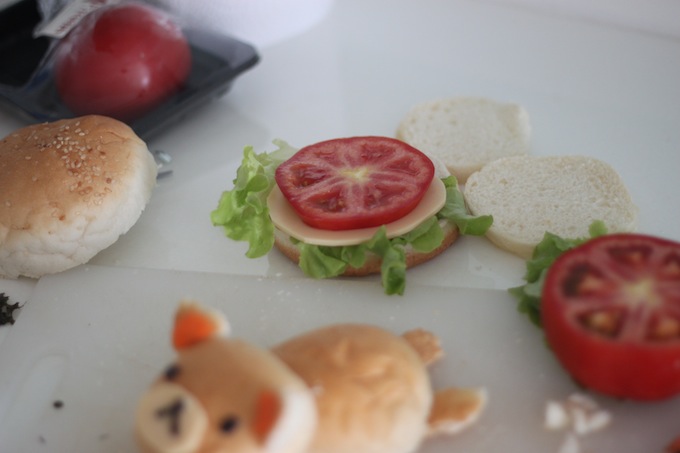 11: Let him ride it! After adding all the layers, it's time for Rilakkuma to ride the burger! I think he looks like a rockstar here. Rilakkuma is so cool, guys!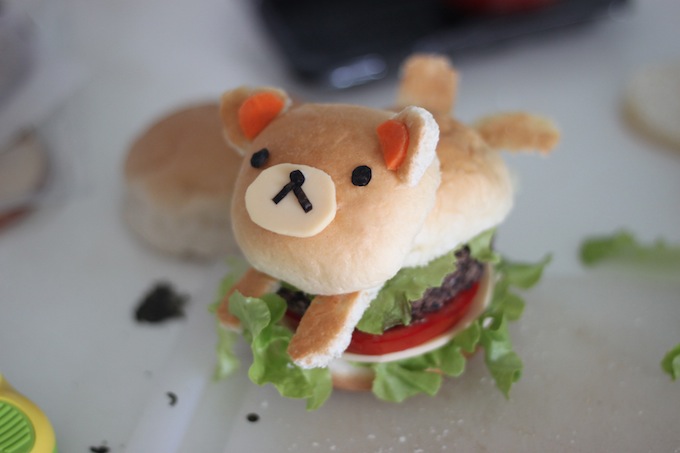 Your hard work has finally paid off! This Rilakkuma burger is seriously the cutest burger, ever! I added my favorite potato chips and steamed baby carrot with it 😉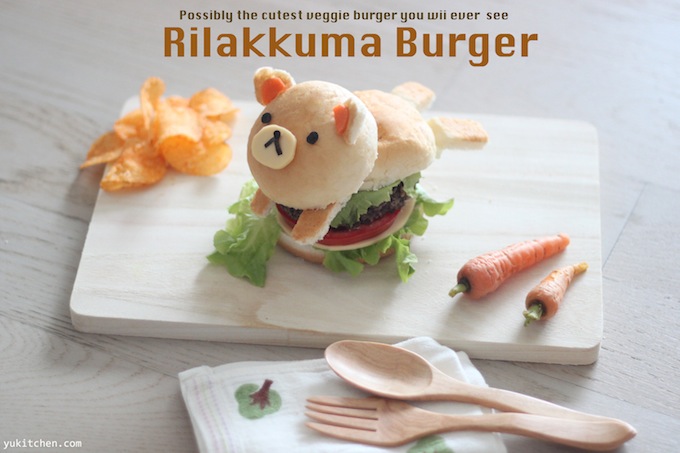 Have you ever had your burger… looking at you? This is very unexpected for me. It's really awkward when this cute little Rilakuma is staring me into the eyes almost looking like he is so disappointed in me.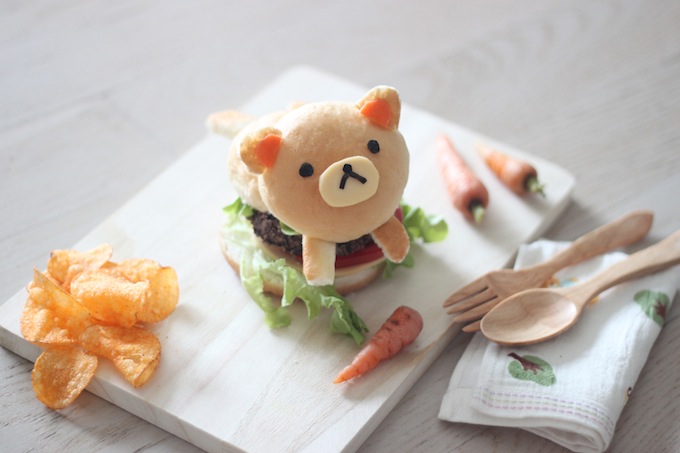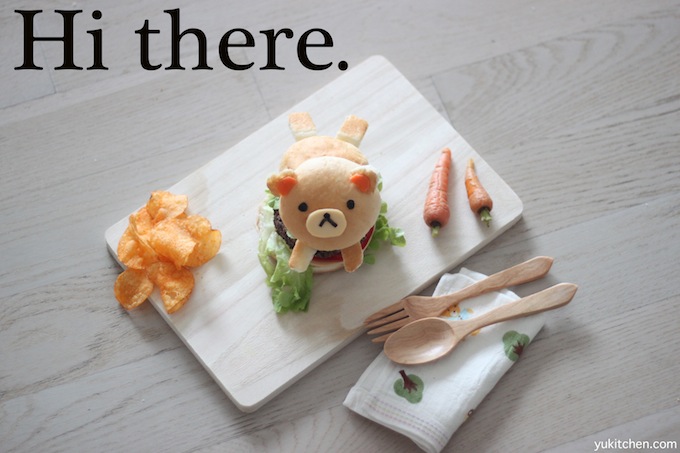 After you are done with the self-loathing, please just enjoy your meal. I know that it feels wrong to eat him, but this burger IS really delicious. Once he is in your tummy, I promise it won't feel as sad as you think it would be!
It's not meat but taste like meat. Please try this special recipe with someone you love!