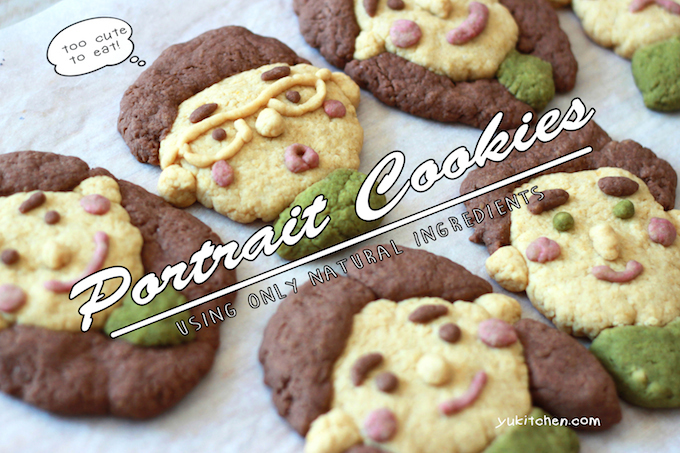 I'm super excited because I'm finally adding a new recipe in Yukitchen today! I've been sidetracked by other work and could not have time to edit my photos for a very, very long time! I made this recipe, like 6 months ago!
I named this recipe today "Portrait Cookies", but it's originally called "Nigaoe Cookies". I tend to make Nigaoe cookies every Christmas for my loved ones 🙂
"Nigaoe" (nee-gah-oh-eh) in Japanese means "Likeness of one's face". I looked up a lot but English doesn't have a word for Nigaoe, so I  named it Portrait Cookies. Close enough, but I'm not 100% happy with the English name so I might change it later!
This is my good friend Hui. I wanted to capture his shy-yet-geeky personality into a cookie and here's the result: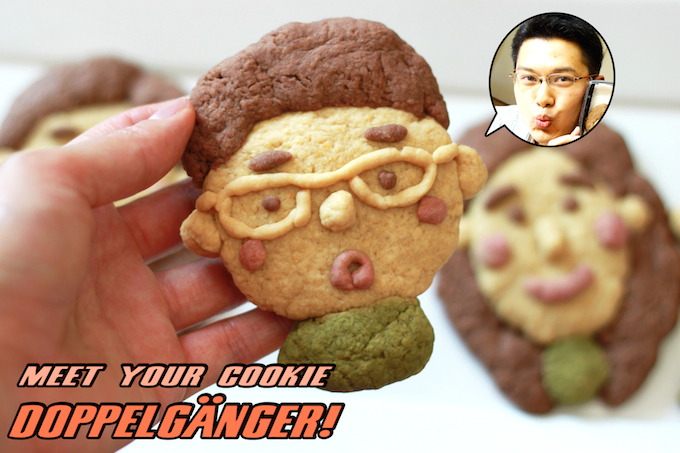 Making cookies of your friends' faces turned out to be extremely fun. I know that I'm not perfect, but I always take time on details, as if I'm breathing life into them.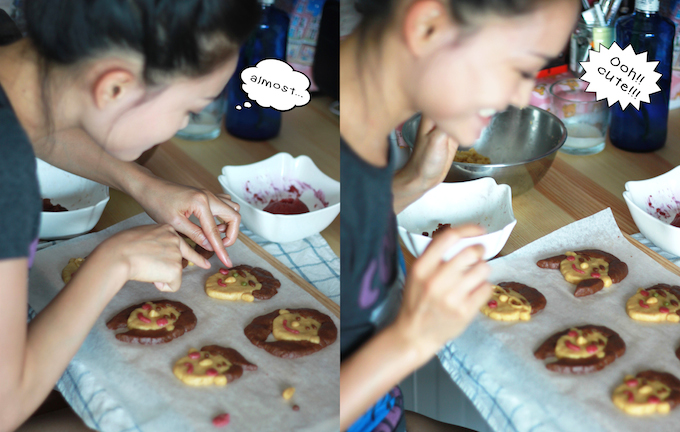 To make the Portrait Cookies, you will need these 3 things:
Cookie ingredients
A bit of crafting skill
Natural food dye
I do not recommend any store-bought food coloring because it's nothing but bad news. Using natural food dye is not that hard to make. Don't just buy the toxic food additives and try my natural cooking!
I'm using 3 colors in the cookies. Here is how: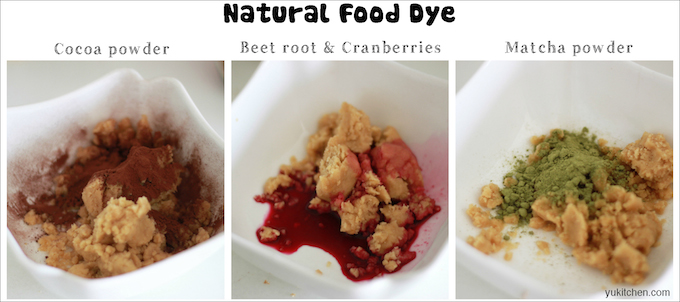 These cookies are great for gifts. All my friends loved seeing the cookies that look like them 😀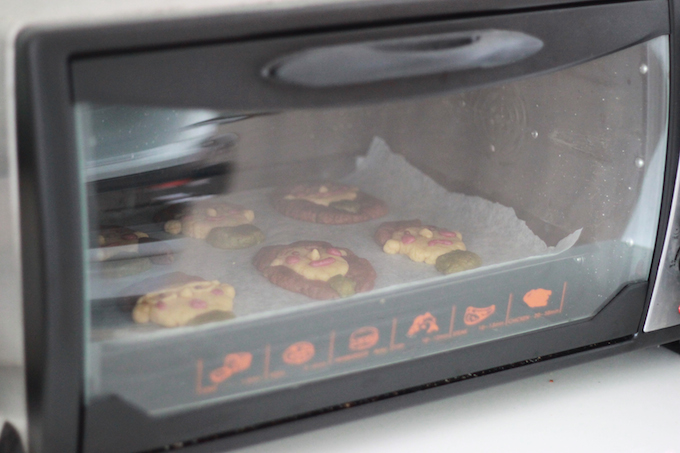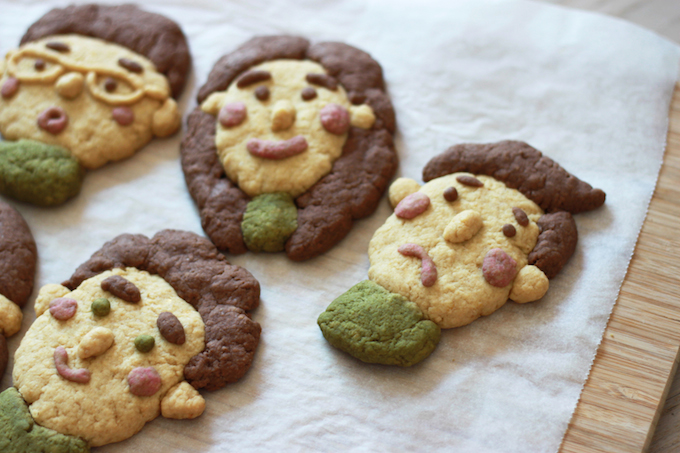 Portrait Cookies
Making cookies has never been this fun! These cookies are made of only natural ingredients AND look like your friends!
Ingredients
For cookies:
・150g Butter (unsalted)
・100g(1/2cup) Brown sugar
・1 Egg
・300g(2.2 cups) All purpose flour
・A pinch of salt
・1 tsp Vanilla extract
・1 tbsp Bandy
For natural food coloring:

1: Gather all the ingredients.

Also start heating your oven to 170C/340F!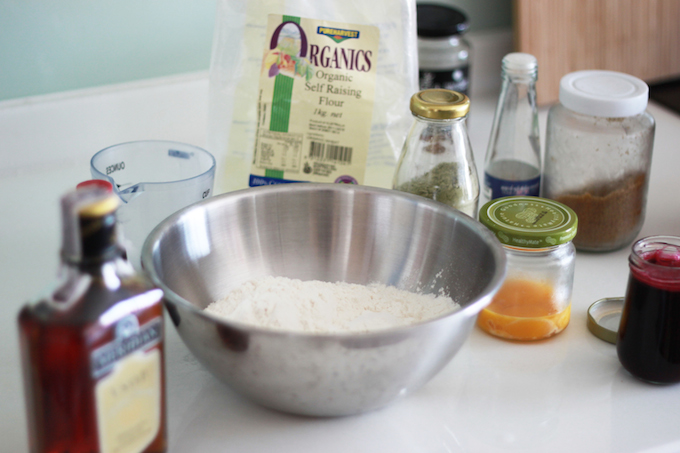 2: Melt the butter and mix with brown sugar.

I prefer melted butter when I bake something. (except for pie crust and scones!) Mix the sugar here as well.

3: Mix all the ingredients.
The key to the happiness here is the vanilla extract and brandy 😀 Cute cookies at stores are usually not that tasty, so I made sure mine's got rich flavors. Mix the ingredients until they are all combined.


4: Separate the dough into 4 parts.
・Normal color for the skin
・Pink color for the mouth
・Green color for the scarf
・Brown color for the hair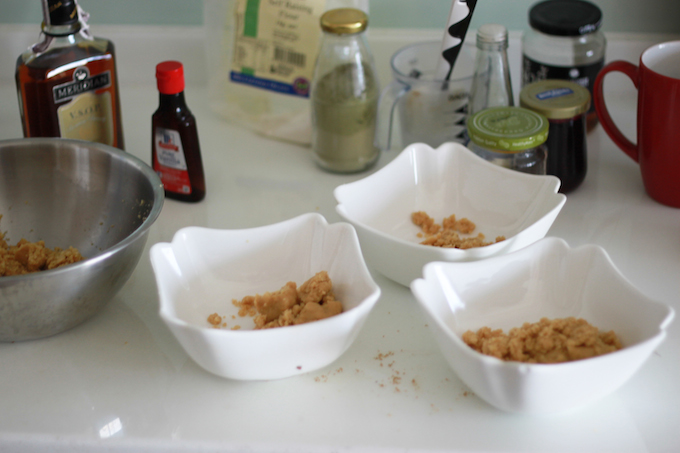 5: Color the dough.
Using only natural ingredients, you can actually color the dough like this! Chemical food dye is REALLY not good for you. It will take its evil time to slowly destroy your life in the future. So, take it from me guys; EAT NATURAL STUFF and we all be happy!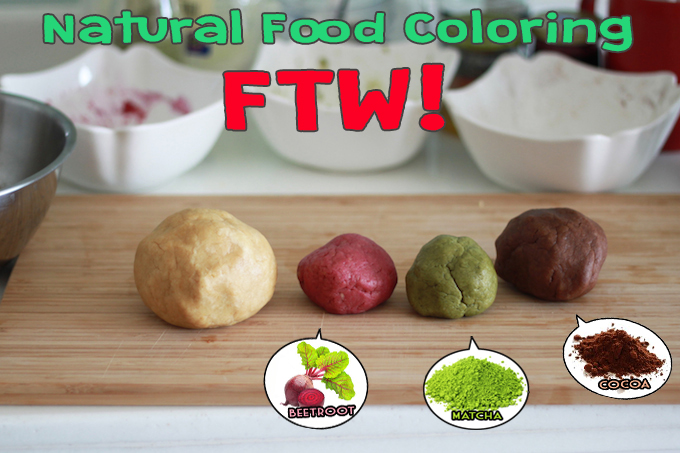 6: Start crafting! Making shapes.
Find the most comfy table with your favorite music and start working on making the cutest cookies in the world! Your imagination is the key to the masterpiece. Make sure your dough is moist enough, otherwise the little pieces like eyes and nose might fall off after baking! I usually add just a bit of water if my dough is too dry.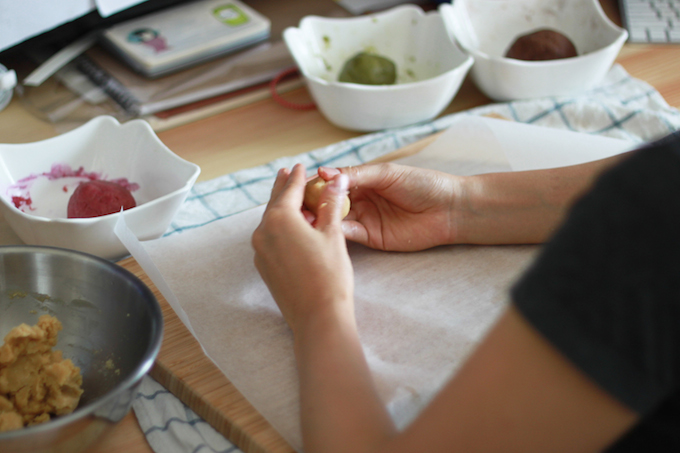 Depending on my friends' personality, I changed the facial expressions on each cookie. This one I'm woking on is my beautiful friend Takky, she always has a big smile on her face 😉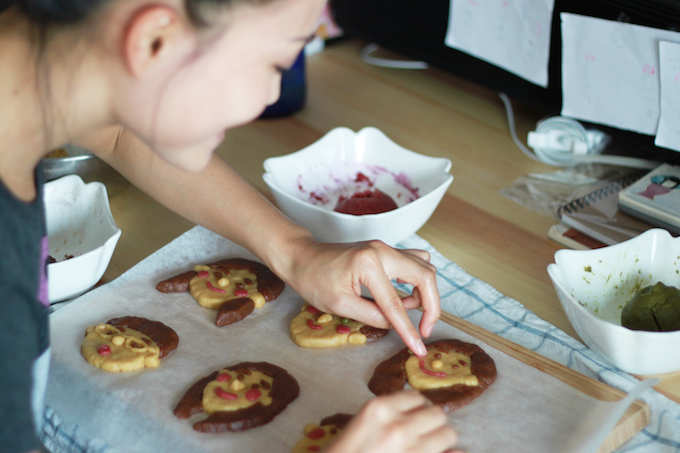 His glasses were so hard to put on top of his face!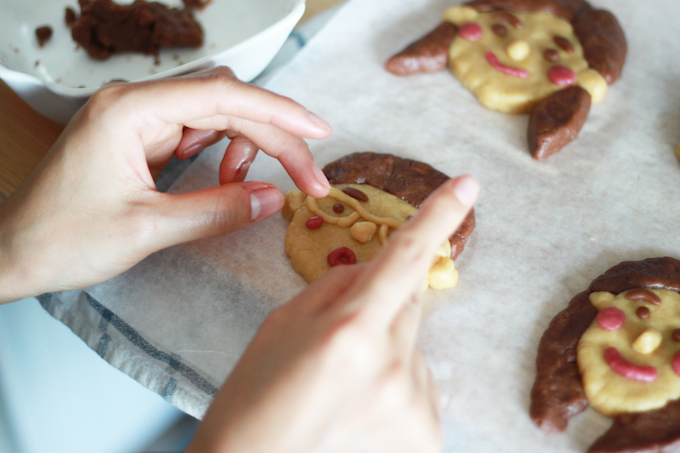 I baked 6 people this time, including myself 😀 I really didn't like how it all looked beheaded, so I added a scarf after! That way it didn't look scary at all and who can't say no to a Matcha scarf? Matcha is awesome.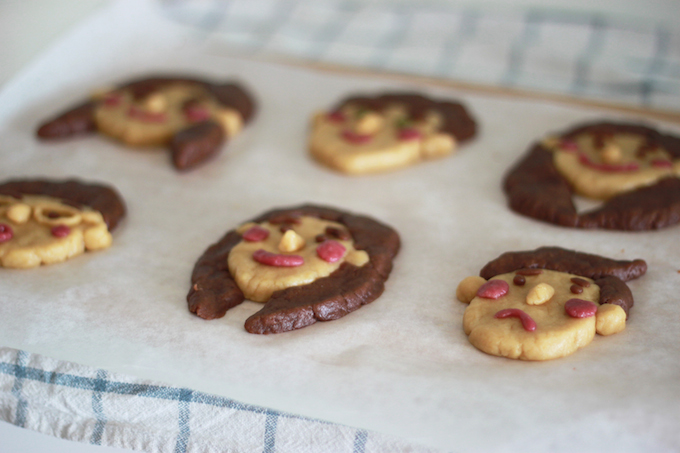 7: Bake for 20 minutes!
Your oven should be ready for 170C/340F. Bake on the lowest shelf for 20 minutes. Try not to over-bake, otherwise, all your friends would look sunburned 😛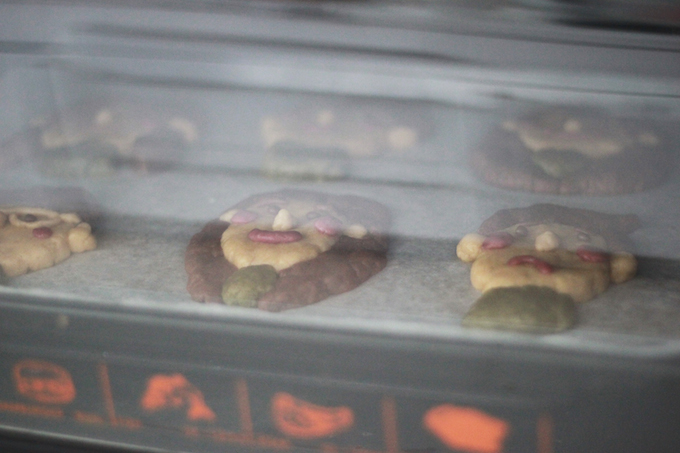 Btw, can you remain calm when you are baking? I can't. I'm too excited. I'm always spotted in front of my oven like this. I'm so restless when I bake!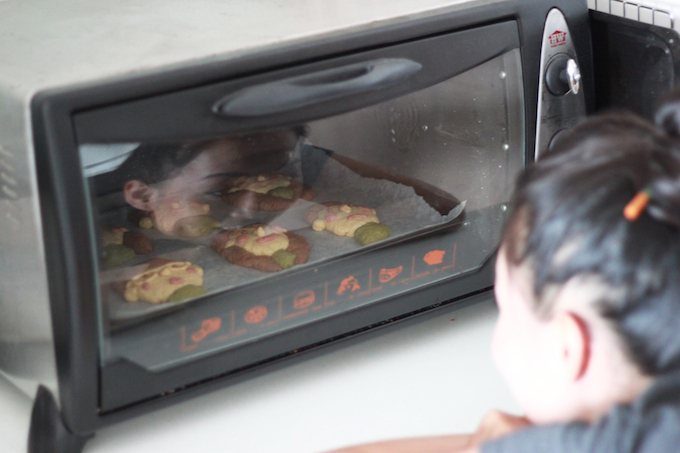 7: Voilla!! You are done!!
We did it, guys!! Look at my cute little friends! They all look supercute and ready to be in my tummy~~! (I'm kidding, I gifted them each!)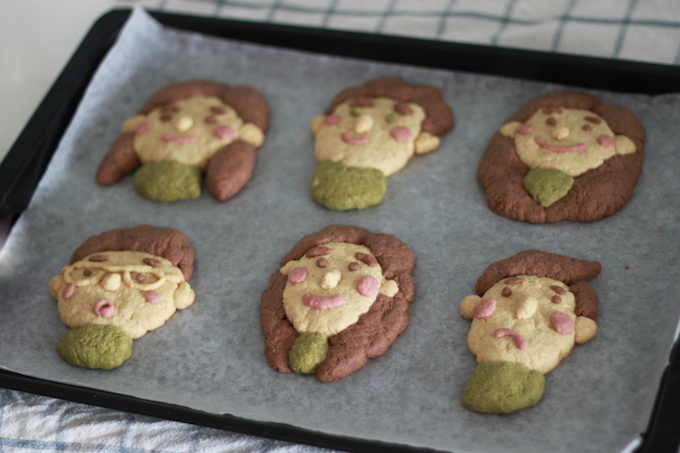 This is Erin. He makes this face when he's being sarcastic. He 's also got a diagonally-right-up hairstyle. See how fancy he is? 😀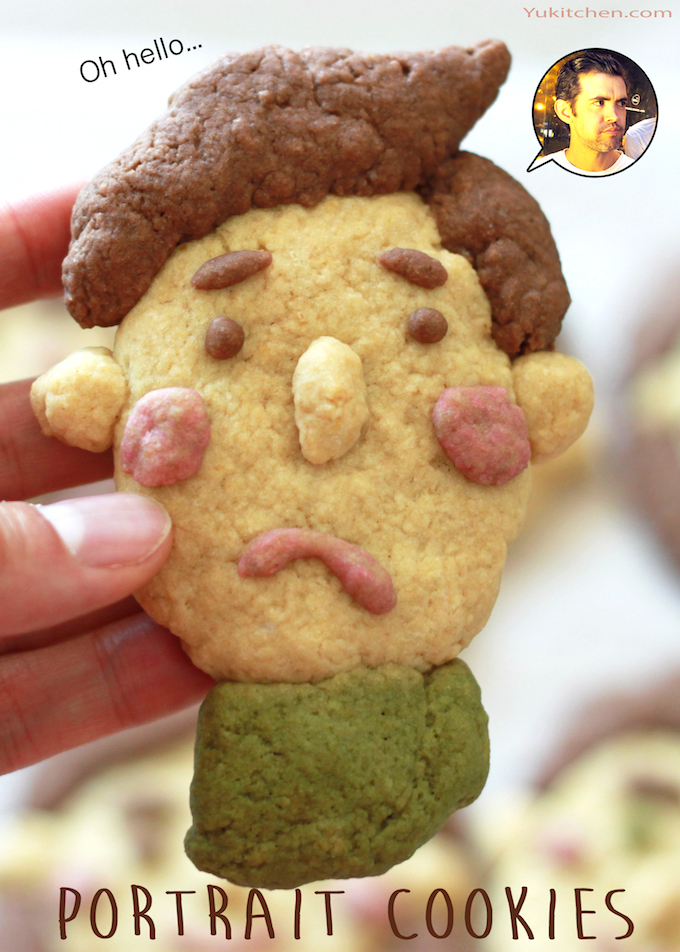 My lovely friends all in a baking sheet. So cute 😉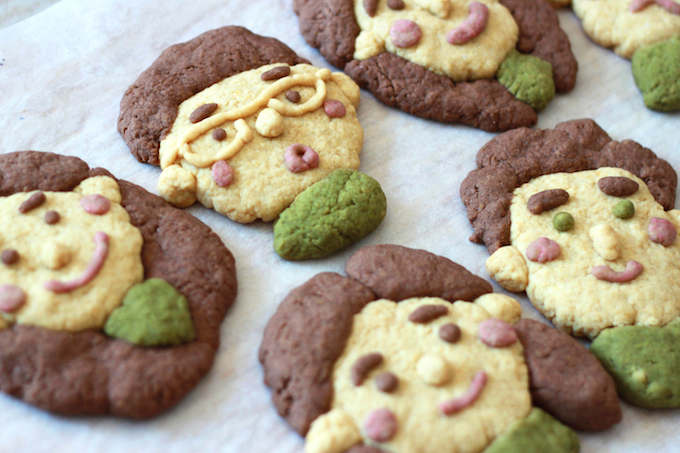 Enjoy the cruel ride of this game. This is the before picture of a happy cookie couple. I added some heart effect just to show you how happy they were.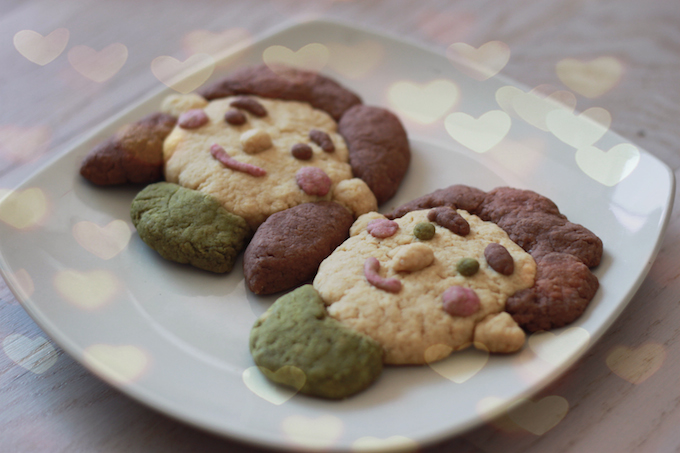 ↓
This is the after photo. Look how disturbing it looks. I always have tough times eating my own food 🙁  #foodartistproblem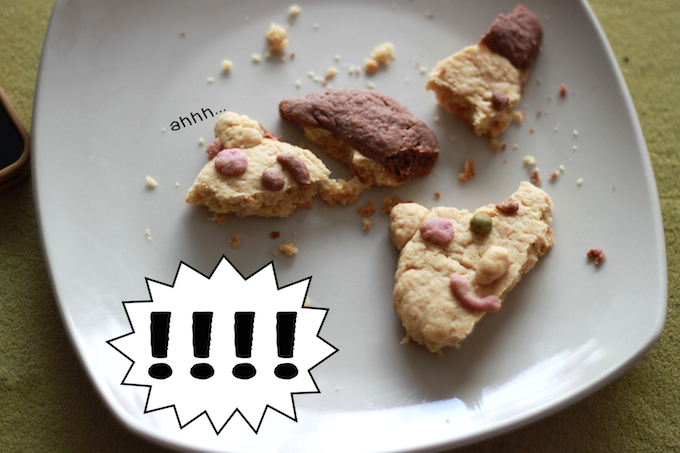 My last bite. It looks something like this: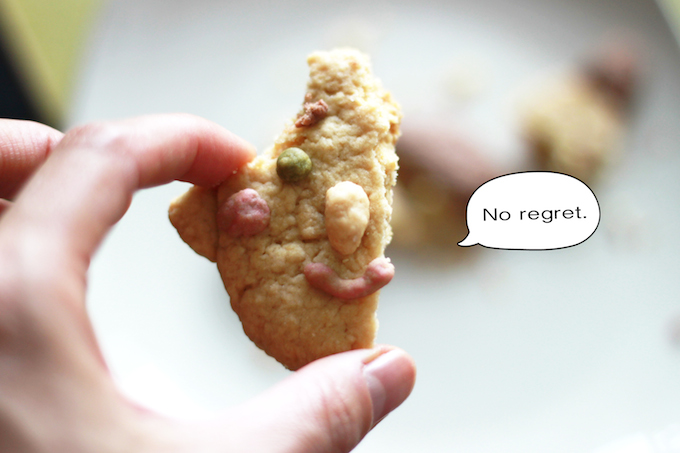 It's so sad to see my food disappearing into my tummy but these cookies were so yummy. Don't let these judgmental eyes get to you too much!!
I'm a big believer in homemade cooking. Cooking shows such affection. You can maybe get better tasting cookies at stores, but you can't feel the love from that. After all, cooking is giving. Even the simplest food is a gift.
I hope you make these cookies for someone you love, too 🙂
xoxo
-Yuki
p.s. I made these for Hui's birthday, btw 🙂 They accepted my gift gladly, but told me it was impossible for them to eat. lol