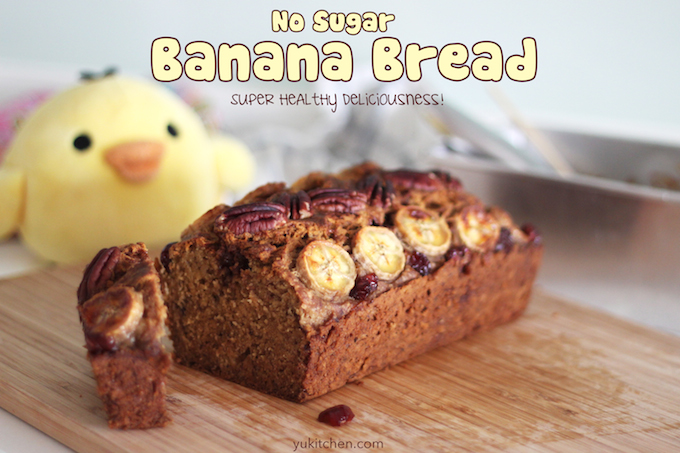 Hello, everyone! I'm so excited about this post because I finally finished photographing my banana bread! I think I've baked nearly 50 banana bread this year (I'm not joking), yet I've never had the chance to photograph it. Making banana bread has been such a daily thing to me, so I didn't even think about posting it on Yukitchen.
I changed my mind when one of my very good friends requested me to bake another banana bread for her and she wanted to pay for my food!!. I'm always super happy when my people taste my food and ask for more, but I've never been offered money before.  "I'll pay for your banana bread, Yuki. It's so good!"
Of course, I didn't take her money. But she gave me something else; confidence.

So this is why I decided to make a post about my Banana Bread!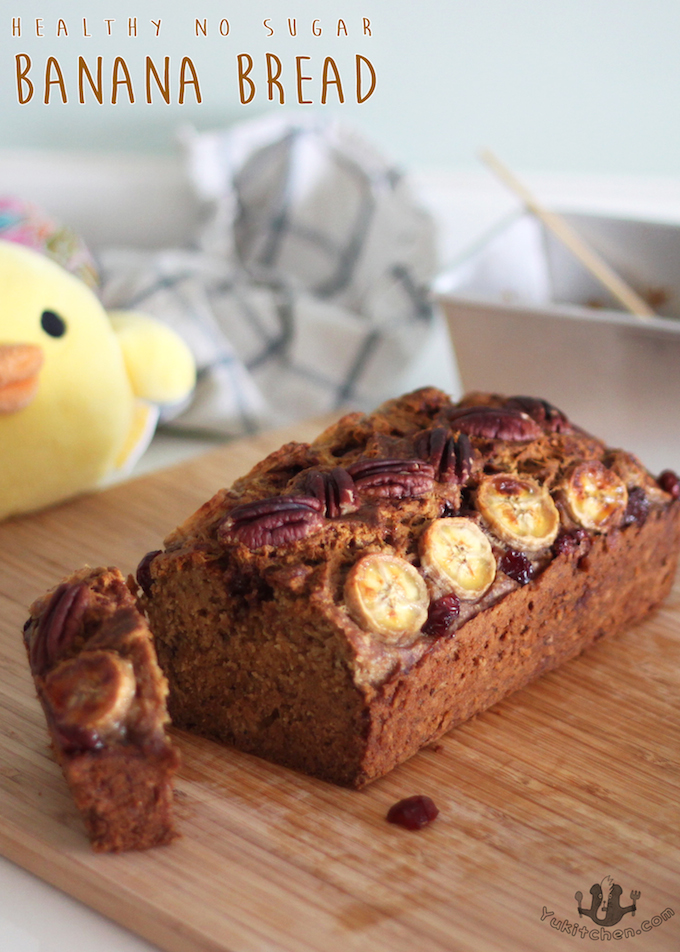 My banana bread contains…
No added sugar — If you use 4 ripe bananas, you really don't need to add sugar. It's already very sweet!
Lots of flavors — Adding some extra cinnamon and brandy do the trick
Less butter — Just for health reasons. It's a bit less than usual recipes.
I tried a bunch of recipes to make the best banana bread, and I finally settled down with this current recipe I have today. It should be so much healthier than store bought ones or even the one your grandma bakes! And I believe that it tastes better too

No Sugar Perfect Banana Bread
Healthy delicious banana bread with no sugar 🙂 You do not need added sugar when you use your deliciously ripe bananas!
Ingredients
・3 ripe bananas (for the mixture)
・(1 banana for cut into slices on top. *optional )
・⅓ cup (75g) melted butter, unsalted
・2 egg yolks
・1 tsp vanilla extract
・1.5 tbsp brandy
・1 tsp baking soda
・A pinch of salt
・2 tsp cinnamon powder
・½ tsp nutmeg powder
・1½ cup (190g) all-purpose flour
・⅓ cup (60g) milk chocolate, chopped *optional
・Some pecans *optional
・Some dried cranberries *optional

1: Mash the bananas!
Preheat the oven to 350°F/ 175°C, then start mashing the bananas! This should be an easy-breezy work if your bananas are ripe enough! If you want naturally sweet banana bread, do not use the young bananas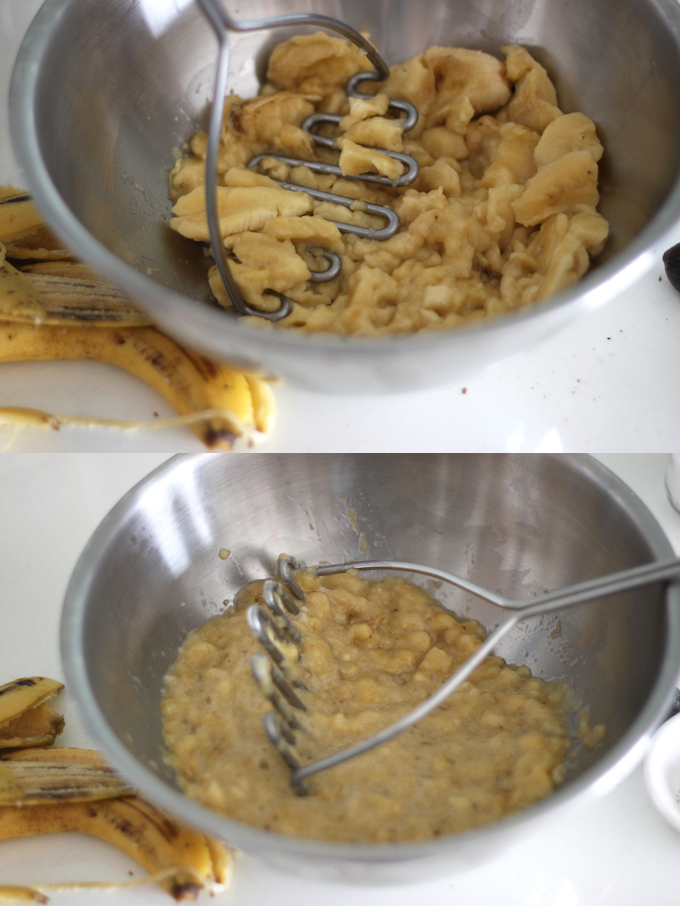 2: Melt the butter
Set your pan over the lowest heat and let it melt.

3: Prepare the spices 
Making the best banana bread requires nutmeg and cinnamon! Rub the whole nutmeg across the grater's surface and start grating! For my cinnamon stick, I used a coffee grinder to grind it

Or, you can just use store bought stuff.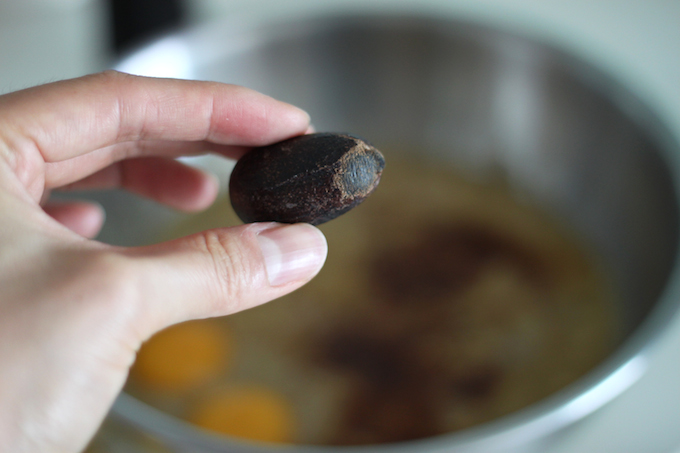 4: Mix all the ingredients except for the flour
Oh, this is my favorite part! Just mix them until all the mixture is well-combined.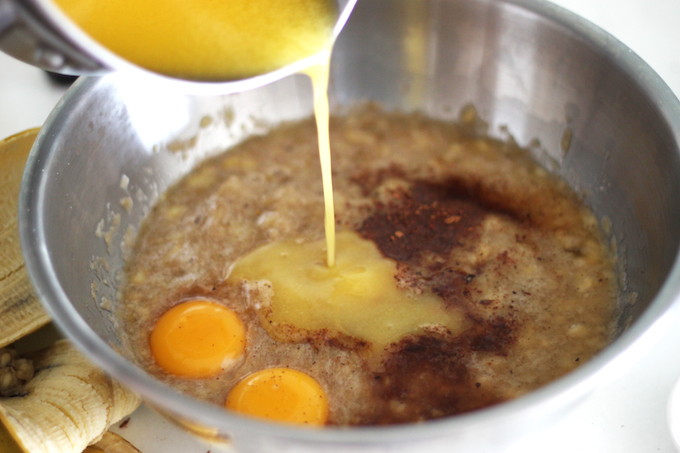 Mixing sound in Japanese, by the way, is "maze maze". So, keep maze-maze-ing till it looks mixed.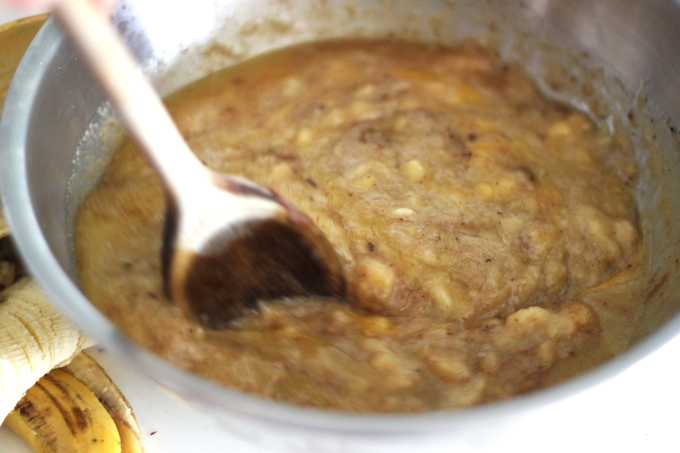 5: Add the flour last
Add it last and mix again. You are almost done with the mixing mission!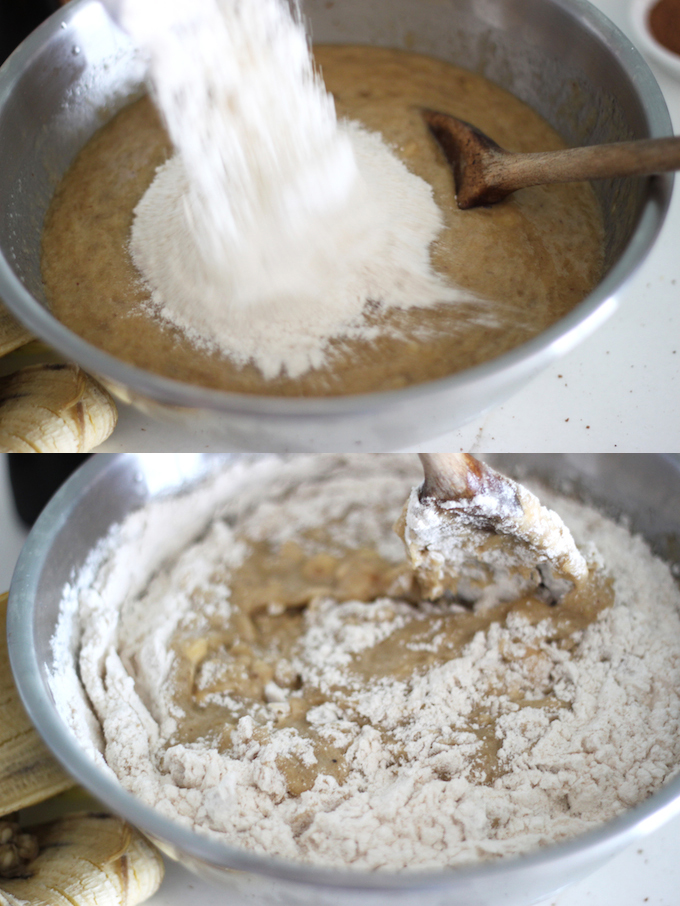 6: Chop the chocolate
This one is optional! I like adding just a little bit of chocolate in my banana bread because chocolate is like a BFF to bananas for a century. Chop them into small pieces and add it in the mixture and mix well.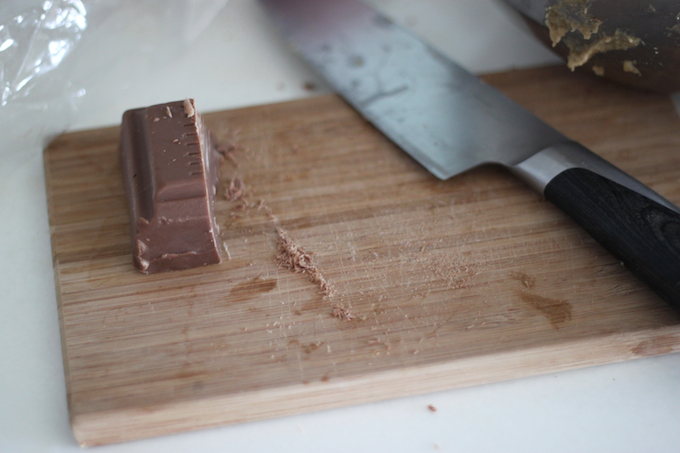 7: Butter your loaf pan and start pouring the mixture in
Your loaf pan should be 4×8 inch (10×20 cm). I put the baking sheet on the bottom of the loaf pan so it's easier to take the bread out.

Almost ready…

8: Prepare the banana slices and pecans
Cut a banana into slices and start putting them on top of the banana bread. I like doing it because it looks pretty

 You can also add pecans and dried cranberries if you like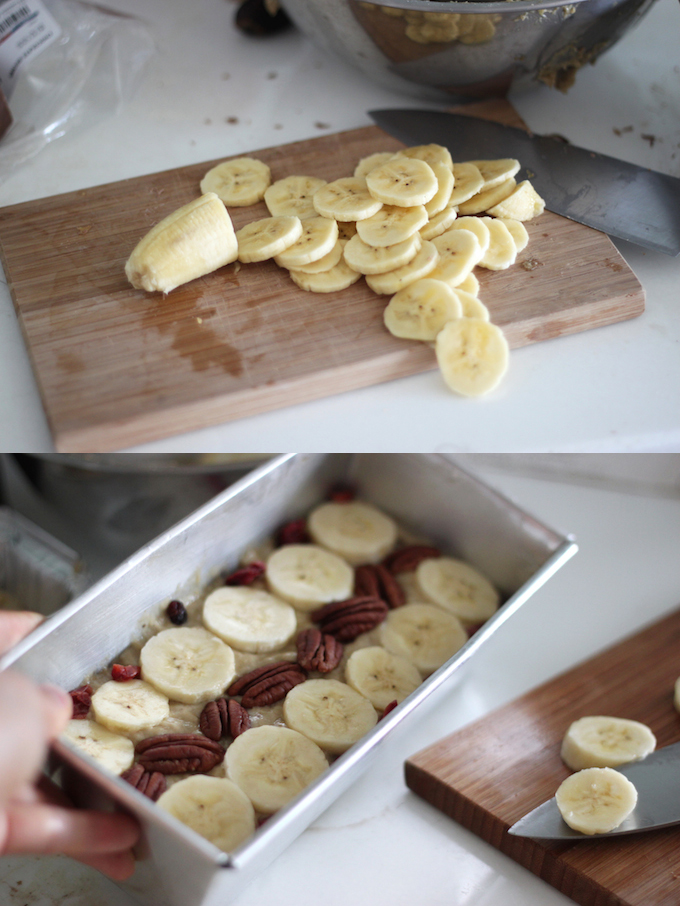 9: Bake for 60 to 70 minutes
Your oven should be preheated (350°F/ 175°C). This is Kiiroitori, my little bird. He watches over the oven for me.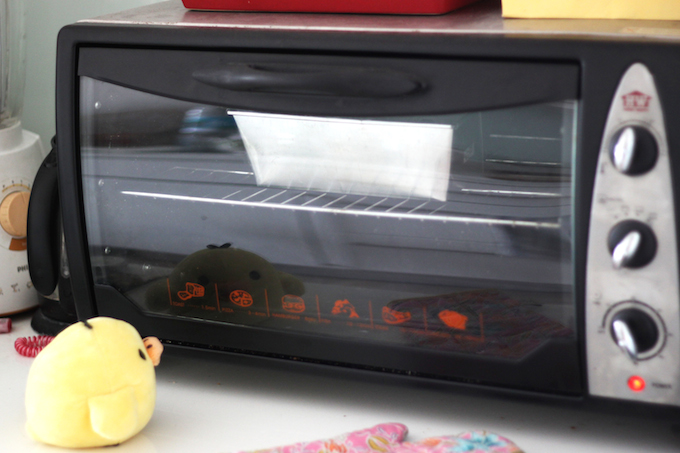 10: Poke a stick to check:
If the stick comes back too wet, your bread is not ready! Toss it back in an oven and bake for another 10 minuets.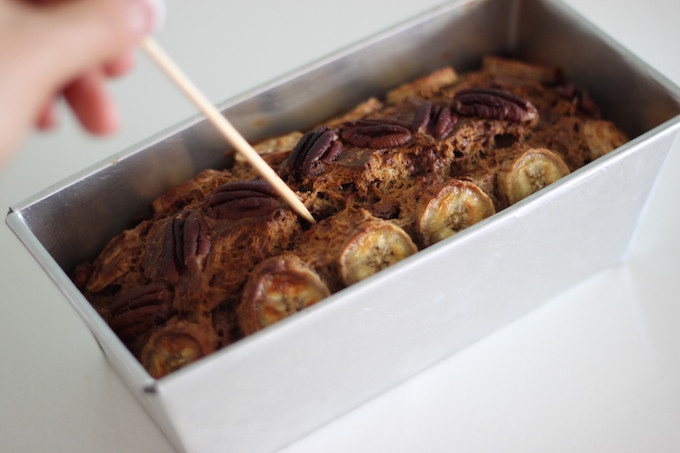 Once finished baking, remove from the pan and slice it to serve

You are all done now! 
Bananas + lots of cinnamon + lots of brandy = HEAVEN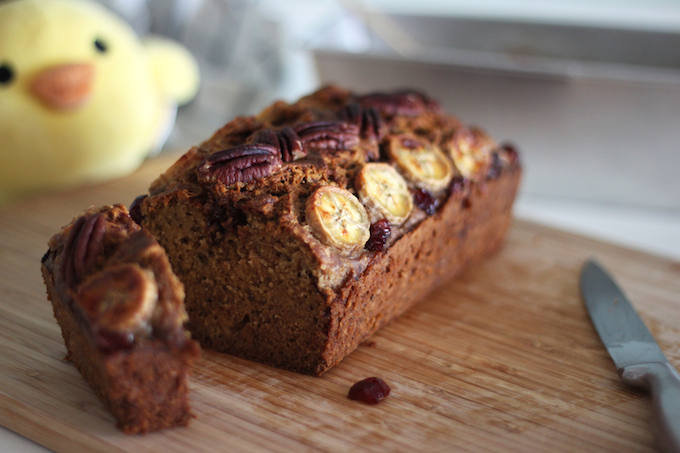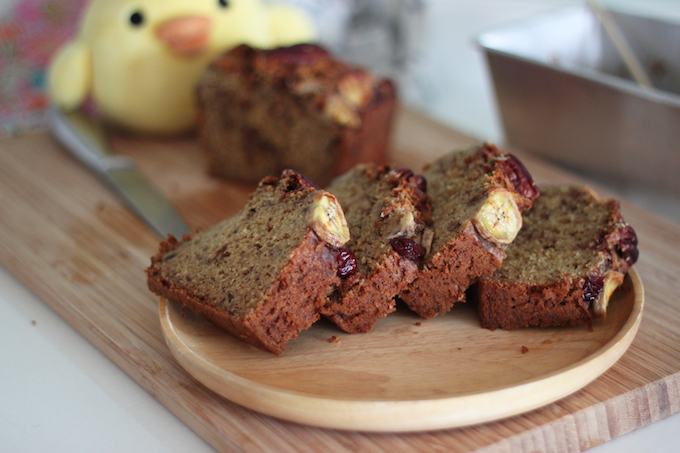 Enjoy this golden-brown beautiful thing called Banana Bread… I tend to make 2 loafs at a time (double the recipe, bake for maybe 80~ min), because my boyfriend keeps stealing entire bread whenever I bake.  He is a sneaky monkey when I bake sweets, so I decided to bake two loafs so I can keep one for myself! *wink!*
But his love of my cooking keeps me going

I'm truly thankful for that

Happy baking, everyone!
xxxx
-Yuki