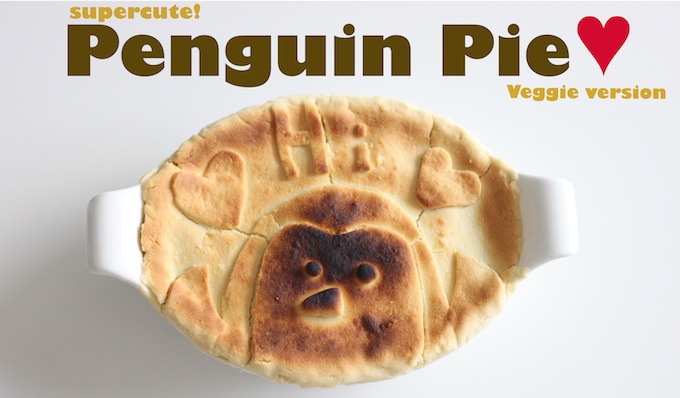 I didn't even know Shepherd's pie until I visited the British bar in Japan for the first time. In fact, I've actually never tried Shepherd's pie. It usually contains beef or lamb, and I don't eat meat. So instead of soaking and listening to my mother why it's a bad idea to be a vegetarian, I decided to create a veggie version of Shepherd's pie in the cutest way possible.
Traditional Shepherd's pie contains meat and potatoes. Instead of using meat, I used my original Yuki's Veggie Meat and purple potatoes. The women of Okinawa who also happen to be the world's longest living ladies, enjoy a purple potatoes we call "Murasaki imo" every day for breakfast, lunch and dinner. Perple potato is one of the new "superfoods"! It's a good source of antioxidants, 3.2 times more than a blueberry. They have anti-cancer components, memory enhancing effects, and an over all high nutritional value.  They are also an excellent source of dietary fiber, calcium and iron.
In other words, purple potatoes are awesome. I tend to buy a bag full of them whenever I see them at stores.

Penguin Shepherd's Pie
Ingredients
For the pie crust
1 and half cup all-purpose flour
a half cup unsalted butter
a pinch of salt
a pinch of sugar
2~3 tbsp ice water
For the pie inside
1 cup Yuki's veggie meat
1 cup purple potatoes
2 tbsp unsalted butter
1 tsp salt
1 tbsp pepper
1 cup freshly shredded cheese

1: Prepare the purple potatoes. Peel them and start boiling for 10~20 minutes.
2: Make pie crust. Mix all the ingredients for pie and make a crust.
3: Divide the pie crust into 2 parts. 1/3 for underneath the plate, 2/3 for the top of the pie.
4: Make mushed potatoes. When the potatoes are ready, mush them and add butter, salt and pepper to flavor.
5: Pre- heat the oven 425°F. Coat the pie crust on the pie plate, then put it in oven for 20 minutes to bake.
6: Add the layers. Grab a plate from the oven and add the Veggie Meat, mushed purple potatoes, and shredded cheese on top.



7: Make the penguin. After preparing all the layers inside, it's finally time to cover your pie with the 2/3 of the pie crust you made before. I asked my penguin friend Penpen to be the model of my Shepherd's pie.


Penpen and I go way back. We have been traveling 4 countries together and more to come. He deserves it to be one of Yukitchen inspirations! 🙂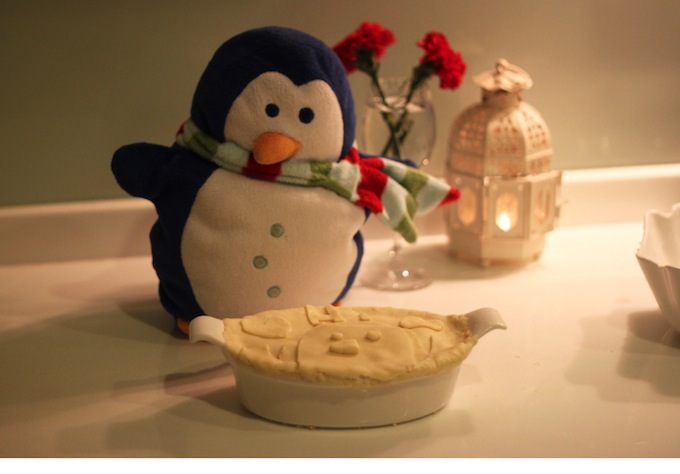 8: Bake again. Put the penguin pie in an oven for 30~35 minutes with the excitements!
After 35 minutes…..
9: It's done. It's a little bit of a sun-kissed penguin, but it's done!  Veggie version of Penguin Shepherd's Pie is now ready to be served!


I started to dig it on the right side little by little, as I felt guilty eating the cutest pie of my life. Then my bloodless boyfriend put a knife on it and cut the cuteness in half with my face turning blue. "How can you cut the penguin in half?!" I cried. Then he looked at me confused and said, "Then how do you want me to eat it?!"
…And I realized that he had a pretty decent point.
Thankfully, he cut it so beautifully that we can see the yummy three layers: Veggie meat, mashed purple potatoes, and cheese. It looks pretty cool.


Attacking the melting cheese and my penguin… Good stuff!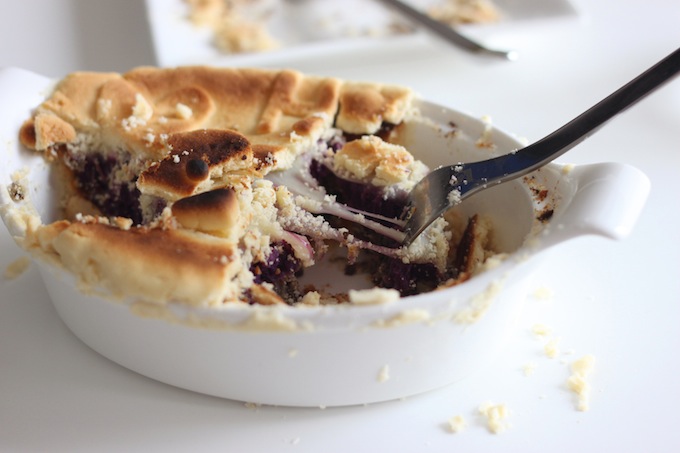 I added cheese just for fun, and it was quite successful. I know that original British Shepherd's pie don't have cheese, but I say why not.
Have a great penguin-ie day, everyone!
xxxx
-Yuki