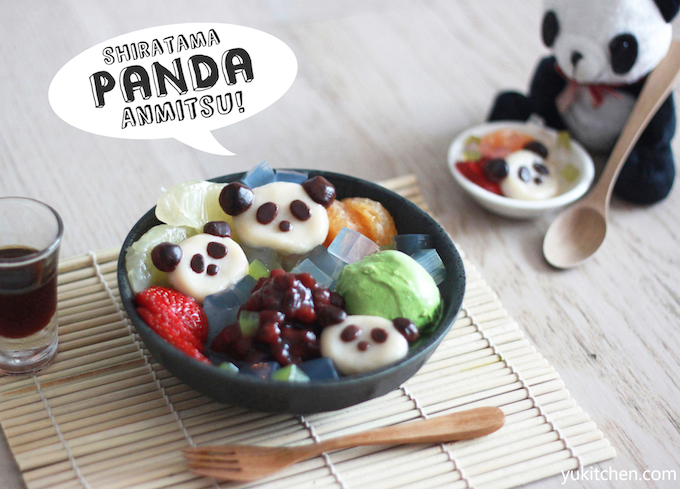 I've been meaning to start a panda collection ever since Yukitchen started and it finally made its debut. Recently I discovered that making food art out of shiratama is surprisingly easy and that's how my "Panda Shiratama" came to be. Some westerners call shiratama "mochi", but that just hurts my Bushido a little bit. Here's some rice cake information for you Japanese food beginners:
Shirtatama

: Made out of glutinous rice(sticky rice) flour and water. After you mix the two ingredients and make some bite-size balls, drop them in a pot of boiling water.

Mochi

: Made out of steamed glutinous rice (sticky rice),

 pounded into paste and molded into the desired shape. In Japan, it is traditionally made in a ceremony called "mochitsuki". 
Anmitsu is one of many traditional Japanese sweets, made of small cubes of kanten (agar jelly,) anko (sweet red bean paste), shiratama, a variety of fruits and ice cream. It's usually served with kuromitsu (black syrup) that you pour onto the jelly before eating. Here is a brief of my Shiratama Panda Anmitsu.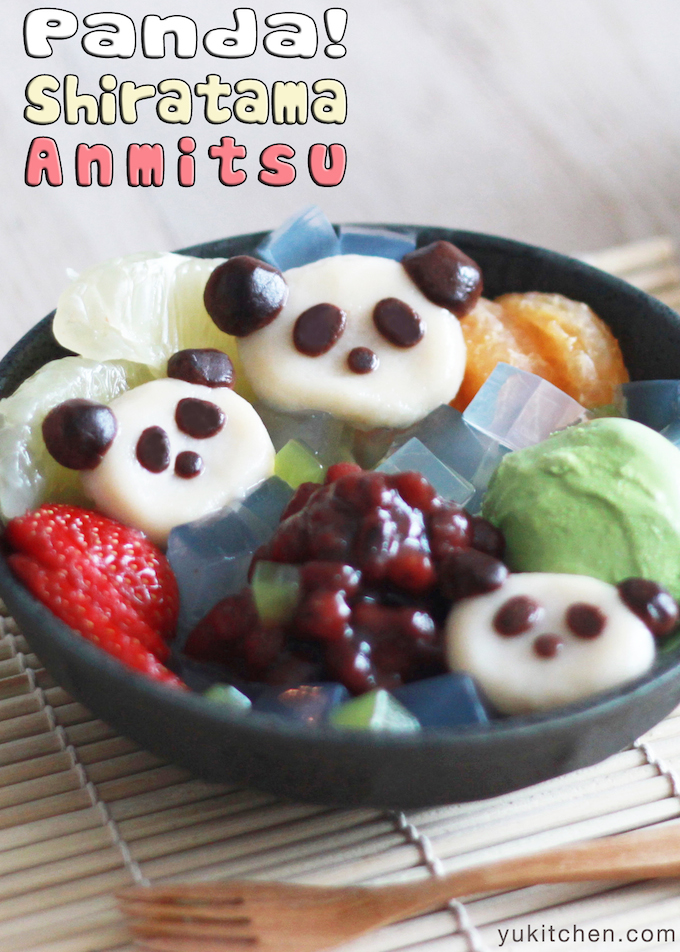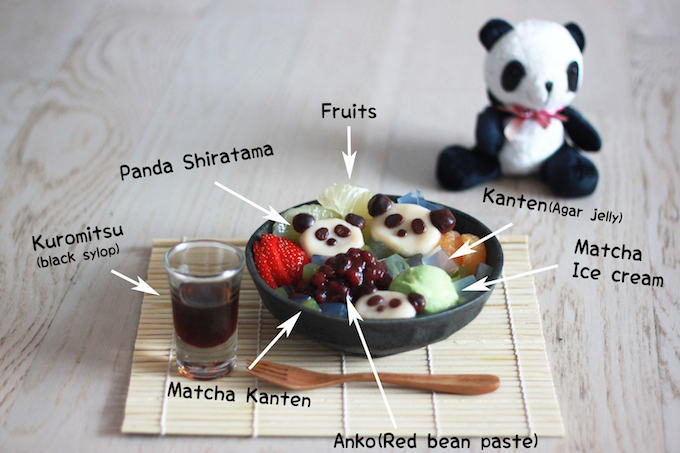 Panda Shiratama Anmitsu
Supercute Japanese sweets "Anmitsu" with some panda madness. Using only natural ingredients!
Ingredients
For the Kanten(Agar jelly)
・4g Kanten powder
・2 cups water
・2 tsp Matcha powder (optional)
For the Kuromitsu
・1 tbsp honey or maple syrup
・80g kurozato(Dark brown sugar)
・1/3 cup water
For the Shiratama
・70g Glutionis rice flour
・70g Kinu(silky) tofu
・2 tbsp Cocoa powder
For the rest
・3 Strawberries
・3 Orange wedges,
・3 tbsp Anko(Red bean paste)
・1~2 scoops Matcha ice cream
I made Kuromitsu this time but you can buy it at Japanese stores pretty easily. But be careful with the ones that contain black food coloring. If it looks obviously black, it's probably artificially colored and we don't want that!

1: Make the Kuromitsu.
Put the Kurozato (dark brown sugar), honey, and water in the pot and heat it on the medium heat. Mix the ingredients constantly until honey dissolves completely. When it boils, stop the heat and wait till it cools down. Place the kuromitsu in a container and let is rest in the fridge for a while.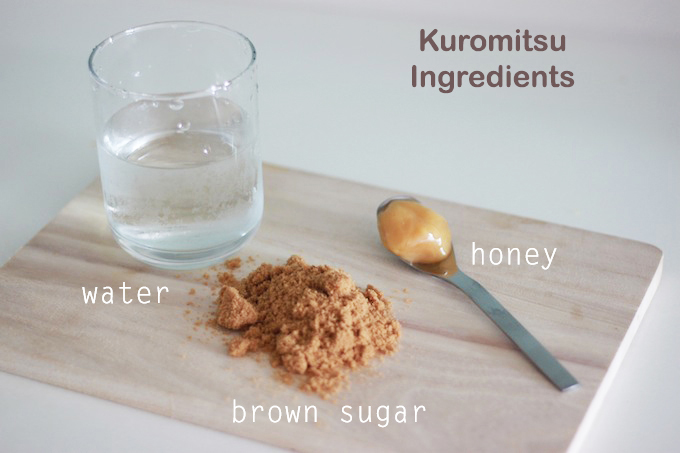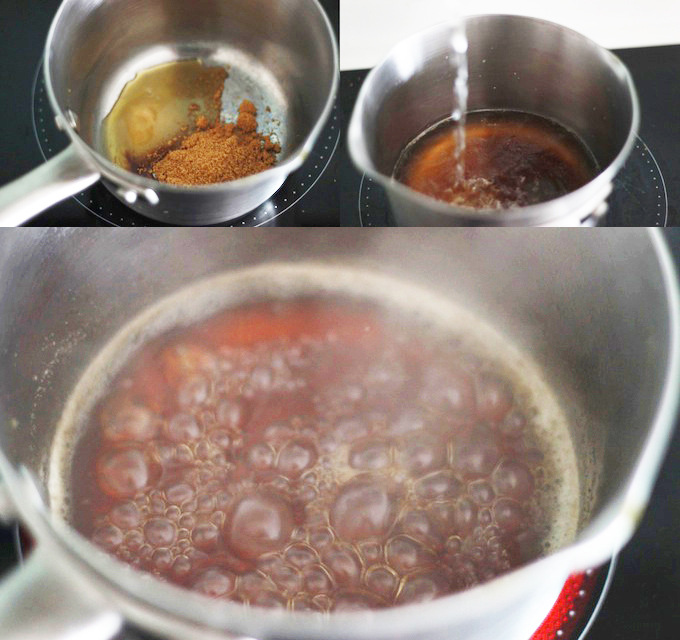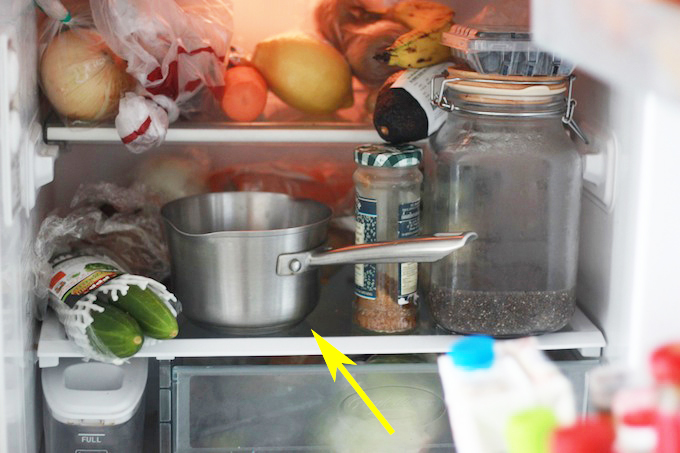 2: Make the Kanten.
Measure the water in the pot and add the Kanten powder. Turn on the heat at medium and lightly stir the mixture with a spatula while cooking. When the water starts to boil, reduce the heat to low, simmer for around 2 minutes, making sure to constantly stir the kanten in the water. Pour the kanten in a container and let it rest in the fridge. Kanten will harden itself within 20~30 minutes.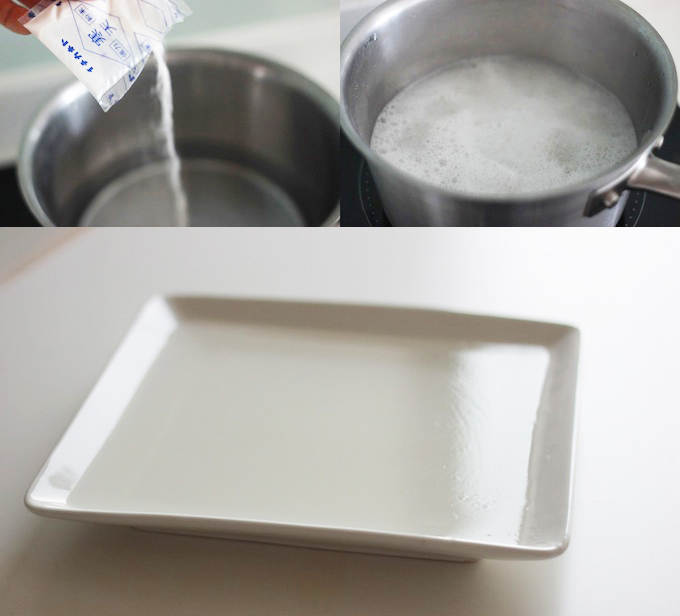 3: Make the Matcha Kanten (Optional).
If you feel adventurous and want some green tea kanten for your anmitsu, just pour 1/4 of kanten on another container and mix it with matcha powder. If you don't like the green tea bitterness, add a little sugar.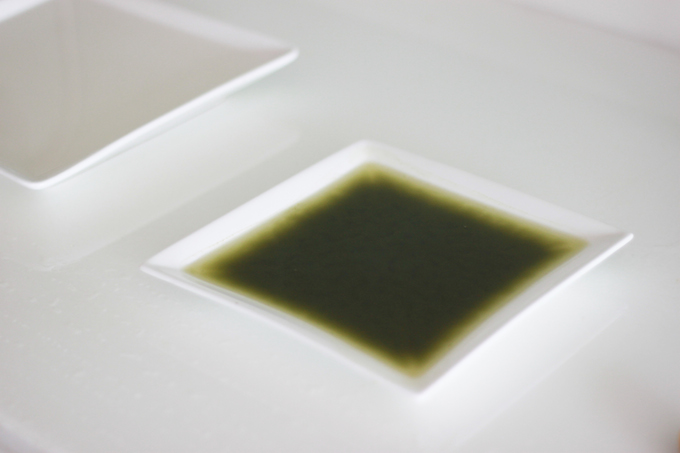 4: Mix the shiratama ingredients.
Knead with your hand, until the dough becomes smooth. If the mixture is too dry, add a little tofu, until the dough is just right. (When it's too dry, it's difficult to stick ears to the panda face and we don't want that!)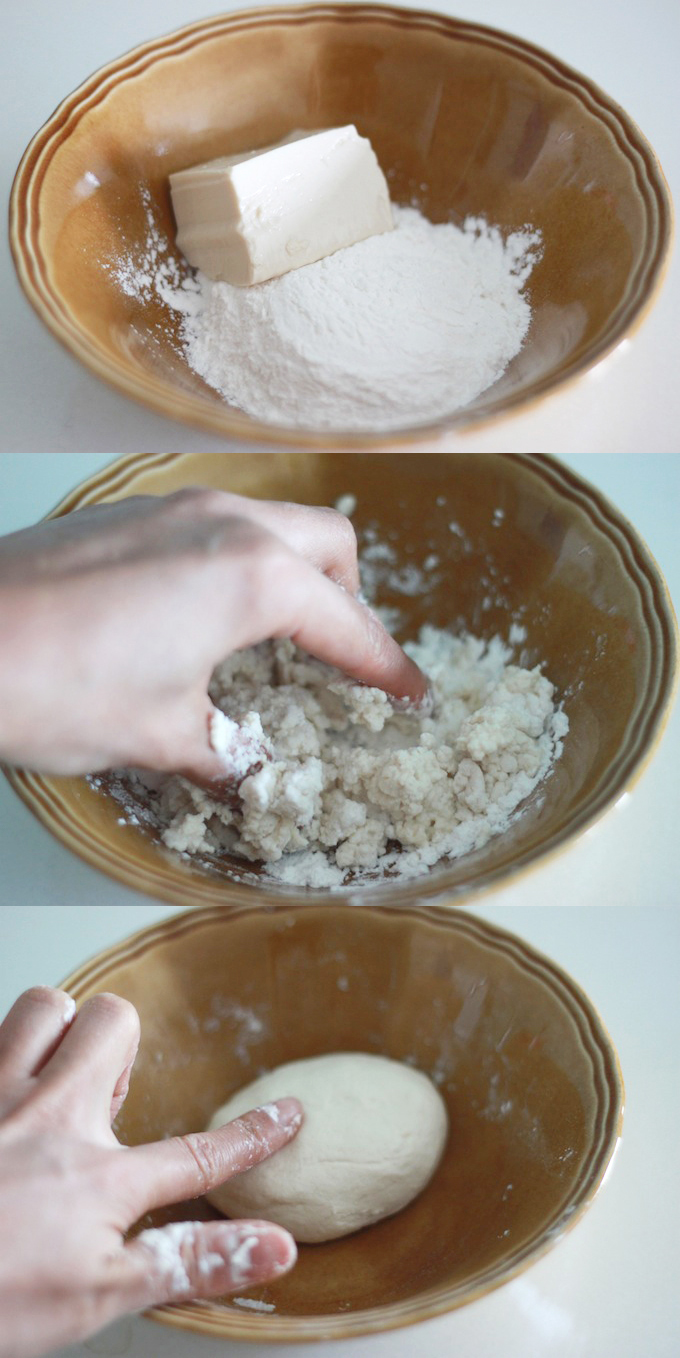 5: Separate the dough into 2 colors.
Take 1/4 of the dough and knead again with cocoa powder. The color of brown turns darker after boiling, so no need to put too much cocoa powder this time.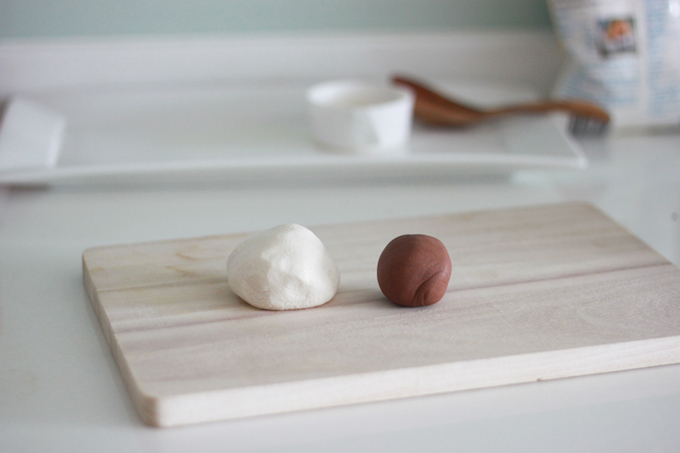 6: Make panda faces!
Oh this was so much fun. When attaching ears to the face, make sure the dough is sticky enough to stick together, otherwise, they might fall apart when boiling. No one likes earless pandas!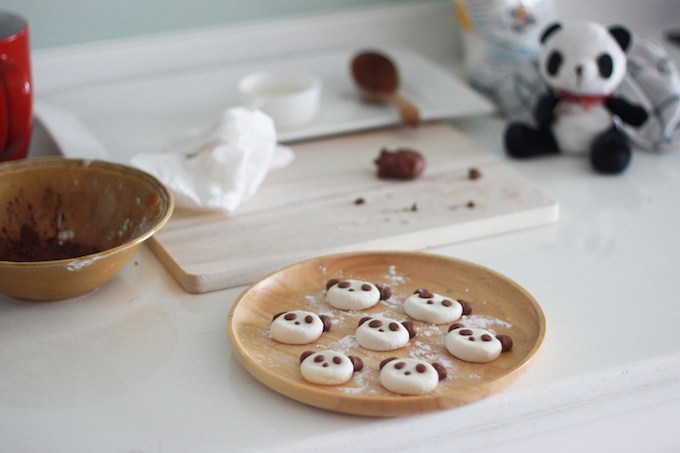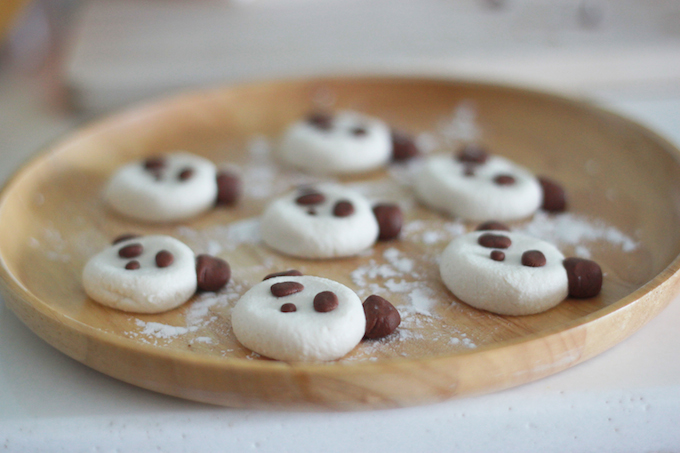 7: Boil the pandas!
Toss the pandas gentry in a boiling water with a low heat, and cook them till they float. It should take around 5 minutes.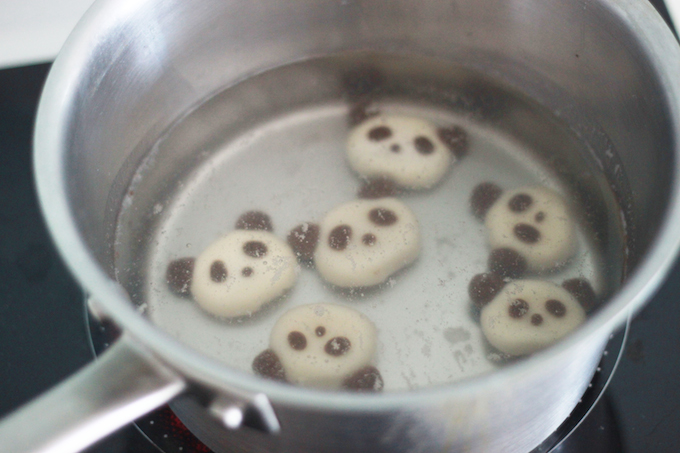 8: Pick up the floating pandas.
When pandas start to float, it's time to eat!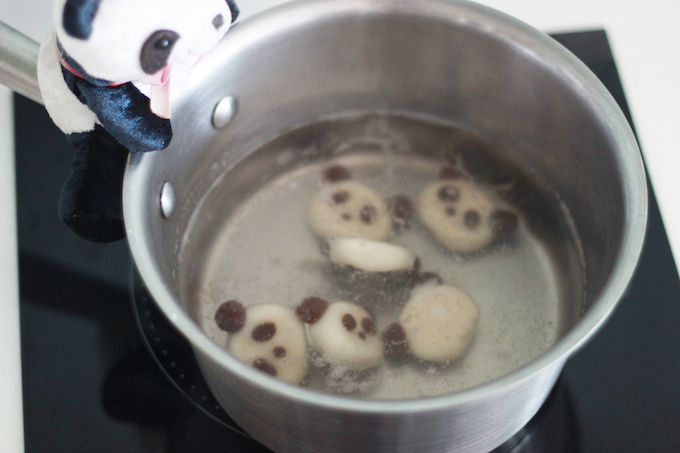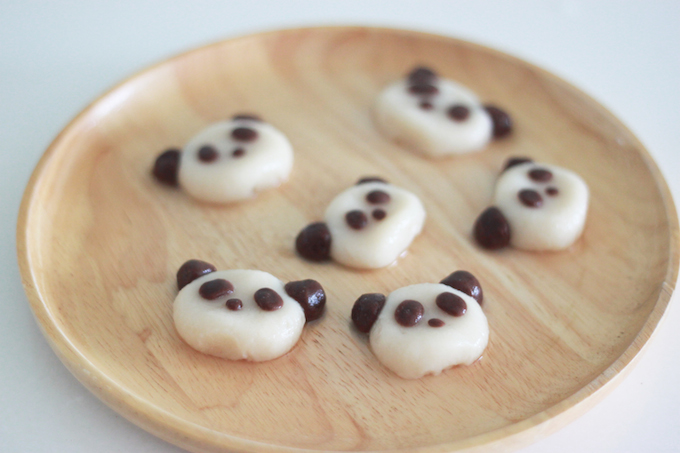 9: Cut the Kanten.
Your kanten should be hardened and ready to be cut. Run a knife several times to make kanten cubes.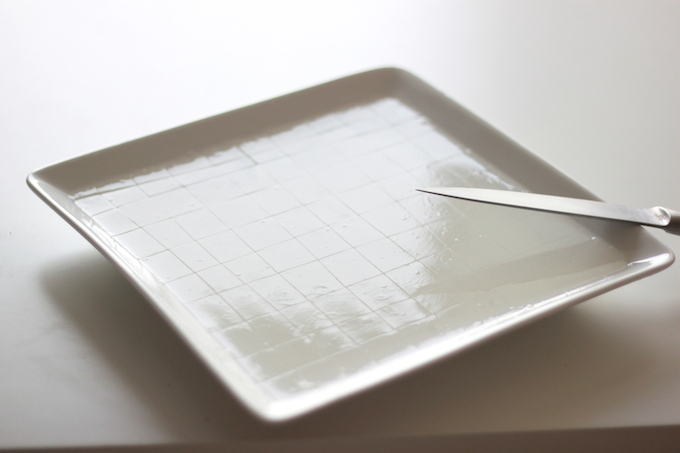 10: Place kanten to the plate.
and you're almost done!

11: Decorate rest of the ingredients to finish.
Set kuromitsu on a side of the plate and you're DONE! Now you've made a beautiful Panda Shiratama Anmitsu!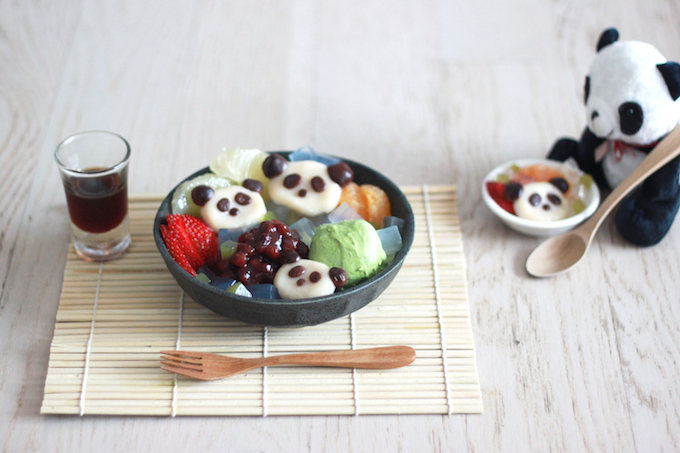 12: Serve it with kuromitsu
and have fun pouring it on panda faces!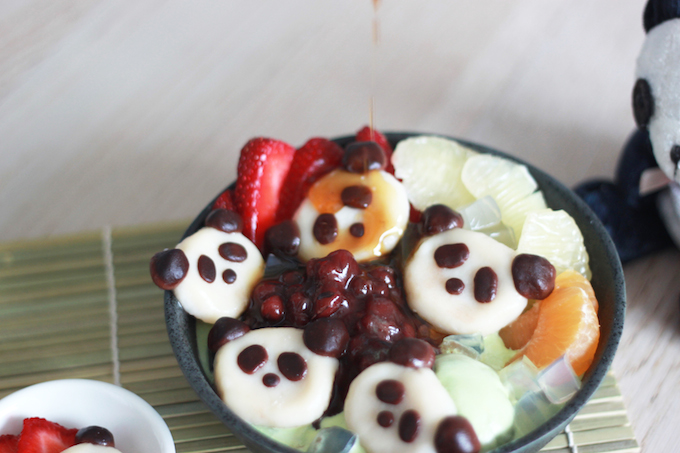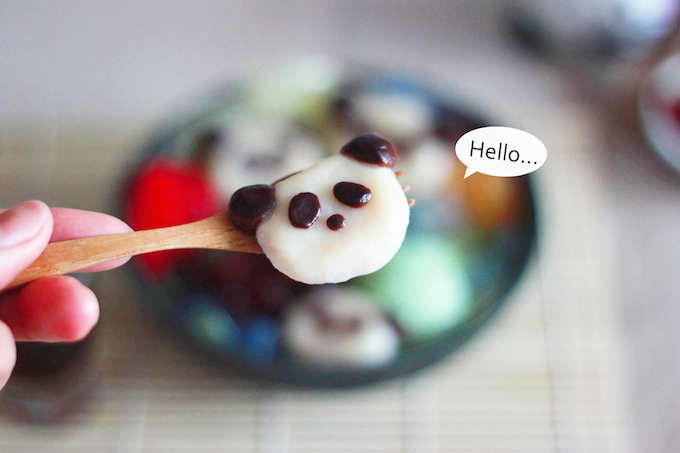 Mr. Panda got his reward from helping me with the photoshoot. He looks quite happy with his own mini-anmitsu.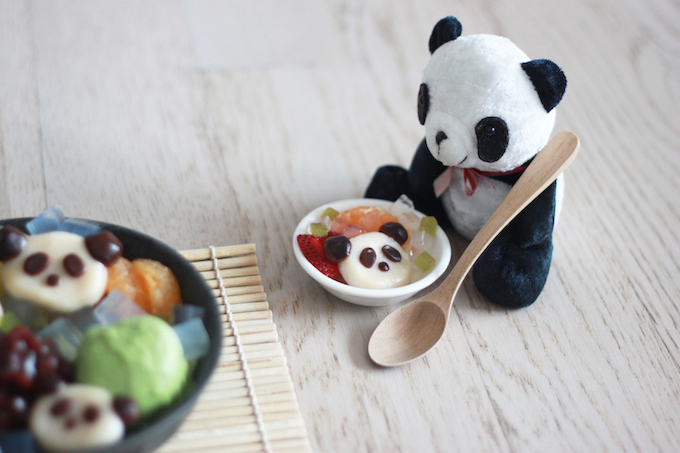 As a Japanese foodie, it's been hard to find really good sweets outside of Japan. Cheesecakes, brownies, chocolate puddings… These foreign sweets are all really good, but they don't really wow me like Japanese sweets. When I have a sweet little dessert like Anmitsu, imaginary
Shamisen music
slowly starts playing in my head and I drift into my own world. So I just close my eyes and enjoy the beat, thinking how truly blessed I am to be able to have this amazing moment with some pandas.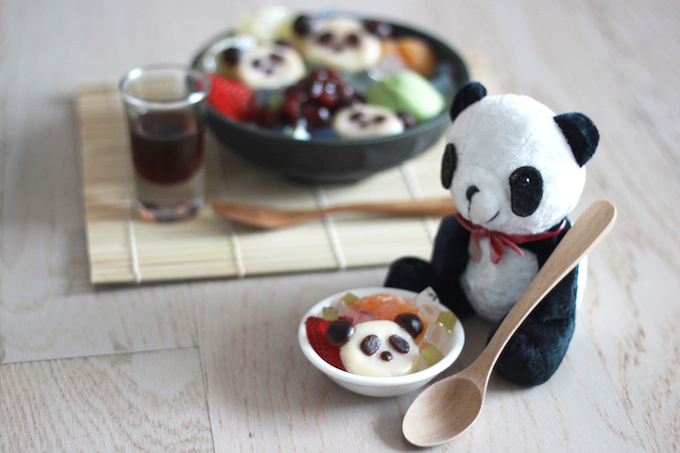 Enjoy the cooking everyone!
xx
-Yuki