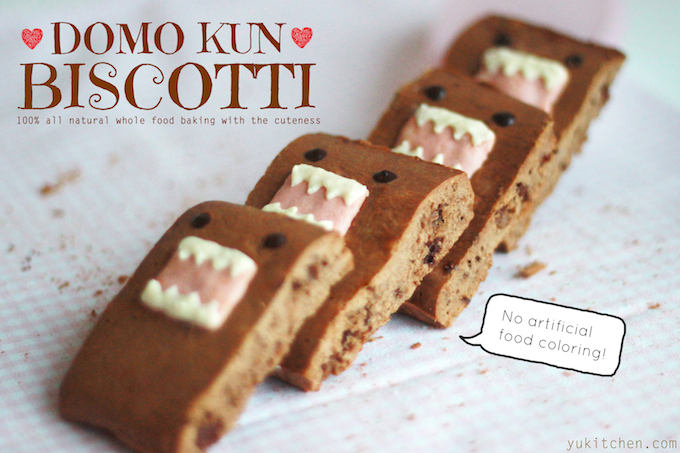 Domo kun is underestimated in Japan.  You see him everywhere outside of Japan but not so much in his homeland. One of the many reasons why Japanese should travel more is that they can find out how much our culture is affecting a lot of people outside of our country. I was shocked to see how many Americans were wearing Domo kun T-shirts in public and they were actually proud of it. I saw so many people wearing Domo kun backpacks and handbags everywhere in South East Asia as well.
At first, I didn't understand all the fuss about Domu kun.  The NHK cartoon which no one really watches.
But shortly after I realized that they don't really care about NHK like myself. They just only care about a silly brown creature who only say "Domo" (means "thanks" or "what's up" in Japanese) for every single conversation he will have with anyone. His inexplicable cuteness comes in handy for the geeks to easily fall in love with him, while it also comes in handy for the geeky bakers to create the crazy food. Which, by the way, is me.
I always knew that I want to make Domo kun Brownies. In fact, I told some of my friends that I was baking Domo kun Brownies before creating this recipe. But shortly after I realized that I need to bake twice because his mouth is made of cookies. If you bake the dough twice, I figured that's actually biscotti. And it also looked more like biscotti than brownies.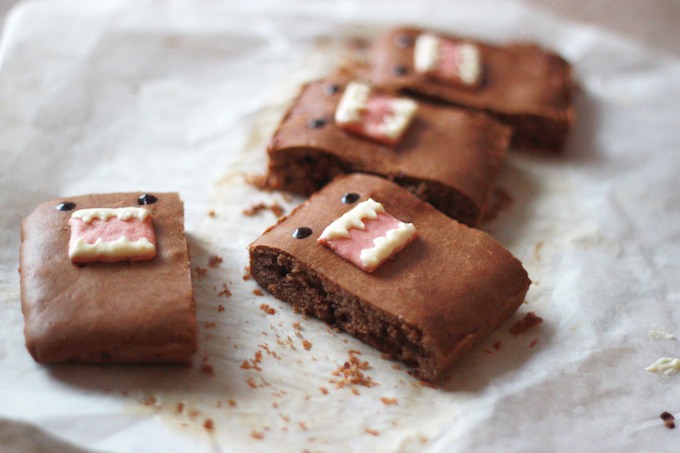 It was challenging for me because his mouth is pure red. If I use the evil red food dye, I could easily make his mouth red. But this is Yukitchen, where we teach the importance of whole food awesomeness.
Instead of using artificial food coloring, I used my original food dye made out of beetroot. I write about here.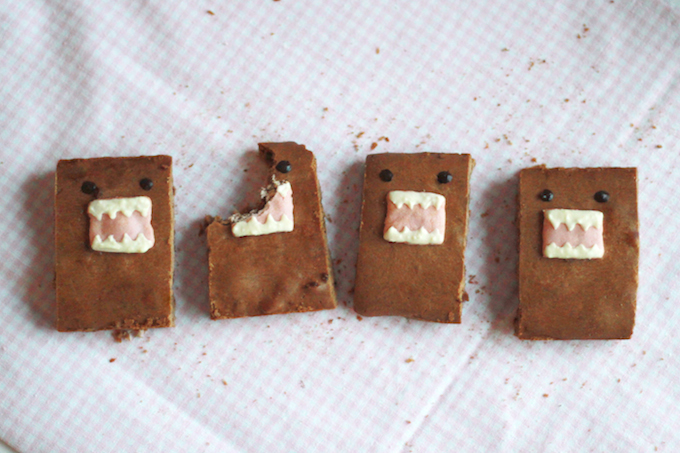 Gluten Free Domo kun Biscotti
This Crunchy Domo kun Biscotti is just what you need for this afternoon. No food coloring added. Using only100% natural whole food. Enjoy the Organic Domo!
Serves:
8 Domo kun Biscotti
Ingredients
For the Biscotti
・1/2 cup (110g) Unsalted Butter
・1/2 cup (96g) Brown sugar
・3 eggs
・1 teaspoon Vanilla extract
・1/2 cup (64g) unsweetened cocoa powder
・2 cups (274g) Yuki's Gluten-Free Flour
・1 teaspoon salt
・1 teaspoon baking powder
・1/2 cup (76g) your favorite chopped chocolate (I used swiss milk chocolate)
For the Domo kun's face
・20g Dark chocolate
・20g White chocolate
・1 egg
・1/2 cup (70g) Gluten Free flour
・1/2 teaspoon Baking powder
・1/3 cup (73g) Coconut sugar
・50g Unsalted butter
・A pinch of salt
・4 tbsp Natural Red Food Coloring

1: Make the cookie dough for Domo kun's mouth.
Preheat the oven to 175 C/ 350F. Put gluten-free flour, butter, coconut sugar, salt, eggs, and baking powder in a bowl and mix well until the dough gets firm. (The amount of the dough here is a lot more than what you actually need for Domo kun's mouth, btw!)

2: Add the beetroot food dye. It will turn a nice pink color just like in the picture. Since I'm not using the regular red food coloring, I couldn't make it as read as it should be. But I'm quite happy with pink, as I know it doesn't contain any chemicals which can cause cancer and all! And did I tell you pink is my favorite color? 😉


3: Let the dough rest in the fridge. Make the pink dough into a long stick, and let it rest in a fridge for more than 30 minutes. This will make it easier to harden the dough, when you cut in slices for Domo's mouth.


4: Time to make the biscotti! While your cookie is resting in a fridge, it's time to start working on Domo kun himself! Put the gluten-free flour, brown sugar, salt, butter, eggs, cocoa powder, and baking powder in a bowl. And mix well!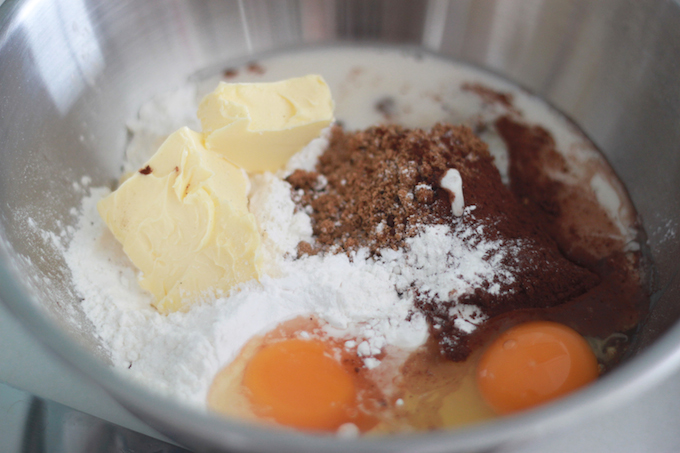 5: Add the chocolate. Chop the chocolate into pieces and mix with the biscotti dough.


6: Pour the biscotti dough into a square container. The thickness should be around 1.5cm  (1 inch). Make sure the surface is all flat and even! You don't want a bumpy Domo kun. You want a flat Domo kun!  Put the container in an oven (175C/350F), and bake for  25~ 30 minutes.


7: Start working on Domo kun's eyes and teeth. While the biscotti is in the oven, let's not get lazy and start working on domo kun's face! Chop the dark chocolate and white chocolate into pieces.


8: Melt 2 types of chocolate for drawing Domo's face. Set a half-fill saucepan with water and bring to a simmer. Place 2 cups with each chocolate on top, making sure it doesn't touch the water. Stir with a metal spoon until melted. Avoid wooden or plastic spoons – these retain moisture that makes chocolate seize (harden).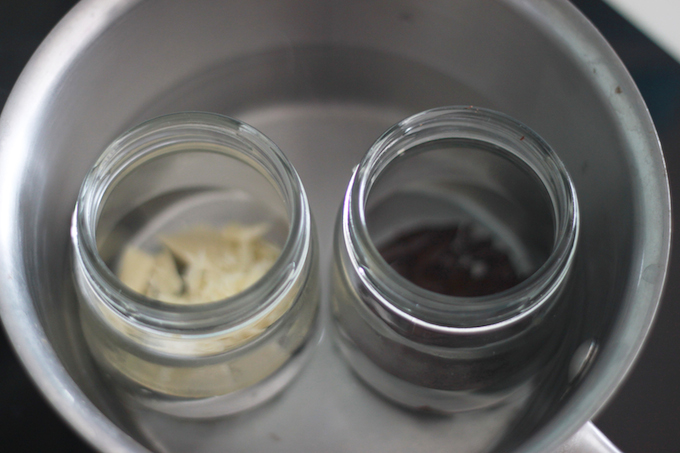 9: Cut the pink cookie dough into square shapes. While the chocolate is melting, grab the cookie dough from the fridge and shape it into squares, just like Domo's mouth. The dough should be hard enough to shape and cut into thin slices like in this picture.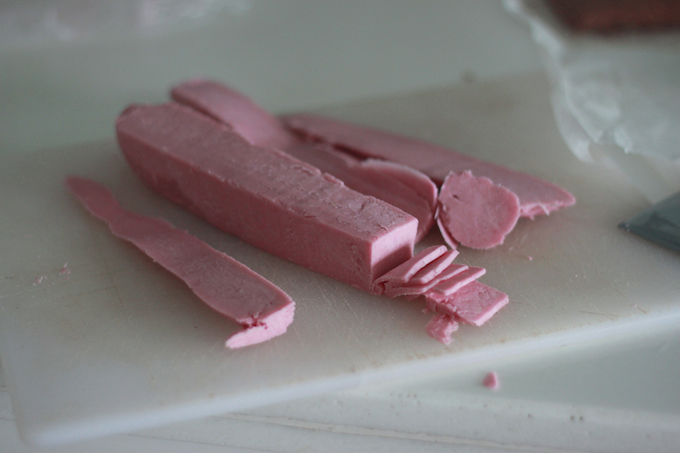 10: Grab the biscotti out of the oven. After 25~30 min, the biscotti should look like this. It's so brown and beautiful 😀 We are so close to creating the cutest Domo kun!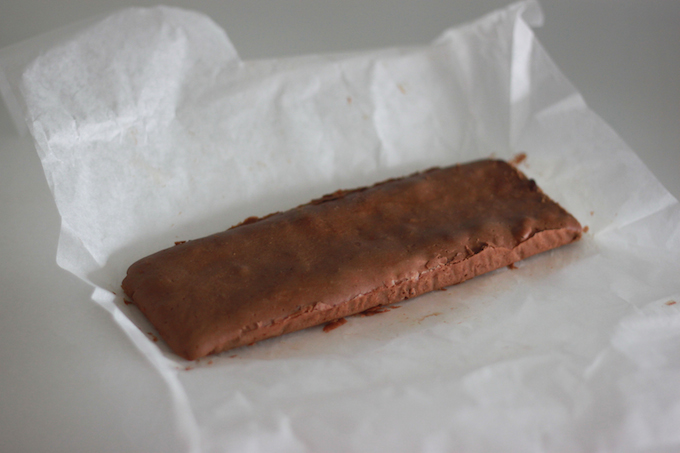 11: Add the pink cookie dough on the biscotti. Quickly place 4 sliced cookies on the biscotti like this. Make sure each slice is not too close or too far apart. Then put it back in the oven again for another 7~8 minutes. Do not over-bake at this point. Since the pink cookie slices are so thin, it gets brown easily when you bake too long.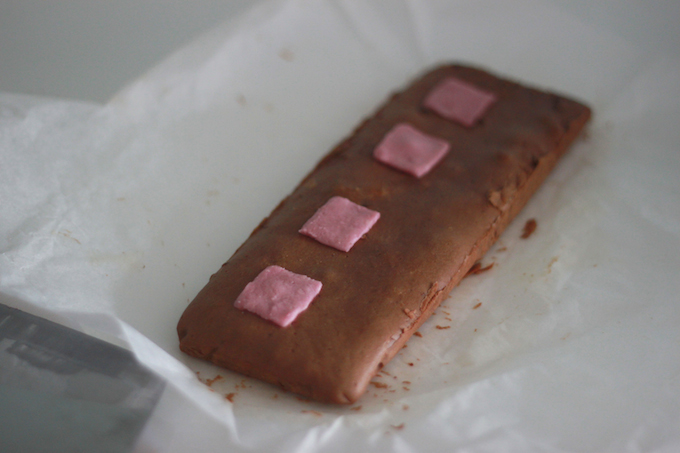 12: Done with baking! After baking the biscotti twice, this is what it should look like.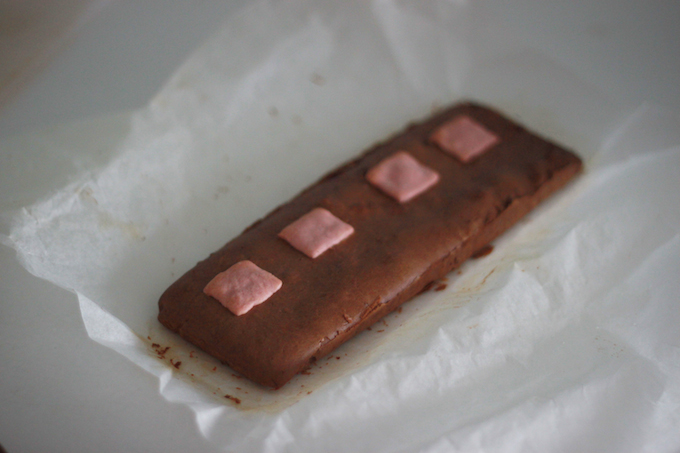 13: Decorate the Domo kun faces! Oh this was fun but took a lot of concentration! I used a tip on my chopstick for his eyes, and a toothpick for his teeth. Using thin sticks helps you to work on the very fine details.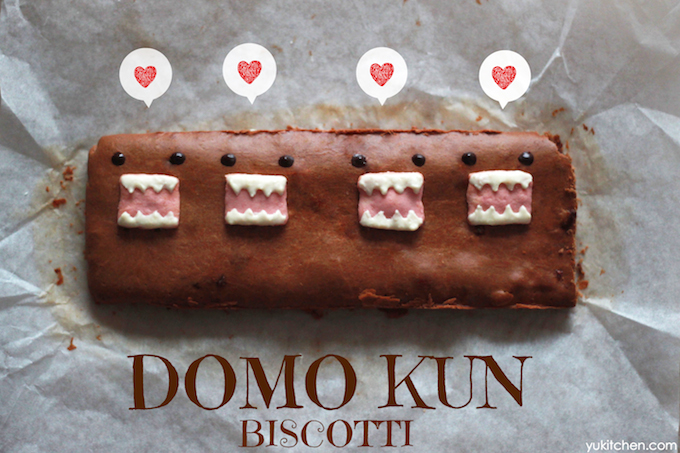 14: Cut the Domo kun into 4 pieces! It's time to separate the Domos! Make sure you use a good sharp knife 😉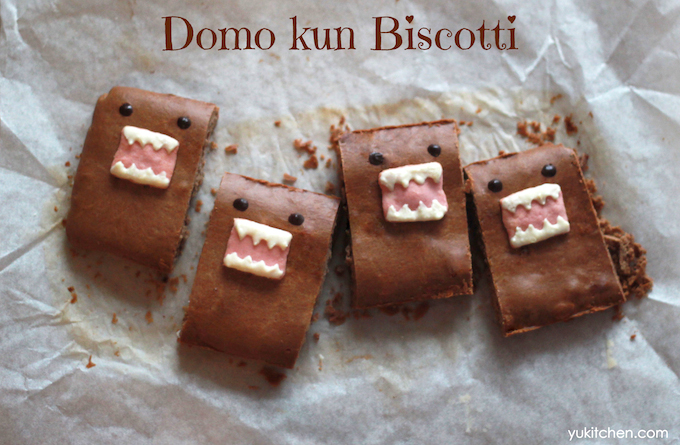 You can see the delicious chocolate chips on the side of the Domo kun…. Hmmm. I used my very favorite Swiss milk Chocolate, and it went so amazing in my Domo kun Biscotti. Baking is like a happy magic, and it gets even better when your biscotti looks like Domo kun 😀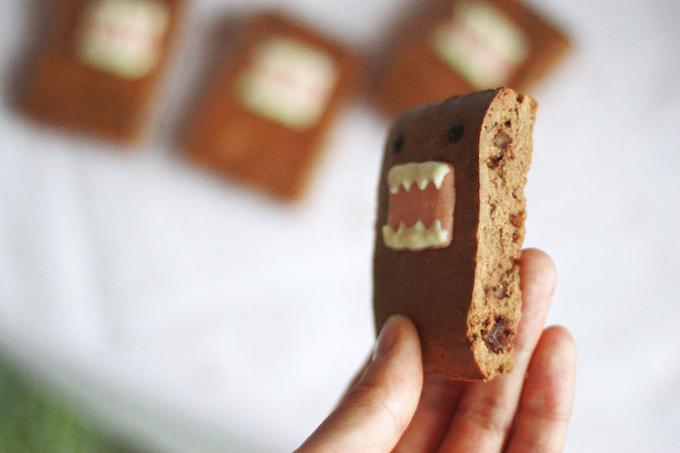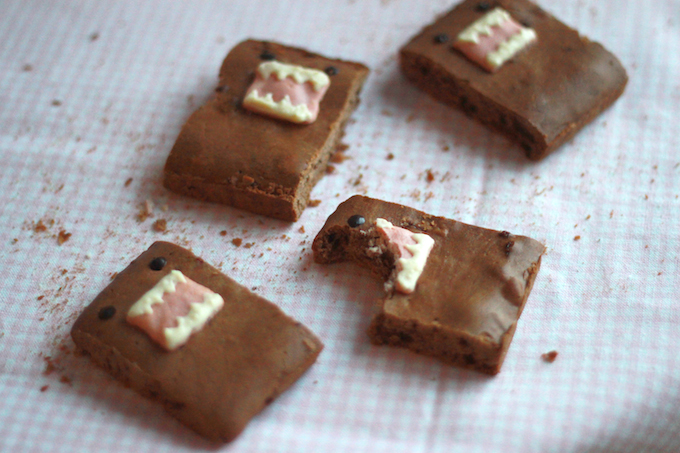 Don't feel bad eating his cute little face. Why? because it contains no chemicals! Cute food like this should never contain any food additives. Put some love and effort instead and share it with someone you love 🙂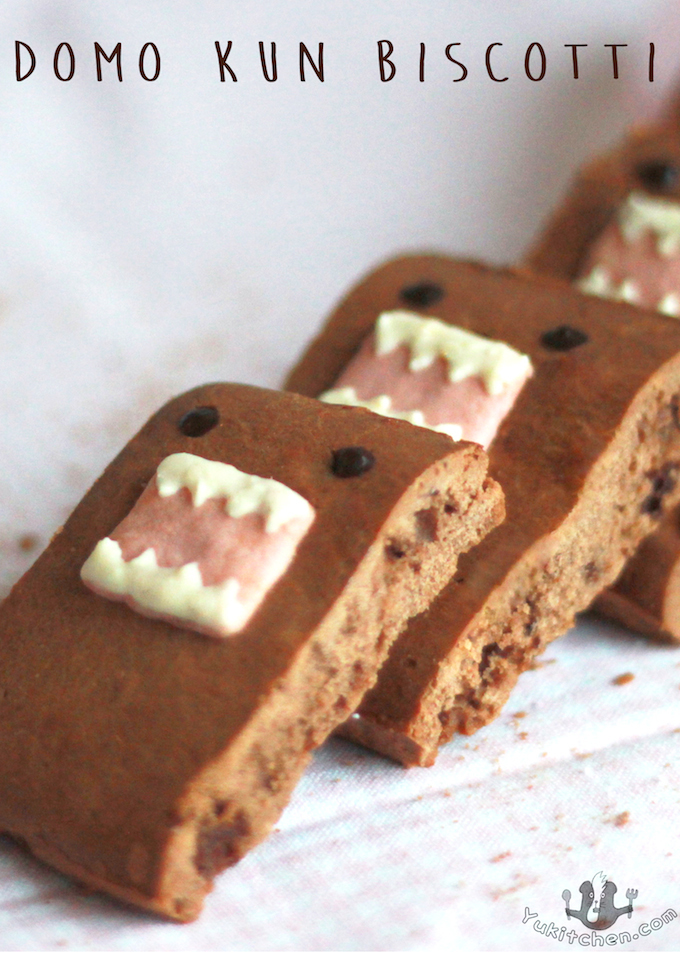 Meet my awesome friends Bruna, Takky, and Hui! They were brave enough to try on my Domo kun Biscotti 😀 

I thought I love cooking because I simply love good food. But when I see pictures like this, it makes me realize that I love cooking because I have someone I -really- wanna share my food with. I'm very lucky to have them who love my cooking and my wacky creations 🙂 I'm hoping my food and recipes can bring people joy for as long as I continue as a Yukitchen suis chef!
Bake your Domo kun biscotti today and let me know how it goes! 😉
xoxo
-Yuki