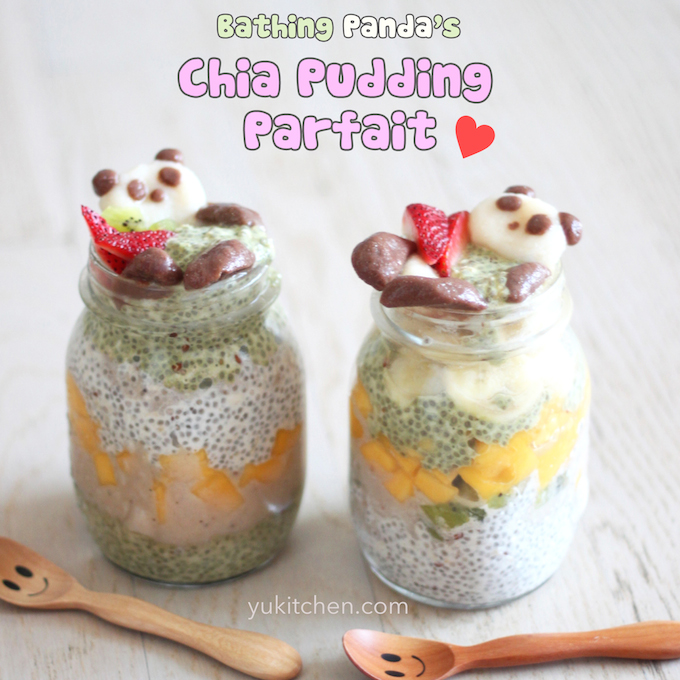 Yukitchen's very first chia seed recipe is finally done! These "superfood" chia seeds and flaxseeds are pretty well-known on the interweb, but not so much in Japan. Chia and flaxseeds both contain all sorts of good stuff like protein, fiber, omega 3 fatty acids, and more! I was going to explain all but figured it's going to be the longest post ever and no one would wand to read it, so I made an article for each 😀 This chia pudding recipe took me the longest to work on because of the extra work… So I hope you can tell how excited I am about this recipe!
Bottomline: Chia seeds and flaxseeds are SO good for you!
Click these to read more about the superfood :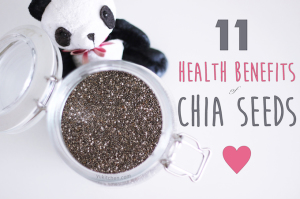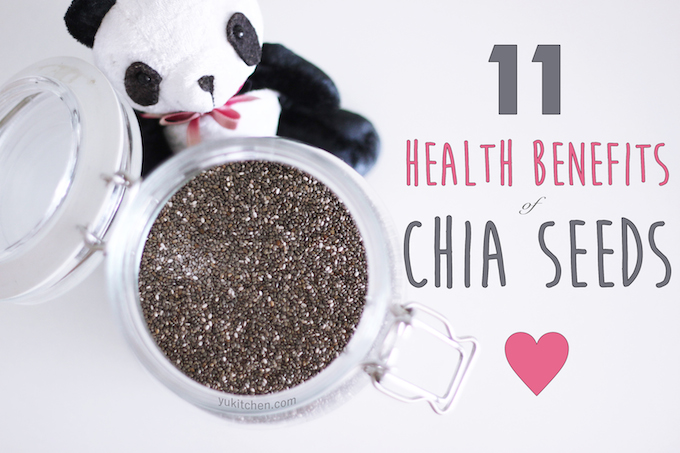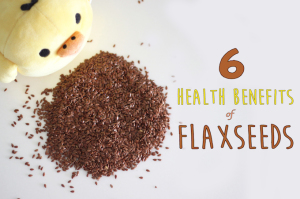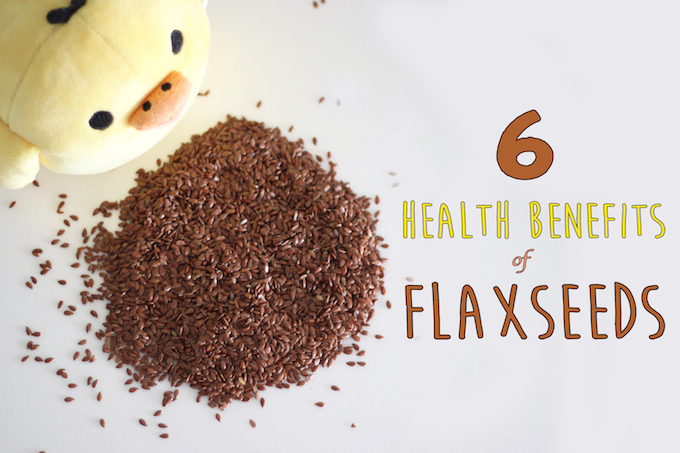 Everyone has these moments, where you get so into one thing all of a sudden. It was FF8 (Final Fantasy 8) when I was in school or the TV show LOST when I just got Netflix. And recently, we got so into OOCF (Overnight Oats with Chia seeds and Flaxseeds) after purchasing western things called "mason jars" (Apparently it's a common kitchen tool in the west). We've been making OOCF every night like a maniac ever since, so we can have super delicious breakfast ready in the morning when we wake up. We started with two mason jars, which turned into four and now we're thinking about six 😀
What's in my overnight oats? Here is my usual: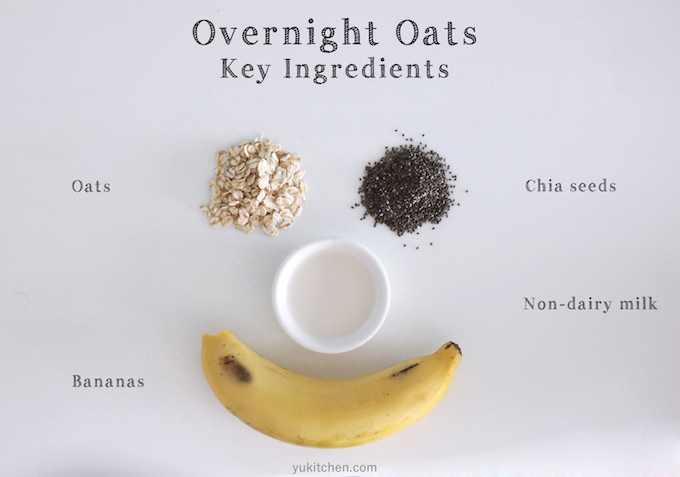 And one day, I googled this our new favorite breakfast. I think I typed "overnight oats chia seeds" or something, and found out there are a million of similar recipes lying around on the internet! But one particular recipe that really caught my attention was the "chia pudding parfait" (google it, it's beautiful!), which you layer all the different flavors and fruits in a jar.  I was all "WHAT IS THIS? It looks amazing!!" and that's how I decided to make this recipe today!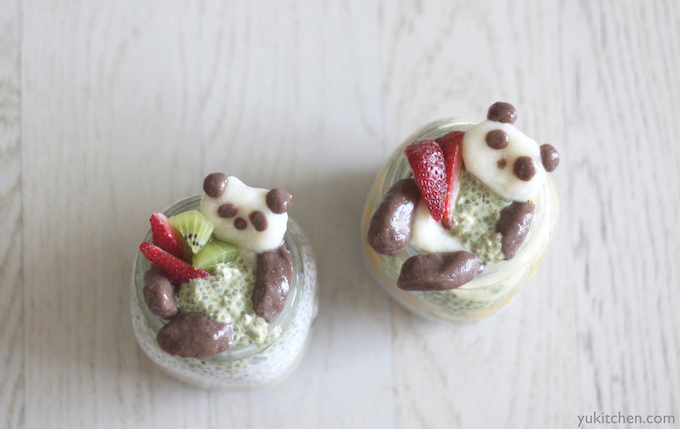 The layers are pretty simple.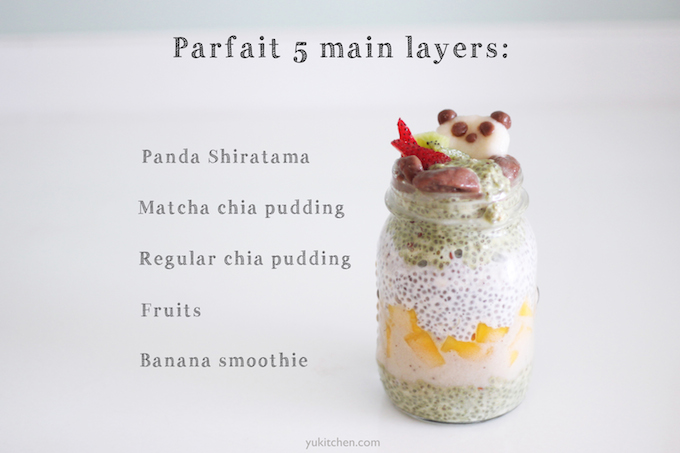 As for the pandas, it's the shiratama recipe I wrote before 😉 I just added  the body parts on his face this time, so he would look like he's taking a bath 😉 (A chilly chia bath, it is!)
Fruits idea: Bananas, strawberries, blueberries, kiwis, mangos, and peaches. I personally love using mangos for this recipe. Goes well perfectly! 

The most difficult part of making this food is boiling the pandas. You need to be extra careful, otherwise, your kitchen would end up looking like a panda murder scene.  Try practicing with a couple of extra pandas before! But don't worry, that's going to be the only time that you need to pay a lot of attention. Everything else besides that is really easy!

Bathing Panda's Chia Pudding Parfait
Omega-3 super recipe with some bathing little pandas on top. The best kind of chia pudding parfait on the internet!
Ingredients
For the pudding:
・1/3 cup regular oats
・2 tbsp chia seeds
・1tsp ground flaxseeds
・1-1.25 cup non-dairy milk
・1~2 tbsp maple syrup
・Fruits (strawberries, peaches, kiwi, mango, banana)
・1 tbsp matcha powder
・1 drop vanilla extract
For the Banana Smoothie
・1 cup frozen bananas
・½ cup non-dairy milk
・1 drop vanilla extract
For the pandas:
・70g Glutinous rice flour
・70g Kinu(silky) tofu
・2 tbsp Cocoa powder

1: Prep the overnight goodies.
Prep all the mixture before you go to bed. Put chia seeds, flaxseeds, oats, vanilla extract and milk in a jar and mix them all! If you don't mix well enough, it will leave you the big chunk of clusters and we don't want that. We want each chia seed to be equally soaked because our bodies can get the full benefit by digesting them quickly and effectively! Also, you get more nutritional value immediately. So, mix VERY well!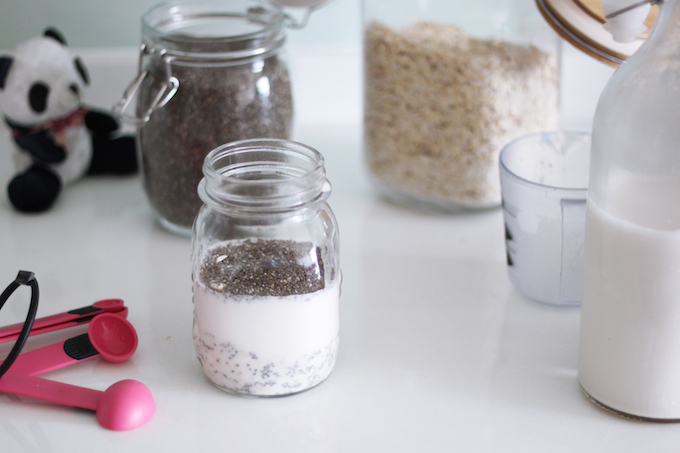 Here is how you do it (and also my first attempt to video-shoot Yukitchen!!):
Just a spoon full of ground flaxseeds, keep the doctor away! They contain a lot of fiber, protein and omega-3 fatty acids! So don't you ever skip the flaxseed 😉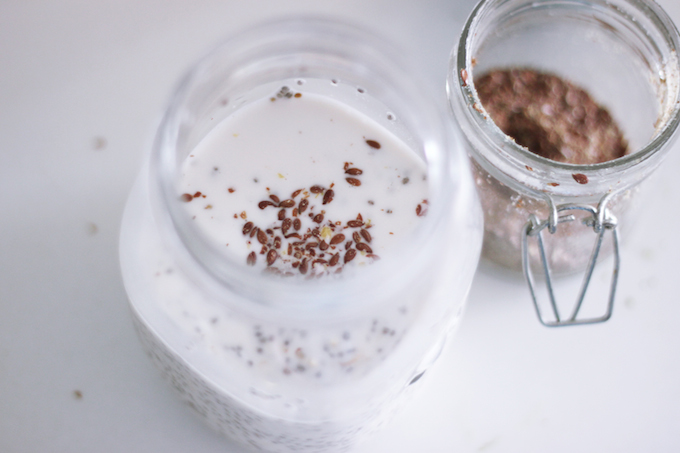 2: Make the same one with Matcha
Same ingredients with the one you already made, then add a tbsp matcha powder.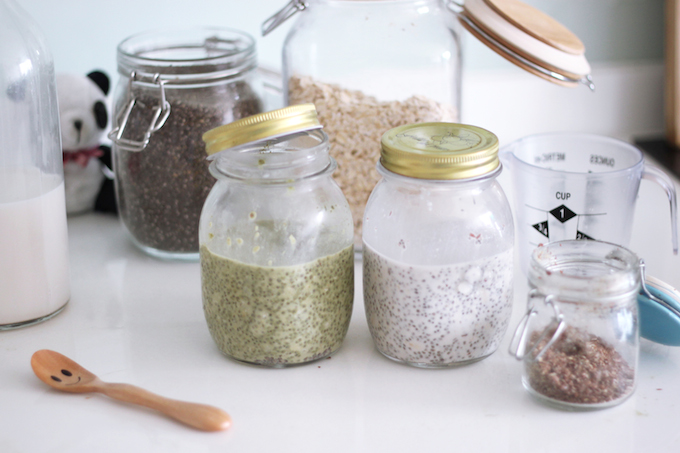 3: Soak them overnight!
And again, make sure you mix really well as shown in this picture! Try going back to mix it again after 10 minutes to make sure that pudding is mixed well.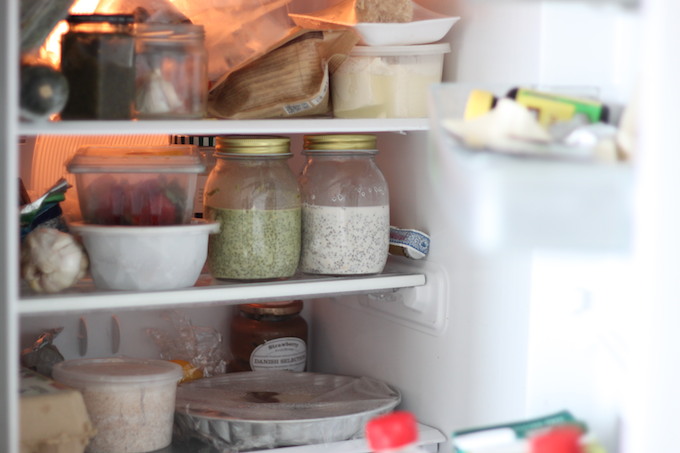 4: Freeze the bananas
Cut the bananas into small pieces (so it's easier to blend), and put them in a freezer overnight!

5: Let's make pandas! Mix the shiratama ingredients
Either while waiting for the overnight oats, or next morning, you can start making the pandas. Mix the panda ingredients and knead with your hand until the dough becomes smooth. If the mixture is too dry, add a little tofu till the dough is just right. (When it's too dry, it's difficult to stick ears and limbs together, and we don't want that!)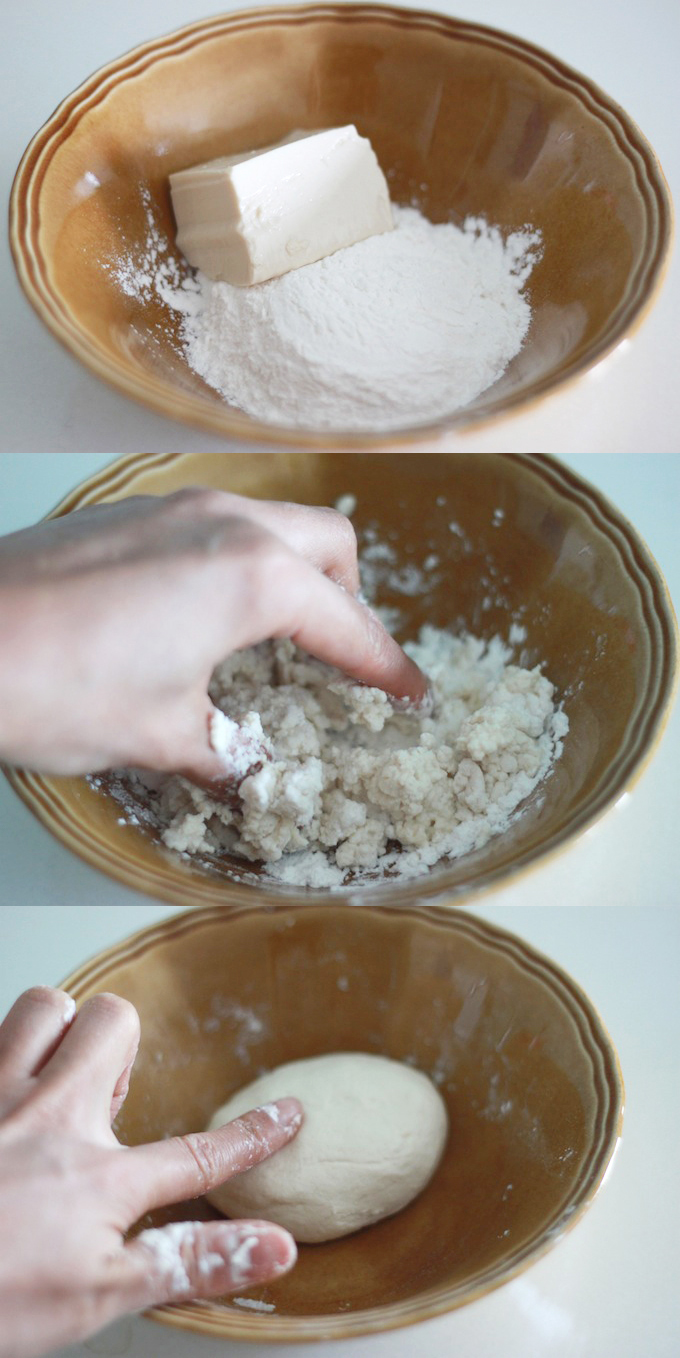 6: Separate the dough into 2 colors
Take 1/3 of the dough and knead again with cocoa powder. The color of brown turns darker after boiling, so no need to put too much cocoa powder this time.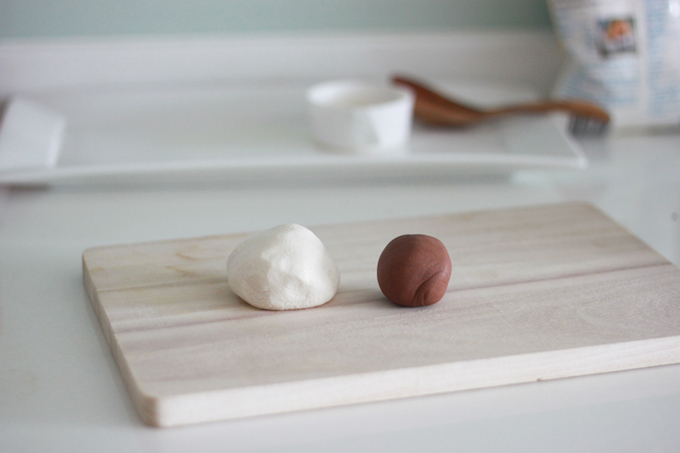 7: Yay for crafting! Making pandas 😀
This is the best part! I always have so much fun making chubby pandas 😉 When attaching ears to the face or limbs to the body, make sure the dough is sticky enough to stick together, otherwise, they might fall apart when boiling. No one likes earless pandas!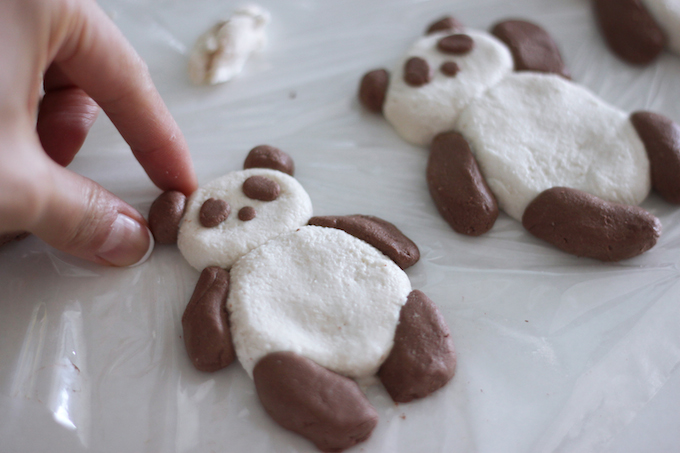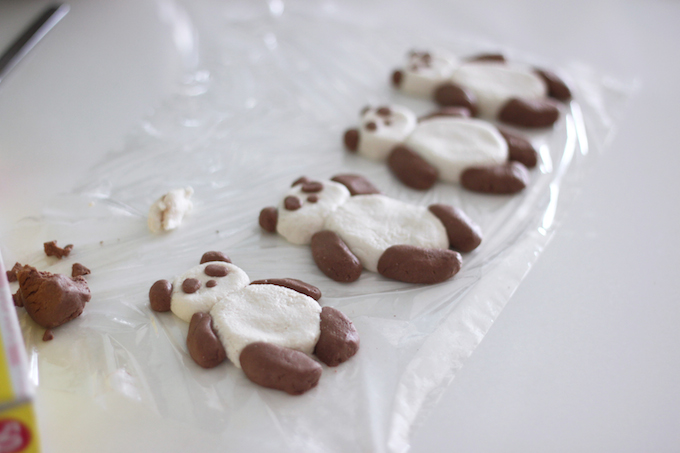 8: Boil the pandas! Boil them alive!! lol
Toss the pandas gently in a boiling water with a low heat, and cook them till they float. (Be super gentle when you pick up the pandas. I often did it wrong and break my panda when tossing it to the water… It was sad! So do practice!) It should take around 10 minutes.When pandas start to float, that means they are ready to be picked up!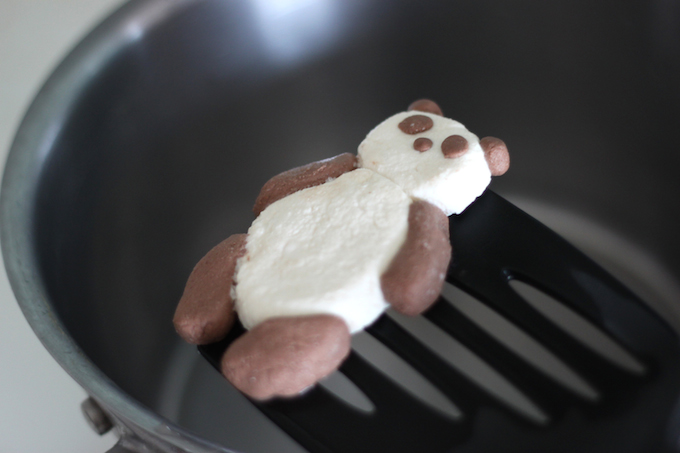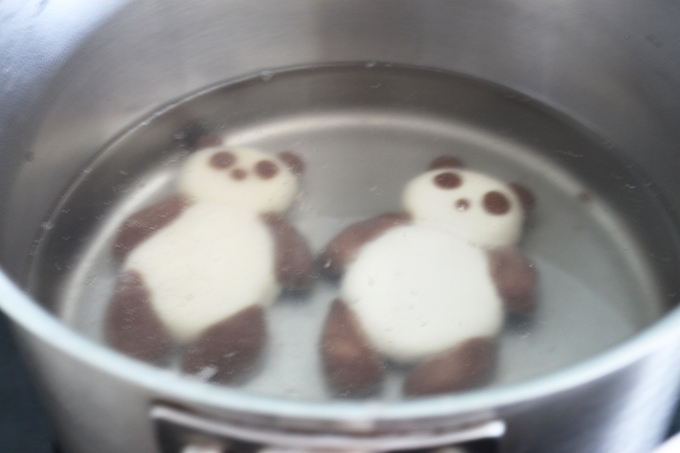 See them half floating? That means it's almost done!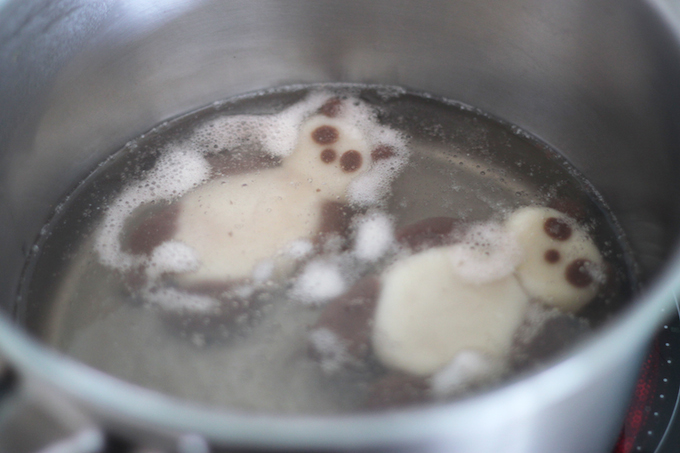 They are floating completely! Time to pick up your pandas from the water 🙂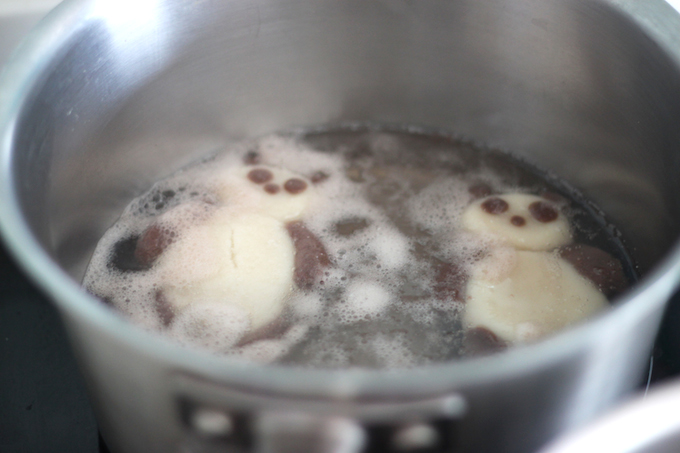 9: Drain the pandas and keep them in fresh water to store
Keep the pandas aside in a fridge while you work on the chia pudding next! I used baking sheets to prevent my pandas from sticking to the container.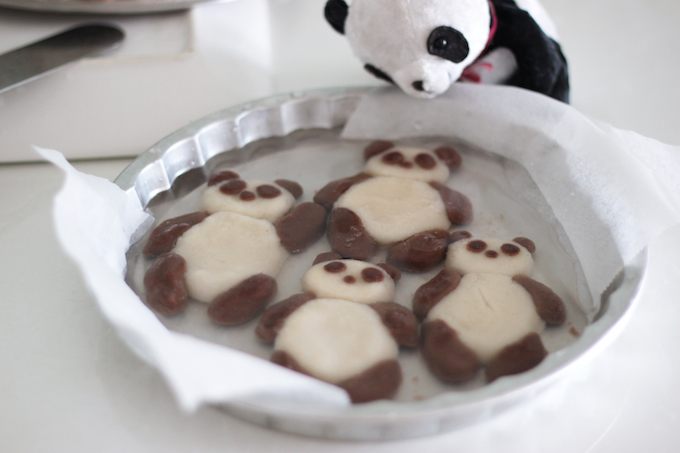 10: After a night… here is your overnight oats!
So this is how it should look like after a night. Filled with tasty-ness!!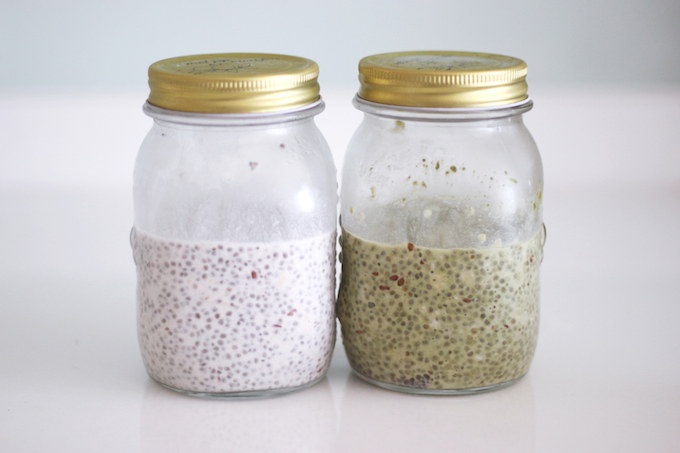 11: Make banana smoothie
Grab your frozen bananas you prepped yesterday and start blending! Add the non-dairy milk and a drop of vanilla extract, and you are good to go!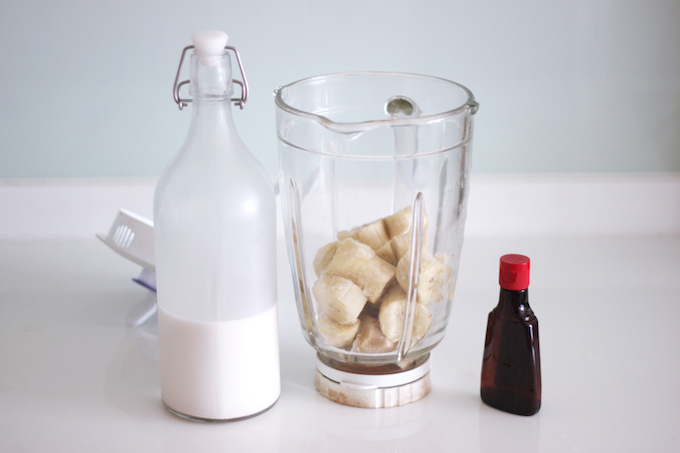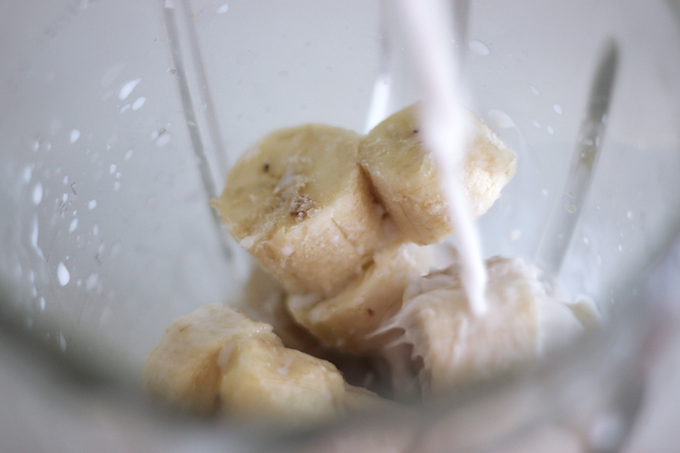 12: Cut the fruits
I picked the most colorful fruits at the store! Cut it small so it's easier to make layers for your pudding parfait.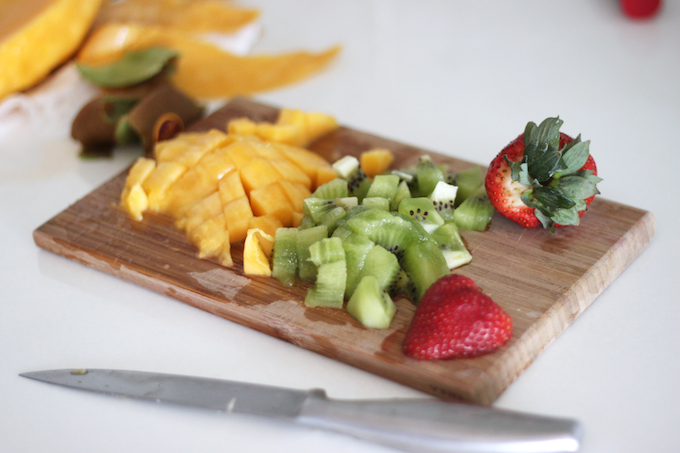 12: Make layers and add the panda last
This is my favorite part of making this food! It's really up to you how you want to layer your parfait. I started with matcha pudding, then the smoothie, fruits, regular pudding and back to matcha pudding on the last. It was just completely random. Place the panda at last and make sure you pour some extra pudding on his so he looks like he is taking a bath 😉 (So cute!! OMG!)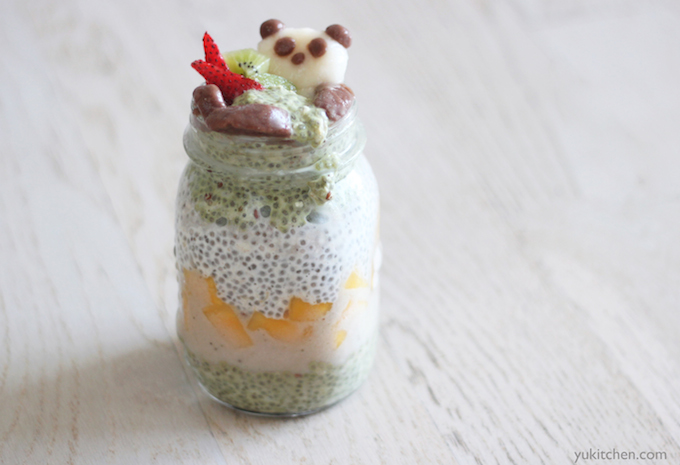 13: You are done!!
Put some cut fruits next to the pandas and you are done! Go ahead and Instagram it at this point. Look how cute these two pandas look together..!! I'm dying of cuteness here!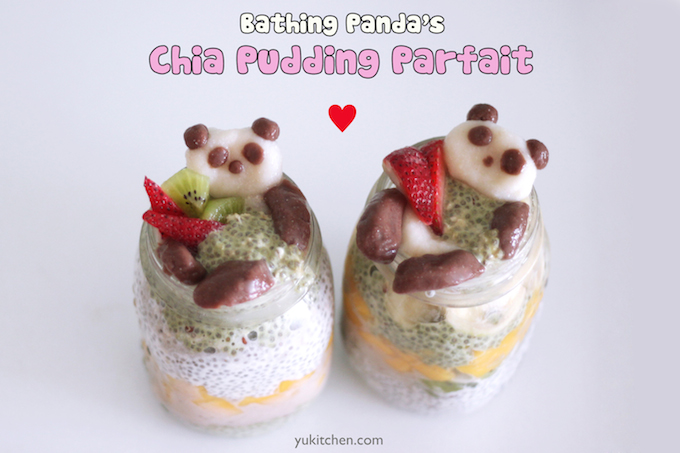 Hmmmm… These juicy omega-3s… I SEE THEM.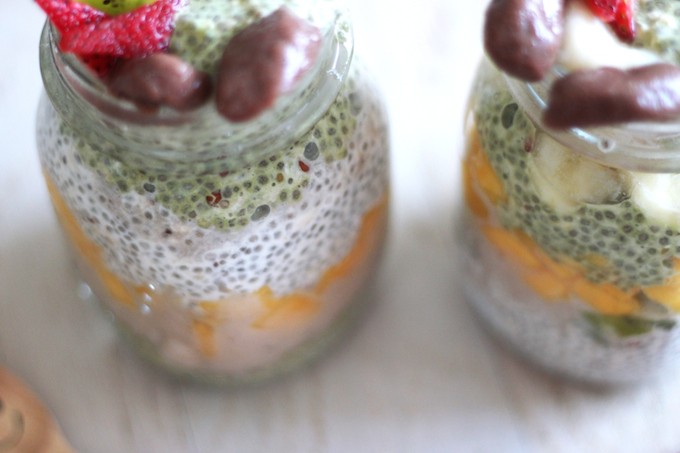 "Oh hello there Miss. Panda, How would you like to join me for the bath?"
"Sure Mr. Panda!"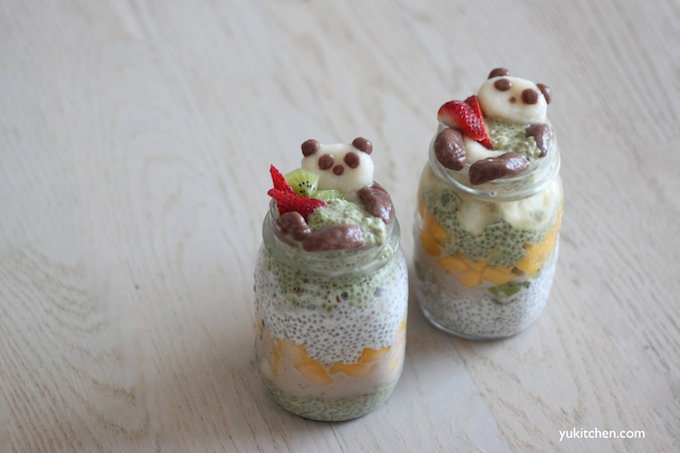 This time I did something I haven't done before: -taking pictures WITH my food!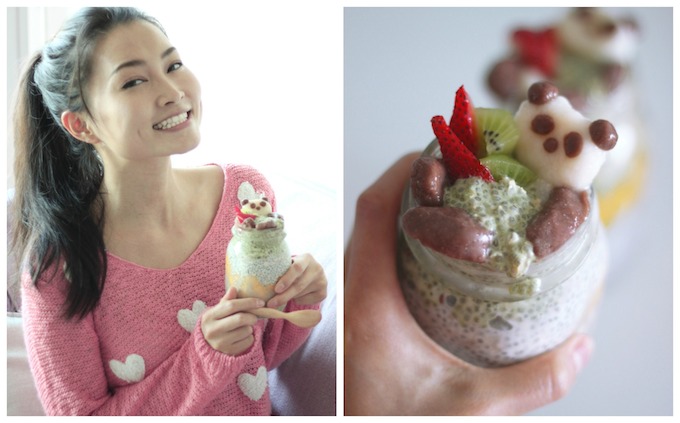 This is probably the hardest part: ACTUALLY EATING IT. The guilt of eating the cute little pandas… It never gets easy!!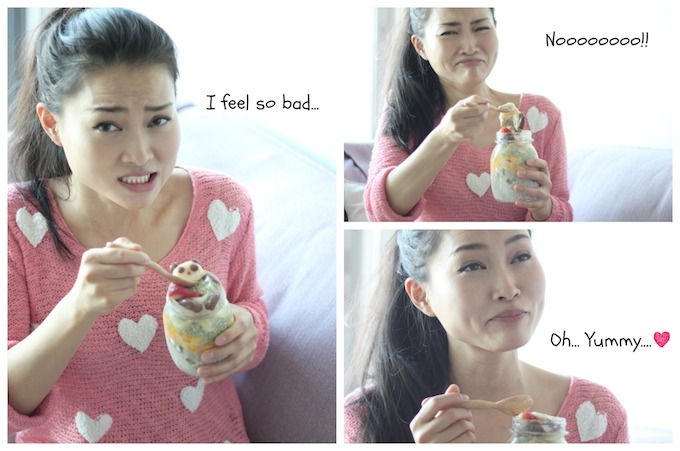 Aside from the guilt, THIS PARFAIT IS SO SUPER GOOD!! The banana smoothie and the pudding go well perfectly with a hint of matcha flavors! This seriously the best breakfast recipe I've ever made 😀
Breakfast is my favorite meal. You should never skip breakfast just because you are busy, want to lose weight or any other stupid reasons! Having a good breakfast really helped me to have more energy throughout the day, stronger workouts, and I rarely snack at night anymore.
Enjoy the supercute health food "Chia Pudding Parfait" with a bathing little panda 😉 This vegan recipe is going to nourish your body and health 100%, with a bit of cuteness on top 😉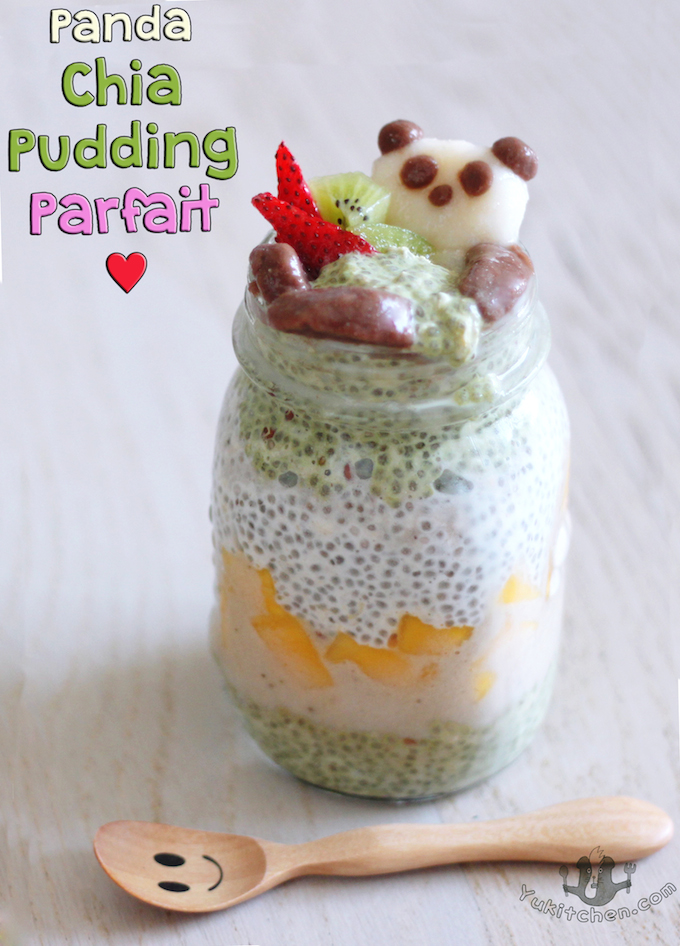 *Note: I made 4 pandas as you noticed, just because I wasn't sure if I can boil them without any accident 😛 Turned out I boiled all of them perfectly (yay!) but be ready to make extra. That boiling part -is- really difficult.
Happy cooking, everyone!
xxx
-Yuki