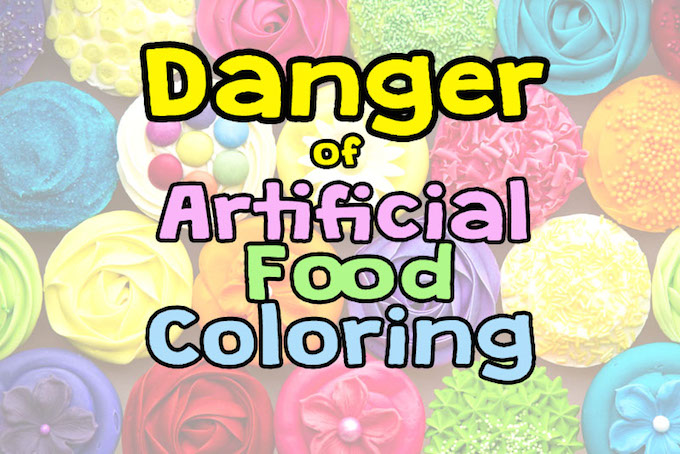 I used to think food like this looks good and tasty. Birthday cakes nowadays are always coated with shockingly vivid colors with a Winnie the Pooh on top smiling. I was one of the many people who fell into a commercial trick, never thinking anything negative about eating these food. But was I to be blamed? I grew up with parents who got me those colorful cakes for my borthdays, and all my friends seemed to be eating just the same, too. Unless you go nuts and read about nutritions all day like me, you will never find out food you are about to put in your month will most likely cause cancer.
But if you are a parent and still feeding your kids artificial food coloring, you need to read this article a lot more carefully.
Parents are quick to blame sugar for fueling a child's bad behavior, but there's another culprit, one that's widely disregarded. Artificial colors, synthetic petroleum by products, have been linked to behavioral changes, especially in children, as well as allergic reactions and a host of other adverse effects. Unfortunately, these reactions and their potential connection to artificial food additives have largely been dismissed by government and the food industry. In 2004, an analysis of fifteen studies found evidence that artificial colors worsen the behavior of children with ADHD(Attention deficit hyperactivity disorder).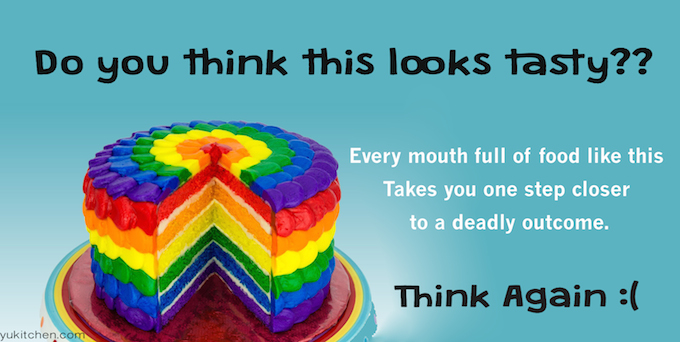 You'll find various dyes listed on many ingredient labels. They seem to be everywhere – in foods considered 'healthy' such as yogurt and fiber-rich breakfast cereals, they're even in some nutritional supplements and pharmaceutical drugs. It's artificial colors that help you avoid mixing up your heart pills with your blood pressure pills.

Food dyes can be found in foods such as:
Salad dressing
Ice cream
Sport drinks
Candies
Chewing gum
Puddings
Brightly colored breakfast cereal
Bottled sweetened beverages
Popsicles
Flavored gelatin
Soft drinks
Jams and jellies
7 scary food colorings

that are approved by the FDA in the states today:
Blue Coloring:

Brilliant Blue
(E133) FD&C Blue No. 1 is used in dairy products, sweets and drinks.
Side effects: Hyperactivity, skin rashes, bronchoconstriction (especially when combined with other artificial colors), and chromosomal damage.
Banned in Austria, Belgium, France, Germany, Norway Switzerland, and Sweden.
Indigotine

(E132), or FD&C Blue No. 2, a dark blue shade, is a synthetic coal tar dye commonly added to pharmaceutical drugs, as well as many desserts, beverages, pet food, and is also used as a medical diagnostic aid.
Side effects:  nausea, vomiting, high blood pressure, skin rashes, breathing problems, brain tumors and other allergic reactions.
Banned in Norway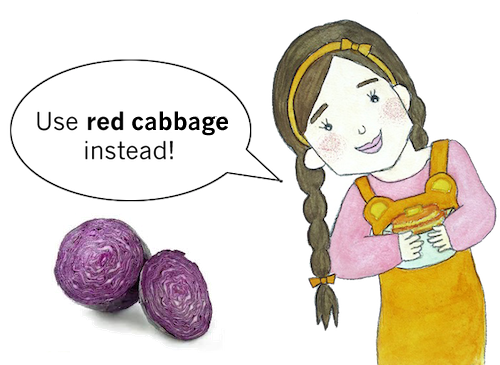 You can use red cabbage to create the natural blue food coloring. Cooked red cabbage leaves will eventually turn bluish purple if soaked in a slightly basic solution.
Green Coloring:

Fast Green
(E143) or FD&C Green No. 3, has been found to have tumorigenic and mutagenic effects in experimental animals. Luckily, this dye is rarely used.
*Most green food coloring is usually a mix of Yellow 5 and Blue 1.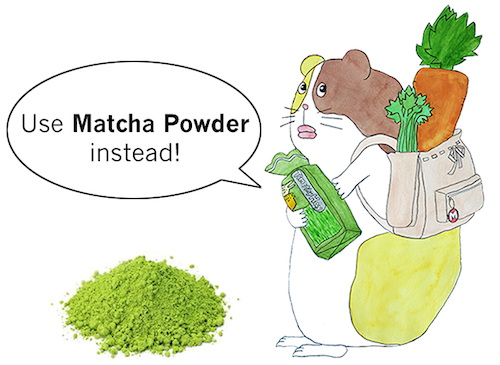 There are many ways to color your food green using only natural ingredients. I like Matcha (green tea) because it's so good for you, delicious, and also I'm Japanese 😉
Red Coloring:

Erythrosine
(E127), or FD&C Red No. 3
Side effects:  Cancer in lab animals when administered in high doses.
Allura Red
(E129), also known as FD&C Red No. 40 (or simply red 40), is an artificial orange-red color used in sweets, drinks and condiments, medications and cosmetics. Made mostly from petroleum.
Side effects:  Allergy-like reactions and has been linked to hyperactivity in children. Red 40 has also been linked with cancer, but studies have been inconsistent. One study demonstrated that it sped up growth of tumors in mice, another didn't. Asthmatics and those intolerant to aspirin are at increased risk of a reaction to this food dye, which is prohibited throughout Europe.

The key to a naturally red coloring using beets is acidity. Without the proper acidic pH, the beets will turn brown. I tend to mix my beetroots with lemon to create the gorgeous red coloring. Read here for more details!
Yellow coloring:
Tartrazine
(E102), FD&C Yellow No. 5, is one of the most dangerous artificial colors.
Side effects:  Cancer, provoke asthma attacks, skin reactions, and hyperactivity in children. In the US it's used to color soft drinks and energy drinks, cake mixes, salty snacks, cereals, packaged soups and more.
Banned in Norway, Austria and Finland.
 Sunset Yellow

(E110), FD&C Yellow No. 6  is used in cereals, baked goods, ice cream, drinks, canned fish, and in many medications including DayQuil capsules and Extra Strength Tylenol.
Side Effects: Allergies, hyperactivity in children, nausea, nasal congestion, and more. It should be avoided by asthmatics and those with rhinitis.
Banned in Finland, Norway and the UK.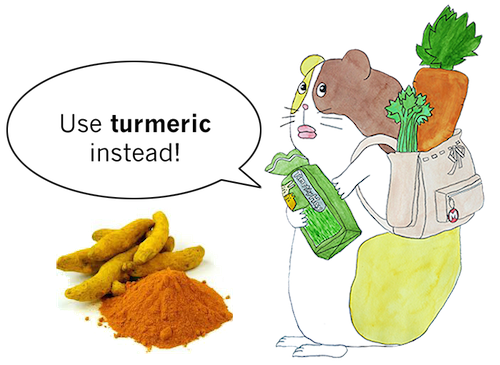 Turmeric has a yellow pigment that just won't quit. In fact, you can use turmeric to dye fabric or yarn! If you don't want turmeric's flavor, but you do want the color, leave powdered turmeric out to stale. The flavor will degenerate rather quickly, but the color will still be vivid.
Natural Food Dyes
The FDA approves a number of natural dyes for use in foods and beverages as well, and their use is skyrocketing, due to consumer concern over synthetic colors.
Look for products that contain natural dyes, including:
Beet juice

Beta-carotene
Grape skin extract
Paprika oleoresin
Fruit and vegetable juices
Saffron
Homemade Natural food coloring ideas 
RED:
pure beet juice
beet powder
pure pomegranate juice
PINK:
pure beet juice
pure cranberry juice
pure raspberry juice
ORANGE:
pure carrot juice
carrot powder
paprika
YELLOW:
fresh turmeric juice
ground turmeric
saffron
GREEN:
BLUE:
(FYI: Blues and purples are notorious for being the most difficult dyes to produce, either naturally or in a lab!)
red cabbage juice
stir a bit of baking soda in with red cabbage juice or a purple dye for a brighter blue
PURPLE:
purple sweet potatoes
pure blueberry juice
purple grape juice, concentrated
TAN:
BROWN:
cocoa powder
pure espresso
instant coffee granules
heavily steeped black tea
cinnamon
BLACK:
While most natural dyes are safe, some have been linked to adverse reactions. Annatto extract, caramel, and cochineal extract (or carmine) are derived from natural sources but have been linked with allergic reactions. Sensitive individuals should use caution when eating foods that contain any of these.
Here is  the article I wrote for the DIY version of making natural food dye 😉 Try it out! x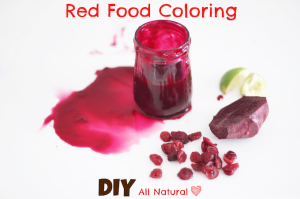 I'll be writing a lot more natural food coloring in future, btw! 😉
Thanks for reading everyone. Happy healthy eating! x
-Yuki